John Persinos here.
Congratulations on taking the first steps towards securing your "Election-Proof" Profits!
You've already one the most important part: You raised your hand. Way up, with confidence.
Signaling that you're ready for a faster, easier, and smoother path to profiting from the markets.
Jim aims to deliver that for you with Inner Circle…
———–> Starting with his #1 "Election-Proof" trade.
With 1 more easy step, you can claim your copy of: Jim Fink's COMPLETE "Election-Proof 2020" Trade Instructions.
Inside you'll get FULL instructions to make the simple trade that could be the single best way to play all the uncertainty around the election to your advantage…
Lock in a lot of your money in CASH on November 20…
And then pick up even MORE profit further out after the election when the trade closes.
And based on Jim's 95.96% win rate, investors have the potential to take home $2,753 from this trade (or more).
Fair warning though…
This free report is only available to the first 356 investors who join Inner Circle today.
Don't delay.
The Inner Circle is unlike any of Jim's other services. It's the crown jewel.
And it's the home to his life's work — Paragon.
This system is perfect for people who are ambitious profit seekers...
Folks who are willing to step out of their comfort zone and upgrade from the pedestrian gains that come from buy-and-hold strategies...
To a program that allows you to quickly — and in some cases, instantly — extract extraordinary amounts of money from the market like:
$5,496 on BABA
$3,374 on LVS
$3,257 on UVXY
$2,897 on SNY
$2,850 on FB
$2,731 on CAT
$2,533 on MTB...
Keep in mind, these kinds of gains did NOT come from buying tech stocks, futures, or cryptocurrencies
Or shoving gold coins & bars in their mattress like Scrooge McDuck.
And they definitely didn't come from lazy "buy-and-hold forever" investing.
In fact, in 2020, the year with the 9 biggest upswings in market history…
As well as the 8 biggest down swings…
Jim Fink's Inner Circle readers have had the opportunity to trounce the market: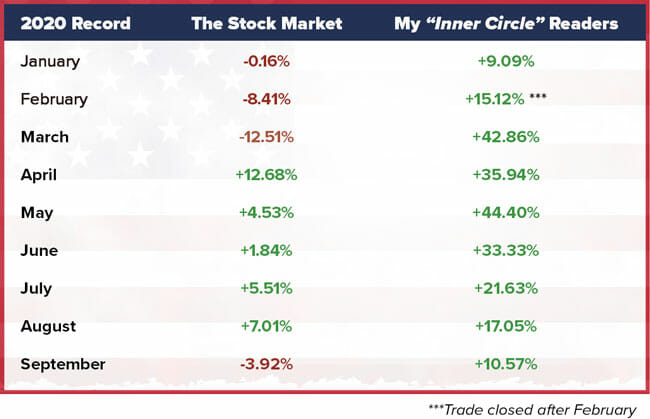 This safer, smoother ride is the perfect example of the power behind Jim's Paragon system.
24 hours a day it scans the markets…
Uncovering trades that could hand you profits nearly 18X BIGGER than what a buy-and-hold investor would see.
Joining the Inner Circle today will give you the chance to pursue the same kind of profit advantage.
Just like these Inner Circle members:

Here's a complete breakdown of everything you'll get as a member of Jim Fink's Inner Circle
Every Monday you'll get an email with the details on a new profit opportunity.
And whether you take the simple instructions for the trade and enter them into your online account immediately…
Or do a deep dive and read the full alert where Jim walks you through the signals that tipped his Paragon system off to the opportunity…
The rationale for the trading technique he's going to use
Step-by-step break down of how the trade works
How much profit to expect
And the factors that could affect the outcome of the trade.
(That way you'll know exactly why it's time to make a move… and how to do it)
You'll also get instant access to your very own private members' portal.
Inside you'll find every report and alert Jim ever puts out…
And the full Inner Circle portfolio that serves as a "scorecard" for all your trades…
But the most powerful thing you'll get there is access to the Inner Circle message board.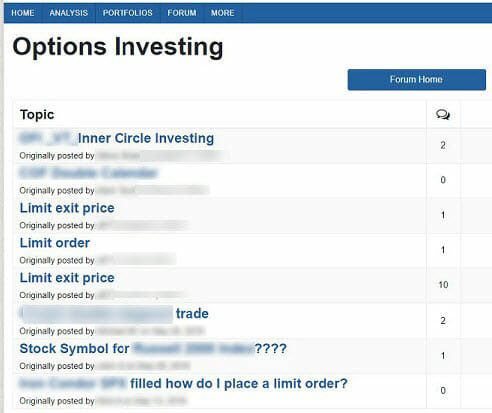 Because that's where you'll have the chance to interact with fellow traders to share thoughts, tips, and even get answers to your questions.
Jim's a very hands-on guy, so don't be surprised that if you ever do ask a question...
You actually get an answer from the man himself.
Now, of course Jim can't speak to your personal financial situation or your personal account sizes or allocations…
But he'll cut right to the heart of the question, so you and the other Inner Circle members know the way forward.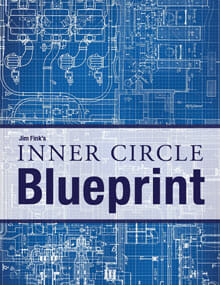 Last but not least, you'll get Jim Fink's Inner Circle Blueprint — 4 Anytime Options Strategies for Huge Profits.
Inside this valuable report, Jim lays out exactly how each of the trades he'll recommend work.
He explains in a no-nonsense way what has to happen for you to make a profit.
I've never seen anyone break down options as simply as Jim does in this eye-opening report…
With Jim at your side to pinpoint, refine, and provide you with step-by-step instructions on how to take part in each opportunity…
I have no doubt you'll have the chance to pocket gains of 1,000%, bare minimum.
That's enough to turn the average American trade of $7,600 into $76,000.
Remember when you're one of the first 356 new members to join Jim Fink's Inner Circle today…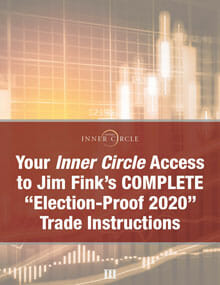 You get instant access to Jim Fink's COMPLETE "Election-Proof 2020" Trade Instructions.
This is the fastest, easiest way to pocket a potential $2,753 payday — no matter what happens this election.
I truly believe that anyone — even an investment rookie — can get started with this "Election-Proof" trade today.
This an incredibly powerful market move that can put your mind at ease going into the elections.
But that's not all.
Because...
When you join Jim Fink's Inner Circle today you also get these 2 FREE bonus gifts
Including:
FREE Bonus #1
Jim Fink's "Election-Proof" Arsenal
($199 Value — Yours FREE)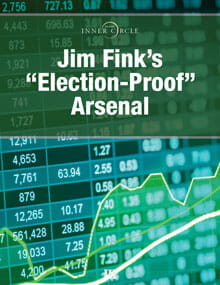 This report gives you all the instructions you need to even more "Election-Proof" trades including:
The Cable Killer — This is the fastest, easiest, and most profitable way to tell your cable company to kick rocks.
The Big Tech Payday — This is the ONLY way to bank Big Tech dividends without the hefty price tag of buying Big Tech stock.
Plus two more that I call the Money Cloud and the Profits Runner.
But there's still more…
Because when you join Inner Circle today you'll also get instant access to:
FREE BONUS #2
The Inner Circle Secret for Lowering Your Risk and Increasing Your Profits on EVERY Trade
($279 Value — Yours FREE)
This is Jim's #1 secret to lowering the cost of EVERY SINGLE TRADE you make.
This little known, simple-as-pie strategy can save you up to 74% on your next trade.
While also giving you the power to double your money.
All it takes is ONE simple move that you can do with just a few clicks (or a short phone call to your broker).
Jim Fink teaches you how, in this new report.
All together, here's everything you get when you join Jim Fink's Inner Circle today...
(Limited offer: Only 356 Spots Available)
Your Inner Circle Access to Jim Fink's COMPLETE "Election-Proof 2020" Trade Instructions
52 Brand-New Trade Alerts
Private Access to the "Members Only" Inner Circle Website
Jim Fink's Inner Circle Blueprint — 4 Anytime Options Strategies for Huge Profits
FREE BONUS #1: Jim Fink's "Election-Proof" Arsenal

($199 Value — Yours FREE)

FREE BONUS #2: The Inner Circle Secret for Lowering Your Risk and Increasing Your Profits on EVERY Trade

($279 Value — Yours FREE)
Jim Fink's Inner Circle is designed for people who are committed to making a lot of money. Fast.
Which is why we've had no problem setting the price for a membership at $2,995.
But you won't pay that today.
For the first 356 investors bold enough to take action today, we're going to slash $1,000 off the price.
That's a MASSIVE 33% discount off a full year membership.
Which means anyone who joins today will be doing it for only $1,995.
But remember, in order to protect motivated members like you, this offer is ONLY for people who are serious about getting rich with Jim Fink's Inner Circle. Which means, there will be no refunds.
We're not interested in attracting tire-kickers — while our dedicated members pay the price in lower potential gains.
That wouldn't be fair, don't you agree?
But because the power of Jim's system is irrefutable.
We're completely comfortable making this incredible guarantee: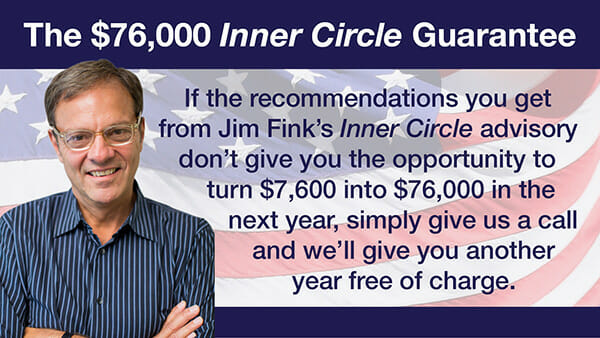 That's enough to cover your membership 38 times over.
But here's the thing...
If you want to become a member...
You've got to make your move NOW.
We're only letting 356 people join Inner Circle today
I wish it could be more.
But Jim was adamant that we keep the numbers low so he could make sure everyone gets the attention they deserve.
We pushed it up to 356 because that's the size of his largest current closed trade win streak.
But when we hit the 356th member, this deal (and your shot at up to $2,753) could snap shut.
And considering this year has given us plenty to worry about...
A deadly pandemic, record unemployment, violence in the streets...
And on top of all that, the craziest election we've ever seen...
This could be your one sure shot at peace of mind.
Now is the time to ask yourself… will you spend sleepless nights worrying until the last vote is counted?
Or will you sleep soundly knowing you've secured your shot at $2,753 in "Election-Proof" profits?
More comfortable ordering by phone? Dial (800) 543-2051 and our dedicated customer service team will process your order immediately.
Copyright © 2020 Investing Daily, a division of Capitol Information Group, Inc. In order to ensure that you are utilizing the provided information and products appropriately, please review Investing Daily's' terms and conditions and privacy policy