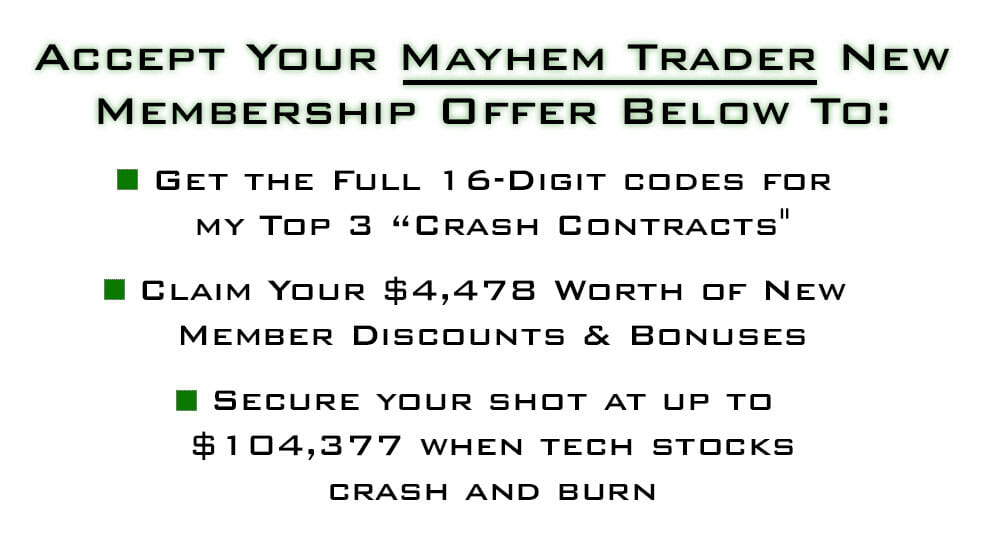 Jim Pearce here again…
Congratulations for making it to this page!
You're just minutes away from locking in your shot at a potential $104,377 payday when tech stocks crash and burn.
All that's left is to confirm your information below and join me inside Mayhem Trader.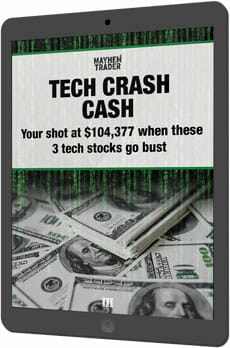 The moment you do, you'll receive your copy of Tech Crash Cash: Your shot at $104,377 when these 3 tech stocks go bust.
Inside you'll discover:
Exactly how to buy my Top 3 "Crash Contracts"
Exactly how much to pay
Exactly which option code to enter (there's 100's of them) — your broker needs this in ADDITION to the stock ticker or this trade WILL NOT WORK
Exactly how much profits you could make
The special report should take no more than 5 minutes to read.
All the guidance is spelled out in plain English, with simple, easy-to-follow steps…
That anyone can use, even if you've never traded options before…
Fair warning though…
This FREE report is only available to the first 150 investors who join Mayhem Trader today.
Don't delay… remember:
Mayhem Trader is the fastest and easiest system
I know of that gives you the opportunity to
bag huge gains when stocks plummet
And it's all thanks to my proprietary 3-part system which identifies "Mayhem Profit Opportunities" with stunning regularity… across ALL industries.
This system has allowed me to point traders towards massive profit opportunities on stocks like: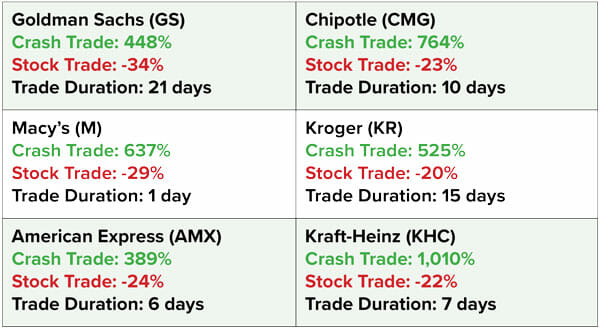 These are the types of trades I'll "hand deliver" straight to your inbox every single month. (Of course, not every trade works out this well… as with any type of trading, there is always risk involved and you should lever bet more than you're comfortable losing.)
But based on my current track record, I'm confident you could soon find yourself sitting on massive gains…
And right now you have the opportunity to secure your shot at a potential TRUCKLOAD of profits coming down the pike inside Mayhem Trader.
When you say "Yes" to my special invitation today, you'll immediately receive your copy of Tech Crash Cash.
But that's just the beginning.
Here's a complete breakdown of everything you'll get
as member of Mayhem Trader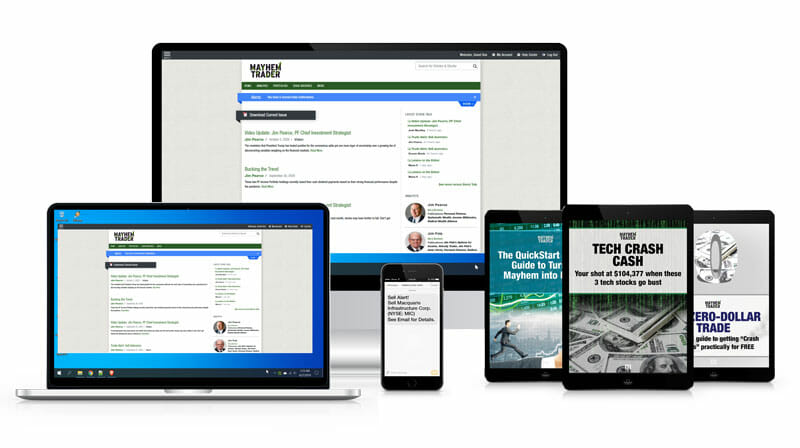 Brand-New Trade Alerts EVERY Month: The market never goes on vacation — and neither do we. Each month, I'll hand you the BEST trade my system singles out. And if it zeroes in on more than one? That's more shots for you to go after HUGE gains like what you saw today.
Full Access to my Model Portfolio AND My Watchlist: All of my current and future "buy" recommendations, right at your fingertips 24 hours a day, 7 days a week.
Private Access to the "Members Only" Mayhem Trader Website: Your personal online cockpit for navigating the markets & lining up promising "Mayhem Trades"
PLUS, Weekly Email Updates, and so much more!
And to make sure we're starting off on the right foot…
You'll also get $4,478 in FREE bonuses & discounts
Starting with…
Mayhem Trader New Member Bonus #1:
The QuickStart Trading Guide to Turning Mayhem into Money ($229 Value: Yours FREE)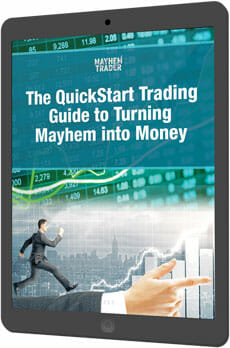 Your easy QuickStart guide will give you EVERYTHING you need to profit from my research, including:
How frequently to expect new plays
What makes some of them pop faster than others (only if you're interested in what's "under the hood" — not necessary to profit)
How to close out your trades for fast profits
Our favorite brokerage platforms & which one is right for you
What to do once you've secured a big gain in a short time
And much, much more!
And in the spirit of making this decision as easy as possible for you…
I'll also hand you a way for you to potentially get your "Crash Contracts" for FREE
Mayhem Trader New Member Bonus #2:
The Zero-Dollar Trade: Your quick guide to getting "Crash Contracts" practically for FREE
($249 Value | Yours FREE)
Inside are instructions on how to greatly reduce the price to make these "Crash Contracts"… and in some cases how to make them completely free, while at the same time maximizing your potential gains.
And while the Zero-Dollar trade comes with more risk…
The potential rewards are enormous.
Now, if you'd rather stick to your shot at $104,377 from the normal "Crash Contracts" — no sweat.
But if you're the type who likes to jump straight into the "deep end," this FREE report was made for you.
Add it all up and you're getting $478 worth of bonuses for FREE when you join Mayhem Trader today.
But I want to go one step further.
I'd like to hand you a MASSIVE
Quick-Action discount too!
Normally, access to a year's worth of Mayhem Trader recommendations runs $3,000…
But, when you accept this offer and join me, right now… you won't pay anywhere near $3,000.
Because I'm going to slash over $1,000 off the price, to get the ball rolling.
That's right! You can get started with Mayhem Trader today for just $1,950.
That comes out to just $5.34 per day.
In other words, for what many people spend on their morning espresso…
You could lock in your shot at stacking up profits, month after month for an ENTIRE year.
Fair Warning: there are no refunds when you join Mayhem Trader.
I'm sorry if that seems harsh.
But my experience has been that the folks who have the most success with my program are the ones serious enough to put some real "skin in the game"…
And are ok with the fact that all sales are final.
But if you have even the LEAST bit of doubt about joining me today…
I have one last thing that I believe will help you overcome any last-minute jitters.
Today when you join Mayhem Trader…
You're covered by our "20/20 Guarantee"
If for some reason, you don't see the opportunity to lock in twenty total winning trades over the next 12 months… or at least one gain of 20x your money or more…
Just reach out to our VIP concierge via phone or email…
And we'll give you $3,000 in "store credit" to use towards another year of Mayhem Trader… or one of our other premium investing newsletters.
No hard feelings.
No questions asked.
But here's the thing…
If you want to become a member…
You need to act fast.
WARNING: Only 150 of these New Member spots
are available today
I wish it could be more.
But that's all my publisher will allow at this insane discount.
So, there are only 150 new member spots today…
That means less than 1/10 of 1% of the traders who had the opportunity to view this presentation will get a spot inside.
And you could be one of them…
Are you going to watch what could be the biggest money making opportunity of your lifetime from the sidelines…
Or are you going to grab your share of the
potential profits?
With Mayhem Trader, you'll have the opportunity to profit wildly from stock market chaos.
Starting with these 3 "Crash Contracts" that could hand you up to $104,377 in the weeks to come.
But you must act now.
There are only 150 spots open today…
And when they're all snapped up, I'll be forced to shut this opportunity down.
Don't miss out.
Confirm your information below now.
And I look forward to seeing you on the inside.
To Your Wealth & Health,


Jim Pearce
Chief Investment Analyst, Investing Daily
Founder, Mayhem Trader
Copyright © 2021 Investing Daily, a division of Capitol Information Group, Inc. In order to ensure that you are utilizing the provided information and products appropriately, please review Investing Daily's' terms and conditions and privacy policy