Jim Pearce here again.
Congratulations! And thanks again for being a part of such a special day, for the both of us…
I feel ten feet tall — gratified that I've been able to share my 12-year trading secret with you — in step-by-step detail.
You must be feeling relieved. Despite thousands of Americans viewing this lucrative investing tutorial — in the grand scheme — only a dedicated few will take action with the life-changing trade system they just witnessed.
But there's 1 more small step left for you…
And unfortunately, without it — you won't be able to make these easy 2-minute "Zombie Trades."
WARNING:

Do NOT go out and buy these stocks!!!

Remember, you're betting against these "bad apples," not for them… so there's 1 more adjustment you need in order to make them into "Zombie Trades."

You still need a 16-Digit Confirmation Code to Enter — Your Brokerage Needs This In ADDITION To The Stock Ticker Or This Trade WILL NOT WORK.
I hope you had as much fun as I did…
And I hope you can see the power in trading losing stocks…
For enormous fast-money wins like 113 times, 480 times, and 940 times your starting investment in the past few months alone.
So it's no surprise how CNBC reacted to this type of trade:
"Simple strategy reaps massive profits." — CNBC
Or that Investopedia calls it a:
"Way to survive and prosper in a bear market." — Investopedia
But before you lock in your Charter Membership, keep in mind:
This strategy — my favorite personal strategy — is NOT short-selling.
It's much faster — AND cheaper (you can enter some of these option trades for about 50 cents a pop).
You DON'T need to be "accredited" — which means you don't need to have $1 million in net worth to profit like the professionals do on Wall Street.
You Can Finally Haul in BIG Profits,
From LOSING Stocks (Like These Wins on
Intel, Chevron, & Nike)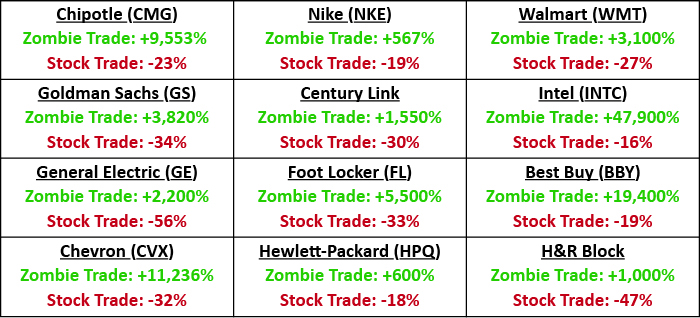 THAT is the power of trading with my proprietary 6-part stock screen.
With over a decade of data analysis & personal feedback, hardcoded inside today's M.A.Y.H.E.M. trading system…
With every single trade recommendation you'll be getting detailed, easy-to-read guidance including:
Exactly When to Buy
Exactly How Much to Pay
Exactly Which 16-Digit Confirmation Code to Enter (there's 100's of them) — Your Broker Needs This In ADDITION To The Stock Ticker Or This Trade WILL NOT WORK
Exactly How Much Profit to Expect
Exactly When to Sell & At What Price
Gear up, and get ready.
Because enormous GAINS… like 7x, 16x, 39x, even 940x your money… from LOSING STOCKS…
Is what you can expect as a Charter Member of my exclusive stock advisory — Mayhem Trader…
The ONLY advisory in the world powered by the proven 6-part M.A.Y.H.E.M. system we've discussed today.
Perhaps the most exciting part of all this…
Are the next 3 TRADES my 6-part detection system flagged for immediate action.
Remember, this is a fork in the road you may NEVER recover from if you so much as LEAN the wrong way.
The tutorial is just the beginning of your new path to worry-free riches — of up to $124,61 in the coming weeks.
But it all starts with this easy yet vital next step.
Here's the Juicy Recap of Your 3 High-Value Reports
that Will Jump Start Your Charter Membership
On this page here, you have the opportunity to claim your personal copies of:
TODAY'S HIGH-PROFIT "ZOMBIE TRADE" #1
(Ticker: TMUS)
The Mobile Phone Mafia: How T-Mobile's $26 Billion Mistake Could Make YOU Rich
M.A.Y.H.E.M. Score: 6 out of 6
Potential Profit: 2,132%
Minimum Trade Buy in: $55.00*
*minimum buy-ins can vary slightly during the trading day
This easy-to-read report will tell you everything you need to know about this phone giant's Achilles' heel… how rushing headlong into a $26 billion merger made them vulnerable… and how to play the "Zombie Trade" on it, for up to 22x your money.
AVAILABLE FROM THIS PAGE ONLY
(Attention: You Cannot Make Your High-Profit "Zombie Trade"
Without the 16-Digit Code in this Report)
Next, you'll gain instant access to this second valuable resource too:
TODAY'S HIGH-PROFIT "ZOMBIE TRADE" #2
(Ticker: BLL)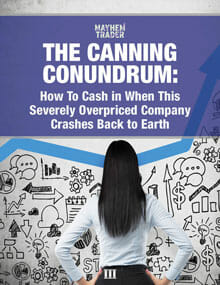 The Canning Conundrum: How to Cash In When This Severely Overpriced Company Crashes Back to Earth
M.A.Y.H.E.M. Score: 6 out of 6
Potential Profit: 1,646%
Minimum Trade Buy In: $155.00*
*minimum buy-ins can vary slightly during the trading day
First, the good news. Ball Corporation (NYSE: BLL) is one of the best in the business at manufacturing aluminum cans and other packaging that is used primarily by beverage distributors around the world.
Now the bad news (or better news if you're a "Zombie" Trader)…
After appreciating 50% over the past six months, Ball is valued at the same multiple as Alphabet… and only slightly below Apple. The problem is, unlike these high-growth tech companies… this slow-growth consumer staples business' revenue fell nearly 10% while its earnings per share plunged 52%.
AVAILABLE FROM THIS PAGE ONLY
(Attention: You Cannot Make Your High-Profit "Zombie Trade"
Without the 16-Digit Code in this Report)
Finally, you'll also secure your third "Zombie Trade" report.
TODAY'S HIGH-PROFIT "ZOMBIE TRADE" #3
(Ticker: SQM)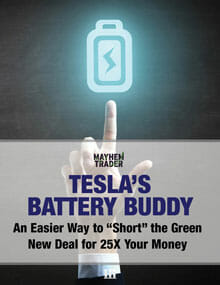 Tesla's Battery Buddy: An Easier Way to "Short" the Green New Deal for 25X Your Money
M.A.Y.H.E.M. Score: 6 out of 6
Potential Profit: 2,429%
Minimum Trade Buy In: $45.00*
*minimum buy-ins can vary slightly during the trading day
Sociedad Química, a Chilean company, supplies the key ingredient for Elon Musk's fraud-on-wheels, Tesla Motors. They mine the lithium that goes into the batteries. Hitching your wagon to the most overhyped company in history… what could go wrong? Tesla WILL fall. But it could take years. So this is a much easier, faster, and more direct way to "go short" on Tesla, and the whole Green New Deal, by literally cutting off its fuel supply.
AVAILABLE FROM THIS PAGE ONLY
(Attention: You Cannot Make Your High-Profit "Zombie Trade"
Without the 16-Digit Code in this Report)
Remarkable, yet it gets even better – because you're fully protected by my ironclad guarantee…
I was able to sit down with my publisher, Jeff Little, and hammer out this unprecedented Charter Member guarantee:
New Charter Members Get Our First-Ever
"20/20 Guarantee" Worth THOUSANDS
Frankly, this was the only way to show you just how serious I am about proving that my M.A.Y.H.E.M. system is the single most powerful trading tool available to you in 2020 — and beyond.
And I'm so confident you'll be thrilled with the overflow of profitable resources inside your new membership…
That when you become one of my inner-circle Charter Members today, this is the agreement you'll have with me…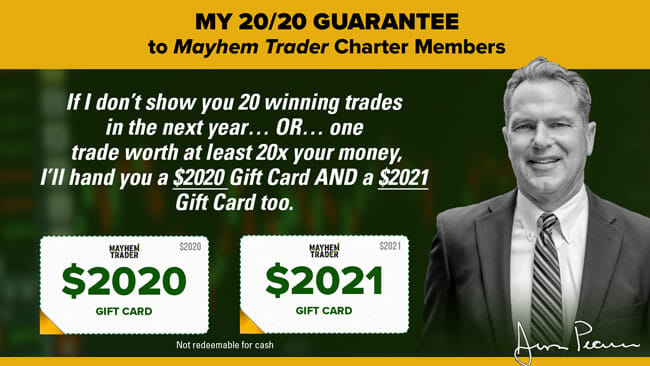 So if for some reason, you don't see the opportunity to lock in twenty total winning trades over the next 12 months… or at least one gain of 20x your money or more…
Just reach out to our VIP concierge via phone or email…
And we'll give you the sum total of these two gift cards, worth $4,041, to credit towards any one (or two, or three, etc. etc.) of our premium investing newsletters.
No hard feelings.
No questions asked.
WARNING: Only 50 of These Generous
Welcome Packages Will Be Made Available Today
They're only available when you step forward to claim your Charter Membership in Mayhem Trader today.
A full year of insights inside Mayhem Trader would usually go for $5,000.00…
But you won't pay that today.
For the 50 members I can accept today, I'm going to knock a full $3,050.00 off the regular price! That's 61% off a full year membership.
Remember, in order to protect motivated members like you, this offer is ONLY for people who are serious about getting rich with "Zombie Trades." Which means there will be no refunds. It's simple: we're not interested in attracting freeloaders who use the trade details…
Then come tail-tucked asking for a "giveback" — while our dedicated members pay the price in lower potential gains.
So please, don't delay another moment in securing the tremendous bundle of profit-making tools included in today's special offer.
Your Charter Membership to Mayhem Trader
Also Includes: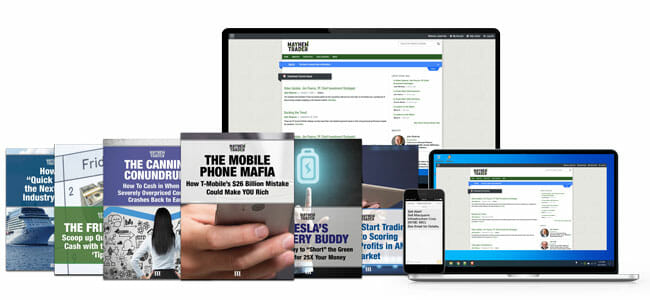 Brand-New Trade Alerts EVERY Month: The market never goes on vacation — and neither do we. Each month, I'll hand you the BEST 3 to 6 trades my M.A.Y.H.E.M. system picks up. And if it zeroes in on more? That's more shots for you to go after huge 113x… 480x… even 940x returns like what you've seen in today's tutorial
Full Access to my Model Portfolio AND My Watchlist: All of my current and future "buy" recommendations, right at your fingertips 24 hours a day, 7 days a week.
Private Access to the "Members Only" Mayhem Trader Website: Your personal online cockpit for navigating "Zombie Markets" & lining up promising "M.A.Y.H.E.M." trade picks
PLUS, Weekly Email Updates, Guest Editor Appearances, Bonus Tutorial Videos, and so much more!
Oh and don't forget…
Strictly Limited to First 50 Charter Members Today:
A Boatload of FREE Bonus Gifts & Discounts
Including:
Mayhem Trader Charter Member Bonus #1: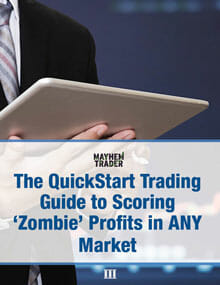 The QuickStart Trading Guide to Scoring "Zombie" Profits in ANY Market  ($97 Value: Yours FREE)
Your easy QuickStart guide will give you EVERYTHING you need to know about "Zombie Trades," including:
How frequently to expect new plays
What makes some of them pop faster than others (only if you're interested in what's "under the hood" — not necessary to profit)
How to close out your trades for fast profits
And much, much more!
Mayhem Trader Charter Member Bonus #2: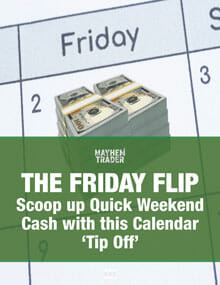 "The Friday Flip": Scoop Up Quick Weekend Cash With This Calendar "Tip Off" ($79 Value | Yours FREE)
This special report contains a strategy I've used personally, to pick up EVEN FASTER profits than many of the trades we walked through today.
The secret lies in the way corporate management will accidentally "tip their hand"… most often on Fridays… and allow you to get in AND out of certain "Zombie Trades" in a single weekend.
But that's just 1 of 5 quick-profit secrets I'll give you for FREE inside this special bonus report. See the rest when you JOIN NOW.
So please, don't delay another moment. And don't forget about this final bonus trade that just flew across my system.
Mayhem Trader Fast-Action Bonus Gift
(Value: $297 | Yours FREE!)
HIGH-PROFIT "ZOMBIE TRADE" #4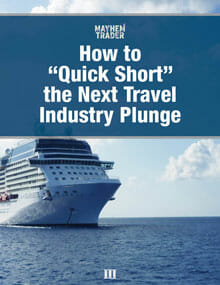 How to "Quick Short" the Next Travel Industry Plunge 
(Ticker: CCL)
M.A.Y.H.E.M. Score: 7 of 6*
Potential Profit: revealed inside report
Minimum Trade Buy-in: revealed inside report
*bonus point for "deja vu all over again"
Last month, a rival cruise ship company announces that it will begin running cruises out of Singapore beginning in December. Despite the new protocols being implemented to guard against an outbreak of COVID-19, that may not be sufficient, given the rapid rate at which the virus is spreading around the world.
In that case, trips may have to be cancelled. Which would send an ominous signal to the stock market that we are still nowhere close to being able to congregate in close quarters. And like a rising tide raises all ships… a low tide grounds the fleet.
Bottom line: naïve investors jumped the gun on the travel sector.
And when it breaks (again), you profit.
AVAILABLE FROM THIS PAGE ONLY
(Attention: You Cannot Make Your High-Profit "Zombie Trade"
Without the 16-Digit Code in this Report)
What does it all add up to?
The best investing year of your life, I'd say.
But to put it in strictly numerical terms:
$7,564 in FREE Charter Member Value
Included in Today's Exclusive Offer
(Limit: 50 Today Only)
I stand behind this entire Charter Member package… including all 4 "Zombie Trade" picks… with every ounce of my personal & professional reputation.
And why wouldn't I? I've been eating my own cooking on this for more than a decade, after all.
It tastes good. So does this:
For the first time, and potentially for the rest of your life, you could fin yourself in full control of your financial destiny. Never again at the mercy of a volatile market… and a world gone crazy.
Think about it this way…
If Mayhem Trader is everything you've seen today, and it's the spectacular tool I promise it is…
You'll look back on today as the day it all came together for you.
Your retirement. Your legacy to your family. Your true calling as a man of action.
More comfortable ordering by phone? Dial (800) 543-2051 and our dedicated customer service team will process your order immediately.


Jim Pearce
Chief Investment Analyst, Investing Daily
Founder, Mayhem Trader
Copyright © 2020 Investing Daily, a division of Capitol Information Group, Inc. In order to ensure that you are utilizing the provided information and products appropriately, please review Investing Daily's' terms and conditions and privacy policy