Secured Order Form
Congratulations!
You're Just a Few Clicks Away from Collecting "Clockwork" Payouts Up To $3,602 from the World's First "EV Blue Chip"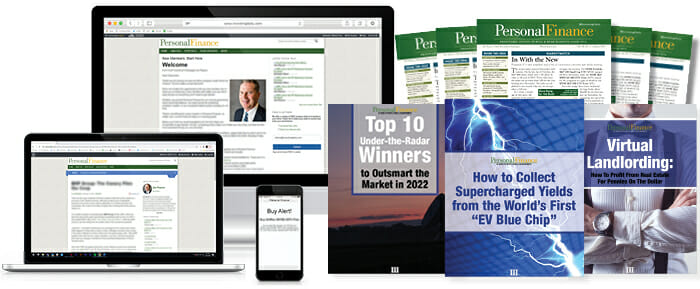 100

58 Membership Spots Remaining Today

$316 Value

– Yours Today for Only $39
Hello, John Persinos here again.
As you've just seen, the electric vehicle (EV) is on the verge of revolutionizing transportation like nothing we've seen in our lifetime.
Governments around the world are turning up the heat on car manufacturers to make the switch away from gasoline engines.
In turn, carmakers the world over are making bold public commitments to convert their entire fleets to electric in the years ahead…
Cadillac, Mercedes Benz, Volvo, and Jaguar Land Rover by 2030…
General Motors by 2035…
And Honda by 2040.
EVs are no longer a novelty.
They're a full-blown global megatrend…
That's barreling toward us like a freight train.
Today, you have a golden opportunity to jump onboard and lock in your share of recurring "EV Royalties" that could cover…
A good chunk of your remaining mortgage payments…
A luxury vacation (or three) every year for yourself and your spouse…
Heck, if you've been toying with the idea of getting an electric car of your own… your "royalty" payouts might even be enough to cover your payments.
Best of all…
While other investors scramble to load up on volatile, overpriced electric vehicle stocks and shady rare metal mining stocks…
And brace for the white knuckle rollercoaster ride that's sure to follow…
You're about to access an incredible opportunity that could keep you sitting at home in your favorite lounge chair — without a care in the world — watching "royalty" payouts appear in your account like clockwork.
And one under-the-radar real estate company sits at the center of it all.
Right now, the company is still "off the grid" for EV investors… I'm confident many Wall Street pros would never think of it as an EV investment.
But the moment they catch wind of the details I've shared with you today…
The stock could skyrocket virtually overnight…
And shoot this stock out of reach for everyone except big banks and hedge funds.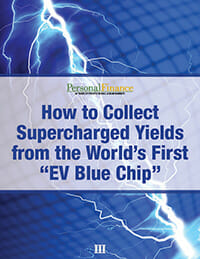 Everyday investors who make the right moves today will have an opportunity to build the kind of wealth they've only ever dreamed of.
I want that for you.
And to help you get there, I'm going to send you a FREE copy of:
How to Collect Supercharged Yields from the World's First "EV Blue Chip" (Value $99)
Inside, you'll discover:
How the company's track record of real estate success combined with the surging EV megatrend ideally positions them to become the world's first-ever EV Blue Chip stock.
How to receive your first "EV Royalty" payout within weeks.
The financial "miracles" the company pulled off during 2020… one of the worst years in history for shopping mall sales.
The shocking 206% boost the company's stock has seen since March 2020… which bodes tremendously well for their fortunes as shoppers return to malls in full force in the months ahead.
How its competitors — even the country's cream-of-the-crop — are completely missing the boat on "EV Royalties"… and how that clears a path for our company to rake in even more profits.
And of course, the company's name and ticker symbol… so you can lock down your shares right away.
I want to get this report in your hands as soon as possible.
All you have to do is accept a risk-free trial membership in Personal Finance by completing the short form below.
When you do, I'll also send along your two special bonus reports: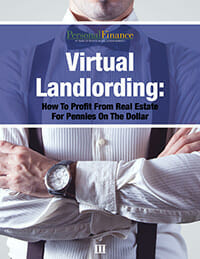 BONUS REPORT #1: Virtual Land lording: How To Profit From Real Estate For Pennies On The Dollar (Value $59)
"EV Royalties" aren't the only way to load up your retirement account with an influx of incredible income…
This exclusive bonus reveals three more cream-of-the-crop stock picks that allow you to collect virtual "rent checks" without any of the headaches of being an actual landlord.
With this report in hand, all it takes is a few keystrokes in your online brokerage account and you'll be set to live like a "virtual landlord".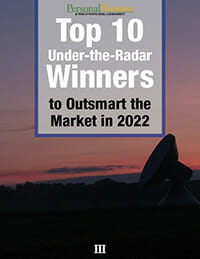 BONUS REPORT #2: Top 10 Under-the-Radar Winner to Outsmart the Market in 2022 (Value $59)
Inside this gem of a report, you'll discover 10 of my team's top stock picks for 2022.
All ten are top-notch money-makers that get completely ignored by most Wall Street analysts… mainly because they do just fine without greedy bankers meddling in their business decisions.
This premium report reveals the precise details you need to take advantage of these "under-the-radar" profit streams this year, and well into the future.
But I'm not stopping there… in addition to these incredible money-making reports, you'll also receive 12 Issues of the Personal Finance newsletter.
Each monthly issue contains my latest wealth-building stock recommendations, market commentary, and portfolio summaries.
Every month of the year, I deliver a new breakthrough opportunity that could double, triple, or even 10x your initial investment.
In recent months, Personal Finance has delivered more than…
32 Double and Triple-Digit Wins

As a member, you'll receive exact instructions on when to buy and when to sell…
You'll never have to second-guess the timing of your trades or let fear or greed force you into a bad decision.
You'll just follow the simple instructions and watch your account grow.
Plus…
Members Are Also Riding Incredible Open Gains
In addition to the closed trades I showed you earlier, Personal Finance members own positions in stocks we haven't yet sold because they're still climbing higher.
They include…
1,373% on a leading telecom…
320% on a consumer retailer…
382% on a small-cap ETF…
694% on a financial services provider…
293% on an industrial conglomerate…
368% on a mid-cap growth fund…
Plus, a whopping 2,451% on a multinational energy company
If you'd taken a $10,000 stake in each of these seven trades when we recommended them, today you'd be sitting on $678,141.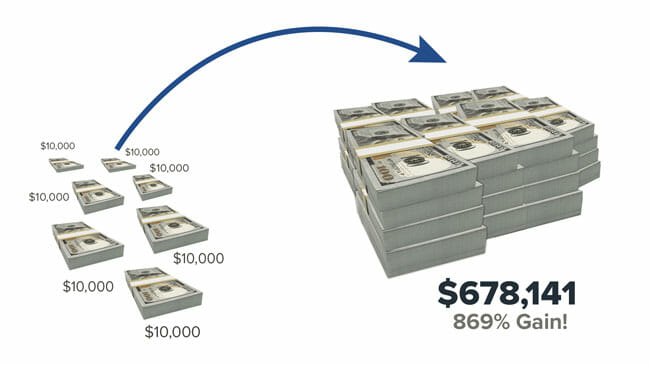 But these examples are just the beginning…
As I write this, our portfolios contain 2 quadruple-digit, 19 triple-digit, and 37 double-digit open returns.
Again, these are different than "closed trades" because we still own the stock and we're not yet ready to take profits because we believe it's still "got juice in it."
The moment you join Personal Finance, you'll have instant access to every last one of these winning recommendations…
I hold nothing back.
Plus, you'll receive dozens of brand-new recommendations in the coming months.
When you join Personal Finance today, you'll also receive: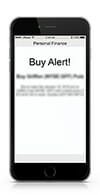 Intra-Day FLASH Alerts
Any time a trade requires your attention or action, I'll send you an instant email alert with instructions on how and when to close out your position, maximize your profits, and be ready to invest in the next breakout opportunity.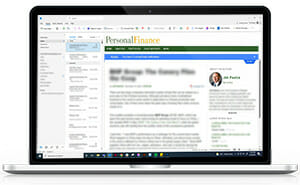 Weekly Email Updates
When something important happens in the markets, I don't want you waiting several weeks to hear about it. So each week, I send an email update to ensure you're on top of any and all late-breaking market developments and company news.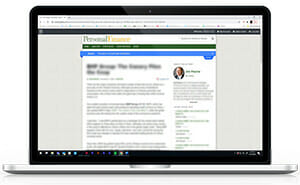 Investing Daily Insider
Beyond the headline news, there are hidden fortunes in the stories that seldom get told. Every weekday, our exclusive news digest, Investing Daily Insider, delivers money-making insights into the week's most important financial news.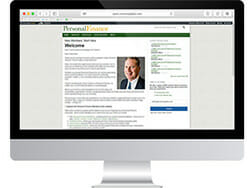 24/7 Access to Personal Finance Confidential Members-Only Website
As a member, you have exclusive, unlimited, around-the-clock access to my private website. Here, you'll find a searchable archive of past newsletter issues, special market reports, FLASH Alert histories, and model portfolio details… all at your fingertips. And only ever a click away.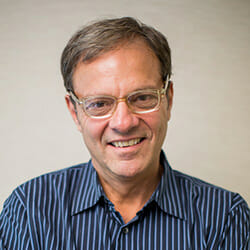 Direct Access to the Personal Finance Team
Members are encouraged to post questions to me and other analysts on my team in the Stock Talk forum inside our members' area. While we can't provide individual investment advice, we monitor the forum daily and respond with detailed answers quickly.
Personal Finance Premium Concierge Service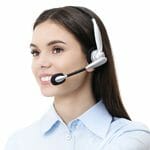 As soon as you're on the inside, you'll have access to a special phone number where you can reach my VIP concierge team every weekday during normal business hours. The team is standing by to ensure any questions, concerns, or problems you encounter as a member are dealt with quickly and thoroughly.
Plus… you'll receive the special report and bonuses I showed you earlier.
Of course, you'll also be covered by my iron-clad, double-barrel money-back guarantee…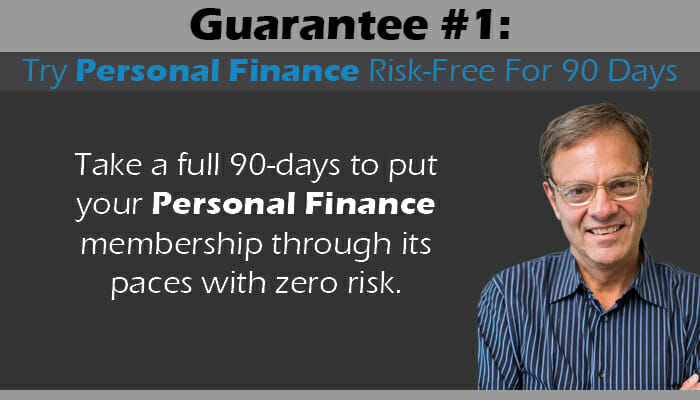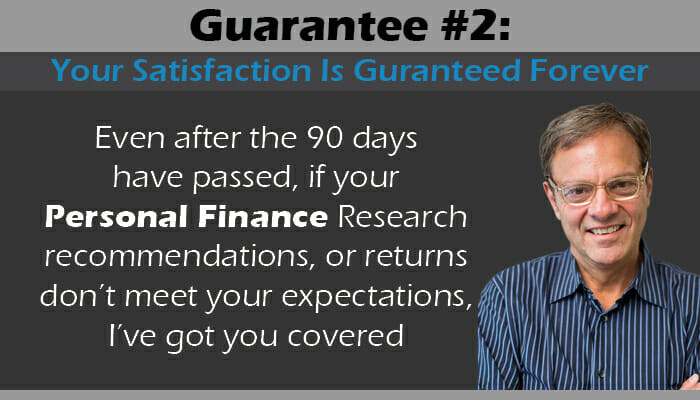 Remember, if there's anything about Personal Finance you don't absolutely love…
Simply call our concierge hotline and we'll make good on our guarantee.
Upgrade to a Two-Year Membership and Receive This Exclusive VIP Bonus
If you've decided Personal Finance is right for you, then you'll love this special upgrade offer.
Select the two-year option when you complete the form below and receive this VIP report…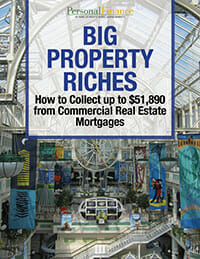 Big Property Riches: How to Collect Up to $51,890 from Commercial Real Estate Mortgages (Value $99)
In keeping with our real estate theme — and because I believe you can rely on it to flood your account with rock solid income for years to come…
This report reveals another high-income REIT recommendation.
The management team behind this powerhouse has one of the best pedigrees in the business.
The founder and CEO has real estate in his DNA and in a little over than a decade has expanded the firm nationwide and opened offices throughout Europe and Asia…
Positioning the company to build a protective fortress around shareholder payouts and continue generating outsized revenues no matter what's happening in the economy or the markets.
This report is valued at $99 and is not for sale to the general public.
It's only available here, on this page… and only when you make the bold move to join me inside Personal Finance for two-years.
I'm 100% confident the "EV Revolution" is on the verge of generating the same kind of wealth the Internet has…
I'm talking trillions of dollars.
And I firmly believe the "World's First EV Blue Chip" is the safest way for you to siphon off a portion of those trillions directly into your investment account… without the wild ride, most investors could be in for with "normal" EV stocks.
But if you want in on this opportunity to start racking up EV Royalty payments… you need to make your move NOW.
Remember, I only have 100 58 membership spots remaining today… and when they're gone, they're gone.
Don't let this shot at cashing in on the world's first "EV Blue Chip" slip through your fingers.
Simply complete the short form below and I'll send everything to you straight away!
I look forward to welcoming you as a new Personal Finance member soon.
To Your Wealth,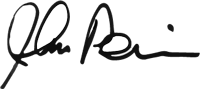 John Persinos
Editorial Director
Personal Finance
Copyright © 2022 Investing Daily, a division of Capitol Information Group, Inc. In order to ensure that you are utilizing the provided information and products appropriately, please review Investing Daily's' terms and conditions and privacy policy pages.