Secure Order Form
Congratulations!
You're just a few clicks away from locking in
your shot at a potential $28,118 "iMoney" fortune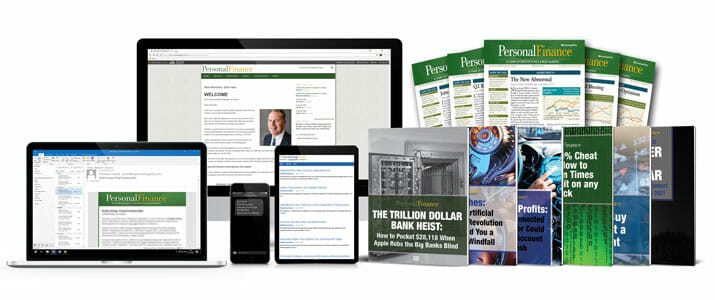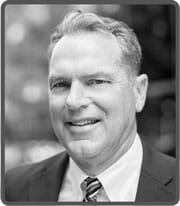 Jim Pearce here again…
Congratulations on making it to this page!
That smart choice you made means that in the next few moments… you could be well on your way to pocketing as much as $28,118 for this financial tech stock.
All that's left to do is review your order below…
And confirm your personal information.
As soon as you do, you'll have instant access to: The Trillion Dollar Bank Heist: How to Pocket $28,118 When Apple Robs the Big Banks Blind.
This exclusive step-by-step guide uncovers all the details you need to stake your claim on this potential $28,118 profit shot…
Before Apple's next big announcement.
It should take no more than 5 minutes to read.
All the guidance is spelled out in plain English, with simple, easy-to-follow steps…
So even if you've never invested before…
Even if you've lost money in the past…
Even if you don't know the first thing about technology…
You're covered.
This report is yours absolutely free of charge, when you accept a no-risk trial membership to Personal Finance today.
When you join us you'll also immediately begin receiving:
Intra-Day FLASH Alerts: Any time the team uncovers an urgent BUY opportunity or when our research indicates it's time to take profits on an open trade, you'll get a FLASH alert email. You'll never wonder what to do or when to do it… we'll be with you every step of the way.
Weekly Update Emails containing important news affecting the economy, the market, or our portfolio positions.
Our Confidential, Members-Only Website. This secure, password-protected membership site is where you'll have 24/7 access to all past issues of Personal Finance, FLASH Alert history, and portfolio summaries.
Access to our VIP Concierge Hotline where a real live human is available whenever you have a question or concern you need handled right away.
Investing Daily Insider: Beyond the headline financial news, there are hidden fortunes in the stories that seldom get told. Enter Investing Daily Insider, our exclusive news digest with a simple goal: provide you with money-making insights into the week's most pressing financial stories every Monday, Wednesday, and Friday.
Join Personal Finance today for just $39
Our regular price is just $99 a year.
But when you start your Personal Finance membership today, you won't need $99 to get started.
For you… today… right now…
I'm willing to slash your first year of Personal Finance by 60%.
Which means you'll be able to get started for just $39.
Think about that…
For what amounts to just 11 cents per day, you get groundbreaking investment ideas that have the potential to bring you life-changing profits…
All delivered directly to your inbox, month after month, like clockwork.
But that's not all.
When you join Personal Finance today…
You'll also get this welcome package of 3 more money-making bonus reports FREE
Starting with…
AI Riches: How the Artificial Intelligence Revolution Cold Hand You a $174,251 Windfall
($139 Value — Yours FREE)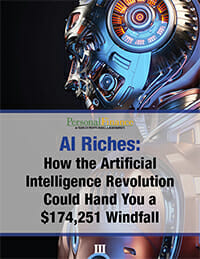 Artificial Intelligence is about to slam into the mainstream and the profit potential for early investors is staggering.
In this FREE report, I give you not one, not two, but THREE ways to play the AI revolution:
Game-Changing AI Stock #1: Defending America in Space: This little-known AI stock is quietly extending American military dominance to the stars. And with several $100 million contracts with the US military, this AI stock could shoot into the stratosphere.
Game-Changing AI Stock #2: AI "Lego Blocks": This company created a collection of software "Lego blocks" that allow developers to build new AI applications at lightspeed. Translation: it's the equivalent of selling "picks and shovels" in the AI gold rush. And best of all, this company is right in the Goldilocks zone — big enough from stable cash flow and primed for explosive growth.
Game-Changing AI Stock #3: $4 Miracle Worker That's Literally Saving Lives: I've uncovered a tiny company that could turn the entire radiation therapy industry on its head. They use AI to focus radiation beams — changing them from "flashlights" into "lasers"— and giving them pinpoint accuracy. Point blank: this tiny company could improve the lives of countless people across the globe… and at only $4 it has plenty of room to run.
You'll also get access to:
Smart Car Profits: How One 'Connected Car' Innovator Could Flood Your Account With Cash
($119 Value — Yours FREE)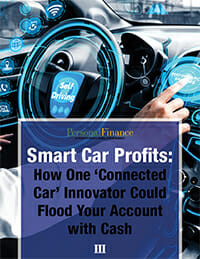 Imagine being able to ask your car for directions to the closest hardware store that stocks the specific part you need to fix your lawnmower… order food at the next highway service center so it's ready the moment you arrive… or turn on or off the lights, heat, or appliances in your home without ever lifting your hands from the wheel.
Sounds like KITT from Knight Rider. But the Boston-based company I recently discovered makes this "smart car" tech a reality in over 325 million vehicles around the world. And that's just the beginning. Practically every major car brand has signed on to buy this company's new technology. Which means, the number of "smart cars" on the road could skyrocket and so could your profits.
And just to make sure you hit the ground running, I put together one last special FAST ACTION bonus for you…
The 1,000% Cheat Code: How to Score 10 Times More Profit on ANY Stock
($99 Value — Yours FREE)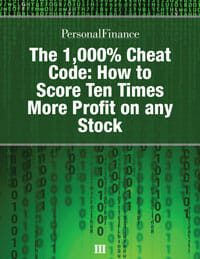 I'm certain you're going to be thrilled trading our deep-researched recommendations.
And, to sweeten the deal, I want to give you one of my best-kept money-making secrets — the 1,000% Cheat Code.
This is the rocket fuel that could send your returns into orbit. Apply it to the recommendations I'm handing you today, and you could watch your gains stack up 10X (or more).
But that's not all. Because you can use this 1,000% cheat code on virtually EVERY Personal Finance recommendation that comes down the pike!
The best part is it's "rookie" friendly. With just a few extra clicks in your investment account, you could watch your gains bust through the stratosphere — even if you've NEVER made this type of move before.
In your copy of this FREE special report, I detail everything you need to know about this type of trade in plain, easy-to-read English. So you can start applying this 1,000% Cheat Code to your trades, starting today.
Together, this package is worth $347.
But, the entire collection is yours "on the house" when you join Personal Finance today.
But I've got to warn you, if you're interested in this offer…
You need to move FAST
Remember, Apple could break the news on this as early as February 1.
Which means, if my research is correct, we could be just days away from the Apple brass kicking off the biggest legal bank "heist" in history…
The bottom line is…
If you want in on the ground floor, the best time to take action is NOW.
Hesitate and you could miss out on life-changing profits.
I don't want that for you.
So, to help make your decision even easier…
When you join Personal Finance right here, right now…
You're fully covered by my Double-Barrel Guarantee: "Risk Nothing & Keep Everything"
I want you to be 100% sure Personal Finance is right for you.
And thanks to my double-barreled 100% Satisfaction Guarantee — you'll be doing it completely risk free.
Here's how it works.
You have 90 days to try out Personal Finance at our expense.
If at any time during those 90 days you're not completely happy with what you're getting from us — or the profits you're seeing — simply let our Customer Service team know.
And we'll issue you a prompt, no-questions-asked refund for every penny of your membership.
I have no interest in keeping your money unless you're 100% satisfied.
What happens after the 90-day period is over?
That's where we go the extra mile.
Your Satisfaction is Guaranteed FOREVER
Even if it's past the 90-day mark and you find yourself unhappy for any reason, we still have your back.
Simply let us know and we'll give you a refund for the unused portion of your subscription.
In the off chance you do decide Personal Finance isn't all I promised, I insist you keep all the free reports and issues you receive as my way of saying thank you for giving it a fair try.
I'm not done yet…
Upgrade to a Two-Year Membership and Receive Two More VIP Bonuses!
Over the years, Personal Finance has helped thousands of investors prepare for retirement by delivering double and triple-digit opportunities virtually every month of the year.
And the one thing I've found is that my most successful readers… are the investors who commit to the strategies and recommendations I release, for the long haul.
Which is why I've worked out another deal that lets you effectively "double your discount" and lock in two years of Personal Finance – for only $78.
And to "sweeten the pot" even more, when you select the two-year option on the order form below, I'll send you two additional money making bonus reports — a $348 value — absolutely free.
(And, don't worry you're still covered by my "double barreled" guarantee.)
Your first bonus report is:
How to Buy Stocks at a Discount
($199 Value — Yours FREE)
In this free report, you'll discover the little-known and simple trading strategy used by institutional investors to snatch up great stocks at a discount. Once you learn how to use it, you may never pay retail for stock again.
The Top 10 Under the Radar Winners to Outsmart the Market in 2021
($149 Value — Yours FREE)
These "uncut gems" get completely ignored by most Wall Street analysts… but inside this report you'll discover the precise details you need to take advantage of these "under-the-radar" profit streams in 2021… and well into the future.
You've been clued in…
This is your chance to get in on the ground floor BEFORE the general public rushes in.
Which means it's officially time to ask yourself…
Will you be positioned to take a share of the profits?
Or will you just watch the news on TV and wonder "what could have been"?
Look: I've been in this business for a long time. Opportunities like this don't come around often.
When they do, your average investor does NOTHING.
But there's a bold class of people out there who first logically weigh the facts…
Then silence that inner voice that tells them "nothing good will ever happen if you take a risk"…
And then they make their move.
That's the kind of person I like to work with.
Today, it's your chance to step up and make that bold move.
To become the kind of person who takes a calculated risk and then reaps the rewards, for the rest of their life…
If you're ready for that, you must take action now.
I look forward to seeing you on the inside,

Jim Pearce
Chief Investment Strategist
Personal Finance
Copyright © 2022 Investing Daily, a division of Capitol Information Group, Inc. All rights reserved.