It has 6 million more daily visitors than YouTube
NASDAQ said it could be "A millionaire-making stock"
I say get in now… before it blasts off like a rocket ship
Jim Pearce here again.
Congratulations!
And thanks again for being a part of such a special day, for the both of us.
I feel overjoyed to share what I believe is the #1 Tech "IPO" of the Decade…
And to give YOU a chance to lock into the one special stock that changes everything.
You must be feeling relieved. But I hope you feel proud, too…
Because despite thousands people reading about this genius "IPO" company…
(Which could hand you $1 million or more in 2021…)
In the grand scheme — only A TINY FRACTION of them will follow through with real action — like you.
There's no time to waste, because if you make your move now, this could be:
Like Getting Netflix, Facebook, Apple, Amazon & YouTube — Rolled into 1 Stock

Remember, just $250 into these 5 tech juggernauts would have churned out:
$257,850

on Apple

$45,452

on YouTube

$491,500

on Amazon

$4,250

on Facebook
And

$341,250

on Netflix
The secret to these big-money wins — which would've handed you a $1.1 million profit on your tiny $1,250 investment…
(And eliminated your financial stress with a handful of easy trades…)
Is a set of 5 hidden catalysts that allowed Apple, YouTube, Amazon, Netflix, and Facebook to race past competitors and make investors rich.
And yet, as I showed you earlier, today's stock isn't going to blow past just one of them… I believe this is the only "IPO" that could soar even higher than all 5 of these stocks.
The 5 "Tech Catalysts" that guaranteed these companies would change the world
For Netflix, it was recurring revenue
For Apple, it was the App Store and iTunes
For YouTube, it was the "freemium" model
For Amazon, it was online shopping
And for Facebook, it was the "network effect"
The same "catalysts" that helped explode those 5 great tech stocks into the mainstream — and make investors true generational wealth…
Are ALL built into the stock I'll detail in Your 2021 Tech "IPO" Retirement, available from this page only.
Today's rare stock checks ALL 5 boxes
Hesitating on today's opportunity & waiting even a few days… could very well be a million-dollar mistake you'll regret for the rest of your life.
With opportunities this rare, you can't afford to wait. Especially not when:
Top tech insiders like NASDAQ are whispering this stock could become the next YouTube.
Andreeson Horowitz, America's #1 tech hedge fund & early investor in Facebook, Instagram & Twitter suggested it could be "the next social network"… one that's "bigger than anything we've seen yet."
Investing legend David Sze, who made his first billion investing in LinkedIn, believes this will become "the largest social experience in the world."
The information inside this special report tells you everything you need to know to experience these life-changing profits for yourself and your family.
Your 2021 Tech "IPO" Retirement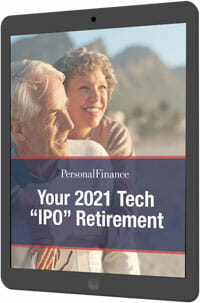 Inside you'll get all the details on the tech "IPO" company poised to hit the New York Stock Exchange like a hellfire missile.
You'll get the ticker symbol & name of the company…
Full guidance on the precise time to buy your shares for maximum profit potential…
And exactly how much to pay for your shares, down to the penny.
All spelled out in simple-to-follow steps that are an absolute breeze.
Even if you've never invested before… even if you've lost money in the past… even if you don't know the first thing about IPOs, or you've never touched a tech stock.
However, if you do want to discover more about this explosive company… how much money is at stake… and just how big they could get… all my research is also laid out for you in plain, easy-to-understand English.
With three decades of professional, hard-won investing experience backing today's trade (and every trade coming your way in Personal Finance)…
You can expect to uncover rare opportunities you won't find from the mainstream financial media. So gear up, and get ready.
Because game-changing profits like 3x, 6x, even 44x your money…
Is what you'll have a shot at, as a new member of Personal Finance…
The ONLY investment advisory in America we know of that's been going strong for 47 years.
Here's the full recap of your high-value bonus reports included in your Personal Finance Membership
On this page here, you have the opportunity to claim your personal copies of:
Bonus Report #1:
The 1,000% Cheat Code: How to Score Ten Times More Profit on any Stock (Value: $199)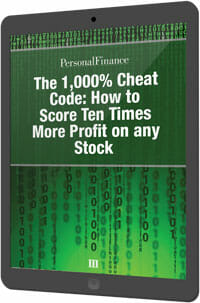 Years back, an elite group of 'delta traders' I worked with were making a stone-cold killing with this strategy. Eventually, once I'd gained their trust, they revealed their simple secret with me. A way to:
Buy any stock for PENNIES on the dollar…
Score up to 10x more profits than "buying and holding"
Get in… and cash out days or weeks later (instead of years).
Most investors have no clue this exists! With all the false information out there, that's no surprise. So I created this special free report to legally grab up to 10X MORE PROFIT on any stock.
Act right now and you'll also secure this second bonus report.
Bonus Report #2:
The IPO Profit Calendar (Value: $179)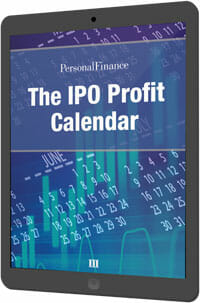 The 2021 IPO frenzy is thrusting more tech companies public than I've seen in decades. Forbes reported: "Just how many millionaires these IPOs will create is hard to predict."
This unprecedented flurry could make your head spin… unless you know what's coming. I created this special profit calendar, so you have a breakdown of:
When we predict a company will go public with an IPO
Who the company is (stock ticker & company name)
Where it will list: New York Stock Exchange or NASDAQ
How High we expect the profits to go
Finally, you'll also grab a copy of this exciting TV streaming opportunity:
Bonus Report #3:
Your 1 Move for a Triple Surge of Streaming Bucks (Value: $149)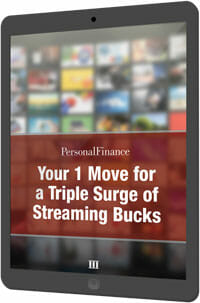 The great streaming TV war has just begun… $1.1 quadrillion is at stake… and now you could pocket as much as 21 times your money from the hidden winner of "World War Stream."
The winner is not Netflix, Amazon, Disney+, HBO Max, or Hulu. In fact, it's not a traditional streaming company at all. You'll discover 3 stock names & tickers of who we predict will win the streaming war — with easy-to-follow buying instructions laid out in plain English.
Remarkable, yet it gets even better – because you're fully protected by my ironclad guarantee:
My 100% Full Satisfaction GUARANTEE for
New Personal Finance Members
You have a full 90 days to use and assess everything I've included in today's urgent opportunity.
That means you can see how this Tech "IPO" stock performs…
Test out the 1,000% "Cheat Code" for a shot at 10x more profit…
And follow all the stocks & strategies inside your special bonus reports…
And after all that… if anytime in the next 3 months you aren't 100% satisfied with your Personal Finance membership — just call or email my support staff, and you'll have every penny refunded.
WARNING:

only 500 of these generous welcome packages will be made available today

They're only available to those who step forward to claim your New Membership in Personal Finance today.

A full year of insights inside Personal Finance would usually go for $149.

But you won't pay that today. Remember: I want this stock to pay for your retirement.

Yes, whether that means $200,000, $1 million, or $5 million.

So please, don't delay another moment in securing the tremendous bundle of profit-making tools included in today's special offer.
Your New Membership to Personal Finance
Also Includes: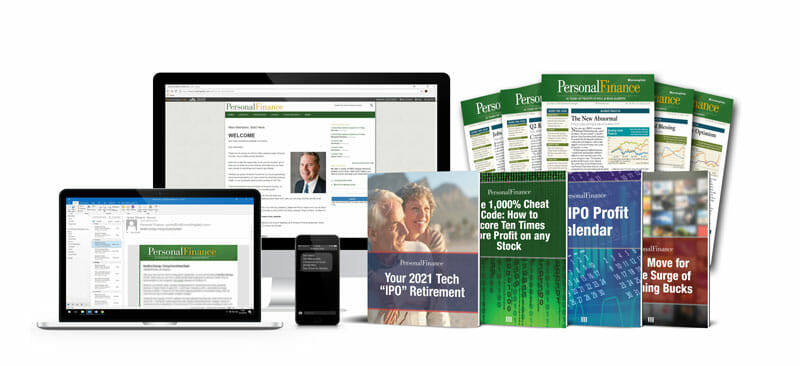 Monthly Personal Finance Issues
12 Mid-Month Position Updates Over the Next 12 Months
Password-Protected Access to the Members-Only Website
Direct Access to My Team
Flash Trade Alerts to Your Email
Fully-Staffed Customer Care Team Dedicated to Your Success
Additional VIP Investor Reports
When you join Personal Finance right now on this page — you'll lock in your risk-free subscription for as little as $39.
Or, if you choose to join me for two years (just $78) you'll also lock in $258 worth of additional research and money-making opportunities.
Starting with: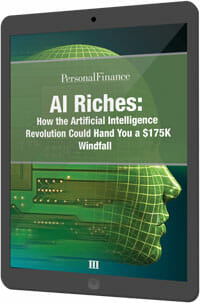 AI Riches: How the Artificial Intelligence Revolution Could Hand You a $175K Windfall (Value: $139)
Move on these 3 world-changing AI stocks now for a potential $175,000 payday…
The Space Force Secret Weapon: Multiple government agencies have paid $100+ million EACH to hire this AI defense company. The stock is up 63% already, and it's still lifting off the launchpad
AI "Lego World": This AI "Building Block" stock just tripled in value — but there's still time to get in. Even after that explosion, it's still worth just $1 billion, so there's plenty of upside left
The $4 Miracle Doctor: This tiny company is using AI to focus cancer destroying radiation with pinpoint accuracy. This stock is still trading around $4 right now (but I believe it could quadruple very soon)
You'll also have instant access to: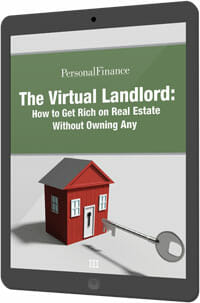 The Virtual Landlord: How to Get Rich on Real Estate Without Owning Any (Value: $119)
Everyone rich owns real estate. Few have the resources to become a rich landlord. This strategy is perfect for people who want investment property in New York, Hawaii, Los Angeles & more — without actually owning any.
What does it all add up to? The single best investment of your life, in my opinion. But to put it in strictly numerical terms:
That's $785 in FREE Money-Making Gifts
Included in Today's Exclusive Offer

(Limit: 500 Today Only)
I stand behind this entire New Member package… including the Tech "IPO" Retirement Stock… with every ounce of my personal & professional reputation.
And why wouldn't I? I've been eating my own cooking on this for more than a decade, after all.
It tastes good. So does this:
For the first time, and possibly for the rest of your life, you'll have the chance to take full control of your financial destiny.
And it all starts with the 1 incredible stock I'm about to give you.
Think about it like this: if this is the spectacular stock I believe it is…
You'll look back on today as the day it all came together for you.
Your retirement. Your legacy to your family. Your true calling as a man of action.
I look forward to welcoming you as a new member of Personal Finance…
See you on the inside,


Jim Pearce
Chief Investment Strategist
Personal Finance
Copyright © 2021 Investing Daily, a division of Capitol Information Group, Inc. In order to ensure that you are utilizing the provided information and products appropriately, please review Investing Daily's' terms and conditions and privacy policy pages.