Secured Order Form
You're ONE Click Away From Claiming Your FREE Copy of The Wide World of Weed and Psychedelics
(along with $592 Worth Of Complimentary Gifts)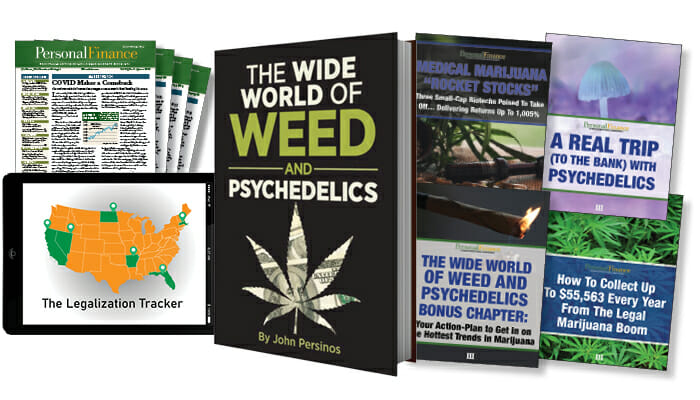 John Persinos here again…
Congratulations on making the bold move to join me inside Personal Finance.
As a thank you, we're sending you a free copy of my groundbreaking new book, The Wide World of Weed and Psychedelics, where you'll find the answers to every burning question you have about investing in marijuana and psychedelics…
Including the more controversial parts like:
Why is marijuana being legalized in the first place? Back when I was growing up, the judicial system threw people behind bars for it. Now, Americans are using marijuana to treat everything from arthritis to Alzheimer's (and building obscene wealth in the process). What changed? The low-down on how we got here & and where we're headed — Page 7.
When is federal legalization set to hit? Why marijuana is the one topic we all seem to agree on amidst a culture war, riots in our streets, and a global pandemic — Page 58.
Where is marijuana legal? What are the state-by-state laws? And what about your neighborhood? Important legalization predictions, implications, and news — Page 14.
How does medical marijuana really work in the body? Does the science agree with the hype? A top-to-bottom breakdown of the science, in plain simple English, with zero medical jargon — Page 33.
What's your next investment to get started today? Get ready for the investing crash course of a lifetime. Inside, I'll give you a full list of 12 actionable criteria your next investment must follow… along with a handful of red flags to avoid when it comes to investing in marijuana — Page 133.
I'll also give you the lowdown on where I believe psychedelics (a brand new, undervalued, and incredibly underrated sector of the market) are headed…
Along with an "under-the-radar" investment opportunity in the legal magic mushroom market that I'm tracking RIGHT NOW .
And that's STILL just the tip of the iceberg…
Remember, in addition to answering all of your biggest questions inside your free copy of The Wide World of Weed and Psychedelics…
You're also getting an entire year of access to Personal Finance…
But before we go any further, I want to be crystal clear…
Personal Finance is NOT exclusively a marijuana investment advisory. Our team finds opportunities in every sector of the market.
We leave no stone unturned, so you can pack your portfolio with profits every chance you get.
Also, unlike many other advisories you'll find… we're not just going to load you up with a bunch of reports and send you on your merry way…
When you join today, you'll have full, unfettered access to everything Personal Finance offers, including:
Intra-Day FLASH Alerts any time the team uncovers an urgent BUY opportunity or when our research indicates it's time to take profits on an open trade. You'll never wonder what to do or when to do it… we'll be with you every step of the way.
Weekly Update Emails containing important news affecting the economy, the market, or our portfolio positions.
Our Confidential, Members-Only Website — This secure, password-protected membership site is where you'll have 24/7 access to all past issues of Personal Finance, FLASH Alert history, and portfolio summaries.
Investing Daily Insider — Beyond the headline financial news, there are hidden fortunes in the stories that seldom get told. Enter Investing Daily Insider, our exclusive news digest with a simple goal: provide you with money-making insights into the week's most pressing financial stories every weekday.
VIP Concierge Hotline where a real live human is available, Monday- Friday (9 am-5 pm EST) to answer any questions or concerns you may have about your account.
Put another way…
Every month you'll get the latest research and wealth-building recommendations from every market sector (including marijuana and psychedelics).
With specific instructions on when to buy in… at what price… and when you should cash out for the payday of a lifetime.
Imagine having total access to a system
that could help you lock in on trades
that turn every $1,500 invested into
$7,620… $1,600… $5,865… $7,545…
or even 7,185 in pure profits
That's the exact opportunity on the table today!
Of course, with the amount of fortune-building intel inside every issue, we could easily charge thousands for access to Personal Finance…
But this service wasn't created as a tool for the financial-elite who have more bucks than brains…
It was created to give real people a shot at making real, life-changing profits.
Which is why the normal subscription fee is just $199 a year.
But today I'm not asking anywhere near that.
I want to get this book into the hands of as many investors as possible before that happens… and I don't want price to be the one thing that keeps you from the groundbreaking information inside of it…
So after a bit of arm-twisting with my publisher…
Here is what I'm able to do:
I'd like you to join us inside Personal Finance for an entire year at only $39.
The moment you do, I'll ship your personal copy of The Wide World of Weed and Psychedelics directly to your doorstep and give you instant access to everything Personal Finance has to offer.
That's a dozen monthly issues… with a countless number of investing recommendations on sure-fire stock plays in every sector of the market.
For just 11 cents a day.
But I'm still not done yet…
Upgrade to a Two-Year Membership to Unlock Even More!
Over the years, Personal Finance has helped thousands of investors prepare for retirement by delivering double and triple-digit opportunities virtually every month of the year.
And the one thing I've found is that my most successful readers are the investors who commit to the strategies and recommendations I release for the long haul.
Which is why I've worked out another deal that lets you effectively "double your discount" and lock in two years of Personal Finance — for only $78.
And to "sweeten the pot" even more, when you select the two-year option below… you'll instantly unlock 6 more incredible bonuses, which will clue you in on the top pot trades I'm tracking RIGHT NOW:
This insane bonus bundle includes:
FREE BONUS GIFT #1: The Wide World of Weed and Psychedelics BONUS Chapter: Your Action Plan to Get in on the Hottest Trends in Marijuana ($97 value)
FREE BONUS GIFT #2: Medical Marijuana "Rocket Stocks": 3 Stocks Set to Catch Fire NOW for the Payday of a Lifetime ($199 Value)
FREE BONUS GIFT #3: How to Collect Up to $55,362 Every Year from the Legal Marijuana Boom ($199 Value)
FREE BONUS GIFT #4: Marijuana Investing Daily — Our exclusive marijuana news digest & legalization "tracker" for when to make your next move
FREE BONUS GIFT #5: VIP Access to a financial dream team of 3 more highly-regarded American investors
FREE BONUS GIFT #6: A Real Trip (to the Bank) with Psychedelics ($97 Value)
All told, these bonuses are valued at $592…
But when you make the bold move to join me inside Personal Finance for two years, in addition to your free physical copy of The Wide World of Weed and Psychedelics…
They're yours absolutely free!
I'm 100% confident that this book will help clear the air… and this exclusive two-year membership package has the potential to put you on the road to riches.
But none of that matters if you don't stake your claim before it goes mainstream.
Better yet: there's no catch and you're obligated to nothing… and you can keep the book & exclusive bonuses just for trying Personal Finance out today
Because when you say "yes" to this kickoff offer you're protected by my iron-clad "Double Barrel" 90-day money-back guarantee.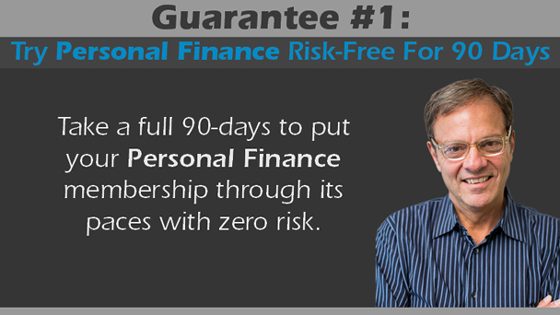 Here's how it works:
I'd like you to take the expert guidance you'll find inside Personal Finance for a full three-month test drive…
That's more than enough time to read through a few issues… maybe even take action on the wealth-building opportunities we'll recommend…
And if you're not thrilled for any reason at all?
Simply contact your VIP concierge representative to let them know you're unhappy and you'll be issued a prompt and courteous refund, right away.
No questions. No hoops. No qualifications.
What's more, even after three months, you're still free to cancel whenever you'd like…
AND receive a refund on any unused portion of your membership.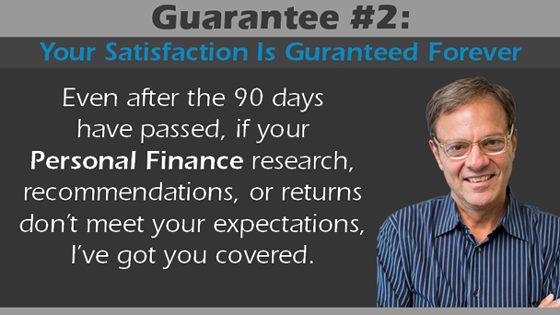 Best of all, your copy of The Wide World of Weed and Psychedelics along with the massive bundle of reports (and of course any profits you may have made) are yours to keep.
Consider it my way of saying "thank you" for giving us a fair try.
Point blank: The Wide World of Weed and Psychedelics is a MUST-READ if you want the straight facts about what's to come in 2022….
Regardless of if you don't know the first thing about marijuana… psychedelics… the stock market in general… or if you've simply been kicking yourself for missing out on marijuana's early profits.
With a copy of my new book in hand, you're one step closer to joining the FINAL "green rush" for a chance to rake in life-changing gains.
Ready to claim your FREE COPY of The Wide World of Weed and Psychedelics?
Simply fill out the short form below to claim one of the 115 remaining FREE copies of The Wide World of Weed and Psychedelics along with full access to Personal Finance.
If you're not jumping with joy over what you'll find inside, you'll get a full refund, down to the last penny.
You risk nothing other than missing out.
Don't get left behind.
Join us now.
Fill out the form below now and grab your FREE, copy of The Wide World of Weed and Psychedelics.
**Please allow up to three weeks for processing and delivery of your order. Please note that orders are processed Monday through Friday, excluding holidays. Investing Daily cannot be held responsible for unanticipated delays.**
Copyright © 2022 Investing Daily, a division of Capitol Information Group, Inc. In order to ensure that you are utilizing the provided information and products appropriately, please review Investing Daily's' terms and conditions and privacy policy pages.