Join Personal Finance Today… 100% 

Risk-Free.



Personal Finance is one of America's oldest and most successful research advisories and the flagship publication of Investing Daily.
If you're not familiar with Personal Finance, then you should know… it's unlike any investing service you've ever seen.
Why?
You see, unlike so many other financial websites and TV shows, we're not about what everyone else is already doing with their money.
Instead, our entire focus is on safe, highly profitable investments that the mainstream herd hasn't caught on to yet.
By following this one deceptively simple guideline, we've been able to increase our subscribers' wealth, rain or shine – no matter what the market is doing. Along the way, we've compiled a track record that dates all the way back to 1974, when Personal Finance was founded.
Some highlights:
On December 28, 1987, the plunging dollar was making headlines. We took the contrarian tack and recommended put options on the Japanese yen. In just 2 weeks, we'd booked a 371% profit.
We got in ahead of the crowd in the roaring 1990s. Our readers enjoyed serious gains all decade, including 503% with Pacific Century, 2,012% with Softbank, 293% with Cisco, 525% with Sony, 454% with KLA-Tencor, and 349% with Winstar Communications
In the bear market of 2000-2002, stocks slumped 35%, yet our Personal Finance portfolio gained 20.8% per year!
In the bull market from 2003-2007, we delivered a series of triple-digit winners, including 455% with Great Plains Energy, 117% with Cardinal Health, 150% with Schlumberger, and 103% with Nabors Industries
Most recently, from 2014-2016, our closed trades have generated subscriber returns of 126.70%!
And these are just some examples. Overall, over the last decade and a half, the Personal Finance portfolios have racked up a total return nearly three times better than the S&P 500. By investing in our recommendations, you'd have been able to turn $100,000 into $281,000!
Think about that for a second.
Our subscribers had the opportunity to earn $103,000 MORE than folks who invested in the broader market. Just from reading Personal Finance and following our straightforward, easy-to-understand advice.
But Don't Take Our Word For It…
Here's what just a few of those happy subscribers have had to say about their experience:
"I have made quite a lot of money following your investment advice." – Margot F.
"I have been receiving Personal Finance for many years and have come to rely on it as my main source of information. I was able to build my portfolio to $2M+ and now receive plenty of dividends." —Glenn C.
"I have gotten Personal Finance for over 10 years and it has helped me make wise choices when purchasing stocks." —Carol M.
 "I just recommended Personal Finance to my boss who is getting close to retirement age and didn't know how to transition his portfolio from growth to income. He thanked me and loves Personal Finance as much as I do!" —Jason G.
 "Your recommendations have served me nicely. They're a bit out of the ordinary and they force me to think 'fresh.' " – William B.
"Excellent concise advice. I have definitely made money due to Personal Finance." – Robert K.
"Time-honored advice about how to acquire and maintain wealth (not get rich quick schemes)." —Grayson V.
"Most of my financial education has been a result of a long-term subscription to this service, as well as most of my investment success. I would not leave home without my copy." – John B.
All told, we count more than 10,000 millionaires among our subscribers.
And today is your chance to join them.
Get Started Today!
So how much does it cost to join Personal Finance? That's the natural next question, right?
I've seen newsletter services like Personal Finance charge as much as $500 per year for their publications.
Some as much as $5,000!
And they don't include anything as valuable as all of the features you'll immediately receive access to when you join Personal Finance today.
Still, you won't pay even a fraction of those rates if you take advantage of this offer today.
Instead, you'll pay just $39 for a full year of Personal Finance… that's a savings of $60 off our already bargain-basement standard rate of $99 per year!
It's a flat-out steal. Especially when you consider that a single recommendation like those listed above, which we've been sending out to subscribers with stunning regularity for over four decades, could put thousands into your pocket.
Your subscription will include all of the following benefits: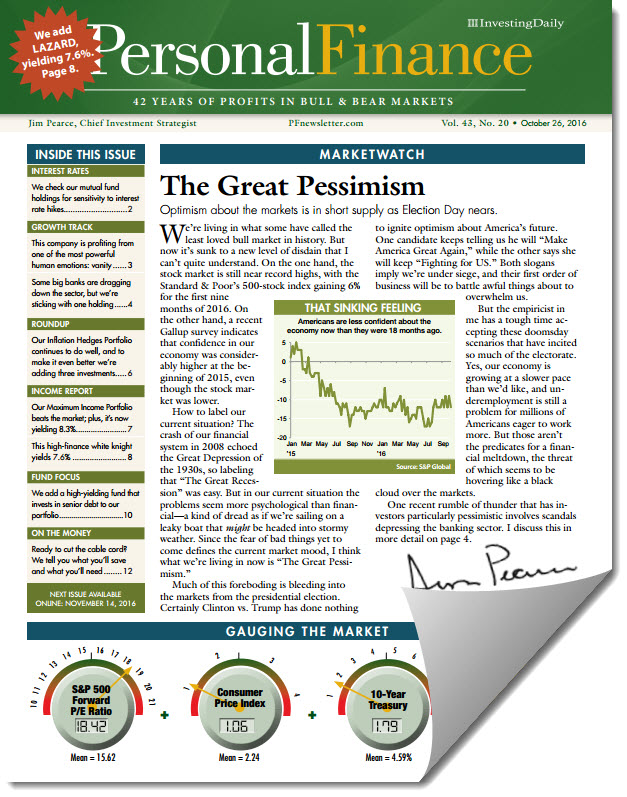 12 Issues per year – Every month we release a new issue jam-packed with a comprehensive analysis of major market trends and emerging investment stories. Also featured are updates on our portfolios, including Income, Growth, Maximum Income for Retirees, Funds, and Options.
Personal Finance Flash Alerts – Any time there's breaking news on one of our positions or a new opportunity comes along that just can't wait, you get a flash alert straight to your email inbox.
Award-winning research and guidance – We dig deeper and outwork the competition to bring you opportunities that WORK. We have a wall full of awards – and the files full of customer testimonials – to prove it!
Members-Only website access – Inside our password-protected website, you'll get an easy-to-navigate collection of all our research. That includes every issue, flash alert, and special report we've put out since the year 2000.
Stock Talk message boards – This one is a subscriber favorite. Here's something you'll find unique about Personal Finance – you can ask us questions directly using our Stock Talk message boards. We enjoy answering your questions and engaging with subscribers, so you can always expect a prompt response.
And one more thing…
Profit From Our Insights… Or Pay Nothing!
I'm a big fan of the "show, don't tell" approach to investing.
And I know it's one thing for me to tell you about Personal Finance's industry-leading track record and benefits, and trot out soundbites from satisfied subscribers.
But it's something else entirely for you to see the results for yourself, in black and white at the bottom of your bank or brokerage statement.
So right now, I'd like to invite you to test us out – risk-free – for the next 90 days.
Here's how that will work…
When you subscribe today, you'll get immediate access to every benefit I've described above – the members-only website, the issue archive stretching back 18 years, access to me and my team through the Stock Talk message boards.
You can spend the next 90 days putting us to the test. And if, during that time, you don't like what you see, or you aren't seeing the profits, income, and appreciation like you want, all you have to do is reach out to us and let us know.
We'll give you a full refund of every dollar you paid, along with our sincere thanks for giving Personal Finance a shot.
That's as fair a deal as I can make. The decision is in your hands now.
Just fill out the form below to join us today!
Or, if you prefer to order over the phone, our customer service team is available at (800) 543-2049 between 8:30 a.m. and 6:00 p.m. ET Monday – Friday.
See you inside,

Jim Pearce
Chief Investment Strategist
Personal Finance
When you pay for a one-year membership to Personal Finance today, your credit card will be billed the price indicated at the bottom of this form. You'll receive all the benefits listed above including the powerful coverage our full money back guarantee give you. For your convenience, on your one-year anniversary, we will bill your credit card for another year's membership fee. You can cancel this feature at any time. Simply contact your Concierge.