You're One Simple Step Away From Going PRO…
Congratulations!
You're just minutes away from becoming one of only 100 readers who get instant access to Personal Finance PRO today.
The moment you take me up on this exclusive offer you'll lock in…
3x-a-Month PRO Stock Picks
Bonus High-Probability PRO Options Trades
"PRO Insider" Video Calls
For 12 full months.
These benefits perfectly complement your regular Personal Finance subscription…
Because on top of the rock-solid buy-and-hold opportunities we cover there…
Personal Finance PRO delivers the one thing you need the most if you're looking to pack your portfolio with profits …
MORE shots… to make MORE money… MORE often.
I'm talking about a steady stream of trades which could quickly help you turn $1,500 into…
$2,087… $2,327… $2,628… $3,435… and even$4,500.
But the perks you'll receive from Personal Finance PRO don't stop there.
The moment you lock in your membership today you'll also get…
Immediate Access To My Entire
"Start Up Library" valued at $398

— 

Yours FREE
Special Report #1

:
Personal Finance PRO

Quick-Start Guide




(a $199 value — yours FREE!)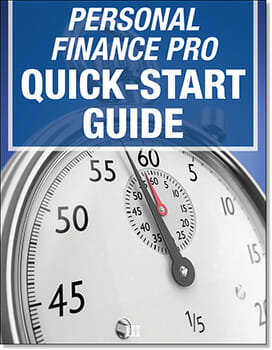 Consider this your full A-to-Z guide on PRO trades.
Inside you'll discover EVERYTHING you need to know about:
How increasing your portfolio's velocity can boost your profits
The THREE PRO hurdles every stock must clear (this is a peek "under-the-hood" of the PRO engine — not necessary to profit)
How to lock in a big gain AND give yourself a shot at even more profits!
And much, much more!
Once you've read through the Quick-Start Guide and grasp the basics of how my PRO system works…
You owe it to yourself to check out this special report next:
Special Report #2

:
How To Bank Gains Of Up to 200%

From The Ultimate Options Trade




(a $199 value — yours FREE!)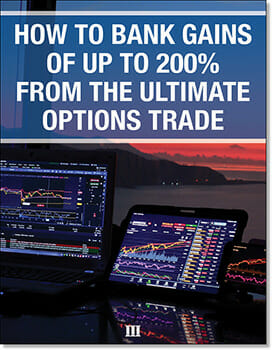 Inside, I'll walk you step-by step through the options trades I'll recommend.
That includes…
What makes these simple opportunities so unique
Why they're better than the options trades most investors make
What exact words you need to tell your broker to get approved fast
When you're done reading these two powerful reports…
You'll come away armed with everything you need to make your first trade in as little as 5 minutes.
That's important because…
I Have TWO Trades Queued Up
and Ready to Send to YOU Today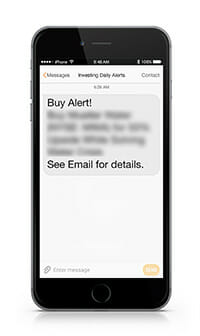 The first is a unique investment that gives you a share of a handful of companies operating in an insanely lucrative corner of the market.
And the second opportunity — well, let's just say when you see what this company does…
The fact that its share price isn't double what it is today… will shock you.
Both opportunities have cleared all three of my PRO hurdles…
And made it through my gauntlet of technical indicator "tests" as well…
Which means the time to act is now!
Better still…
I'll send you the details on TWO of my special options trades you can make
as well.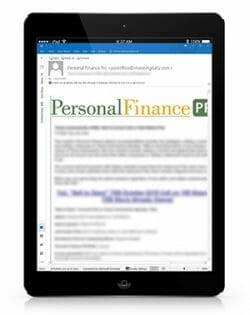 Both sport the potential to hand you quick gains 34%… 57%… 71%… 111%…
Maybe even as much as 172%.
I'm still not done though…
Because I just recorded a "PRO Insider" video call…
And I promise you this….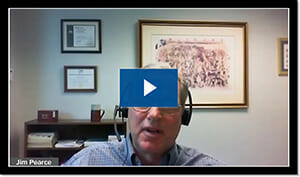 You won't want to miss what I share…
Especially in the last 2 minutes.
Because at the end of the call I reveal one of my most prized investing secrets — that you can use to maximize your profits…
For the rest of your life.
FREE Subscription to Investing Daily Insider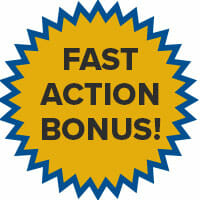 Beyond the headline financial news, there are hidden fortunes in the stories that seldom get told. Enter Investing Daily Insider, our exclusive news digest with a simple goal: provide you with money-making insights into the week's most pressing financial stories every weekday.
When You Join Today You'll Get a Massive 75% Discount!
Which means…
Instead of paying the regular price of $997…
You'll get a full year of Personal Finance PRO for only $245…
Saving you an incredible $752.
But I'm not stopping there.
See, in all my years as an analyst, I've found that investors who see the most success are those who are willing to stick around for the long haul…
So I negotiated even more savings for you if you join Personal Finance PRO for 2 years…
You'll pay just $395 — for an overall savings of $1,599!
Regardless of the term you choose, the minute you say "yes" to this special kickoff deal…
You're covered by my double-barreled satisfaction guarantee.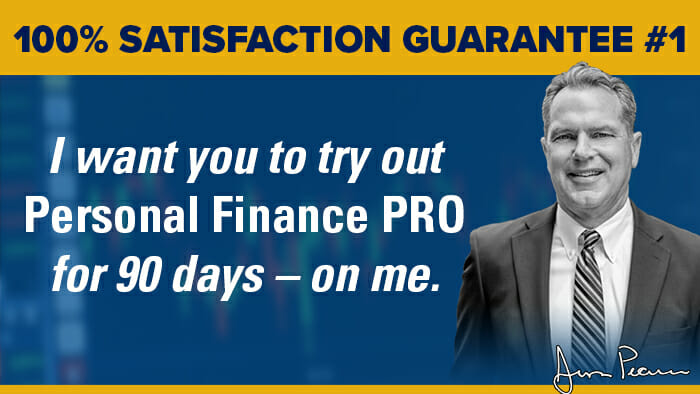 I want you to be 100% sure Personal Finance PRO is right for you.
So I'm giving you three full months to try it out at my expense.
If at any time in the first 90 days you're not completely happy with what you're getting from me…
Or with the profits you're seeing from the dozen trades (or more) I'll send you during that time…
Just let our customer care team know.
And we'll issue you a prompt, no-questions-asked refund for every penny of your membership.
I have no interest in keeping your money unless you're 100% satisfied.
But that's not all.
You're also covered by…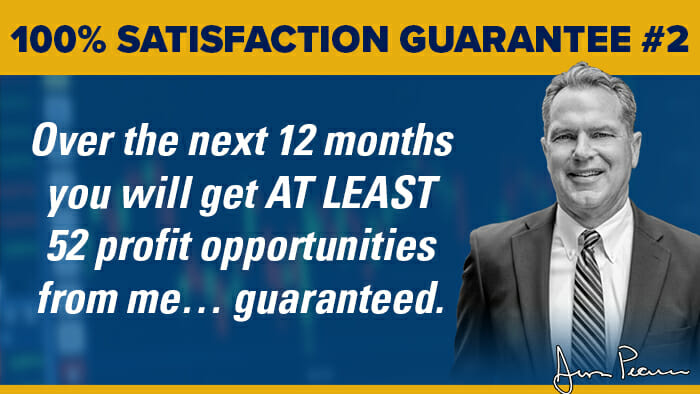 Here's how it works…
I'm 100% committed to helping you increase the velocity of your portfolio…
So over the next year, I promise you'll see AT LEAST 52 trade recommendations from me.
And I want you to hold me to it.
If I miss the mark… by even a single trade…
Simply call in and let my customer care team know about it.
Because I've instructed them to give you another year of Personal Finance PRO…
On the house.
That's a $997 value. Yours free.
I'd never make you this offer if I wasn't 100% sure I could deliver on everything I promised…
I couldn't afford to!
You Need To Make Your Move Now…
Remember, only 100 loyal readers will be able to join Personal Finance PRO today.
To claim your spot…
And take your investing to the next level…
Simply fill out the form below before it's too late.
To quickly and safely multiplying your wealth,


Jim Pearce
Founder
Personal Finance PRO
June 2022
P.S. If you have any questions about Personal Finance PRO that I haven't answered inside this invitation…
Or if you'd rather complete your membership with a real live person…
Please contact our dedicated customer care team toll-free at (800) 543-2049.
They're available 9 a.m. to 6 p.m. eastern…
And will do everything they can to make you happy.
Copyright © 2021 Investing Daily, a division of Capitol Information Group, Inc. In order to ensure that you are utilizing the provided information and products appropriately, please review Investing Daily's' terms and conditions and privacy policy pages.