Accept Your Radical Wealth Alliance New Membership Offer Below Now to Instantly:
Discover the linchpin LIDAR company that turns the Apple Car into a self-driving marvel
Claim your $1,347 worth of FREE bonuses
And secure your shot at a potential $190,717 fortune from the reveal of the Apple Car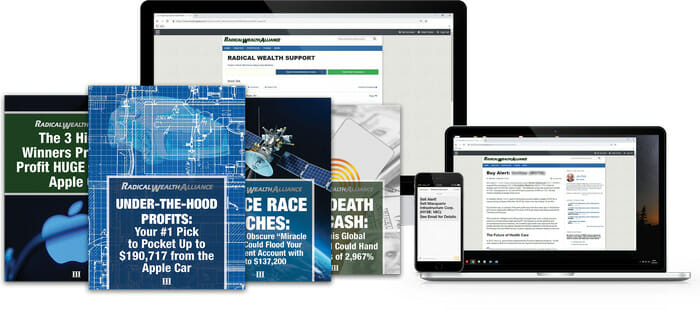 Jim Pearce here again…
Congratulations on taking a HUGE step towards locking in your shot at a potential $190,717 fortune from the Apple Car…
And not a moment too soon!
We could be just days away from watching the profits start to pile up.
All that's left is to confirm your information below and join me inside Radical Wealth Alliance.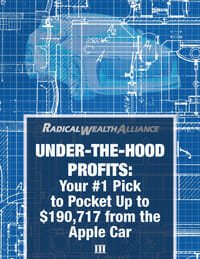 The moment you do, I'll immediately send this special report: Under-the-Hood Profits: Your #1 Pick to Pocket Up to $190,717 from the Apple Car.
Inside you'll discover the revolutionary LIDAR company that turns the Apple Car into a self-driving marvel.
This exclusive step-by-step guide is quick, simple, and easy to read…
And it reveals all the details you need to know to put yourself in position to profit before Apple's big announcement.
Just a few clicks and five minutes could be all that separates you from a shot at up to $190,717 in the weeks and months to come.
Regardless of if you've been investing for years or looking to make your first trade…
All my research is laid bare for you in my new, in-depth report.
If this report were released to the public, it would come with a $499 price tag…
And it would be a steal at that price.
But today, when you join Radical Wealth Alliance, this special report is yours FREE.
And to make sure we're starting off on the right foot…
I'll also rush you 3 exclusive
money-making bonuses…
($1,347 Value — Yours FREE)
Free Bonus #1

:
The 3 Hidden Winners Primed to
Profit HUGE from the Apple Car
($449 Value — Yours FREE )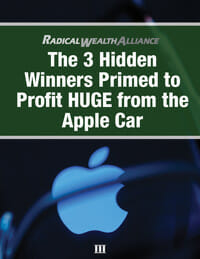 Inside this FREE special report you'll discover:
The under-the-radar semiconductor company that's leading the way in "fast charging" microchips 113 — a state-of-the-art technology that electric vehicle companies will pay top dollar for.
The cutting-edge manufacturing company that makes the lasers 114 inside LIDAR sensors. This is the perfect way to "double up" on today's LIDAR stock and potentially score even BIGGER profits.
America's largest lithium supplier. This Philadelphia-based company is up 214%, and there's plenty of room to run. With long-term lithium supply agreements locked-in and expanding capacity in the United States and abroad, this All-American company is the no-brainer choice to be Apple's lithium supplier.
FREE Bonus #2

:
Space Race Riches: How One Obscure
"Miracle Metal" Can Flood Your Investment Account with up to $137,200
($449 Value — Yours FREE)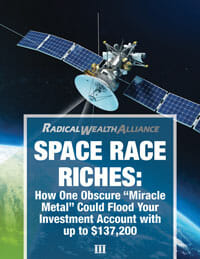 Inside, I reveal all the details you need, including:
How the imminent satellite surge will generate unprecedented demand for one boring, grey "miracle metal."
The unknown U.S. company that has a virtual stranglehold on the global market for this "miracle metal" and positioned themselves to generate massive stock gains of 1,272% or more for early investors.
And of course, full details on this "miracle metal titan" including its name, ticker symbol, and precisely how to claim your stake before Wall Street wakes up and ruins the party.
FREE Bonus #3

:
The Death of Cash: How this Global Megatrend Could Hand You Gains of 2,967%
($449 Value — Yours FREE)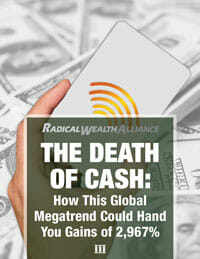 For the past decade, electronic payments have been gaining momentum toward replacing cash in every corner of the globe.
Then in 2020, the coronavirus pandemic strapped a nuclear-powered rocket to this unstoppable megatrend…
Motivating business owners and governments virtually EVERYWHERE to rollout contactless payment systems… at lightning speed.
In this "not-for-sale-anywhere" report, I reveal details of the stock that's forged partnerships with some of the biggest companies on the planet…
And how it could easily turn every $5,000 stake into as much as $153,350.
Together, these three wealth-building reports have a combined value of $1,347.
But I want to send you the entire package today absolutely FREE.
All you have to do is complete the short order form below and I'll rush them out to you immediately.
And as incredibly valuable as these reports are, they're just the tip of the iceberg…
With your Radical Wealth Alliance membership, you'll not only benefit from my 30+ years of in-the-trenches investment experience…
You Get Six World-Class Financial Experts Doing the Heavy Lifting for You
All six of us seasoned veterans are laser-focused on a single goal…
Helping you become obscenely wealthy.
Let me introduce you to my Radical Wealth Alliance brothers-in-arms…
Dr. Stephen Leeb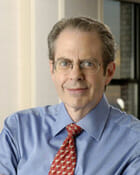 As a recurring guest on Bloomberg TV, CNN, NPR, and Fox News, Dr. Leeb has been called "one of the country's foremost financial experts." And our subscribers lucky enough to act on his advice would agree… 10 of Dr. Leeb's ultra-safe, crash-proof stock recommendations — including little-known gold mining plays — were more than just "safe harbors." They better than DOUBLED.
Robert Rapier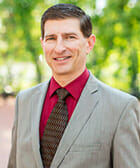 Robert Rapier, a petrochemical engineer who you've probably seen on 60 Minutes and The History Channel. Or you might have seen him in The Wall Street Journal.  Moments away from obtaining his Ph.D. in chemistry & math — he quit to pursue making a fortune in energy stocks… and lucky for us he did.
Jim Fink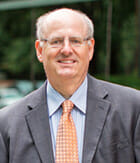 Jim is the only wealth manager I know who has a Harvard master's degree, an MBA, and even a law JD! Jim is also the only analyst I know that can boast that more than one hundred of his trades have better than doubled. He even doubled his money 11 times… trading on the SAME stock. (A strategy you'll have exclusive access to, the moment you claim your seat inside the Radical Wealth Alliance.)
John Persinos

John worked on Capitol Hill as Senior Press Secretary to Byron Drogan and tracked down the biggest financial news stories for Inc. Magazine, Kiplinger, Venture, and StreetAuthority. Now John brings together his deep analysis & political access to uncover the hidden financial opportunities that await you.
Scott Chan

Every team needs a "rocket scientist." Enter, Scott Chan, our brilliant in-house "numbers guy." With an MBA in both Finance and Computer Information Systems, Scott uses his finely tuned analytical skills to uncover profit-making opportunities most Wall Street analysts don't have the patience or talent to find.
When you join Radical Wealth Alliance today, you get access to trade recommendations from all six members of this elite investment "Dream Team."
We give you precise, actionable recommendations and easy-to-follow, plain-English instructions on exactly what to do and exactly when to do it…
All backed by our 160+ years of combined experience.
And when you join us inside Radical Wealth Alliance today, in addition to your free copy of Under-the-Hood Profits (a $499 value), you'll also have instant access to: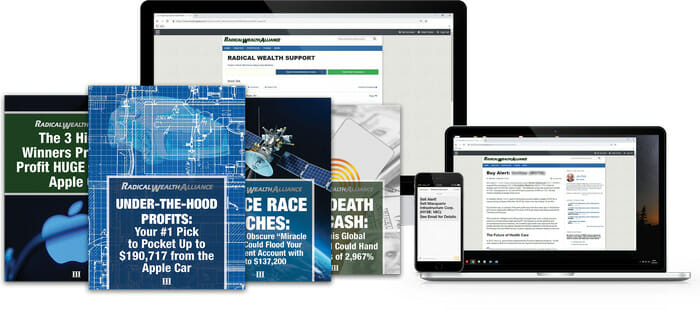 12 Full Months of Investment Briefings: Each month, you'll receive our latest detailed report… hot-off-the-presses. Inside, the team shares performance numbers on our open trade positions, our latest stock recommendations, plus what we expect to see happening in the markets over the coming weeks. We hold nothing back. We go out of our way to ensure you have every opportunity to build the retirement nest egg you've always dreamed of.
Simple and Clear Investing Guidance: You'll never be at a loss, wondering what moves to make with your investments. The team is with you every step of the way with clear instructions on what to buy… what to sell… when… and at what price. All that's left for you to do is follow our recommendations, then sit back and enjoy the process… stress-free.
Up-to-the-Minute Flash Action Alerts: The moment it's time to make a move on any of our stock positions, we've got you covered. We'll send an instant alert straight to your email inbox. We won't beat around the bush… you'll receive simple, step-by-step trade instructions you can use to take action right away if you choose to.
Plus, you get private access to the members-only Radical Wealth Alliance Portal: Think of this as your exclusive "profit vault." Inside, you'll have 24/7 access to everything the team creates… all of our stock recommendations, flash alert histories, special reports and bonuses, model portfolio returns… and more. Everything you need, all in one place, and only ever a click away… day or night.
The moment you join Radical Wealth Alliance, you'll have access to all the tools you need to position yourself for the gigantic profit bonanza I'm confident is just around the corner.
And in the spirit of making this decision a complete no-brainer…
I'll even go one step further.
Right here, right now you can get full immediate access to Radical Wealth Alliance at a
HUGE discount
As a part of this special new member offer…
You can join Radical Wealth Alliance for only $1,495.
That's 70% off our regular annual membership fee…
For a cash savings of $3,505.
And the lowest rate my publisher is likely to ever offer for access to the Radical Wealth Alliance.
Remember, while I'm unable to offer refunds on this incredible new member package…
You're covered by my Iron-Clad
"Double Barrel" Guarantee
If at any time over the next 12 months, you don't see the opportunity in our model portfolio to rake in gains of at least 500%…
You'll get an additional year of Radical Wealth Alliance absolutely free.
There are no loopholes.
No hoops to jump through.
No ifs-ands-or-buts.
Simply call my concierge hotline and let us know…
And the Radical Wealth Alliance dream team will work for you for a second year free of charge. It's really that simple.
But here's the thing…
If you want to become a member..
You need to act fast.
I can only extend this special
New Member Offer to the first 100 investors
who join Radical Wealth Alliance today
I wish it could be more.
But that's all my publisher will allow at this insane discount.
So, we're only opening 100 new member spots today…
And considering you have a very real shot at pocketing up to 20x your money… enough to turn every $10,000 into 190,717…
I don't expect these spots to stay open long.
Get started with Radical Wealth Alliance now
When you join Radical Wealth Alliance today, you'll get access to the most explosive investment opportunities…
Delivered directly to your inbox… for a full year!
Bottom line: Right here, right now you have the chance to profit wildly from the most explosive stock market opportunities.
A year from now, you could look back on today as the turning point for you and your family's finances.
The alternative is you walk away today empty-handed.
A decision I'm afraid that you'll live to regret.
With this incredible 70% discount…
Plus $1,347 in bonuses…
And the potential to rake in up to $190,717 off of a single stock on the line…
Why risk letting this opportunity pass you by?
Remember, there are only 100 spots open today.
And when they're filled this special new member offer snaps shut.
Don't miss out.
Complete the order form below to join Radical Wealth Alliance NOW.
To your wealth and health,


Jim Pearce
Chief Investment Advisor
Radical Wealth Alliance

Copyright © 2021 Investing Daily, a division of Capitol Information Group, Inc. In order to ensure that you are utilizing the provided information and products appropriately, please review Investing Daily's' terms and conditions and privacy policy pages.