You're just one simple step away from a potential $252,374 payday from this "Miracle Briefcase" Stock…
Just accept this exclusive invitation to join Radical Wealth Alliance below:
John Persinos here again…
Congratulations on making it to this page!
With just one more "click" you'll discover this "Miracle Briefcase" Stock…
And how to secure your chance at 2,524% gains starting today.
So please review your order below. And confirm your personal information.
As soon as you do, you'll have instant access to:
The "Miracle Briefcase" Stock: How 1 Trade Could Blow Big Pharma to Bits & Hand You $252,374
Radical Wealth BONUS #1: Your Ultimate Guide to Radical Profits: The Top 5 Under-the-Radar Plays Primed to Explode in the Coming Recovery
Radical Wealth BONUS #2: The Top 3 Stock Picks Set to Soar in the Post-COVID Biotech Boom
Fast Action BONUS: The $20 Trillion Bank Heist: How to Pocket $224,315 When Apple Robs the Big Banks Blind
Full Year Membership to Radical Wealth Alliance
So, you can get started trading immediately.
URGENT WARNING: Please remember that due to the exclusive nature of this welcome package, I can only accept 200 new subscribers today. And there could be thousands reading this page right alongside you.
We've just revealed the secret to this incredible windfall opportunity and now is your chance to get in on the ground floor of this investment with:
The real-life medical miracle inside this briefcase could be your $252,374 payday
It's the product of 8 years of hard work from some of the brightest medical minds at Johns Hopkins, The University of Maryland, & even MIT.
And to be clear…
It's not some new "magic" pill.
It's not some gizmo to change your genetics either.
But this breakthrough could transform everything about how your medicine is made…
From vaccines, antibiotics, and insulin… to brand new treatments for Alzheimer's and even cancer…
Because…
Once every doctor in America gets their hands on this briefcase, many lifesaving medicines could finally be affordable, costing up to 95% less
Can you picture it?
Lipitor (90 day supply)

$1,482.95

$74.15 (save $1,408.80)
Zestril (90 day supply)

$1,258.45

$62.92 (save $1,195.53)
Zocor (90 day supply)

$60

$22.18 (save $421.42)
Prinivil (90 day supply)

$144.80

$7.24 (save $137.56)
Synthroid (90 day supply)

$131.56

$6.57 (save $124.99)
Norvasc (90 day supply)

$653.34

$32.66 (save $620.68)
It's no wonder Wall Street insiders are already jumping in with both feet…
See for yourself:
Wellington Management – a leading hedge fund with $1 trillion under management – snapped up 316,490 shares
Woodline Partners – which Bloomberg called 2019's Biggest Hedge fund – gobbled up 596,081 shares
T. Rowe Price – one of the largest asset managers in the world – recently picked up a staggering 2,200,401 shares
The smart money has already punched their ticket for this profit shot.
But there are still billions (and potentially even trillions) on the table.
Of course, that's GREAT news for you.
You've been clued in…
And now is your opportunity to get in on the ground floor BEFORE the general public rushes in.
If you're seeing this page right now, it means there are still a few spots left. Which means when you take me up on today's offer, you'll secure a $2,500 discount on your year-long subscription to Radical Wealth Alliance.
That's a generous 50% off the regular retail price of $4,995.
But I need to warn you… once the last seat has filled, this page will be pulled down and your shot at $252,374 with this "Miracle Briefcase" stock could be gone for good.
So, the choice is yours:
Will you be one of the winners
who moves FAST on this?
Or will you find yourself watching the nightly news and kicking yourself over "what could have been?"
Look: I've been in this business for a long time. Opportunities like this don't come around often.
And when they do, the average person does NOTHING.
But there's a bold class of people out there who first logically weigh the facts…
Then silence that inner voice that tells them "nothing good will ever happen if they take a risk…"
And then they make their move.
That's the kind of person I like to work with.
Today is your chance to step up and make a bold move.
To become the kind of person who takes a calculated risk and then reaps the rewards, for the rest of your life…
If you're ready for that, you must take action now.
To give you a leg up, I just put the finishing touches on an exclusive report called:
The "Miracle Briefcase" Stock: How 1 Trade Could Blow Big Pharma to Bits & Hand You $252,374.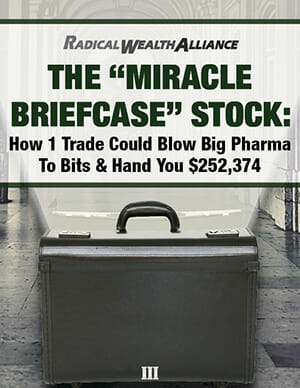 Inside this exclusive report you'll get the full details on this unprecedented opportunity, including:
The name & ticker symbol of this breakthrough company
Full guidance on how to invest in this company starting today
My detailed analysis of the company at the center of the bright new future of medicine
All the guidance is spelled out in plain English, with simple, easy-to-follow steps…
So even if you've never invested before…
Even if you've lost money in the past…
Even if you don't know the first thing about technology…
All my research is laid out in for you in this all new in-depth briefing that's yours the moment you join me inside Radical Wealth Alliance.
But that's not all you're getting when you join today.
You also get three additional bonus gifts
A $757 Value — Yours FREE!
Starting with…
Radical Wealth BONUS #1:
Your Ultimate Guide to Radical Profits:
The Top 5 Under-the-Radar Plays Primed to Explode in the Coming Recovery
($199 Value — Yours FREE)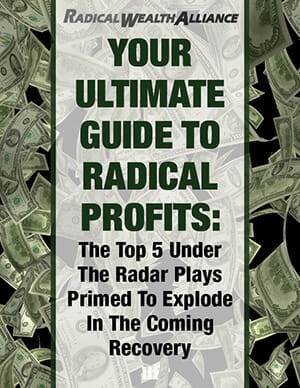 All of us at Radical Wealth Alliance came together to identify the top moves that stand to profit the most in this post-Coronavirus market…
And after exhaustive research, debate, and number crunching, we emerged with 5 opportunities — each one detailing a unique profit play set for outsized gains in the coming recovery.
Powerhouse Profits: How to Collect Steady, Predictable Profits in 2020: Robert Rapier's most exciting pick yet… a little-know profit powerhouse that paid out investors up to $2,150 — even during the Corona Crash. No question, this hidden gem is a must own for dependable cash flow in 2020 and beyond.
The #1 Pick to Make Massive Profits From Gold's Bull Market: Here, Dr. Stephen Leeb gives you his surprising "new gold" pick to ride the price of gold to record highs.
Your 1 Move for a Triple Surge of Streaming Bucks: Jim Pearce uncovers the hidden winners that gets you a personal cut of ALL the outrageous profits from the video streaming-wars.
"Thursday Trades": The Best Investment Strategy on the Planet: Jim Fink gives you the blueprint that helped him grow his personal portfolio from $50,000 to $5.3 million.
The Biotech "Rocket Stock" That's Poised to Blast Off: This special pick from Scott Chan reveals the biotech with a brand-new therapy that could literally give people their sight back. It's a $10.4 billion market… and this tiny company has ZERO competition.
All 5 under-the-radar plays are yours today absolutely free.
Radical Wealth BONUS #2:
The Top 3 Stock Picks Set to Soar in the Post-COVID Biotech Boom
($279 Value — Yours FREE)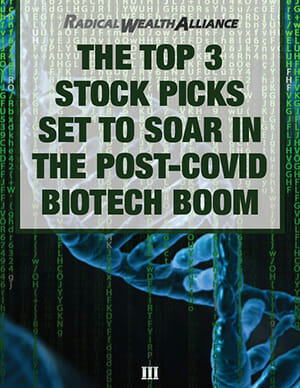 The Coronavirus already stirred up incredible biotech gains — including 1,028% from Novavax and an astonishing 17,000% from Moderna. But the biotech boom is only beginning. In this unique report, we spotlight three promising small cap plays with pioneering products and outsized potential:
The Ohio-based biotech with a new breakthrough that can stomp out a pandemic and get people back to work fast! It's not a vaccine or even a breakthrough treatment. Yet experts are saying it could be worth $23.1 billion and this tiny company is going after the lion's share.
The leader in cutting edge "liquid gold" treatments for infectious diseases that are growing fast in response to COVID-19. This company is already cornering the market with treatments for Hepatitis B, Tetanus, and even Rabies — with more on the way. Better yet, it's right in the Goldilocks zone… big enough with stable cash flow and primed for explosive growth.
This Massachusetts-based biotech specializes in lab-made cannabis therapies. Sounds like science fiction, and yet, with a brand-new treatment for cystic fibrosis in Stage III trials, this tiny company is an FDA signature away from going after a potential $13.9 billion fortune.
And just to make sure you hit the ground running…
I put together one last special FAST ACTION bonus for you…
Fast Action Bonus:
The $20 Trillion Bank Heist:
How to Pocket $224,315 When Apple
Robs the Big Banks Blind
($279 Value — Yours FREE)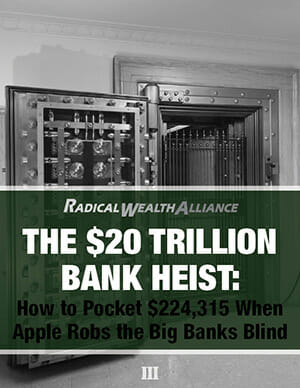 In an instant, Coronavirus transformed everything…
And gave Apple a blaring signal to charge into banking.
Now — with one announcement — a surge of cash could pour out of the banks…
Straight into this surprising financial tech company that makes this legal bank heist possible (and it's not Apple).
With $20.4 trillion in the vaults, the profit potential here is enormous…
Ground floor investors could see a $224,315 payday.
In this FREE report I give you all the details to get in on this new financial tech stock before it skyrockets.
All in all, your insane bundle of bonus gifts stacks up to $757 in valuable FREE reports and analysis.
They're yours "on the house" if you join Radical Wealth Alliance today.
But it gets even better – because…
You're fully covered by Investing Daily's 1,000% Profit Guarantee for 365 Days
Here's how it works.
Unfortunately, due to the massive discount I've worked out with our publisher, I am unable to offer refunds on this package.
But don't let that keep you from collecting windfall profits! While I can't offer refunds, I'm so confident in the Radical Wealth Alliance and the massive profit opportunities that it provides, that I'm willing to take an extra step to prove it.
For the next 365 days you can explore every nook and cranny of your valuable new Radical Wealth Alliance membership.
And if for some reason we don't give you the chance at 1,000% profits…
Just let us know.
And we'll work with you for another year completely free.
No questions asked. No hoops to jump through.
And you'll still get to keep EVERYTHING we've just laid out as part of this members package. (Including a whopping $757 in free bonus gifts…)
But a word or caution, if you're interested in this offer — do NOT delay…
This is a rare opportunity to access our proprietary market research.
I don't want it leaked.
So, I'm limiting access to just
200 people today.
Now that you have all the facts…
The next move is yours.
To get started now and lock in your shot at a $252,374 payday…
All you have to do is fill out the short form below.
Remember, this is an exclusive offer that's only available — right here, right now.
One that gives you the opportunity to follow the work of the Radical Wealth Alliance's brain trust for the next 365 days.
And one that is backed by our exclusive 1,000% Profit Guarantee…
With that kind of promise backing up our research, you have to ask yourself…
Why not try it?
Fill out the form below to get started.
Only 200 spots are available to new subscribers today.
When the spots fill up, I'll be forced to shut down this page.
And the door slams shut on your $252,374 profit opportunity.
No exceptions.
So please don't wait. The simple form below is all that stands between you and the one "Miracle Briefcase" stock that could hand you a potential $252,374 payday.
See you on the inside.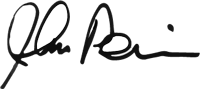 John Persinos
Editorial Director
Radical Wealth Alliance
Copyright © 2020 Investing Daily, a division of Capitol Information Group, Inc. In order to ensure that you are utilizing the provided information and products appropriately, please review Investing Daily's' terms and conditions and privacy policy pages.