Congratulations!


There are Still a Few Discounted Memberships Remaining
You're Just Moments Away from Locking in Your Shot at Gains of 1,272% on this Global "Miracle Metal Titan"
Plus, You'll Secure Access to This Exclusive Wealth-Building "Library" Worth $1,497… Absolutely Free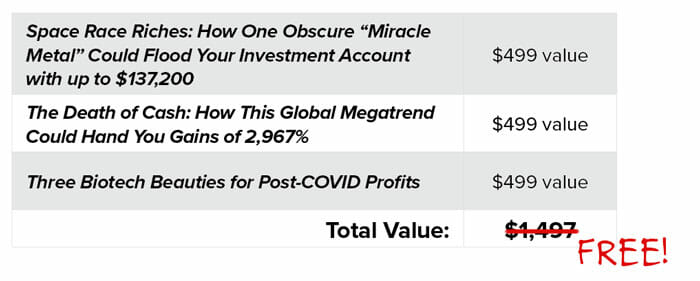 Dear Investor,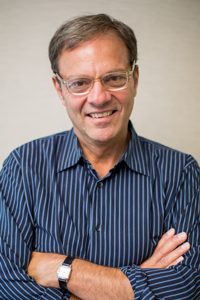 John Persinos here again.
Congratulations on taking a huge step toward securing your opportunity to see lightning-fast gains of 1,272% on the "miracle metal" megaproducer I've detailed for you today.
The growth in communication satellites circling our planet is skyrocketing…
From close to 3,400 today to as many as 63,000 by the end of the decade.
These plans are not hypothetical.
They're active programs approved by the FCC.
They're in full-tilt motion today… with Elon Musk launching as many as 120 new satellites every month…
And these programs are financed by some of the wealthiest and most ambitious companies in the world, including SpaceX and Amazon.
But the key… the one true catalyst behind the success (or failure) of this new "space race" hinges entirely on this dull grey "miracle metal."
Frankly, the entire "Space Race" is dead in the water without it… because every single one of these 63,000+ satellites needs this obscure material…
And there is currently no known replacement for it.
Which puts you in the perfect position to profit.
The largest known deposit on the planet is sitting right here in America's heartland…
All owned by a single company who's ideally positioned to take home the lion's share of the profits that could rain down in coming months…
And turn those profits into massive stock gains for investors, like you, who make the right moves today.
Shockingly, this global leader is practically invisible to all but a handful of "in-the-know" investment experts.
Meaning many "big money" investors have never heard or seen the details I've shown you today… at least not yet.
That gives you an extraordinary opportunity to pick up shares at the best possible price…
And ride them all the way to gains that could top out at 1,272%… (or more).
Even a modest investment could hand you the stress-free, luxury retirement you truly deserve.
I want to give you everything you need to get started today.
All you have to do is accept my invitation to join Radical Wealth Alliance by completing the order form below.
The moment you do, I'll immediately send this special report out to you: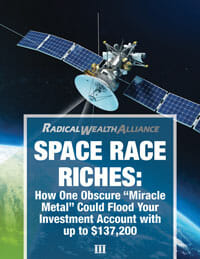 Space Race Riches: How One Obscure "Miracle Metal" Can Flood Your Investment Account with up to $137,200
Inside, I reveal all the details you need, including:
How the imminent satellite surge will generate unprecedented demand for one boring, grey "miracle metal."
The unknown U.S. company that has a virtual stranglehold on the global market for this "miracle metal" and positioned themselves to generate massive stock gains of 1,272% or more for early investors.
And of course, full details on this "miracle metal titan" including its name, ticker symbol, and precisely how to claim your stake before Wall Street wakes up and ruins the party.
I'll also rush you two exclusive money-making bonuses…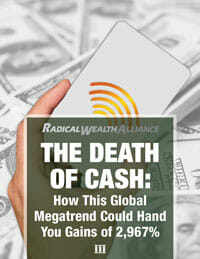 BONUS #1: The Death of Cash: How This Global Megatrend Could Hand You Gains of 2,967%
For the past decade, electronic payments have been gaining momentum toward replacing cash in every corner of the globe.
Then in 2020, the coronavirus pandemic strapped a nuclear-powered rocket to this unstoppable megatrend…
Motivating business owners, governments virtually EVERYWHERE to rollout contactless payment systems… at lightning speed.
In this "not-for-sale-anywhere" report, I reveal details of the $10 stock that's forged partnerships with some of the biggest companies on the planet…
And how it could easily turn every $5,000 stake into as much as $153,350.
Plus, when you join Radical Wealth Alliance today, I'll also include…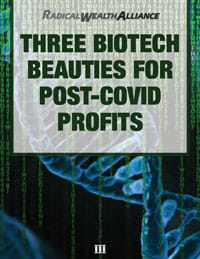 BONUS #2: Three Biotech Beauties for Post-COVID Profits
While COVID-19 has wreaked havoc around the globe, the deadly pandemic is thankfully nearing an end.
The three "hidden-gem" stocks I reveal in this report will help you make the right moves today so your investment account is positioned for massive gains as Coronavirus disappears from our lives.
Together, these three wealth-building reports have a combined value of $1,497.
But I want to send you the entire package today absolutely free.
All you have to do is complete the short order form below and I'll rush them out to you immediately.
And remember…
As incredibly valuable as these reports are, they're just the tip of the iceberg…
Because as a Radical Wealth Alliance member, you'll have access to our most-profitable investment opportunities every month for the next year.
Each stock recommendation we hand you has the potential to turn into your next double, triple… or maybe even quadruple-digit windfall gain.
When you join Radical Wealth Alliance today, here's everything you'll receive:
12 Months of Investment Briefings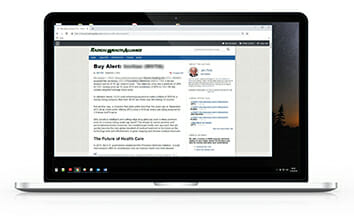 Every month, you'll receive a detailed update containing our latest wealth-building stock recommendations, market commentaries, plus any and all details you need to maximize your profits on these opportunities.
Flash Action Alerts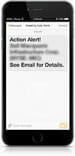 Any time an investment opportunity requires your attention, we'll send an instant email alert with precise instructions on how and when to close out your position and optimize your profits… so you'll be ready to invest in the next breakout opportunity.
Confidential Members-Only Website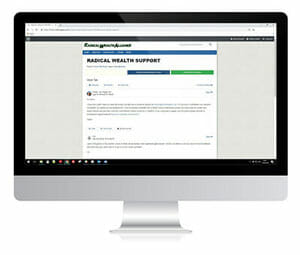 As a Radical Wealth Alliance member, you'll have exclusive, around-the-clock access to our private website. Here, you'll find a searchable archive of past investment dossiers, special reports, Flash Alert histories, and model portfolio details… all at your fingertips… and only ever a click away.
Premium Concierge Service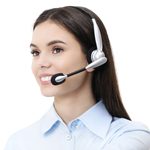 As soon as you're on the inside, you'll have access to a special phone number where you can reach my VIP concierge team every weekday during normal business hours. The team is standing by to ensure any questions, concerns, or problems you have as a member are dealt with quickly and thoroughly.
The moment you join Radical Wealth Alliance, you'll have access to all the tools you need to position yourself for the gigantic profit bonanza I'm confident is just around the corner.
And remember, while I'm unable to offer refunds on this incredible new member package…
You're covered by our 365-Day, 500% Guarantee.
If at any time over the next 12 months, you don't see the opportunity in our model portfolio to rake in gains of at least 500%…
You'll get an additional year of Radical Wealth Alliance absolutely free.
There are no loopholes… no hoops to jump through… no ifs-ands-or-buts.
Simply call my concierge hotline and let us know…
And the Radical Wealth Alliance dream team will work for you for a second year free of charge. It's really that simple.
Join Radical Wealth Alliance Today
I'm 100% confident the "miracle metal titan" I've detailed today could become the single biggest profit windfall of this lifetime.
But given the astonishing details I've shown you…
It might take only a single slip-of-the-tongue for the company's name to wind up plastered over the front page of every newspaper in the country.
If that happens, I expect Wall Street banks and hedge funds will pile on immediately…
Buy up every share in sight… no matter what the price…
And leave nothing but scraps for everyday investors.
The only sure way to avoid getting left in the dust once again…
Is to join Radical Wealth Alliance today.
When you do, you'll have a team of veteran investment experts doing all the heavy lifting for you…
Recommending what to buy, when to buy it… and when to sell it for maximum profit.
Plus, when you're one of the first 20 investors to jump onboard today, you can join for only $1,497.
That's 70% off our regular annual membership fee…
For a cash savings of $3,503.
And the lowest rate my publisher is likely to ever offer for access to the Radical Wealth Alliance.
Fair warning… I don't expect these 20 seats I've opened today to last much longer…
If you leave this page without locking in your seat inside Radical Wealth Alliance, please don't be surprised if you find a gigantic, red "Sorry!" sign in its place when you return.
Let's Start Right Away…
I believe the coming satellite surge will turn one virtually unknown "miracle metal" megaproducer into one of the most important companies on the planet…
And create a rare historical moment that could easily catapult its stock, toward Netflix… Tesla… or maybe even Amazon price levels.
This unique opportunity has the potential to hand early investors a shot at life-changing profits…
And I'd like you to be one of them.
To get started, all you need to do is complete the order form below….
But you've got to act right away…
With fewer than 20 discounted membership spots remaining today, you could find yourself locked out any moment.
The right choice is yours to make.
I look forward to welcoming you as a Radical Wealth Alliance member.
To Your Wealth,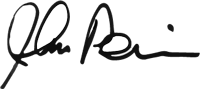 John Persinos
Managing Editor
Radical Wealth Alliance
Copyright © 2021 Investing Daily, a division of Capitol Information Group, Inc. In order to ensure that you are utilizing the provided information and products appropriately, please review Investing Daily's' terms and conditions and privacy policy pages.