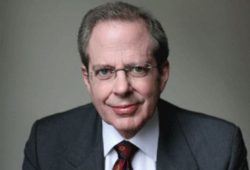 Fellow Investor:
My name is Dr. Stephen Leeb and I'm the Chief Investment Strategist at Real World Investing.
If you're even just remotely interested in discovering how to turn small investments in the world's most critical resources and scarce commodities into a bonanza of wealth…
Then you'll love my investment service, Real World Investing.
Because I'll show you how to grow rich by grabbing quick profits from small increases in these fast-moving, highly lucrative markets.
Take gold for example.
In one 6-month period, the price of gold moved up a respectable 9.7%.
But during the same time period, the Real World Investing gold portfolio skyrocketed over 40%.
Take a look: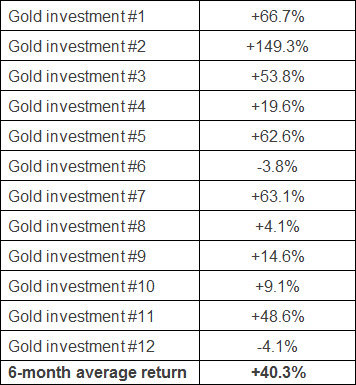 And they came from just a small move in the underlying price of gold.We're talking about gains made in an array of gold investments—gold mining stocks, junior miners, gold ETFs, and gold royalty stocks.
Imagine the profits you could make if gold hits $5,000… $10,000… $15,000… or $20,000 an ounce.
Don't think it will ever get that high? Maybe not.
But then again, investors frequently flock to the safe haven of gold when risk is high and the markets tank.
And we all know how quickly the markets can plummet in the blink of an eye.
So why not make huge gains on small moves in the gold market today…
And even more astronomical gains if gold really shoots to the moon.
Real World Investing covers far more than just precious metals like gold though…
You'll also get SMART and PROFITABLE ways to invest in
oil, rare earth elements and scarce commodities…
You probably won't hear much about this in the mainstream media…
But China has been quietly hoarding some of the world's most valuable and scarce commodities and rare earth elements for decades.
Here's just a partial list of materials they've been covertly stashing away (and in many cases, cornering the market on):
✔

  Oil
✔

Coal 

✔

  Copper

✔

  Iron ore

✔

 Neodymium

✔

  Zinc

✔

  Indium

✔

 Germanium

✔

  Antimony

✔

  Tungsten

✔

Fluorspar

✔

Gallium

✔

  Graphite

✔

Mica

✔

Quartz Crystal (industrial)

✔

  Yttrium

✔

Barite

✔

Tantalum
Why have the Chinese been pillaging their countryside—and many other countries to boot—in search of these rare earths and materials?
Because they know these are the exact materials needed to drive technology and infrastructure development worldwide…
They're needed to build homes… windmills… high-voltage cables… computers… smart phones… hybrid cars… military equipment… medical devices… and so much more.
Without access to these materials, the entire global economy will come to a screeching halt.
That's why I've included dozens of companies in my Energy, Essentials, and Security portfolio that are poised to skyrocket when the global mad scramble for these resources heats up.
It's a portfolio that has already given my subscribers a total average return of 20.0% in less than two years.
And that's just the beginning.
China's insatiable appetite for these scarce resources will continue to drive the price of rare earth minerals through the roof in the years to come.
Pushing my stock picks to the stratosphere.
But that's not all you'll receive in your membership to Real World Investing.
I'll also show you how to invest in the companies that profit from growing worldwide spending in cyber security.
Companies that are already up 22.8%… 24.0%… and 54.9% in just the past two years alone.
Bottom line: We focus on what's going on today in the real world. And then we give you investment advice that allows you to safeguard your financial well-being…
And prosper.
Here's everything you'll receive with your one-year membership to Real World Investing:
Exclusive Weekly Market Updates Delivered to Your Email Inbox and Available on the Real World Investing Website: Every Thursday we send you intel on what we expect from the market for the coming week and what stock picks are off and running—so you never miss an opportunity and are never caught off-guard.
Rigorous Investment Analysis: Each month you'll receive my investment newsletter, Real World Investing, identifying and analyzing the hottest investment opportunities and trends in the stock market. With graphs and charts and targeted analysis, this concise, timely investment advice is for investors who expect and demand consistent profits.
Focused Research Reports: These "white papers" on my top-secret gold winners and other big home run picks are truly the bread-and-butter of my service. You'll quickly become a better investor and dramatically improve your investment returns with specific advice and instructions from me.
Flash-Alert Emails: I constantly monitor the news and its impact on the markets. Whenever there's a major event (earnings, merger and acquisition activity, politics, etc.) that could affect a holding, I'll send you a quick email detailing what's going on with step-by-step instructions on how to profit. I want to ensure you never miss a big investment opportunity.
Unlimited 24/7 Website Access: Your members-only site is your one-stop place to access every wealth-building recommendation, issue, and special report we've ever published. Here you'll find our complete portfolio with details on each recommendation, including buy, sell, and hold advice. You'll always have access to the exact investments you need to make to build wealth and protect yourself. Plus, with our Stock Talk Forum, you'll be able to post your questions or comments on any trade or alert I issue.
First-class customer service: If you ever have a problem or a question, our friendly Customer Service staff is here to help. Send us a quick email or call us toll-free. No matter which you choose we'll do everything we can to make you happy.
And today, you can take advantage of this special offer to join Real World Investing for one year for only $2,495.
I do want to take a moment to mention that I cannot allow for refunds after you join.
I'm sorry it has to be that way, but it's the only way we can ensure that membership slots are only taken by serious investors committed to following my advice…
Not "tire-kickers" who join, take advantage of my recommendations, and then immediately cancel for a refund.
That being said, I want you to feel confident in the decision you're making to join today. So take a quick look at some of the feedback I've receive from subscribers, who've taken time out of their busy lives to send me these notes of thanks…
"Advice you can take to the bank"
"I have been following Dr. Leeb for many years and his assessments are typically right on the mark. Whether he is talking about market direction and volatility in general, or specifically what to expect regarding China or India, gold, inflation, or oil, he knows what he is talking about and you better pay attention or you will pay the price one way or another… his commentary is timely and actionable… advice you can take to the bank." —Ken K., Idaho
"Learn how to thrive in these turbulent times…"
"I'm a loyal follower, bought all of his books, seen all of his videos, webinars, get all of his newsletters, and I am way better off for it as a retail investor. His analysis on oil, gold, commodities, China, geo politics, the economy, and stocks, are the best I have seen and read. In today's uncertain world economy, getting plugged into Dr. Leeb's message should be on top of everyone's list if they want to learn how to thrive in these turbulent times." – Kevin S., California
"…Thank you, Dr. Leeb!"
"I particularly appreciate the email updates on crisis days — it helps me to steady myself and look at the big picture, not just the short-term aberration due to computerized trading or some fear factor. I subscribe to two services and it's my avatar. Thank you, Dr. Leeb!" – Amelie G., Michigan
Would you like to have access to the same peace of mind and moneymaking recommendations Ken, Kevin, and Amelie are enjoying?
Well, today's your chance to join them. Just fill out the simple form below to get started.
To your windfall profits,

Stephen Leeb, Ph.D.
Chief Investment Strategist
Real World Investing
When you pay $2,495 for a one-year membership to Real World Investing today, you'll receive all of the benefits listed above. It also means you understand this is a non-refundable purchase. For your convenience, each year on your anniversary, we will automatically charge your credit card for another year's subscription fee of $2,495. That locks in your rate and guarantees your fee won't increase as long as you stay a member. You can cancel this feature at any time. Simply contact your Concierge.   
If you prefer to order over the phone, our customer service team is available at (888) 543-2051
Monday – Friday 8:30am – 6:00pm ET