Ready to Squeeze up to 18x More Income Out of Your Dividend Stocks?
You're just a click away!
I hope you're excited…
Because with my Dividend Multiplier, you're about to unlock the opportunity to squeeze up to 18x more income out of your dividend stocks.
These picks could soon pepper your account with INSTANT cash payouts of $185… $284… $305 or more — nearly every week of the year.
I may be a bit biased but I believe what I'm offering could be the easiest, safest, least stressful path to financial freedom you'll ever see.
And it's yours the moment you join me inside my Income Accelerator — the ONLY place where you can access my proprietary trading system.
The moment you do, you'll have instant access to three bonuses worth $1,291.
To help you get a head start you'll get your very own copy of:
Your First 5 Red-Hot Income Boosters — This report includes my top 5 trading opportunities today, each of which has the potential instantly hand you hundreds of dollars in extra income. (NOTE: Trades in the report may vary based on current market conditions.)
Your Ultimate Quick Start Guide to Accelerated Training — An A-to-Z guide with everything you need to trade like a pro in no time at all — perfectly positioned to squeeze out maximum cash with minimum risk from each of your trades.
6 Minutes to Your First $668 — In this quick video, you'll discover how I use my 5-part screen to spot new opportunities… how your trading account should be set up… the "A-B-Cs" of kickstarting your new portfolio… and more.
What's more, as a member of Income Accelerator, you'll also receive: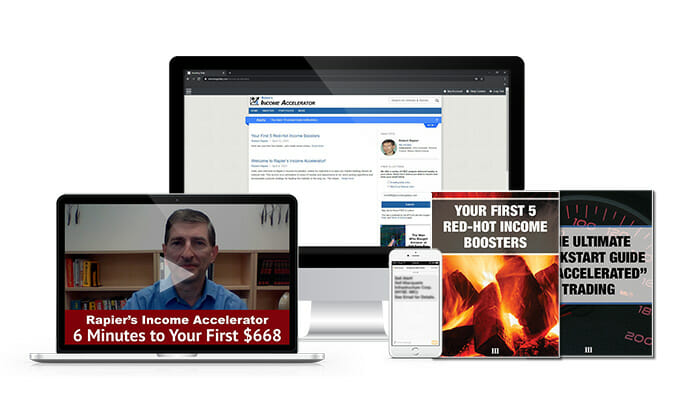 1 Brand-New Update EVERY Week: Once a week, you'll receive either a feature article or the BEST new trade my 5-part screen identifies. And if it zeroes in on more than one? That's more high-income plays for you! And more chances to bag 3x, 9x, even 18x the normal dividend!
Weekly Flash Alerts: As events unfold, I will update you with notices throughout the week (when necessary). These can come at any time, and they are automatically emailed to you when they do.
Timely, Easy-To-Read Buying & Selling Guidance: Because knowing what to buy is only half the battle, you can rest assured that we'll tell you exactly when to buy… and exactly when to sell.
100% Model Portfolio Access: All of our current and past "buy" recommendations, right at your fingertips.
Private Access to the "Members Only" Income Accelerator Website: Your personal control room for zeroing in on some of the market's most promising opportunities.
Investing Daily Insider. Beyond the headline financial news, there are hidden fortunes in the stories that seldom get told. Enter Investing Daily Insider, our exclusive news digest with a simple goal: provide you with money-making insights into the week's most pressing financial stories delivered directly to your inbox every weekday.
COMPLIMENTARY Access to the Income Accelerator Support Team: You'll receive complete access to my support team, which can be reached by phone or email between the hours of 9 a.m. and 5 p.m. EST, Monday through Friday.
Pocket an Instant $1,505 in Savings

As one of the first 250 readers to join my Income Accelerator today, you'll receive a full year of access that includes everything we've discussed (a total value of $1,291) for just $495…
That's more than 75% off the retail price!
But it gets even better…
You see, I'm convinced you'll be so thrilled with the income you can make from Income Accelerator, you'll want to stick with us for the long haul…
Well beyond your initial one-year membership.
And I want to make it as easy as possible for you to do so — without having to renew your subscription or pay the standard retail price of $2,000 every year after.
It's why — after a lot of pleading — I finally got my publisher to do something extraordinary:
Allow me to give you LIFETIME ACCESS to Income Accelerator for just $795.
You read that right.
With this one payment, not only will you immediately pocket thousands of dollars in annual savings, you'll NEVER miss out on a trading opportunity that could put hundreds of dollars (or more) in your pocket nearly every week of the year.
All that's required from you to keep it going is just a small $99 annual maintenance fee.
That's it.
And whichever membership option you choose, know this: when you join you'll be protected by…
My Iron-Clad 100% Satisfaction Guarantee
I want you to be 100% sure Rapier's Income Accelerator is right for you…
So I'm giving you three full months to try it out at my expense.
That's plenty of time to see just how powerful my Dividend Multiplier really is and take advantage of every trading opportunity it uncovers.
And no matter how much money you're making, I promise you this…
If you're not satisfied for any (or no) reason whatsoever, simply let my Customer Service team know within the first 3 months.
And I'll issue you a prompt, no-questions-asked refund for every penny of your membership. I have no interest in keeping your money unless you're 100% satisfied.
And as thanks for giving my Income Accelerator a fair try, no matter what your decision, the free reports (along with any profits you've made, of course) are yours to keep.
It doesn't get much fairer than that.
So please don't wait another moment.
Simply fill out the secure order form below now to claim your spot before it's too late.
I look forward to welcoming you to Income Accelerator.
Yours for greater income and peace of mind,


Robert Rapier
Chief Investment Strategist
Rapier's Income Accelerator
Copyright © 2022 Investing Daily, a division of Capitol Information Group, Inc. In order to ensure that you are utilizing the provided information and products appropriately, please review Investing Daily's' terms and conditions and privacy policy pages.