Join Robert Rapier's Income Accelerator Right Now to:
Secure Your First 5 Red-Hot Income Booster Trades
Claim Your $1,370 Worth of FREE Gifts
Access a full year of Income Accelerator where you'll have the chance to take part in at least 20 "triple the market" trades or I'll pay you $2,000… GUARANTEED
Robert Rapier here again.
Congratulations! This day has been a long time coming. For both of us.
If you're tired of settling for meager… even insulting dividends…
Then today could be the single greatest turning point in the history of your financial well-being.
You're about to unlock a simple, reliable system for collecting extra cash of up to $334… $668… or $1,002 virtually every week.
The secret is in the 5 proprietary screens I hard-coded inside my system…
Which lets me identify…
Trades with 3x to 20x MORE income than the normal dividend
For the last 3 years, I've been relentlessly fine-tuning this system to perfection.
And if you're one of the first 350 investors to join Income Accelerator today…
You'll soon see why this is my #1 best strategy for pulling quick cash out of the market.
The average trade in my portfolio is nearly triple what the S&P 500 returned last year.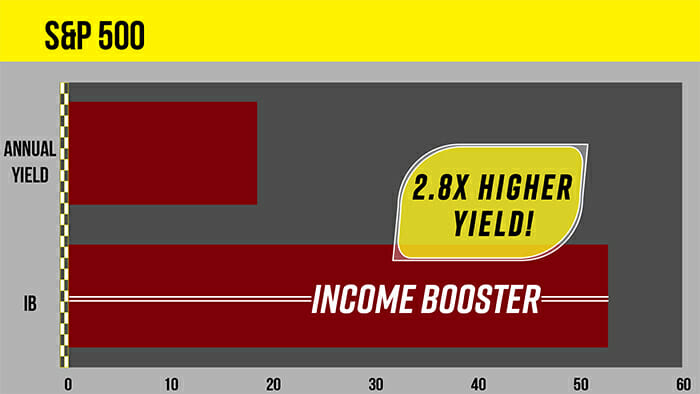 And you're just minutes away from grabbing the "keys" and firing up this system, for the ride of a lifetime.
I imagine you must be feeling relieved. Despite thousands of Americans viewing this lucrative presentation…
Only 1%, maybe 2%, will take real action to get into trades like this one on Federated Hermes, for 20 times more than the dividend yield.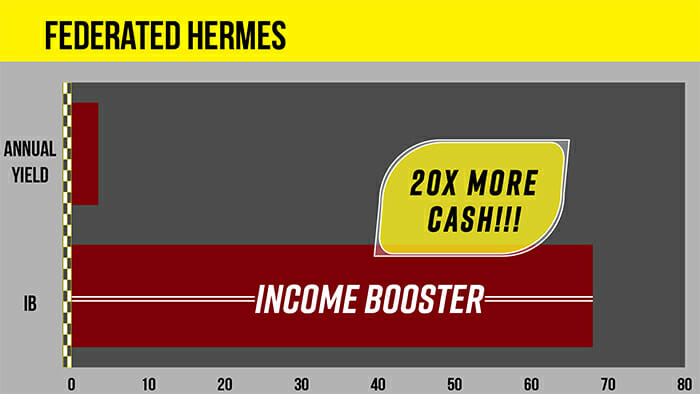 Or this Income Booster on Dow Chemical — set for a whopping 17 times more cash than the dividend.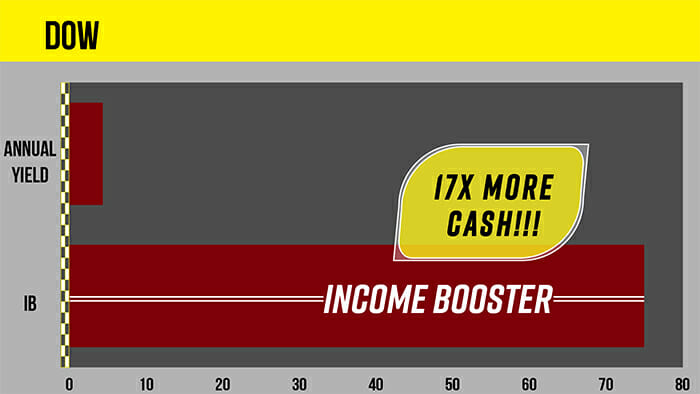 And then there's this Income Booster on IIPR — which popped 24 times higher than the annual dividend.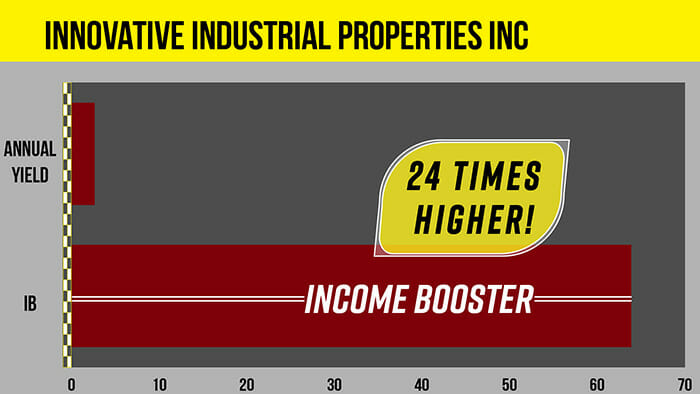 After you make a few of these easy Income Booster trades for yourself…
I wouldn't be surprised if you NEVER go back to "normal" dividends… or a strict buy-and-hold approach… ever again.
If that possibility excites you — you're exactly the type of person I want inside Income Accelerator.
And the moment you join…
You'll gain access to a steady stream of trade opportunities for instant-cash payouts like $330 on DOW… $1,139 on IIPR… $470 on IBM… and $286 on BPOP…
Within seconds of hitting "trade" cash payments could start piling up in

your account
Every. Single. Time.
Just take a look at what happened inside my own personal portfolio: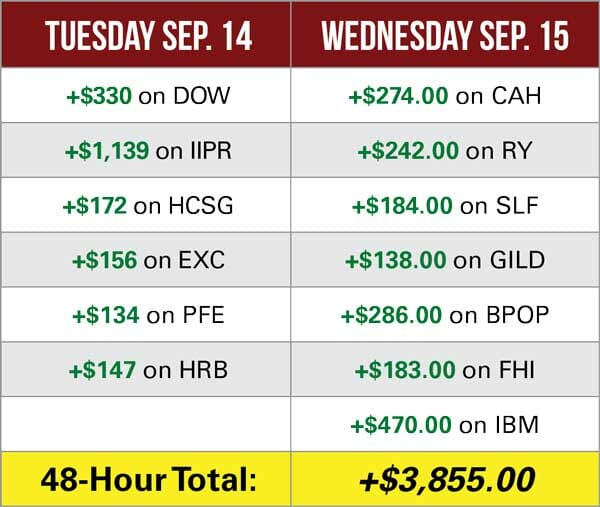 With numbers like these, it's no mystery why Forbes said this type of trade is:

Or that Bloomberg reported it's:

The secret to finding these trades lies in 5 "deep data" pools buried within the financial markets.
My system scans, screens & analyzes staggering quantities of data, to pinpoint trades with 3x to 20x more income.
In short, it spots only the highest-profit, lowest-risk trades on the market virtually every week.
I call these
5 trade screens "Green Lights"

— because when they're all green, it's off

to the races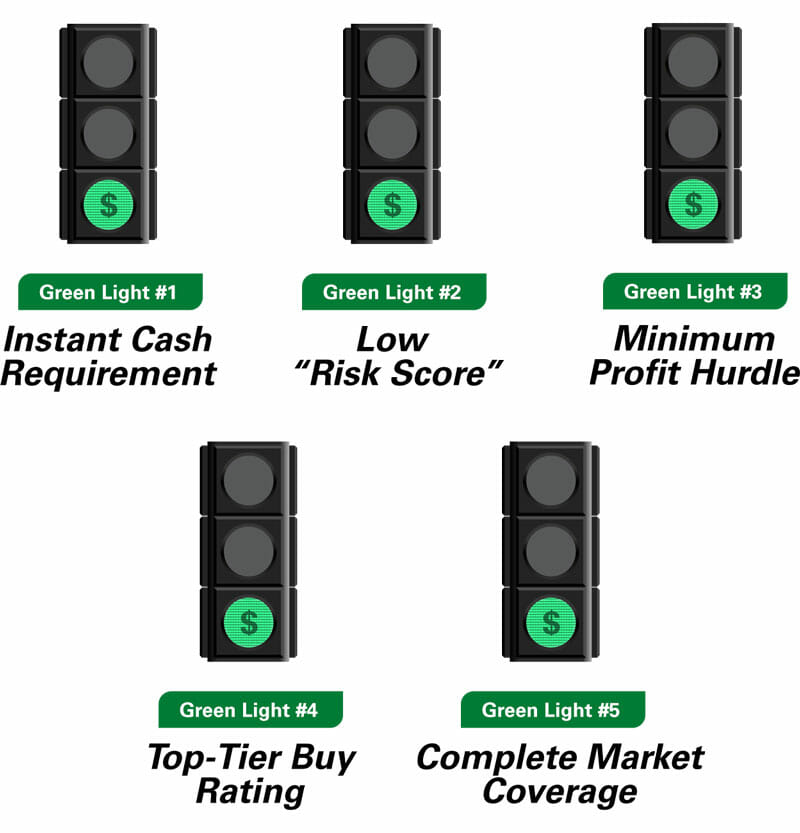 Income Accelerator is the ONLY Instant Income System in the World:
Powered by my proprietary 5-part "Green Light" trade algorithm
Designed to deliver 3x to 20x more income than the standard dividend alone
Built to earn you instant, upfront cash… for up to $668 virtually every week in extra income
In addition, you'll also enjoy the clear-cut guidance that comes with every single trade recommendation.
I'm talking about detailed, Plain English easy-to-read instructions, including:
Exactly When to Buy
Exactly How Much to Pay
Exactly How Much Profit to Expect
Exactly When to Sell & At What Price
Gear up and get ready.
Because hefty, instant cash payments like $330…$470… and $1,134 could start hitting your account as soon as TODAY.
And frankly, that's what you can expect… week after week… as a member of my exclusive stock advisory — Income Accelerator.
But you must hurry, because I can only save 350 of these incredible new member packages today…
Perhaps the most exciting part of all this?
The moment you join…
I'm going to send you the next 5 high-income trades my "Green Light" algorithm spotted.
Today's urgent presentation was just a taste of your new life of worry-free income — up to $668 per week… virtually EVERY week.
And it all starts by clicking the button below to finalize your risk-free order:
Finalize My Order for Income Accelerator and Give Me My $1,370 Worth of FREE Bonus Gifts Today
Here's the full recap of your 3 high-value reports that will kickstart your accelerated income journey
On this page here, you have the opportunity to claim your personal copies of:
Your First 5 Red-Hot Income Boosters
($997 Value: Yours FREE)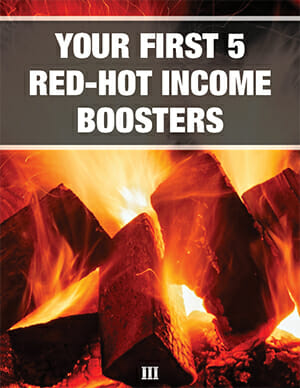 This easy-to-read report will tell you everything you need to know about these next 5 urgent picks – and ALL of them passed my 5 "Green Light" screens with flying colors.
Here's a small preview of the type of low-risk, high-income earners you'll unlock:
Stock #1: The Amazon-Proof Retail King

(Target payout: $423)

Stock #2: No-Hype Tech Veteran

(Target payout: $694)

Stock #3: The Consumer Product Cash Cow

(Target payout: $708)

Stock #4: Big Energy, Big Income

(Target payout: $592)

Stock #5: Farm 9X the Cash from This Ag Stock

(Target payout: $1,382)
I'll include the name and ticker symbols of the stocks being targeted, exactly how much to pay for them… and I'll walk you through exactly how to make your trades to ensure you capture the maximum amount of income available. (Trades listed above are for example only. Due to fluctuating market conditions, actual trades inside your report may vary.)
Next, you'll gain instant access to this second valuable resource too:
Bonus #1
Ultimate QuickStart Guide to

Accelerated Trading
($197 Value — Yours FREE)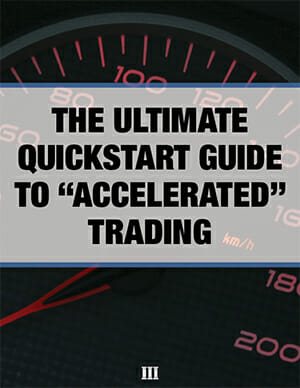 Up, down, sideways… even in the face of rising interest rates… tech selloffs… and anything else Mr. Market throws at you — these trades "print money" like a machine.
Consider this your full A-to-Z guide — EVERYTHING you need to know about:
How frequently to expect new plays
How to adjust your trade for more upfront cash
How to extend your trade to "squeeze out" more cash
How to trade with the lowest possible risk
Which types of trading accounts could help minimize the taxes you pay
What to do once you've secured a big gain
And much, much more!
Remarkable to be sure, but it gets even better – because you're fully protected by my ironclad guarantee:

And when you accept my invitation to secure a seat today.
I'll even do you one better…
I'll Show You 20 Trades that TRIPLE the Market's Normal Dividends or You Get This "Gift Card" Worth $2,000
The only way I feel I can truly show you how serious my team is about standing behind this breakthrough income system…
Is by putting our "money where our mouth is." After some additional arm twisting, I've convinced my publisher to take our guarantee up a notch — here's the deal:
If, in the next 12 months of your membership…
You don't see at least 20 trade opportunities whose total return TRIPLES the S&P 500's average dividend yield…
Then I'll give you this $2,000 "gift card." That's $2,000 in store credit you can use to get another 12 months of Rapier's Income Accelerator – or put towards the membership cost for one of our other premium research services. (Note: This card possesses no cash value)
No hard feelings.
No questions asked.
YES! Make Me an Income Accelerator NOW — So I Can Start Scoring Up to $668 Per Week (Every Week)
WARNING: Only 350 of these generous welcome packages will be made
available today
They're only available to those who step forward to claim your membership inside Income Accelerator today.
A full year of insights inside Income Accelerator would usually go for $2,000.
But you won't pay that today. Instead, you can kick off a full year for the insanely low investment of just $1.35 per day.
(Something you could lose in between the seats of your car and not even think about.)
That's a full 75% OFF the standard retail price of $2,000…
Which means you save an astounding $1,505!
And in return, you'll get an entire YEAR'S access to Income Accelerator, plus the dozens of high-income trade recommendations that come along with it.
Your Membership to Income Accelerator Also Includes: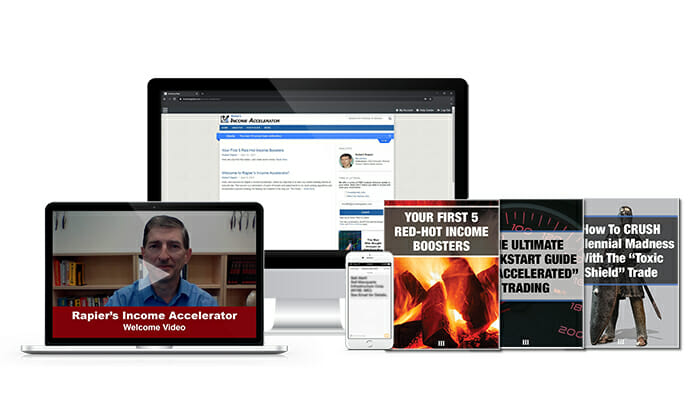 1 Brand-New Update EVERY Week
Weekly Flash Alerts
Timely, Easy-To-Read Buying & Selling Guidance
100% Model Portfolio Access
Private Access to the "Members Only" Income Accelerator Website
COMPLIMENTARY Access to the Income Accelerator Support Team
Finalize My Order for Income Accelerator and Give Me My $1,370 Worth of FREE Bonus Gifts Today
Oh, and don't forget…
This Offer is Strictly Limited to the First 350 Action-Takers Today:
These Additional FREE Bonus Gifts & Discounts are for New Members Only
That's right, when you join Income Accelerator today…
You'll instantly secure this exclusive set of & reports.
FREE BONUS GIFT #2:
Income Accelerator Welcome Video: "6 Minutes to Your First $668"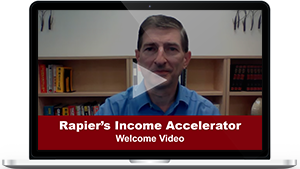 Pros like myself can almost make these trades blindfolded. After you make a few, you won't be far behind me. But because you've probably never executed one of these yourself, I've put together this "Welcome" video to show you:
How I use my 5-part screen to spot Income Boosters…
How your trading account should be set up…
The "A-B-C's" of kickstarting your new portfolio
And more…
Click "play" once you're inside, and I'll run you through every angle of my brand-new service.
And don't forget about this final bonus report – also yours FREE for joining Income Accelerator today.
FREE BONUS GIFT #3
"How to CRUSH Millennial Madness With The 'Toxic Shield' Trade"
(Value: $47)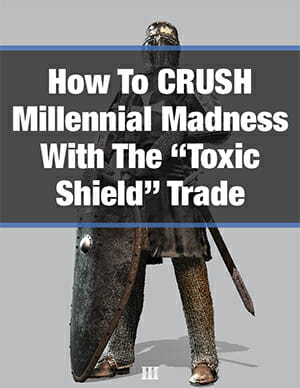 I'm sick of hearing about it. Sure, they're winning "on paper," but they're not making REAL money recklessly pumping stocks on apps like Robinhood. This little-known strategy turns their own greed against them, for quick profits.
On March 8, 2021, this strategy grabbed me a quick 61% profit on GameStop (GME). And while the recent saga around Game Stop, and others like AMC Entertainment, Tesla, and Bitcoin does make you wonder…
"Are things ever going back to the way they were in the market?"
With this trade: it doesn't matter. These impulsive young traders are here to stay. And as long as they're throwing dumb money around — YOU can position yourself on the other side of their stupidity (and make money every time).
What does it all add up to?
The best investing year of your life, I'd say.
But to put it in strictly numerical terms:
$1,370 in FREE Gifts and Discounts Included in Today's Exclusive Offer
(Limit: 350 Today Only)
I don't know how to sweeten this offer any more!
You've seen the machine-like consistency behind this trading system… how it could generate an extra $668 per week in cash… and how Income Boosters routinely earn 3x to 20x more income than stocks…
Which makes Income Accelerator the single best opportunity I've EVER brought my readers in 12 years.
Which is why it would kill me to hear someone utter the line I hear all too often:
"Right now, isn't the perfect time, let me sit on this until next week."
Then, next week turns into next month…
Into next year…
Into… you guessed it… never.
Please don't look back months from now and regret not taking this 1 risk-free shot that could finally help you achieve income security & financial independence.
To join me inside Income Accelerator today & gain instant access to everything we've just discussed… including all $1,370 worth of steady-income research & free reports…
All you need to do is fill out the simple form below, right now.
(More comfortable ordering by phone? Dial (800) 543-2051 and our dedicated customer service team will process your order immediately.)


Robert Rapier
Chief Income Strategist, Investing Daily
Founder, Income Accelerator
Copyright © 2021 Investing Daily, a division of Capitol Information Group, Inc. In order to ensure that you are utilizing the provided information and products appropriately, please review Investing Daily's' terms and conditions and privacy policy pages.