CONGRATULATIONS
You're Just One Step Away From
Cashing In On The Massive Profit
Potential Of What Could Be The
Largest Gold Deposit Ever Discovered!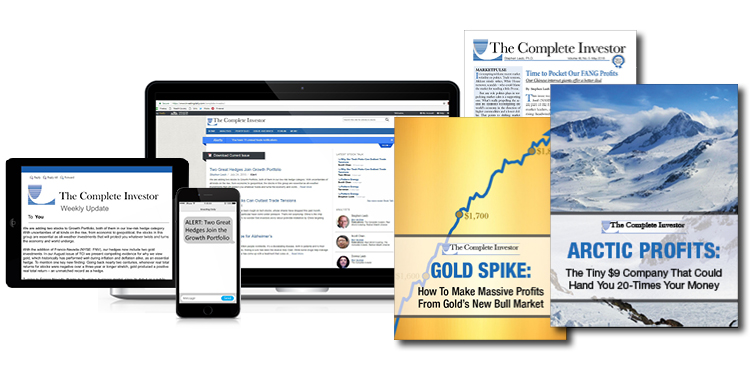 Lock-In Your Membership To
The Complete Investor For Only $39 And
Receive All Of My Best Research Today…
Thank you for reading my presentation.
Right now, you have the opportunity to benefit from my newest research on the tiny company that's sitting on what could be the largest gold deposit ever discovered.
By positioning yourself ahead of others who will hear about this opportunity weeks or even months from now, you have the chance to make over 20-times your money.
That's enough to turn a $500 stake into $10,055 and every $5,000 into $100,550 or more.
For four decades, my financial research has given tens of thousands of people just like you the chance to make a fortune from major market events, and carefully-selected stocks.
But nothing compares to the windfall that can be had from the gold mining companies I've uncovered for you today.
I don't want this rare opportunity to build massive wealth to pass you by…
And that's why I want you to have these two special research reports (valued at $99 each) absolutely free…
Don't Wait! Claim Your Two
FREE Reports Right Now…
Start your risk-free membership now, and read through these two reports before the financial markets open tomorrow…
ARCTIC PROFITS:
The Tiny $9 Company That Could Hand You 20-Times Your Money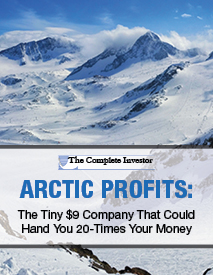 In it, you'll discover…
Everything you need to know about the company that is sitting on what could be the largest gold deposit in the world.
How high this stock could go based on the massive gold bull market my research shows is right at our doorstep.
Why NOW is the opportune time to get in on the action and how the gold reserve estimates could be much, much higher than I showed in this presentation – potentially allowing early investors to make up to 100-times their money within the next 10 years. That's enough to turn every $500 invested into $50,000 or more!
The strategic partnership this company has that makes owning its stock an absolute "no-brainer" for any investor who wants to pad their retirement savings for years to come.
GOLD SPIKE:
How To Make Massive Profits From The New Gold Bull Market
In it, you'll discover three other gold mining companies that I'm also very excited about…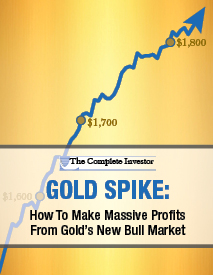 Because you could soon see their stocks deliver 1,000% gains or more to investors who scoop up shares today.
Gold Miner #1 – This first company is a Canadian-based mine that also happens to be one of the most leveraged junior gold mines in the world. If gold reaches its all-time highs – which my research indicates it will – then this company could see a 10-fold increase in its share price.
Gold Miner #2 – The next company is a British-based miner that's not only the second largest gold producer in Mexico… it also operates the largest silver mine in the world. Shareholders could take advantage of rising gold prices – and rising silver prices – and potentially make 10-times their money… enough to turn every $2,500 into $25,000 or more in the coming years.
Gold Miner #3 – This company has the largest undeveloped European gold mine… and once it begins operations – which could happen later this year – it could allow you to make 3,000% gains by getting in before others pile into this stock.
I'm incredibly excited for this new gold bull market…
And I am even more excited for the early investors who get in on these carefully-selected gold mining companies who will have the chance to ride this profit wave for the next decade!
But that's not all…
Here's Everything Else You'll Receive
for FREE When You Join
The Complete Investor Today
I'm excited to share all of my best financial research with you over this coming year.
When you become a new member of The Complete Investor, here's everything you will receive:
12 Monthly Issues of The Complete Investor Newsletter – Each month, I'll share my insights on the financial markets, where the biggest profit opportunities are, what companies and sectors you should stay away from, and how to protect your profits.
Access to our 5 Model Portfolios – Unlike most financial newsletters that only offer one model portfolio… we have five – making it a true "one stop shop" for serious investors. We've discovered this approach provides valuable research to those who want comprehensive reporting on everything from small caps to growth stocks to income stocks… along with high-performing funds and ETFs.
Monday Updates – Each Monday, you'll receive a special email that covers important news affecting the overall economy, financial markets, and our portfolio positions.
Flash Alerts – You'll receive a special Flash Alert email any time I uncover an urgent BUY opportunity… or when my research indicates it's time to take profits on one or more of our open positions. This way, you'll never wonder what to do or when to do it… I'll be with you every step of the way.
24/7 Access to Our Private Website – You'll have access to this secure, password-protected membership site where you can review all past issues of The Complete Investor, FLASH Alert histories, portfolio summaries, special reports, and our private Stock Talk forum.
Concierge Service – As soon as you're on the inside, you'll have access to a special phone number where you can reach my VIP concierge team every weekday during normal business hours. The team is standing by to ensure any questions, concerns, or problems you have as a member are dealt with quickly and thoroughly.
And because you're among the first 500 people to try out my research today, you can secure your 12-month subscription to The Complete Investor for $39. That's just 11 cents a day!
Or, choose to lock in a 2-year membership and you'll also get these exclusive bonus reports:
5G Rebates: How To Receive Regular Reimbursements From Your Wireless Carrier ($59 value, yours FREE)
The company revealed in this exclusive report charges hefty monthly fees to wireless companies like T-Mobile, Sprint, AT&T, and Verizon for services they absolutely can't survive without.
Better yet, the company's legal structure forces them to pay out 90% of profits every year. This company has increased payouts over 150% in the past five years… and you can get your name on the payout distribution list with just a 3-minute phone call.
The 3 Best "Automatic Oil Payments" for a Worry-Free Retirement ($49 value, yours FREE)
Whether or not you buy into the "peak oil" theory, one thing is clear. Renewable energy sources have made a very important if not critical marginal contribution to our energy needs. We desperately need energy sources that produce a lot more energy than the energy they require.
This exclusive report shows you the 3 best ways to get your portfolio well positioned to benefit from the growth of renewable energies in a world where oil is becoming more costly to produce.
Blue Chip BLACKLIST for 2022 ($49 value, yours FREE)
If there's one cardinal rule for investors, it's to avoid complacency. Whether a change comes suddenly or slowly, risks and volatility will rise… and many stocks could get crushed by inflation or a big market correction.
These Wall Street darlings should be AVOIDED like the plague.
Plus, no matter which membership option you choose,
when you take advantage of this special opportunity today you'll also
receive my iron-clad Double Barrel Guarantee.
Guarantee #1 – My 90-day money back guarantee.
If you're not satisfied with my research for any reason… or even no reason at all… simply let my Members Services Team know, and you will receive a full and prompt refund.
Plus, you can keep the special reports and all the research you've accessed!
Guarantee #2 – My pro-rated money back guarantee after 90 days.
So if, for any reason, you're unsatisfied with my research after your initial 90 day risk-free period… you'll still be able to receive a pro-rated refund of your membership.
You have nothing to lose, but so much to gain.
You can browse each issue of The Complete Investor, receive new editions of the newsletter, enjoy the weekly updates, and use my research to make sound investment decisions that could help you build your wealth beyond your wildest dreams.
But you must take action RIGHT NOW.
Only 500 people will be allowed in today at this special discounted rate.
If you hesitate, I can't guarantee any of these spots will be left.
Just fill out this 100% secure order form right away to lock in your spot.
So please hurry. I don't want you to miss out.
I look forward to having you on board.

Dr. Stephen Leeb
Chief Investment Strategist
The Complete Investor
Copyright © 2022 Investing Daily, a division of Capitol Information Group, Inc. In order to ensure that you are utilizing the provided information and products appropriately, please review Investing Daily's' terms and conditions and privacy policy pages.