Congratulations!
Welcome to The Complete Investor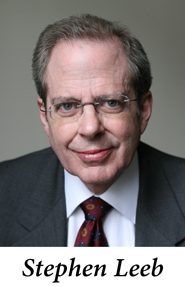 Stephen Leeb here again. Thanks for reading my report.
In it, I laid out the reasons why average Americans are on the brink of financial destruction.
Prices are rising across the board — major appliances are up 12.3%, energy commodity costs are up 41.2%, and car rentals are up a staggering 73.5%.
Worse still, this is only the beginning.
Thanks to the Fed's policies, trillions of dollars have been jammed into the U.S. money supply, slowing wage growth, and as a result, slowing corporate profits.
These factors will drive the price of everything you buy through the roof and slam the breaks on our economy and the stock market…
Those who don't act will be wiped out...
But you don't have to be one of them.
Because I also showed you how you can get your hands on a suite of special reports that will not only help you protect your wealth…
But will also help you multiply it.
If these investments perform like our past recommendations, you'll not only have the chance to grow up to 50% richer in the next six months…
You could also double or even triple your money over the next three to five years.
Here's how…
Big Profits From Small-Cap Stocks
As I explained in my report, during the six periods of high inflation between the summer of 1976 and 1982, small-cap stocks gained on average nearly 29% per year while large-cap stocks lost half their value.
Said differently…
Investors who owned large-cap stocks and DID NOT reposition their portfolios for periods of high inflation (either by selling the large-cap stocks or buying hedges)…
Not only lost half of their wealth... but also missed out on nearly 30% annual returns.
But that won't be you if you subscribe to The Complete Investor today.
Survive and Prosper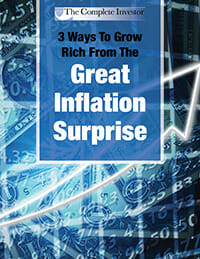 Because when you sign up right now, I'll rush you a copy of my special briefing 3 Ways to Grow Rich from the Great Inflation Surprise.
In it, you'll discover the select small-cap energy, water, and metals stocks that are set to explode in value from today's triple-pronged inflation threat.
It includes my favorite gold and copper stocks which are sitting on massive untapped reserves that will send their stock prices skyrocketing once they break ground.
It also includes a unique play on an international agricultural equipment company which manufactures many of the innovative tools needed to feed an ever-growing population.
Each one of these stocks has the potential to turn every $1,000 into $2,180… $3,430… or even an astounding $4,770.
But that's only the start…
Keep It Simple to Protect Your Buying Power
If fixed income and bond specialists are already getting crushed in this low interest rate environment, what hope does the average investor have to protect their buying power?
The answer is simple: Steer clear of those assets.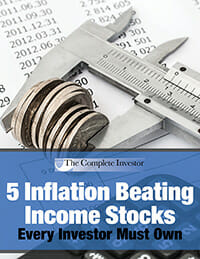 Although bonds have historically been exceptional income plays… in the coming financial destruction, they will turn into black holes for your wealth.
Which is why you'll want to get your hands on a copy of 5 Inflation-Beating Income Stocks Every Investor Must Own Now.
These 5 hand-picked stocks have generated steady and predictable cash flow for years… in fact, one of these incredible income stocks hasn't missed a single dividend payout in over 95 years.
Each one of the stocks in this report sports the potential to deliver a rich and rising income stream in the face of the skyrocketing food, water, and energy costs coming down the pike.
Together, these two special reports offer you the safest, smartest and most profitable ways to position your portfolio over the next 2 to 3 years.
But if you really want to step up your profit potential, let me tell you about two more bonus reports I'm willing to send you if you sign up for The Complete Investor for two years.
Find Profits in Cyber Security
First, I'll send you a copy of Why Security Stocks Will Reap Big Profits in 2022.
Inside you'll find the full details behind my top recommendations in the cyber security industry.
Ever since 9/11 and the rise of the Islamic State and al-Shams (ISIS) cyber security-related spending has increased every single year.
And research firm Gartner predicted security and risk management spending would exceed $150 billion in 2021.
And it's not just to counteract terrorism.
Cybercrime Magazine has reported that cybercrime could cost the world $10.5 trillion annually by 2025.
In your free bonus report, I'll give you the full details on why my top recommendations are fast becoming the industry's leading providers, and why their sales, earnings, and profits are set to skyrocket in the next few years.
You'll also get details on…
The 100-Year Energy Game Changer
Your second bonus report, How to Cash In on the Natural Gas Revolution has all the details on our top transportation company. One which is already riding the natural gas boom thanks to its pre-existing infrastructure that supports virtually every natural gas export company in the U.S.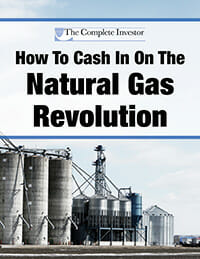 And that's just the first of four natural gas transporters we're targeting for double- and triple-digit profits in the next 12 months.
Like our other inflation-beating recommendations, they also dominate their markets and have the pricing power to continue to deliver shareholder profits in the months and years ahead.
With U.S. shale deposits containing about 100 years' worth of natural gas supply, these companies are virtually guaranteed to deliver returns potentially in excess of 2,000%.
Together, these four special reports are valued at $397.
And the returns they'll allow you to generate could be worth many times that.
But we'll send them ALL to you 

free of charge

when you sign up to try out The Complete Investor for two years
The minute you fill out the secure membership form below, you'll also get access to: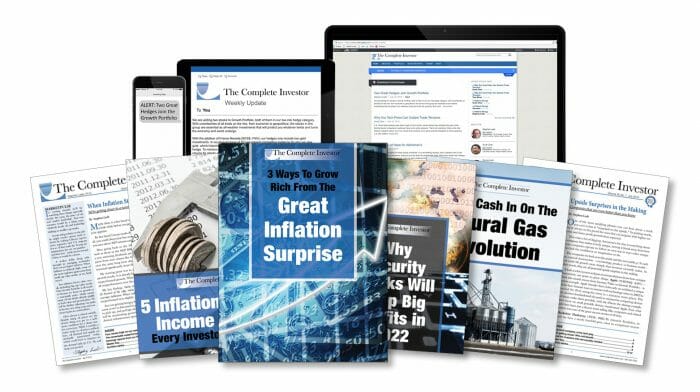 Monthly issues of The Complete Investor — Once a month, you'll get a 12-page issue of The Complete Investor. Inside it features our monthly economic outlook and timely recommendations, complete with specific buy, sell, and hold recommendations.
FREE access to our private website — Inside this password-protected website you'll find our full archive of past issues and special reports including all of our model portfolios.
FREE weekly updates — Sent every week to keep you on top of the markets and general recap of the prior week's major news events.
FREE FLASH alerts — Any time there's breaking news on one of our positions or a new opportunity comes along that can't wait for the next issue, you'll get a flash alert.
FREE educational videos — A library of educational videos that delve into the most critical topics that will help make you a smarter and more profitable investor.
Access to My Team (a subscriber favorite) — Here's something you'll love: When you join, you'll get personal attention from my team and me. If you ever have a question or a comment about one of our recommendations, just post it to our Stock Talk message boards, and we'll be sure to answer you back.
PLUS my 100% money-back guarantee — You are always protected by my double-barrel protection plan – see more details below.
Crisis Situations = Abundant Profits
I've built my career around accurately predicting the biggest turns in the economy over the past 40 years.
The bursting of the tech bubble… $1,500-an-ounce gold… $100-a-barrel oil… the 2009 stock market rebound…
These predictions have not only protected my readers but also made them fortunes along the way.
Just look at this list of some of our biggest recent winners…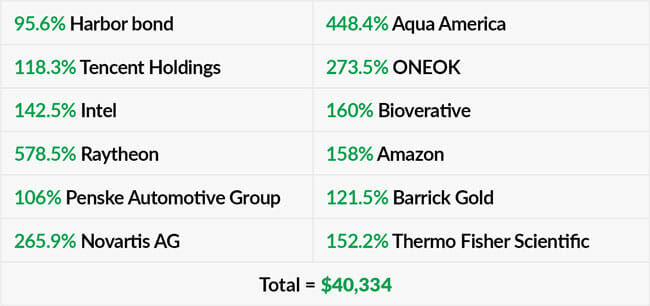 If you put just $1,000 into each of these stocks when I recommended them, you could have walked away with a whopping $40,334.
That's more than 517 times what you'll pay to join The Complete Investor today.
And best of all I'm willing to guarantee that if you're not 100% satisfied I'll refund the entire the price of your subscription (details below).
Get 2 Years of The Complete Investor
For Pennies On The Dollar!
You're not going to be faced with a price tag that runs into the hundreds, or even thousands, of dollars if you subscribe today.
Could I charge that kind of money for the profitable advice I send out on a regular basis?
Absolutely. A lot of other publishers do…
But The Complete Investor hasn't been around for nearly two decades by charging an arm and a leg for our work.
You see, we believe if you put out quality investing advice which consistently helps people profit…
They'll stick around. So you don't have to make all your money in one shot.
Which is why we typically only charge $258 for two years' worth of our research.
But today is different.
I'm so convinced the advice contained in the reports I send you will be the best thing you can do for your portfolio…
I'm willing to slash the price of our two-year subscription by 70% to get you off the bench and into the game.
Which means if you choose to join us today you'll only pay $78.
That's a savings of $180! You pay barely 10 cents a day!
And remember…
In the end, there's no risk in joining me now…
Because when you do you're covered by my double-barreled protection plan.
Guarantee #1:
I want you to try out The Complete Investor 
for 90 days — on me
I want you to be 100% sure The Complete Investor is right for you.
So if at any time during the first 90 days you feel like it isn't — simply let one of our customer representatives know.
And they will promptly refund every dollar you paid.
That's it. There's no catch because it's not a gimmick.
It's a guarantee I stand behind because I'm positive you can make money by following my advice.
Quite frankly, if I couldn't back it up, I would never dare give you a guarantee like this. I couldn't afford to!
I also couldn't afford to guarantee your satisfaction far beyond just the first three months like I'm going to do right now.
Guarantee #2:
I'm on the hook for your satisfaction — forever
Even after the first 90 days, if you find yourself unhappy for any reason — simply let us know and we'll gladly give you a refund for the unused portion of your subscription.
And on the off chance that you do decide to cancel… all the briefings and issues you've received are yours to keep as a thank you for giving us the opportunity to earn your trust.
I can't think of a fairer offer.
I won't pretend that everything we touch will turn to gold. But I've been doing this for years with almost unbroken success.
And thanks to my double-barreled guarantee, you really have nothing to lose.
So start your journey with The Complete Investor today.
Sincerely,

Dr. Stephen Leeb
Chief Investment Strategist
The Complete Investor
If you prefer to order over the phone, our customer service team is available at (800) 543-2049.
Copyright © 2021 Investing Daily, a division of Capitol Information Group, Inc. All rights reserved.