Congratulations On Taking The Right Steps to Survive and Prosper During The Great American Reset…
Simply scroll down now to get the resources you need to potentially turn every $1,000 invested into $4,060 (or more)
in profit during the chaotic times ahead…
Starting with your FREE report valued at $199,
Reset Riches: How to Make Up to 306%
During the $118 Trillion Tech Shift.
Fellow Investor,
You've just seen the radical changes already taking place across America…
The ever-widening gap between the rich and poor…
The social instability that grows day by day…
And the emergence of a new group of ultra-rich individuals who understand and harness the power of technology.
A group that you could be just a click away from joining…
We're standing at a crossroads… and you have two choices.
You can stand idly by while technological innovation (and the massive wealth it generates) leaves you behind…
Potentially lose your home…
Your retirement…
Your entire way of life…
Ripping away any sense of financial security.
Or, you can get ahead of this "Reset" — which is estimated to exceed $118.4 trillion in economic value — and secure a potential fortune for yourself…
As much as $507,500 on a single surging investment — in the one company I believe sits at the heart of this technological profit storm.
But if you want to join in on this "once-in-a-lifetime" event and set yourself up to not just survive, but to thrive during the "Great American Reset"… you need to act now.
Remember, only 250 127 investors will be able to join me inside The Complete Investor today and those spots won't last long.
To start your no-risk trial to The Complete Investor today for just $39, all you need to do is complete the simple form below. When you do, you'll get instant access to…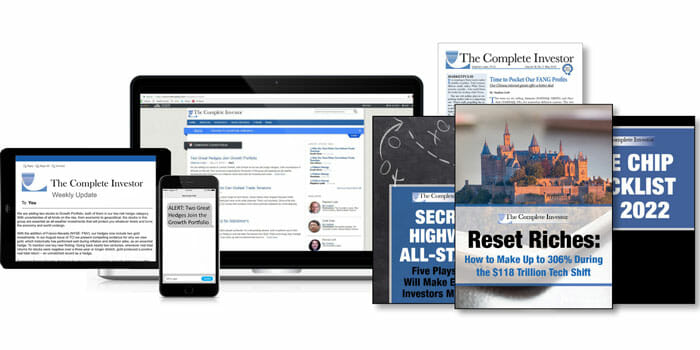 12 Monthly Issues of The Complete Investor — Featuring well-researched opportunities that can add $3,000… $5,000… even $10,000 or more to your nest egg in double time, complete with specific instructions on when to buy and when to sell.
Profitable Model Portfolios — Which have readers sitting on gains of 335%… 143%… and 255% right now. And which you can get into fast while the stocks still have massive profit momentum.
Free Weekly Updates — When something important happens in the markets, I won't leave you waiting several weeks to hear about it. Each week, I send an email update to ensure you're on top of any and all late-breaking market developments and company news.
FREE Flash Alerts — To help you quickly benefit from breaking news that could dramatically boost your wealth.
FREE 24/7 Access to Our Private, Secure Website — With a searchable archive of past issues and special reports covering dozens of triple-digit opportunities.
VIP Concierge Hotline — As soon as you're on the inside, you'll have access to a special phone number where you can reach my VIP concierge team every weekday during normal business hours. The team is standing by to ensure any questions, concerns, or problems you have as a member are dealt with quickly and thoroughly.
But that's not all…
Remember, when you join me in The Complete Investor today, you'll also get instant access to these three special reports valued at $597 for FREE, including…
Reset Riches: How to Make Up to 306%
During the $118 Trillion Tech Shift
(value $199, yours free)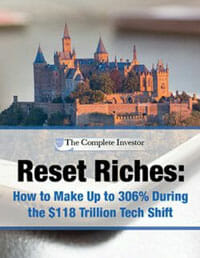 Inside you'll discover everything you need to know about an exciting business at the heart of the technological changes taking place now, including…
7 reasons this stock is set to skyrocket through the "Reset" — Potentially turning every $1,000 invested into $4,060… and how you could make as much as $507,500 in profit the coming years.
Why now is the time PERFECT time to buy — And why waiting even a few weeks could COST you tens of thousands of dollars in potential profit.
The full details of the company behind AT-4 — And the critical part they play in the technological reset starting now, including their stock ticker and the timeline for your 306% gain.
The "secret" U.S. headquarters — Where they are pumping out profits at a furious pace.
And much more!
Your risk free trial to The Complete Investor also grants you a copy of:
Secret Highway All-Stars:
5 Plays That Will Make Early 5G Investors MILLIONS
(value $199, yours free)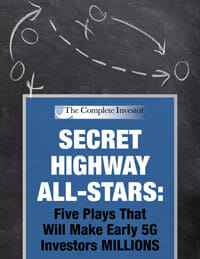 In this report you'll discover FIVE incredible tech plays with multi-million dollar potential.
These are business primed for massive growth…
With exposure to one of the most exciting trends in technology right now…
5G internet.
Even a small investment in one of these five 5G All-Stars could potentially add hundreds of thousands of dollars to your retirement nest egg.
But it's not all sunshine and rainbows…
Recent events have exposed a vast array of faults in some of Americas favorite companies — leaving them (and you) vulnerable to the market reset…
So when you join me inside The Complete Investor today, I'll also hand you access to my:
Blue Chip Blacklist for 2022
(value $199, yours free)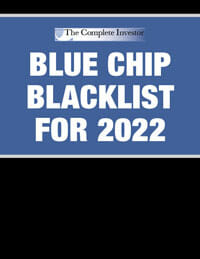 In this report you'll discover ten businesses to abandon now.
These are so called "safe" blue chip stocks…
Businesses that are known…
And many that are "loved."
But they are not prepared for the $118 trillion shift, and holding onto just one of these stocks could utterly destroy your wealth…
If you can't afford to lose $10,000… $60,000… or even $200,000 of your hard earned wealth on a sinking investment, you must download and read this report today.
Start your No-Risk Subscription
For 80% Off…
Normally a 12-month subscription to The Complete Investor costs $199.
Add that to the value of the special reports and you get a total of $796.
But if you're one of the first 250 readers to start a no-risk subscription today, you won't have to pay anything close to that.
You'll pay just $39 for absolutely everything I've shown you above.
Which amounts to less than 11 cents a day.
Or, if you've already decided that The Complete Investor is right for you, you can lock in a 2-year membership for only $78.
Not only will you extend your discount for an additional year… but, I'll also include two exclusive bonus reports that could help you come out of the other side of this "Reset" with more cash than you know what to do with.
Your first bonus report is:
Gold Spike: How To Make Massive Profits
From The New Gold Bull Market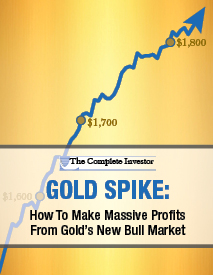 In it, you'll discover three gold mining companies that could soon deliver 1,000% gains or more to investors who scoop up shares today.
Gold Miner #1 – This Canadian-based mine also happens to be one of the most leveraged junior gold mines in the world. If gold reaches its all-time highs — which my research indicates it will — this company could see a 10-fold increase in its share price.
Gold Miner #2 – A British-based miner that's not only the second largest gold producer in Mexico… it also operates the largest silver mine in the world. Shareholders could take advantage of rising gold prices — and rising silver prices — and potentially make 10-times their money. That's enough to turn every $2,500 into $25,000 or more in the coming years.
Gold Miner #3 – This company holds the largest undeveloped European gold mine, and once it begins operations — which could happen later this year — it could allow you to make 3,000% gains if you get in before others pile into this stock.
You'll also get a personal copy of my in-depth report that exposes the $100 billion motherlode hiding in a remote hill in Alaska and shows you exactly how it could hand you up to 20x your money:
Arctic Profits: The Tiny $9 Company
That Could Hand You 20-Times Your Money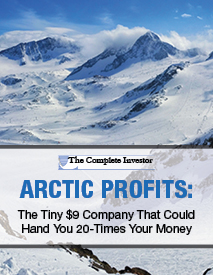 Inside, you'll discover…
Everything you need to know about the company that is sitting on what could be the largest gold deposit in the world.
How high this stock could go based on the massive gold bull market my research shows is right at our doorstep.
Why to get in on this opportunity now and how early investors could make up to 100-times their money within the next 10 years. That's enough to turn every $500 invested into $50,000 or more!
The strategic partnership this company has that makes owning its stock an absolute "no-brainer" for any investor who wants to pad their retirement savings for years to come.
If I'm right about what's coming…
Your decision today could literally be the difference between absolute financial destruction… and potentially adding thousands (if not hundreds of thousands) of dollars during this "Great American Reset."
I think that's a fair deal regardless of which option you choose.
But I want to sweeten the pot a bit more for you today with our:
No-Risk, 90 Day
100% Money-Back Guarantee…
Take a full 90 days to put your The Complete Investor membership through its paces with zero risk.
Review your bonus reports…
Read through the newsletter back issues…
And check out our model portfolio's performance.
If there's anything about The Complete Investor you don't absolutely love, place a quick phone call to our Concierge Hotline within 90 days of joining and we'll return 100% of your membership fee… no questions asked.
But your satisfaction with this service is my top priority… and I'm so confident The Complete Investor is right for you that I'm willing to "double down" on this guarantee…
Guarantee #2:
Your Satisfaction Is Guaranteed — Forever
Even after the 90 days have passed, if The Complete Investor's research, recommendations, or returns don't meet your expectations, I've got you covered…
Once again, a phone call is all it takes.
We'll prorate your fee and refund you immediately for any unused months remaining on your membership.
Plus… if you ever decide to leave, all the reports, newsletters, alerts, and recommendations you receive during your membership period are yours to keep forever…
Consider them my way of saying, "Thank you for trying us out."
But please remember — there's only 250 127 spots available at this highly-discounted price today.
Fair warning: This message has been sent to over 300,000 investors and the majority of available spaces inside The Complete Investor have already been snapped up.
There is no time to delay…
Don't let another investor take what should rightfully be yours…
Lock in your membership NOW to claim your 80% discount to The Complete Investor, along with your free bonuses valued at $597.
I'll see you on the inside.
Sincerely,

Dr. Stephen Leeb
Chief Investment Strategist
The Complete Investor
Copyright © 2022 Investing Daily, a division of Capitol Information Group, Inc. In order to ensure that you are utilizing the provided information and products appropriately, please review Investing Daily's' terms and conditions and privacy policy pages.