Start Here to Protect Your Wealth…
Now — Grow Steadily Richer with the Most Dependable Stocks on Wall Street…
(Even as Regular Stocks


Drop Another 31%

)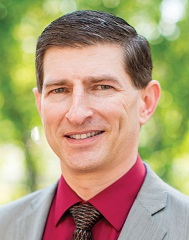 Congratulations… you've chosen a great time to join us here at Utility Forecaster!
Since 1989, we've racked up gains reaching 3,584%... by sticking to a special niche of stocks that shed bad news like water off a duck.
Now… as the coronavirus threatens our money and our lives, history tells us there is probably more pain ahead.
The last time the market suffered a shock this severe — in the crash of 2008 — Congress stepped in to "help out"… by injecting $700 billion into the financial system.
But instead of going up, stocks dropped another 31%.
Destroying the financial security of millions of Americans…
Today you can make sure that history doesn't repeat itself with YOUR money. Because I can almost guarantee that the special group of stocks we follow won't be following the economy to the bottom.
In fact, they usually go up when the market panics.
You see, they are mandated by law to make a profit. This makes them the safest stocks in America. Not a single company in this entire industry has ever gone out of business — ever.
That's because they all sell something that people refuse to go without.
At the office, we call them "essential-service" stocks. Simply put, there is no substitute for them.
These companies enjoy the extreme advantage of constant demand. It literally never stops. As a result, they are as close to bullet-proof hideouts for your money as you'll ever find.
You don't have to worry about bear markets when you invest in these virtually recession-proof wonders.
That's because everyone purchases electricity, heat, water, and phone service… even when money is tight. That unwavering, nonstop demand is a luxury few providers of any product or service enjoy.
Our portfolio proves how lucrative these "Steady Eddies" can be. Just take a look at the returns we've achieved on many of our longest-held stocks…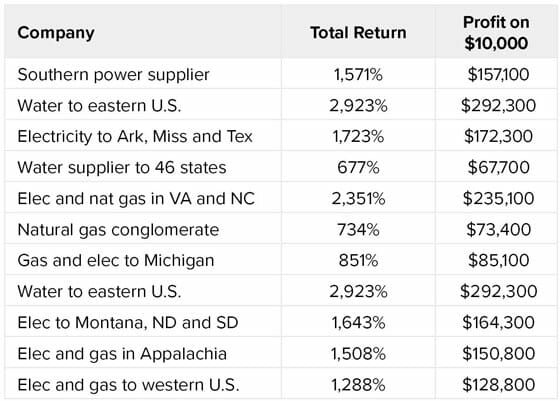 People Are Making Big Money Here… and You're About to Join Them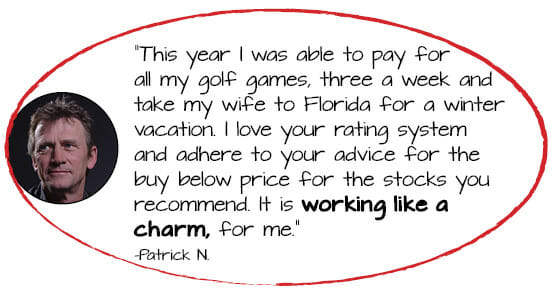 Four Perfect Stocks
to Start You Off…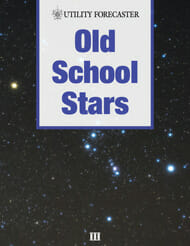 As soon as you confirm your membership, you'll get Old School Stars: 4 Unstoppable Back-to-Basics Utility Stocks.
Of the over 200 essential-service companies I cover, I've singled out these four for their spectacular appreciation potential…
The Dividend Juggernaut — This overlooked dynamo just paid its 142nd consecutive quarterly dividend to shareholders. Up 734% since we added it to our portfolio it should have no trouble giving you double-digit returns for years to come.
Takeover Kingpin — This one has already rung up a 2,923% profit since we first recommended it, and it's still a strong buy. It's snapping up smaller competitors across seven states, and it has one of the surest dividends you'll ever find.
Energy Trailblazer — This booming utility serves the fastest-growing population center in the country, where regulators remain staunchly pro-business. Since we recommended it less than seven years ago, the stock is already up 234%.
Biggest Bargain on the NYSE — This overlooked powerhouse is drowning in cash. It has raised its dividend 50% in the past five years, and sheds bear markets like water off a duck. If this isn't a slam dunk, I don't know what one looks like.
These are classic "forever" stocks. You can buy them and set them aside for years without a worry.
As the market recovers over the next three to five years, they could throw off dividends and capital gains of at least 100% as a group.
For every dollar you put into them now, you'll have two dollars in your pocket… and you'll be doing it by buying businesses that literally can't fail.
Get Your Cash Machine Running Today…
To give you the full picture of the unique research we do here at Utility Forecaster, I'll send you these additional bonus reports free of charge with your subscription today...
Bonus Report #1: Quadruple Your Income Overnight
This report reveals ultra-safe utilities that are raising dividends, growing earnings by the high double-digits, and pouring on the capital gains. A few are on my "Buy Now" list, and others are on my Watch List until I see the perfect buy price. When I do, you'll be the first to know, in an email alert I'll send you right away.
Bonus Report #2: The Gatekeepers: Three Companies that Control the Future of Natural Gas in America
Together, the three companies in this report could do for you what Southern Company, Exelon, and Aqua America did for us way back in 1994: launch you on a lifetime of high income and growing wealth.
Here's Everything You'll Receive
as a New Member…
The minute you fill out the secure membership form below, you'll get access to: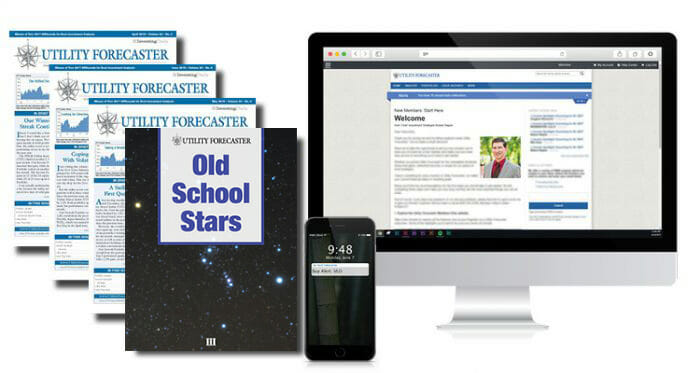 Monthly Issues of Utility Forecaster — The only publication anywhere devoted exclusively to helping you make money in essential-service stocks. It's the most thorough ranking and analysis of these investments you can find. You'll get everything you need to begin profiting from these remarkable high-yielders—including the best price to pay for every recommendation, plus safety ratings and dividend information.
Weekly updates — Every Friday, you'll receive the latest intel on our portfolio holdings. Any time there's breaking news or an urgent opportunity appears, we'll alert you. You'll never miss out or be caught off-guard.
Private Website Access — Inside our password-protected website you'll find a library of research at your disposal. That includes up-to-date data on our model portfolios… along with every issue, article, and alert we've ever put out.
First-Class Customer Service — You won't get a generic call center when you contact us. You'll get a dedicated Customer Service representative trained to help our members — and they'll do everything they can to make you happy.
Join Me Now
for Just 11 Cents a Day!
I hope you're ready to use Utility Forecaster to accumulate lasting wealth.
Because to welcome you as a new member, we're knocking 73% off the standard rate of $149 and giving you a full year of this one-of-a-kind service for only $39. That's less than 11 cents a day.
It's the lowest price we've ever offered for Utility Forecaster.
Even better, you can double down on these savings by taking advantage of our two-year subscription option. Not only will you lock in this lowest available rate for a second year, we'll add in three MORE bonus reports:
Broadband Billions
Liquid Gold Rush
Bounceback Dream List
As soon as I hear from you, I'll send you Old School Stars, plus all of your additional bonus reports along with the current issue of Utility Forecaster. That way, you'll see our entire portfolio as it stands right now, so you can see for yourself how we're banking these returns.
And please take your time going through it all. There's no rush…
You have three full months to get to know my service… check out each new issue… go over the portfolio… and even buy a recommendation or two. That's plenty of time to kick-start a growing stream of income into your account.
One last thing… if turns out that it's not for you, no problem. Just cancel any time in the first 90 days and receive a prompt, 100% refund.
Even if you change your mind after 90 days, I'll happily send you a refund for the balance of your subscription.
Now it's time to make your move.
If you're ready to put your money to work in investments that will never stop paying you back, join me and thousands of enthusiastic wealth builders today at Utility Forecaster.
But please hurry.
This 73% discount isn't permanent. So I urge you to lock in your low membership price now while you can.
With best wishes for safe profits,

Robert Rapier
Chief Investment Strategist
Utility Forecaster
Copyright © 2020 Investing Daily, a division of Capitol Information Group, Inc. All rights reserved.