Welcome On Board…
And Get Ready to See Where Stocks Yield Us 26%!
Introducing the most generous stocks
in America to start a portfolio
full of massive yielders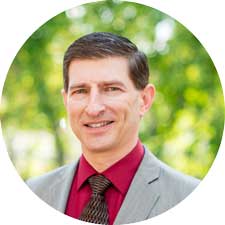 Hi, I'm Robert Rapier, and I want to personally congratulate you on your decision to join me at Utility Forecaster.
As soon as you confirm your membership below, you'll receive my new report, The Incredible Dividend Map: 27 Cities Where Stocks Are Paying Us 26% a Year.
The stocks you'll see here are growing their dividends so fast that they're now yielding massive numbers for us.
Every one of these cash cows is in our recommended portfolio right now… and for every dollar invested in them, they are sending us 26 cents in dividends.
We're finding these opportunities
all over the globe…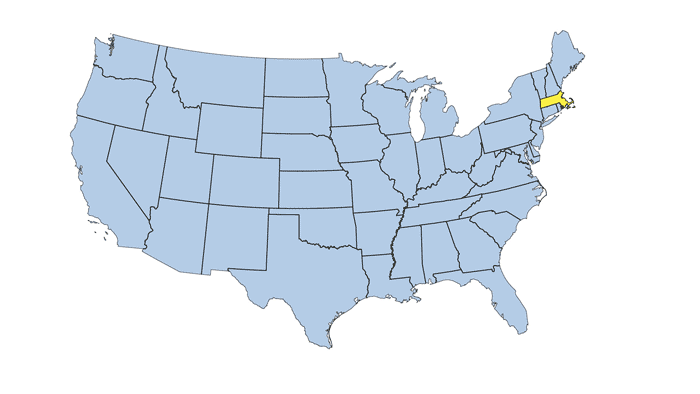 One in New York City is paying us 47% a year. Another one in New Orleans yields us 77%. A small outfit in Philadelphia is paying 73% on our original cost.
As you'll see in your copy of The Incredible Dividend Map, the reason these firms can distribute so much cash is because of their never-ending revenue streams. They sell goods and services that people absolutely need… and no one wants to stop paying for.
At the office, we call them "essential-service" stocks. Simply put, there is no substitute for them.
These companies enjoy the extreme advantage of constant demand. It literally never stops.
As a result, they are as close to bullet-proof hideouts for your money as you'll ever find.
They shed bear markets like water off a duck… and often go up when the rest of the market drops.
We've Been Making Money This Way
For Over 30 Years…
And we're still going strong.
Our approach never stops working because essential-service stocks never go out of style.
The proof is in the numbers…
In our portfolios, you'll see stocks that have already delivered my readers the chance to rake in returns of 456%… 139%… 370%… 888%… 1,669%… 2,196% and even a wallet-stuffing 3,515%.
And it's not just a few big winners balancing out a bunch of losers. So many of our stocks are up that our average overall return is 659.6%.
Readers who put $10,000 into each pick in our growth portfolio when we recommended it, and held on as we advised, are now sitting on a gain of over $1.1 million.
Five Perfect Stocks to Start Off With
in Your Free Report
I cover some 200 essential service companies in the U.S. and around the world.
But 40 of them — spread across in 27 cities — have been such superb performers that they are now averaging a 26% yield for us.
You get them all in The Incredible Dividend Map. You'll see exactly where these holdings are located… along with a brief profile of each.
On top of that, I drill down deep on five in particular that are perfect for starting your own high-yield portfolio…
Vincent K. says "I was reluctant to subscribe but have decided to give it a try and never looked back… if you are a novice like me and need help to know when to buy/sell, well this is your ticket."
Lucinda S. writes that for over eight years "…your recommendation has been a gem in my portfolio, returning a total of 208% in dividends plus value increase (that's nearly 25% per year, folks)."
Richard B. says "Your publication has been the keystone in my investment program for many years, enabling me to comfortably retire early!"
Chuck B. says "I now have a great income-producing portfolio that doesn't dip like the Dow or NASDAQ on bad days and goes up in value almost every day."
And Patrick N. says Utility Forecaster is "working like a charm" for him. He was able to fully pay for his golf "habit" (three rounds a week!) for a full year. And still had enough left over to take his wife to Florida for a winter vacation!
The Minneapolis cash machine (now yielding us 65%) —The perfect "boring is beautiful" stock, there's nothing fancy here. It just functions smoothly year after year. And it earns an extremely high grade from our safety rating system. Meanwhile, it has hiked its dividend 28 years in a row and offers one of the surest payouts you'll ever find. You can buy this one and lock it away for the long haul.
The Philadelphia water play that's yielding us 74% —You just don't find a surer slam-dunk income play than this. It has already rung up a 3,515% profit for us, and it's still a strong buy. As a bonus, it will reinvest your dividends for you into more shares at a 5% discount.
This New Orleans powerhouse is now yielding us 77% —This dynamo hasn't missed a dividend payout in decades… and has hiked that dividend for the past 47 years in a row. It offers a remarkable combination of value, yield, and dividend growth.
The 10-bagger from New York City (now yielding us 47%) —Leading the 5G charge, this telecom pioneer wants to replace the hassle of tapping out text messages with video messaging. It micro-targets 117 million customers with ads that follow them from their TV to their laptops to their smartphones. It's up 888% since we bought in, and we're still buyers.
The North Dakota juggernaut yielding us 71% — One of our few investments not located in a major city, it generates electricity, builds power plants, and distributes natural gas. We've held it for 32 years and it hasn't disappointed us yet. The real story here is its ability to grow in all markets… and the stunning 2,340% gain it has made us. This overlooked dynamo has raised its payout every year and in every economic climate, shedding bear markets like water off a duck.
Here's Everything You'll Receive
as a New Member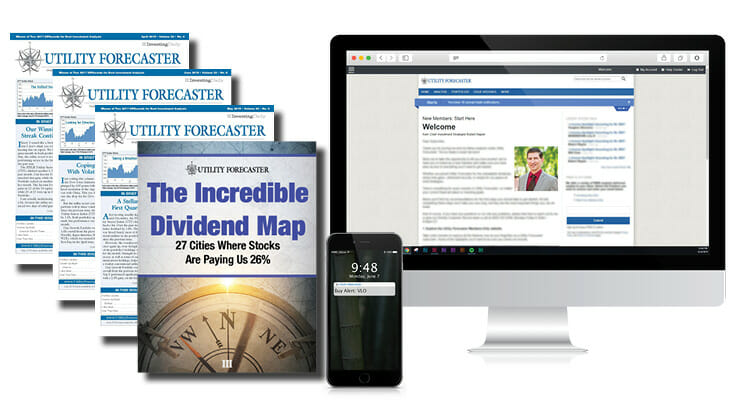 Monthly Issues of Utility Forecaster — The only publication anywhere devoted exclusively to helping you make money in essential-service stocks. We give you the most thorough ranking of your investment options anywhere.
Weekly updates — Every Friday, you'll receive the latest intel on our portfolio holdings. Whenever there's breaking news or an urgent opportunity appears, we'll alert you to it. You'll never miss out or be caught off-guard.
Private Website Access — Inside our password-protected website you'll find our full library of research at your disposal. That includes up-to-date data on our model portfolios… along with every issue, article, and briefing we've ever put out. You'll get everything you need to begin profiting from these remarkable high-yielders — including the best price to pay for every recommendation, plus safety ratings and dividend information.
First-Class Customer Service — You won't get a generic call center when you contact us. You'll get a dedicated Customer Service representative trained to help our members — and they'll do everything they can to make you happy.
Join Me Now for Just 11 Cents a Day
I hope you're ready to use Utility Forecaster to accumulate lasting wealth.
Because to welcome you as a new member, we're knocking 73% off the standard rate of $149 and giving you a full year of this one-of-a-kind service for only $39. That's less than 11 cents a day.
It's the lowest price we've ever offered for Utility Forecaster.
So… as soon as I hear from you, I'll send you The Incredible Dividend Map: 27 Cities Where Stocks Are Paying Us 26%, along with access to the current issue of Utility Forecaster. That way, you'll see our entire portfolio as it stands right now, so you can see for yourself how we're banking these incredible yields.
And please take your time going through it all. There's no rush…
You have three full months to get to know my service… check out each new issue of Utility Forecaster… go over the portfolio… and even buy a recommendation or two. That's plenty of time to kick-start a growing stream of income into your account.
If turns out that it's not for you, no problem.
Just cancel any time in the first 90 days and receive a prompt, 100% refund.
Even if you change your mind after 90 days, I'll happily send you a refund for the balance of your subscription.
Now it's time to make your move.
If you're ready to put your money to work in investments that will never stop paying you back, join me and thousands of enthusiastic wealth builders today at Utility Forecaster.
But please hurry.
This 73% discount could disappear any day. So I urge you to lock in your low membership price now while you can.
With best wishes for safe profits,

Robert Rapier
Chief Investment Strategist
Utility Forecaster
P.S. Call us toll-free at (800) 832-2330 and we'll set you up right away. Our customer service team is available Monday through Friday, 8:30 a.m. to 6:00 p.m. EST.