"It doesn't matter if the markets are going up, down, or sideways. My investments still earn top-notch dividends… rack up exponential growth… and offer unparalleled safety…
Now Yours Can Too

!"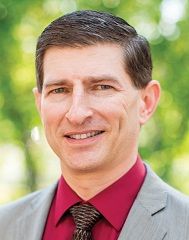 Hi, my name is Robert Rapier and I want to personally congratulate you on your decision to join me at Utility Forecaster.
Our widely followed, 29-year-old income investing newsletter lets you say "goodbye" to stock-market worries. Forever. That's because our entire focus is on the utilities sector—that unique niche of 201 "Steady Eddie" stocks that consistently hand our subscribers…
Juicy dividends
Stress-free gains
Peace-of-mind investing
Rock-solid value
And retirement security
Worries about "bull" or "bear" markets become a thing of the past when you invest in these virtually recession-proof wonders. Utilities are the most crash-resistant stocks you can buy.
That's because everyone purchases electricity, heat, water, and phone service… even when money is tight. That unwavering, nonstop demand is a luxury few providers of any product or service enjoy.
And when an investment like that passes your way, you grab it.
Sure, I'll be the first to admit that utility investing might be considered "Old School" or even downright "boring."
For some investors, it's not nearly as exciting as the rollercoaster adrenaline rush they get from plowing money into commodities contracts… options… IPOs… or the next "sure-thing" tech innovation.
But I'm sure the thrill quickly fades as the losses set in…
Utility Forecaster's portfolio, on the other hand, is the ultimate example of "boring is beautiful." Just take a look at the stellar returns we've achieved on some of our longest-held stocks…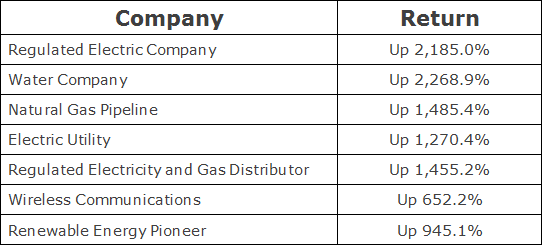 I'm not the only one who appreciates these resilient, old-fashioned gems.
Subscribers are thrilled with the results they're getting from our back-to-basics investing strategy.
Edwin K. says "Utilities are sort of boring and it's more fun to speculate in biotechs, but I have made far more money, consistently, with Utility Forecaster picks than any other newsletter. For someone approaching retirement, it's a no-brainer. It's also very cheap, an incredible value…"
Lucinda S. writes that for over 8 years "… your recommendation has been a gem in my portfolio, returning a total of 208% in dividends plus value increase (that's nearly 25% per year, folks)."
Richard B. says, "Your publication has been the keystone in my investment program for many years, enabling me to comfortably retire early!"
Chuck B. chimed in with, "I now have a great income-producing portfolio that doesn't dip like the Dow or NASDAQ on bad days and goes up in value almost every day."
And one of my favorites is from J.V. who reports these astounding results:
"I've been able to add a 7th figure to one of my brokerage accounts solely on your advice over these last 8 years."
Here's Everything You'll Receive with Your Utility Forecaster Membership
The minute you fill out the secure membership form below, you'll get access to: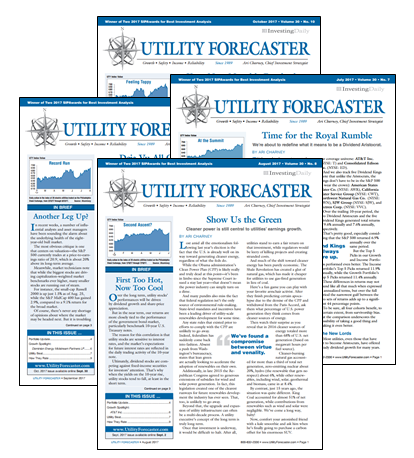 ✔ Monthly Issues—Utility Forecaster is the only publication devoted exclusively to helping you make money in utilities. Nowhere will you find a more thorough ranking of your utility investment options than in the 12 pages of this monthly investment bulletin. You'll always come away armed with the advice you simply can't get anywhere else.
And just how effective is Utility Forecaster at generating oversized profits? Sometimes a single number speaks louder than thousands of words. We have an average total return of 455% on all our current stock holdings.
✔ Weekly updates—Once a week you'll receive the latest intel on our portfolio holdings. Any time there's breaking news on one of our positions or a new recommendation comes along, we'll let you know about it. With these updates, you'll never miss an opportunity or be caught off-guard.
✔ Private Website Access—Inside this password-protected website you'll find our full library of research. That includes an up-to-date collection of our model portfolios along with every issue, article, and special briefing we've ever put out. You'll get everything you need to begin profitably investing in our recommendations — including the best price to pay for any given recommendation, safety ratings, and dividend information.
✔ First-Class Customer Service—And for the things we can't help you with, you're covered by our dedicated Customer Service staff. You won't get a call center when you contact us. Our Customer Service staff is dedicated to our products—and they'll do everything they can to make you happy.
Remember, when you join today you won't be getting advice from another run-of-the-mill financial publication. Because…
Hulbert Financial Digest named Utility Forecaster the #1 top-returning financial advisory in the nation over a 10-year period for risk-adjusted returns.
Kiplinger selected Utility Forecaster as the Best Investment Advice Stock Newsletter — part of their annual "The Best List."
And my publisher reports that Utility Forecaster has the highest renewal rate in the industry. You don't get so many repeat customers unless you deliver on your promises.
Join Me Now for
Just 40-Cents-a-Day!
I hope you're ready to use Utility Forecaster to safely accumulate serious, lasting wealth. Like the stocks that have already delivered my readers returns of 572.9%… 930.7%… 1,494.7% and even 2,175.5%.
As a special introductory offer, you can get a full year of this one-of-a-kind service at an incredibly low price…
12 monthly issues for only $149—that's just 40-cents-a-day!
Plus, thanks to my 90-day risk-free guarantee… all of the risk is on me.
My 90-Day
Risk-Free Guarantee
My guarantee is as simple and strong as they come: total satisfaction or your money back. Take as long as you want to get acquainted with Utility Forecaster and make up your own mind about it. You can cancel at any time in the first 90 days and receive a prompt, 100% refund.
After the first 90 days, if you ever vote "thumbs down," I'll happily send you a refund for all unsent issues. 
Now it's time for you to make your move.
Every day your money languishes in a low-interest CD—or remains nakedly vulnerable in crash-prone stocks—is another day you're missing out on the safe, high yields and stress-free capital gains our carefully chosen utilities offer.
The kinds of moneymakers that historically SKYROCKET and THRIVE during market downturns and recessions…
And yield you up to 14.1% a year in cold cash… plus offer capital gains within two to three years of up to 100% on top of that.
If you want to put your money to work in these investments that will never stop paying you back, join me and thousands of enthusiastic subscribers today at Utility Forecaster.
But please hurry. I've heard whispers this special "40-cents-a-day" pricing could be going away as soon as tomorrow. So, I urge you to lock in your low membership price now while you still can.
With best wishes for safe profits,

Robert Rapier
Chief Investment Strategist
Utility Forecaster
If you prefer to order over the phone, our customer service team is available
Monday through Friday, 8:30 a.m. to 6:00 p.m. EST at (800) 543-2049.