This Is Your Chance to Make 5,000% Gains
in the Next 12 Months with Jim Fink
and His Velocity Profit Multiplier System.
Congratulations!
You're just a minute away from becoming one of the 500 loyal Investing Daily readers who will have the chance to rake in 5,000% profits with Jim Fink's Velocity Profit Multiplier.
This proprietary system allows you to multiply even the smallest stock moves into gains of 108%, 118%, 122%, 127%, 138%, and even 163%.
In as little as three days.
Since releasing this proprietary system in November of 2015, Jim has used it to deliver 30,231% profits to members of his research service Velocity Trader.
Here's something else I'm sure you'll like…
Thanks to a wrinkle Jim added to his Profit Multiplier he is currently on a staggering 497 trade win streak that's given his readers the chance to rake in gains of 27,670%.
Without a single loss.
This is your chance to pursue the same kind of profits.
And with Jim at your side to pinpoint, refine, and give you step-by-step instructions on how to take part in each opportunity…
I have little doubt you'll be able to bank gains of 5,000% over the next 12 months.
Here's a complete breakdown
of everything you'll get to kick-start your
Velocity Trader membership.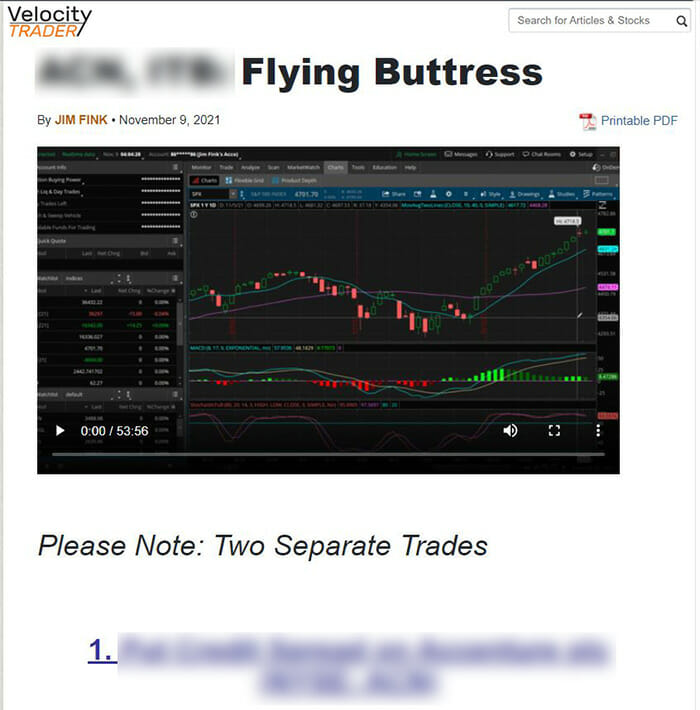 52 Weekly Alerts Including
Two Immediate Trades in Each
Every Tuesday you'll get an email with the details on two immediate profit opportunities.
And whether you simply take the two-sentence trade instructions for each one and enter them into your online account…
Or watch the video that includes market observations, easy-to-read charts, and trade rationale…
You'll always come away with exactly what you need to turn stock moves as small as 1% into quick triple-digit winners.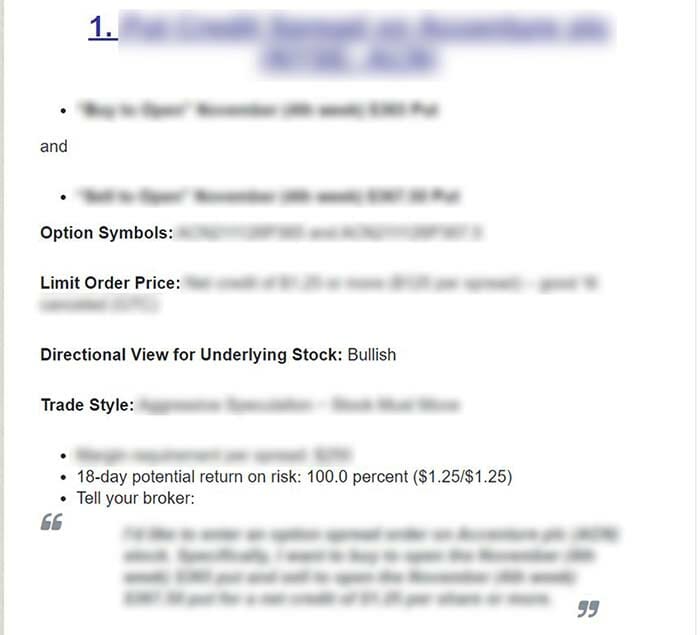 Instant Trade Extension Alerts
As I mentioned earlier, about four years ago Jim added a special "twist" to his system which allows him to extend trades until they make money. This special set of instructions has given Velocity Trader members the chance to bank gains of 27,670% without a single loss. And anytime Jim sees the opportunity to use this unique move he'll send out the instructions as a separate alert.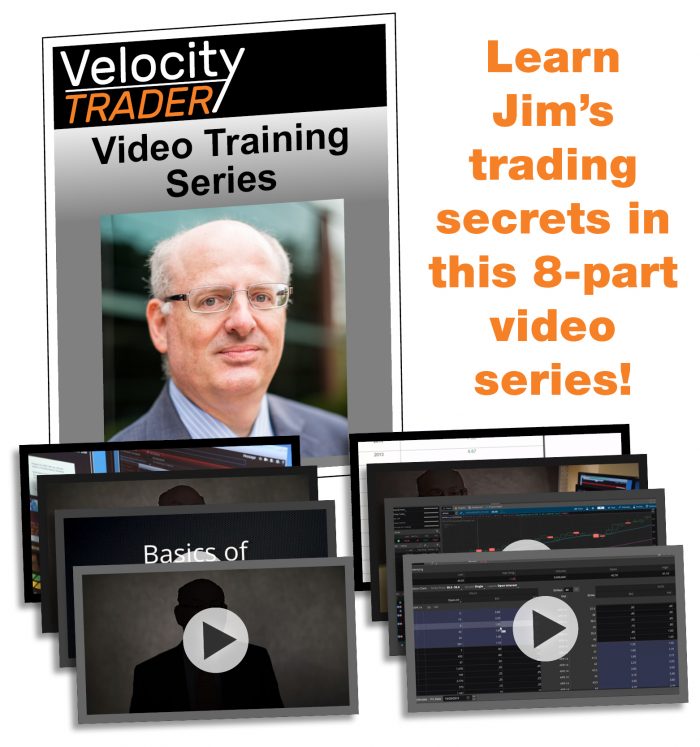 Jim's 8-Part Velocity Trader
"Boot Camp"
This fast-paced series will walk you through how to set up your own options trading account (which you can do in 10 minutes or less). The secret to using the Profit Multiplier to pinpoint your own trades. And how to make the lucrative fast-moving trades Jim recommends. Plus much more!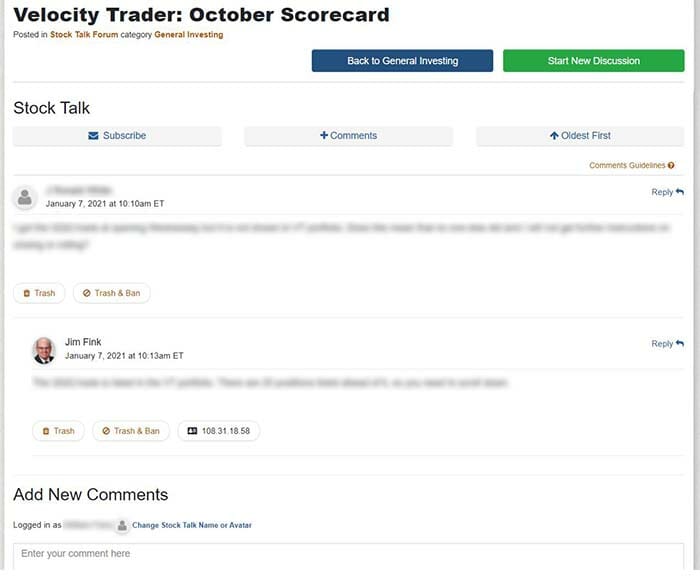 24/7 Access to the Velocity Trader Website
and a Full Year of Guidance
Remember, we're limiting the number of people who can join Velocity Trader today to 500.
And the reason for that is simple. We want to be sure Jim has enough time to answer questions…
And still do all the research that leads to the explosive profit opportunities he delivers.
In addition to being able to access this invaluable coaching on the website…
You'll also find an up-to-the minute listing of all the open trades and their status. A list of the closed trades and the gains they delivered. And links to every alert Jim has ever put out.
Top-Shelf Customer Service
If you ever have a question or problem, you're covered by our dedicated Customer Service staff. You won't get a call center when you contact us. Our Customer Service staff is based right here at our office in Falls Church, Virginia.
They're dedicated solely to our products.
And because you're becoming part of an elite community of traders they'll do everything they can to make you happy.
What Would You Give For A Shot At
Raking in Gains of 5,000%?
If you discovered anything today, I hope it's that Jim Fink is one of the top options traders on the planet. And following his lead could help you achieve life-changing profits.
Which is why we could easily justify charging $10,000 or more for a year's worth of his moneymaking research.
But we're not going to do that.
We're not even going to ask you pony up the $2,995 we typically ask folks to pay.
We want to fill all 500 newly-opened spots as quickly as possible.
And to make sure that happens we've knocked more than 33% off the regular price.
Which means when you sign up through this special membership invitation – you can lock in one year of Velocity Trader for only $1,995.
Let me take a moment to remind you, however, that because you're locking in such a deeply-discounted rate, your Velocity Trader membership is a non-refundable purchase.
But don't forget, no matter what happens, you're completely covered by my one-year – 5,000% guarantee.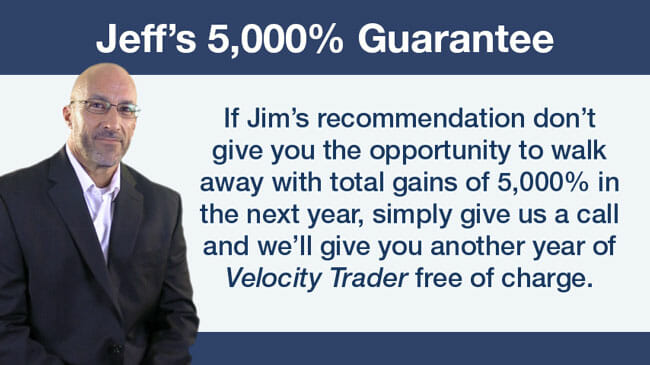 I hope it's clear just how much you have to gain by accepting this limited-time offer.
You'll literally be putting yourself on the path to making 5,000% total profits in the next 12 months.
To get started simply fill out the form below. Or call (800) 543-2051.
When you pay for a one-year subscription to Velocity Trader today, you'll receive all the benefits listed above. It also means you understand this subscription is a non-refundable purchase. For your convenience, on your one-year anniversary, we will bill your credit card for another year's subscription fee of $1,995. That locks in your rate and guarantees your fee will never go up as long as you stay a member. You can cancel this feature at any time. Simply contact your Concierge.
Copyright © 2021 Investing Daily, a division of Capitol Information Group, Inc. All rights reserved.