You're One Click Away From Discovering How to Retire Rich… Without Owning a Single Share of Stock.
Only

50

17 discounted memberships
remaining today
Congratulations on making the wise decision to join me inside Velocity Trader
You're about to embark on an exciting new journey where you have the chance to extract $2,440… $5,200… even $7,890 from the market… every single week…
Thanks to my Profit Multiplier you'll no longer have to agonize about which stocks you should hold onto and for how long…
Pop antacids night after night from the heartburn you get watching stocks spike and sink every day… or worry about when the next crash could strike.
Instead, with just seven minutes a week, you can set yourself up to potentially double your money or more, faster than you ever thought possible.
My Profit Multiplier has already singled out trades that delivered:
162% on Tesla in 5 days
208% on Amazon in 1 day
317% on Twitter in 6 days
428% on Apple in 2 days
All without owning a single share of stock.
But don't just take my word for it… here's what real Velocity Trader readers are saying about my service.
Martin G. of Nevada says:

Ivan V. of Redding, California tells me he's: 

Then there's David G. of Eugene, Oregon who revealed that he:

Remember, because you're one of the first 50 readers to respond to my special presentation, you'll immediately receive a $1,000 discount off of your Velocity Trader membership.
(WARNING: Closing this page will cause you to lose your place in line.)
Here is everything you'll have access to, the moment you join:
You'll receive my next two trading alerts on Tuesday, each of which has the potential to double your money or more.
Then, every Tuesday after that, you'll receive two more potential "double your money" trading opportunities, for an entire year. That's 52 weekly issues — with two immediate trading opportunities that you can execute in 7 minutes or less.

You'll instantly gain exclusive, 24/7 access to Velocity Trader's private, members only website, where you can review all of my open and closed trading positions…
You'll have access to every one of my current and past trading alerts, each of which contains an explicit rationale for each trade.
Even better, each new trade alert comes with a short video that lets you "look over my shoulder" as I walk you through each trade, step-by-step.
You'll see the charts I use to pinpoint each recommendation and I'll walk you through how to read them.
I'll highlight each of the signals the stocks sent out that told me they were set to move up or down.
And I'll give you the rationale behind each recommendation — including what level of profits you can expect.
But that's not all. As a special bonus you'll also have access to my Velocity Trader Quick Pro Session.

In these short video trading classes…
I'll walk you through the easy steps it takes to make these trades, so you can do them in less than seven minutes, even if you've never traded options before.
I'll show you how to exploit recurring stock moves (one of the "aces" responsible for achieving a 95% win-rate over the last five years).
I'll reveal my secret of "extending" an options trade so you can make money even when the stock market does the unexpected.
And much, much more.
Now, I must remind you that I can't give any refunds after you join today.
I'm sorry it has to be this way, but this service is not for tire-kickers…
We simply can't afford to waste memberships on those who are not 100% committed to taking advantage of every opportunity to make insanely fast fortunes.
However, to prove my commitment to helping you make massive profits in the next year… this is what I can promise: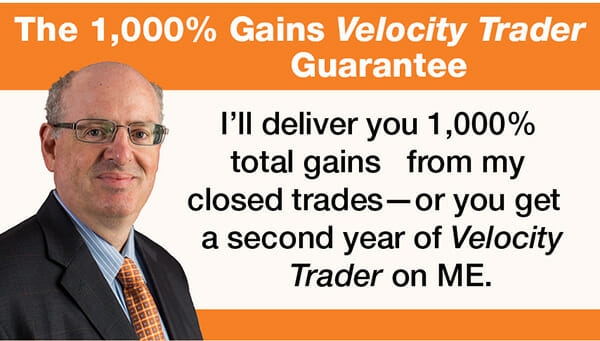 With your Velocity Trader membership, I will deliver the chance at 1,000% total gains from my closed trades over the next 12 months.
Guaranteed.
And in the highly unlikely event I don't, you'll receive another full year of trading opportunities ON ME.
And remember: Because you're one of the first 50 readers to respond to this offer today, you'll receive a full year of Velocity Trader, and everything we've just discussed for just $1,950.
That's a $1,000 discount off the regular price — money you can put right in your pocket or towards your first trade.
But you must act fast: once these heavily discounted memberships are all claimed, I'll have to pull this page down.
This may be the first, last, and only time I'll be able to make this offer…
Don't wait another moment. Lock in your access to Velocity Trader now.
Simply fill out the secure order form below to begin your journey towards ultimate financial freedom!
Sincerely,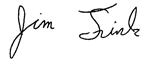 Jim Fink
Editor, Velocity Trader
January 2021
Copyright © 2020 Investing Daily, a division of Capitol Information Group, Inc. All rights reserved.