Before I activate your upgrade and rush you the password that unlocks this financial treasure trove…
I want to remind you we're only offering 100 new lifetime spots.
So, it's critical that you act immediately.
As a new member, you'll receive immediate access to…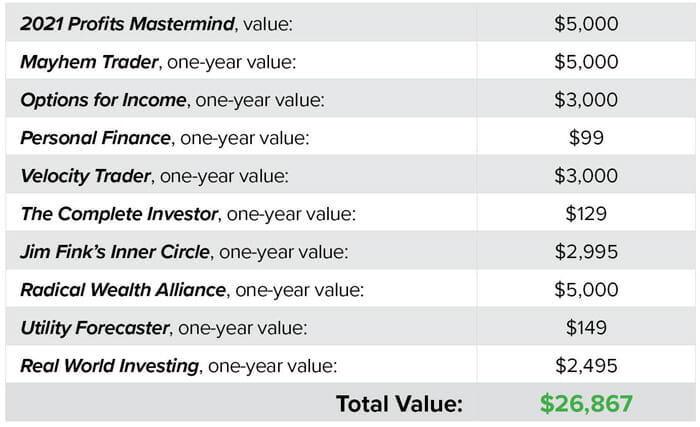 You'll also get:
Unlimited Access to the Wealth Society's Members-Only Portal
Inside your personal, private Wealth Society website, you'll find an easy-to-navigate collection of every advisory we publish.
Including access to our vast library of special reports and powerful training videos.
If you're following a particular analyst — they're easy to find.
If you're following a particular publication (or more than one) — they're arranged in a logical and clear way.
Even if you're cherry-picking the winners from every service we put out — we make sure they're right at your fingertips.
Bottom line: your Wealth Society site is the gateway to some of the most powerful wealth-building tools ever assembled.
A Simple — Private — Way to Stay on Top of All Your Positions
And you'll never have to worry about being overwhelmed by too much information via email either.
Instead of getting several emails from us each day, we'll send you all the critical information you need in our private briefing called Wealth Society Confidential.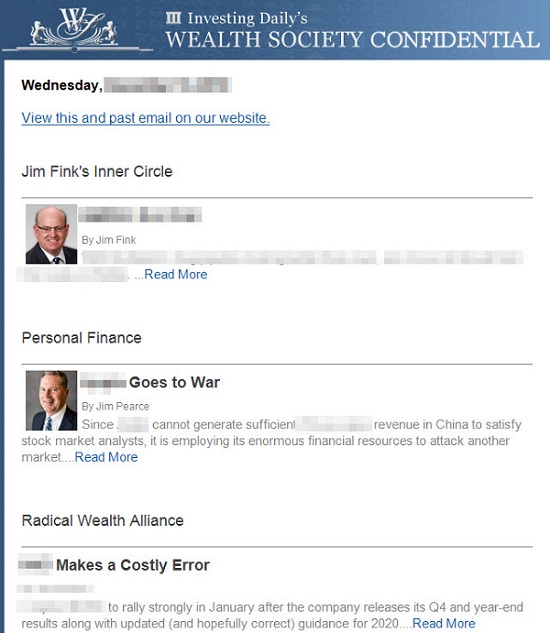 Inside each daily issue, you'll find links to every article published by our analysts that day.
And to guarantee you never miss a new profit opportunity…
Or a chance to take some of your gains off the table…
We send out ALL our trade alerts as separate emails so they stand out from the crowd.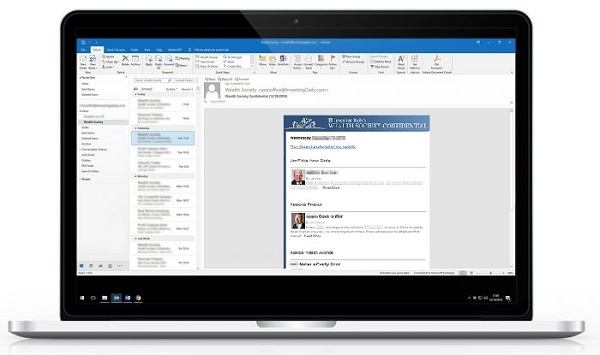 A year's worth of this research is valued at $26,867…
The five-year value is $134,335…
In ten years, the value would stack up to an astounding $268,670.
And that's just with our current line-up.
Remember, we're committed to bringing you even more lucrative opportunities through new product launches (which will only increase the value what you're getting).
So, I don't think it's hard to understand why the one-time upgrade fee of $5,900 (plus the small annual maintenance fee) is just a drop in the bucket for lifetime access to a virtually unlimited number of profit opportunities.
Especially when you consider taking advantage of even a small fraction of the advice you'll get in the first month, could more than pay back your investment in the Wealth Society.
Don't just take my word for it though…
Here's just a sampling of the success stories our subscribers have told us about — any of which could have easily paid for their upgrade fee. Some, many times over…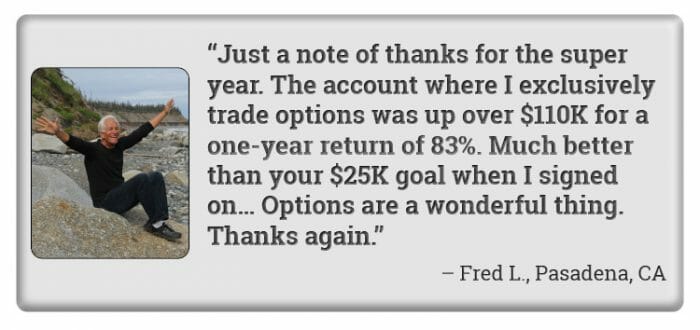 And if you're still not sure, here's one more thing for you to consider.
I'm so committed to filling all 100 slots…
When you secure your lifetime upgrade to the Wealth Society today, I'm also going to cover you with our iron clad double-barreled protection plan.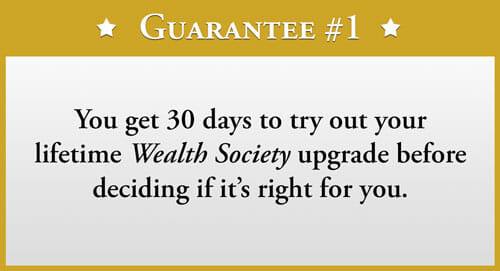 The first level of protection is our 30-day trial period.
You'll get access to everything you've seen today starting immediately.
Check out everything a private membership of this caliber has to offer.
Be sure to discover the profit potential that's waiting for you in each of our 9 powerful research advisories and our Members-Only 2021 Profits Mastermind….
Dive in and enjoy yourself.
If at any time during this 30-day window you don't believe that the Wealth Society upgrade is right for you, simply let any one of our concierges know.
They will promptly refund every penny you paid. And reactivate your original subscriptions with us.
Your protection doesn't end when the 30 days are over either.
I'm so committed to your success that I'm making you a second guarantee: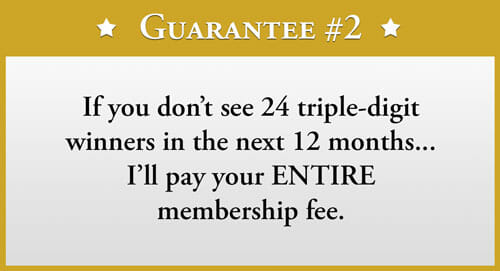 Because I'm putting myself on the hook for the full price of your upgrade fee today.
Throughout this invitation, I've shown you more than 60 examples of recommendations that doubled, tripled, or quadrupled our subscribers' money…
And some of them did even better than that.
In spite all those winners… I'm also aware you still may have doubts about how much money you can make.
That's why I'm going to do something I don't normally do. I'm going make you an outrageous promise.
Here's how it works.
If, in the course of the next twelve months, we don't give you the opportunity to bank 24 triple-digit winners — just let us know and we'll refund your entire fee.
Let me be clear about that.
If you "only" see 23 triple-digit winners — and put $1,000 into each one — you'll be sitting on a staggering $23,000 in profits before commissions.
But that's still not good enough for me. Because 23 is one less than 24.
And a promise is a promise.
So I'll cover the entire fee you paid to join the Wealth Society.
Let's face it, if I wasn't 100% positive my analysts could deliver on my promise…
I would never shout it from the rooftops.
I couldn't afford to!
Because 100 open slots at $5,900 would cost me a staggering $590,000…
My team's top priority is — and always will be — to deliver you world-class investing opportunities.
And I guarantee we'll do that.
That's why claiming either of my guarantees is as simple as calling (or emailing) our Wealth Society concierge team. No questions asked. No hassles.
Act Now — Only 100 Slots Available
Remember, we can only accept 100 people today.
And with everything I just showed you, I hope it's clear it won't take long to fill those slots.
To lock yours in…
Simply fill out the membership form below…
Or, if you want to secure your upgrade with a live person…
Please give us a call at (800) 858-9992 during regular business hours.
No matter how you reserve your spot though, it's critical you do it now.
When the 100th spot gets snapped up… the doors to this special membership level will slam shut. And I can't say for sure if, or when, we'll ever open them again.
There's no reason to get locked out.
Make your move now.
To your investing success,
Jeff Little
Publisher
Investing Daily
When you pay for a lifetime upgrade to the Wealth Society today, you'll receive all the benefits listed above including the powerful coverage our two guarantees give you. Your credit card will be charged the one-time membership fee of $5,900. Each year on your anniversary, you'll be charged a $299 fee to cover ongoing administrative expenses. Without this fee, we couldn't make this lifetime offer available today.
Copyright © 2020 Investing Daily, a division of Capitol Information Group, Inc. In order to ensure that you are utilizing the provided information and products appropriately, please review Investing Daily's' terms and conditions and privacy policy pages.