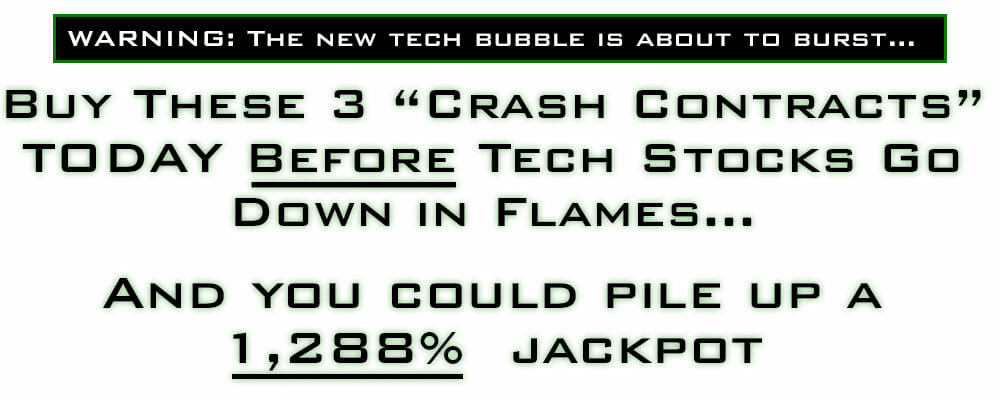 Dear Smart Investor,
It's starting to look like 2000 all over again.
From the frenzied IPO market reaching highs we haven't seen in two decades…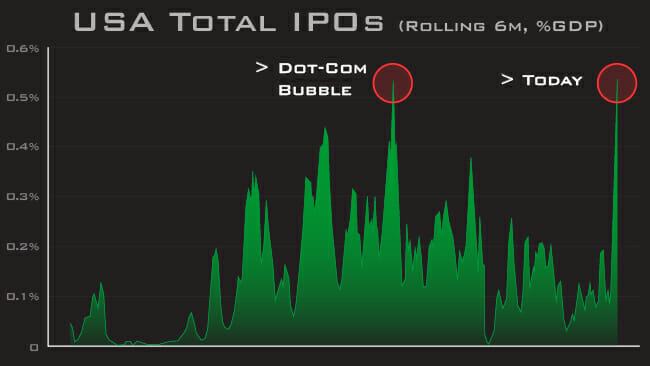 To the tsunami of new investors gambling on the next millionaire-making stock…

If it feels like you're living through the Dotcom bubble all over again…
Trust your instincts.

In the next few minutes you're going to witness the research which has me convinced…
Yes, we're living through another tech bubble.
Yes, it's BIGGER than ever.
And yes, like a runaway freight train, barreling over a cliff…
Tech stocks are about to crash and burn.
If I'm right, billions will be lost in an instant.
But billions will be made too.
Because…
When pumped-up tech stocks plummet…
Fast Profits Follow
(For those who know the secret I'm about to share…)
Take a look…
During the Dotcom crash in 2000, Intuit's stock dropped 10%.
But with something I call a "Crash Contract"…
(Like the three I'll show you how to buy today…)
You could have flipped that drop…
Into a 371% gain…
In only 3 days.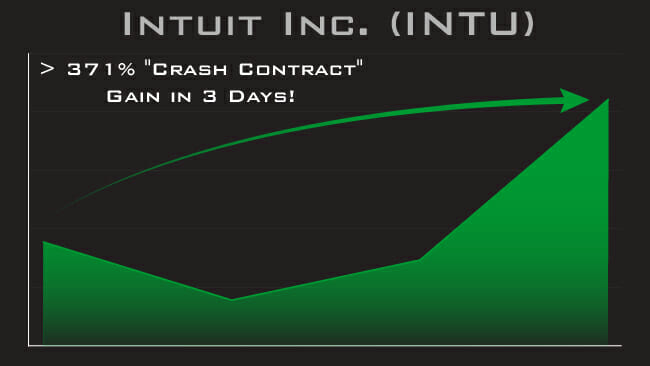 Quadrupling your money in 72 hours is a good start.
But that's only the tip of the iceberg…
The Dotcom crash delivered rapid-fire "Crash Contract" opportunities…
Like the chance to flip Oracle's 24% nosedive…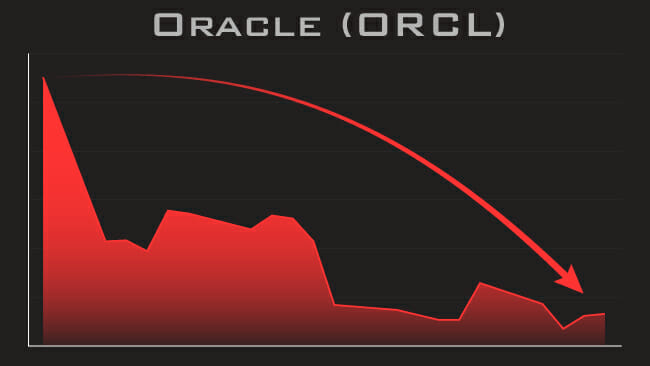 Into a 444% gain in 14 days…
It also handed "in the know" investors a shot to turn a -23% slide on the software company, Autodesk…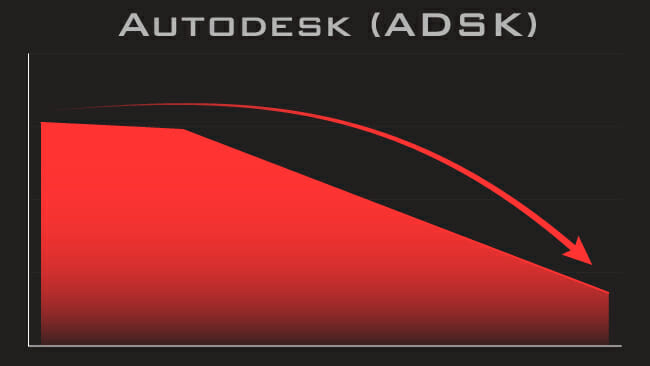 Into a 633% gain… just 4 days later.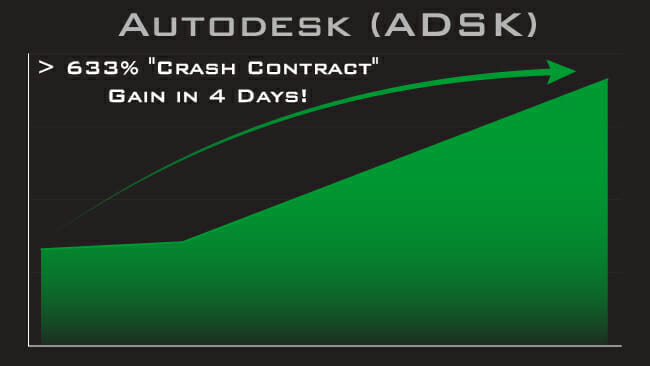 And better yet, with one simple "Crash Contract," Apple's 23% skid in 2002…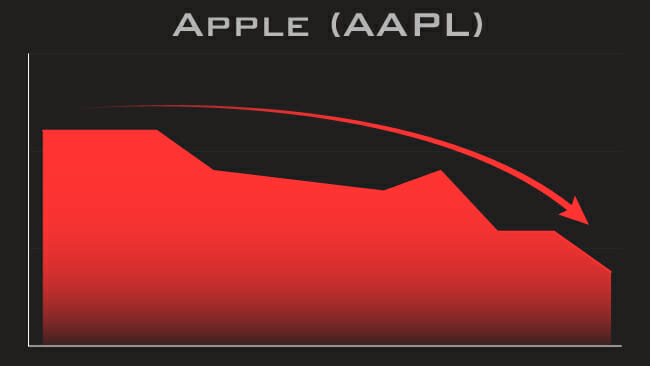 Could have handed you an astonishing 1,996% gain…
In only 10 days.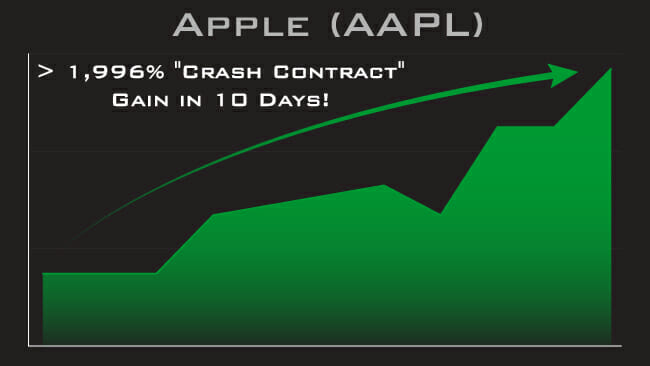 Think about that for a second…
You could have turned $1,000 into $19,960…
On a stock that was going down.
And you could have done it in a little over 2 weeks!
Now before I go any further…
I want to state the obvious.
Not every tech stock drop can hand you those kinds of gains.
Some "Crash Contracts" don't make any money at all.
But even if you "only" pocketed an 85% gain in 1 day, like this "Crash Contract" on the microchip company ASML…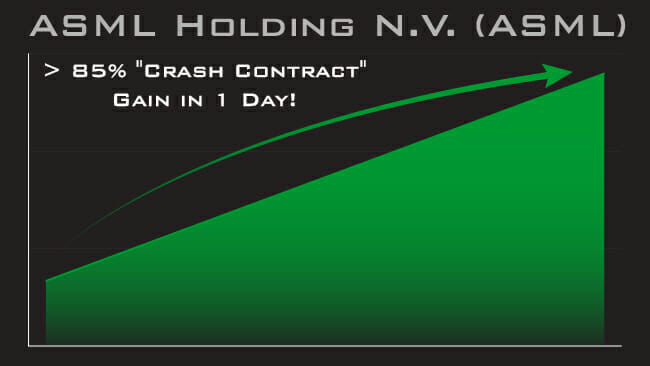 I doubt you'd be complaining.
And I'm sure you wouldn't have minded doubling your money in 8 days from this "Crash Contract" on the chip maker Texas Instruments.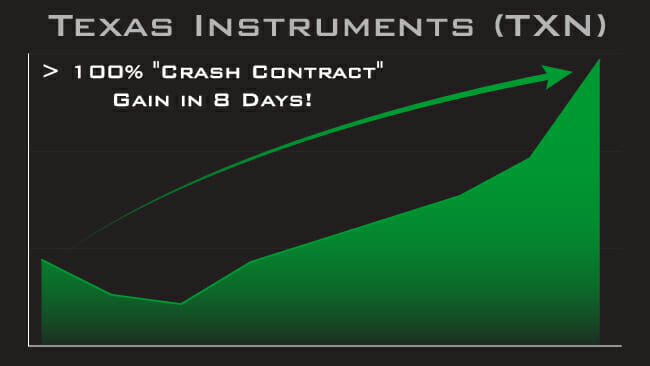 Which is great.
Because if you're like me, I'm sure you want to uncover the "Crash Contracts" that deliver the biggest profits in the quickest time possible.
That's why…
My proprietary system identifies stocks that are ready to plummet to earth like an anvil
Because the harder tech stocks fall…
The higher and faster your "Crash Contract" gains could start to pile up.
Like when this -22% slide in the electronics company Arrow, which turned into a 500% "Crash Contract" gain in just 5 days.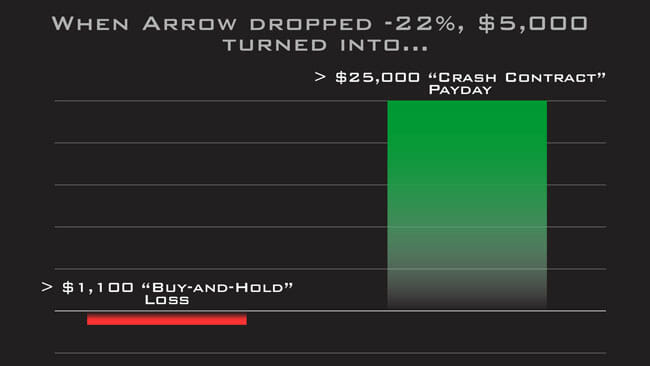 Or this -48% buy & hold nightmare ride on the software company Citrix, which turned into an incredible 1,133% gain in 23 days…
That's enough to multiply your money 11X…  in a little over 3 weeks.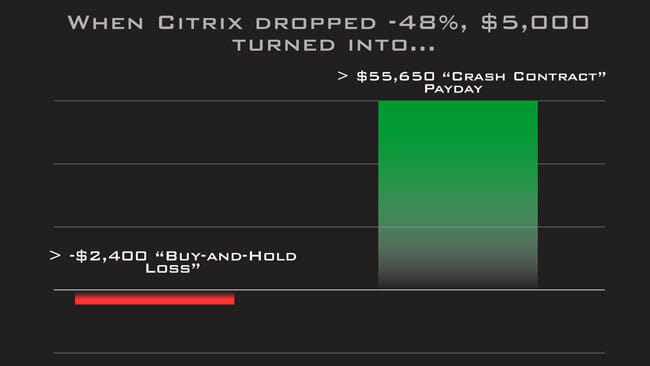 But "Crash Contract" gains can get even more mind-bending.
Like when a -20% collapse on the chip maker NVIDIA… which sent one "Crash Contract" soaring 2,500% in just 3 days.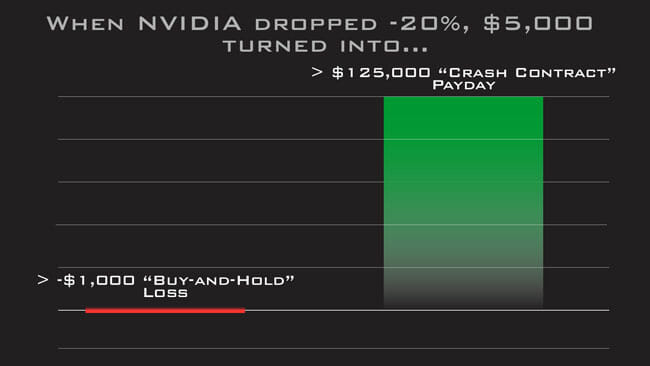 That's enough to turn $5,000 into a $125,000 payday!
And while the examples my study turned up are exceptional…
I'm sure you'd agree that even making even a fraction of those impressive gains would be life-changing.
These are the kinds of stock-drop profit opportunities my system hunts for day and night…
Scanning 630,000 tickers and parsing through trillions of potential trades…
And pumping out only the best profit opportunities that come from "Crash Contracts."
And just to prove to you how outrageously confident I am that my system will work for YOU too…
I'm going to flat-out GIVE YOU the names and ticker symbols of the first three "Crash Contracts" that could hand you a quick $104,377 payday
And no, these "Crash Contracts" are NOT some multi-leg "iron condor" derivative trade that you need a master's degree to understand…
A slow- bleeding "short-sell" technique…
Or a credit swap that takes a million bucks just to get a seat at the table.
In fact, if you've never heard of anything like "Crash Contracts" before…
You're not alone.
Barron's recently referred to "Crash Contracts" as…

And make no mistake:
"Wall Street Secret" doesn't mean overly technical and complicated…
At least not in this case.
Truth is, snapping up your first "Crash Contracts" is super easy.
In fact…
With just a few clicks in your investment account or a
2-minute call to your broker…
You can put yourself in a position to profit when
tech stocks DROP like a stone
At the same time…
Simple doesn't mean wimpy profits.
"Crash Contracts" are one of the best strategies for bagging huge, fast gains.
And I'm not the only one who thinks so.
When talking about "Crash Contracts" Market Watch declares…

It's thrilling to know that you have a shot at banking huge gains when pumped-up stocks come crashing back down to earth…
Especially if you got burned when the Dotcom bubble burst in 2000.
But this time around, you won't be handcuffed while crashing tech stocks fall through the floor.
Because with the 3 "Crash Contracts" I'm revealing today…
You have the shot at turning plummeting tech stocks into monster gains.
And while I'm excited to show you these trades (and even more excited about the $104,377 potential profits they could hand you)…
I do want to be clear about something…
I'm NOT excited about watching these tech stocks crumble.
And in the long-term, I'm certain that technology — and the might of American innovation — will continue to be highly lucrative for investors.
But, as you'll see today, in the short-term, the warning signs are pointing to the tech bubble bursting…
Again.
And when it does, some tech companies are going to fall harder and faster than the rest.
My system locks onto these "Hindenburgs" like a heat-seeking missile…
And sets you up to pocket huge potential profits.
I know this whole idea probably still feels weird.
Betting against stocks, and potentially winning like never before…
Is that even… fair?
When you have a look at the pumped-up stocks I'm pointing you to today, I think you'll agree that they deserve to go down.
(Or at least that you deserve to potentially make money hand over fist betting against them.)
And the reality is if you don't make these trades…
Someone else will.
In other words, when it comes to these "Crash Contracts"…
It's not personal. It's just business.
And business is about to boom.
My system shows some of these "Crash Contracts" have the potential to hand you 13X your money…
in a single shot
With those kinds of profits, your life may never be the same (as long as you get off the sidelines and ride the wave).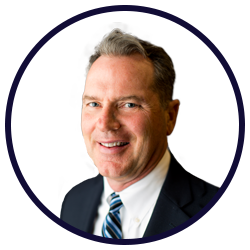 Which is why I'm sending this urgent message to you today.
Hi, my name is Jim Pearce.
I'm the Chief Investment Strategist here at Investing Daily.
And over the past 33 years, I've helped investors profit from uncertain and chaotic markets.
First, while working on Wall Street with $50 million under my direct control…
(My "High Net Worth" clients were happy to see they didn't lose a dime during the 2008 financial crisis.)
And now I help everyday investors cut through the stock market mayhem to stack up potentially life-changing profits.
These are good folks like Dan K. from Dayton, OH who was so thrilled with my recommendations he wrote:
Or Steve W. from Omaha, NE who wrote in to tell me:

And David M. from Sugar Land, TX who wrote in with this incredible news…

Now I can't promise you'll achieve the same extraordinary results as these folks.
And you already know nothing in the stock market — as in life — is ever guaranteed.
But today, I want to show you a strategy to add to your money-making tool kit.
One that few investors know is even possible.
Because today I'm revealing how you can pocket up to $104,377 when tech stocks go DOWN.
To be frank, I've kept my "Crash Contract" strategy to myself for years.
The timing wasn't right.
We were going through the greatest bull run in history.
I would have been run out of the room to bet against stocks.
But that all changed when the pandemic hit.
The Coronavirus brought the entire world to a standstill.
And turned the stock market upside down.
If you're like me, you watched slack-jawed as stocks fell through the floor.
Then the stock market got weirder.
Because before we could even "buy the dip"…
In April 2020, while COVID locked down the country…
The market took off again…
With tech stocks leading the charge.

By May, when unemployment numbers hit record highs…
The Washington Post reported…

By June, when there were riots in the streets, the tech-heavy NASDAQ hit a record high…

And when the bubble fears hit the headlines, I knew it was just about time to finally reveal the system I had been using for myself for years.



I thought I would have more time.
But a closer look at the evidence revealed…
We haven't seen a tech bubble this ready to burst in more than 20 years
Now, extraordinary claims require extraordinary evidence…
For you to understand the potential fortune at stake, I need to remind you of what the stock market was like right before the Dotcom bubble burst.
I know you don't want a history lesson here. So I'll make this brief.
(And instead of a quiz at the end, I'll tell you how you could pocket up to $104,377 with my Top 3 "Crash Contracts.")
To set the stage imagine you're back in 2000.
Bill Clinton is President.
You just "survived" Y2K.
And it seems like everyone and their grandma is buying tech stocks.
Check out this cover story from Fortune, just a few months before the Dotcom bubble burst.

Back then you couldn't get a haircut without your barber telling you he doubled his money on a tech stock.
People with stable careers were quitting their jobs to day-trade the hottest Dotcom stocks.
And there was a never-ending supply of new "net" stocks to choose from because…
We were going through the
CRAZIEST Tech IPO boom… ever
From 1995-2000 virtually any company with ".com" in the name was going public.
Do any of these companies ring a bell?
eToys.com
Pets.com
Drkoop.com
Eloans.com
Kozmo.com
Many of the 1,163 Dotcom darlings that went public during those 6 years never made a profit…
Heck, some barely generated any revenue!
But the internet held the promise of explosive growth in investor's eyes.
If you got swept up in Dotcom IPO mania back then…
Well, I don't blame you.
It was hard to stay away!
Especially considering internet IPOs delivered astronomical gains.
Do you remember these wild first-day pops?
The computer server maker Cobalt soared almost 500% on its first day trading.

The social network, theglobe.com, shot up 606% on its IPO.

And the computer company VA Linux skyrocketed 737% on its first day trading.

It wasn't just brand-new Dotcom stocks blasting off either…
From the big tech players like Microsoft, Cisco, Intel, and IBM…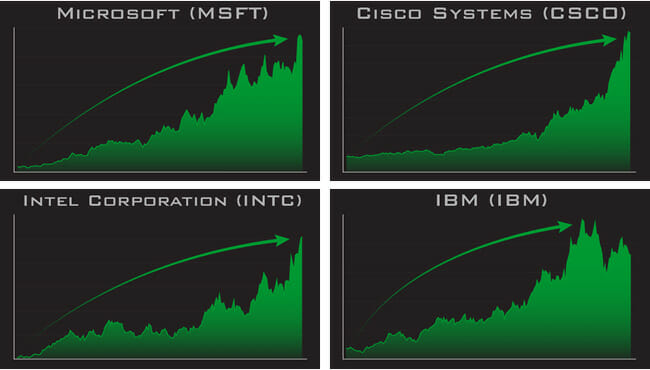 To smaller players like SanDisk, Rambus and Qualcomm…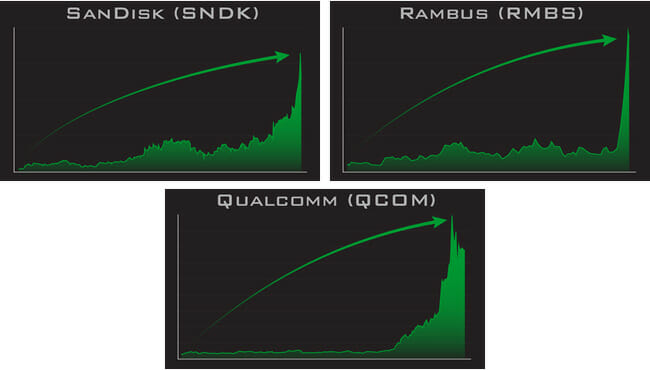 Practically every tech stock was punching through the stratosphere.
On March 10, 2000, the tech-heavy NASDAQ hit a record high.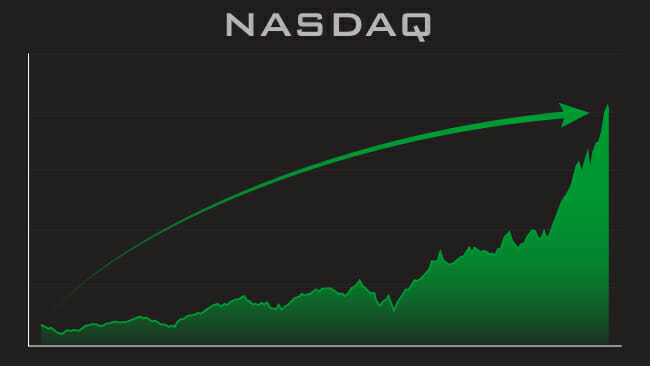 The surge in tech stock prices rang alarm bells for concerned skeptics…
None louder than remarks from Microsoft President Steve Ballmer who called high-flying tech stocks (including his own company)…

Sadly, his words of caution fell on deaf ears.
Virtually everyone believed tech stocks would ONLY climb higher…
(That's what happens in a bubble though. Most people don't realize they're in a bubble until it's too late.)
And by April 2000 it was absolutely too late.
Because investors caught onto the fact that tech stocks were filled with more promise than profits…
And tech stocks fell through the floor.

The NASDAQ went on a −78% nosedive in fact.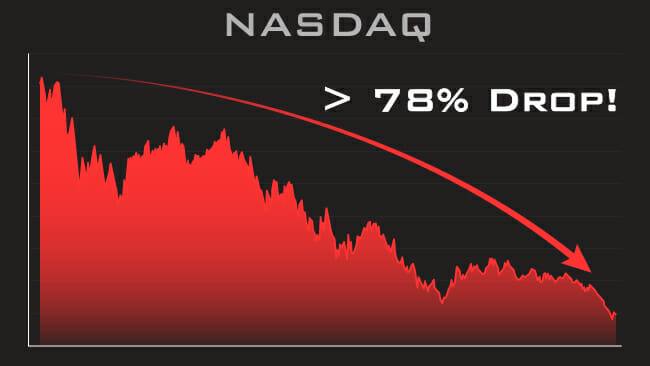 But amidst all the mayhem, you could have piled up huge profits with — you guessed it…
"Crash Contracts."
Case in point:
Cisco's 24% plunge could have handed you 233% "Crash Contract" gains in 3 days.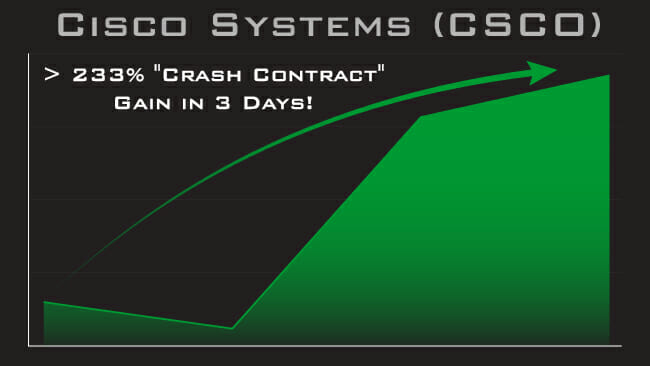 eBay's 16% drop delivered "Crash Contract" gains of 391% in 13 days.
Qualcomm's dip delivered "Crash Contract" gains of 543% in 9 days.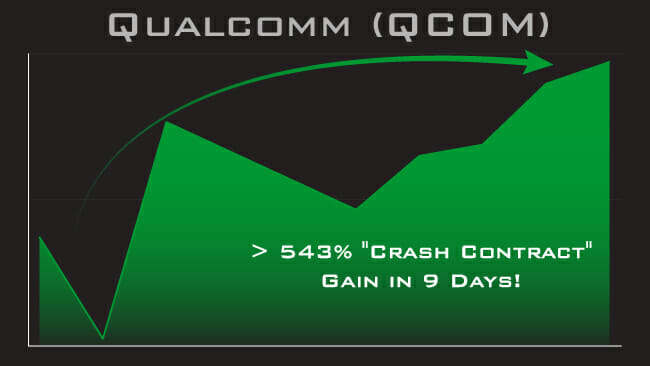 Dell's 10% hiccup delivered "Crash Contract" gains of 1,000% in only 2 days.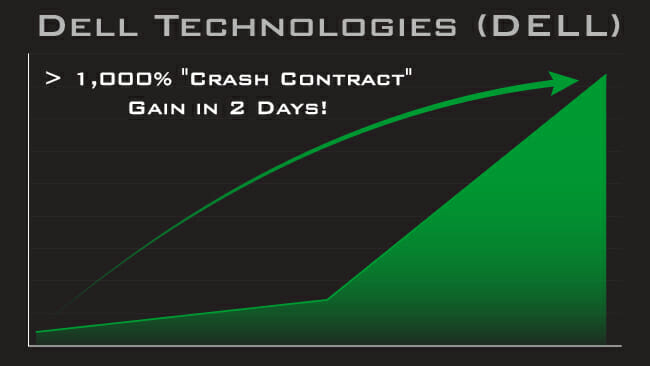 Intel's 34% skid turned into an incredible 2,600% "Crash Contract" gain in 18 days.
And IBM's 19% slide delivered astronomic 3,000% gains in 10 days.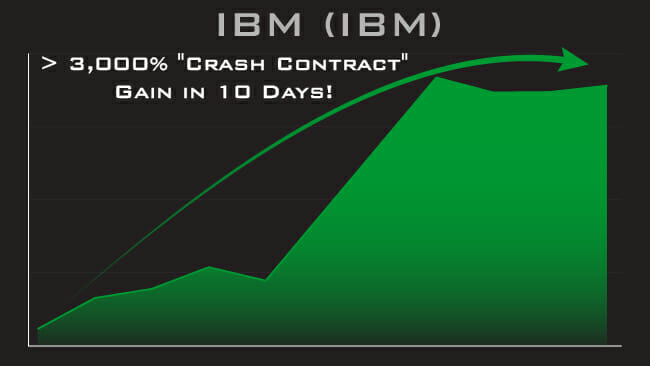 Imagine making 30X your money in little over a week… from a falling stock.
Now these "Crash Contract" gains are exceptional… and your experience may be different with the "Crash Contracts" I reveal today.
But it's clear there are fortunes to be made when you know how to pick off the biggest stragglers in a stampede of pumped-up tech stocks.
And those kinds of gains are back on the table with my Top 3 "Crash Contracts"…
Because…
2021 looks like 2000 all over again
Just like in the Dotcom bubble, millions of Americans have flooded the stock market looking to get rich quick…

And once again tech stocks are all the rage…

That's not all.
Just like at the height of the Dotcom boom, there's no shortage of new tech stocks to pile into…
That's thanks to the new "blank check" company craze
What's a "blank check" company?
In legal terms, it's called a Special Purpose Acquisition Company — or SPAC for short.
In plain English, a SPAC is a type of publicly traded company set up by Wall Street bankers and venture capitalists to take private companies public…
Including tech companies like the sports betting app DraftKings and Virgin Galactic.
Unfortunately for most regular investors, just like the Dotcom darlings, many of this tech companies going public via a SPAC are not profitable.
As Bloomberg put it…

Some don't even have a product.

(In what world can you go public without a product?!)
Well unfortunately, the answer is THIS world. Right here. Right now!
Because amazingly — investors believe some of these companies without products have the promise of explosive growth.
Sound familiar?
As a result, a surge of tech SPACs have hit the market.
When you combine those numbers with traditional tech IPOs…
2021 is starting to look a lot like the run up leading into the last Dotcom crash.
This chart backs up what I'm saying: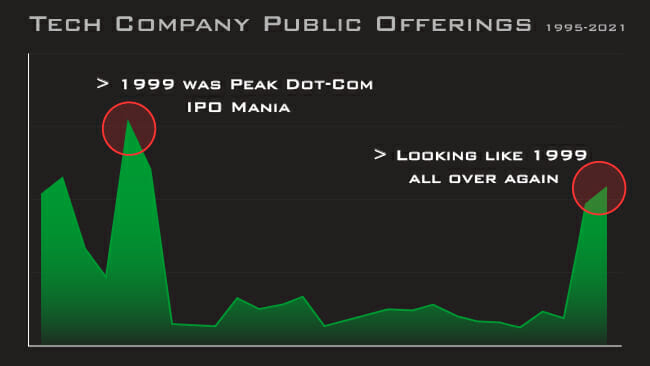 And it gets worse, because not only does it seem like more tech stocks are going public every day…
The price of tech stocks are soaring!
Barron's recently reported:

Just take one look at the headlines on FAANG Stocks: Facebook, Apple, Amazon, Netflix and Google are all at astronomic levels.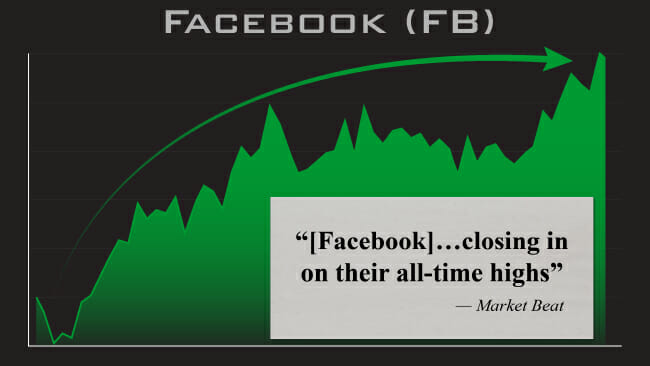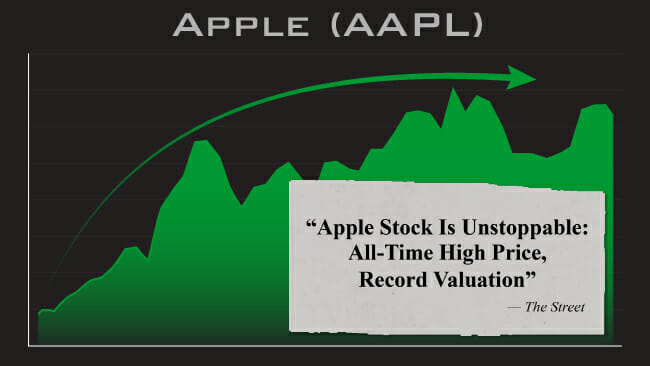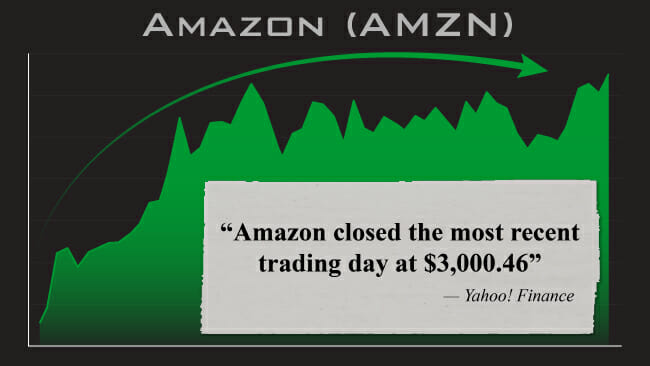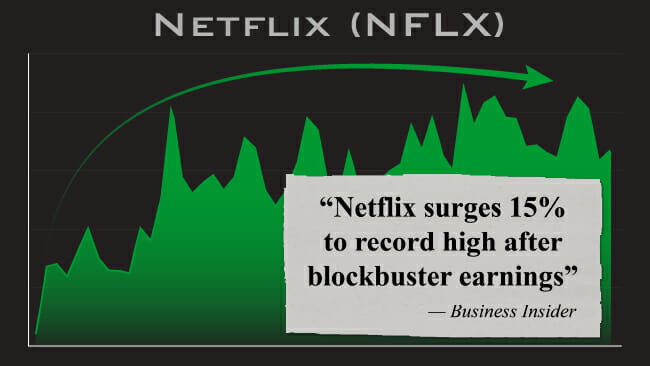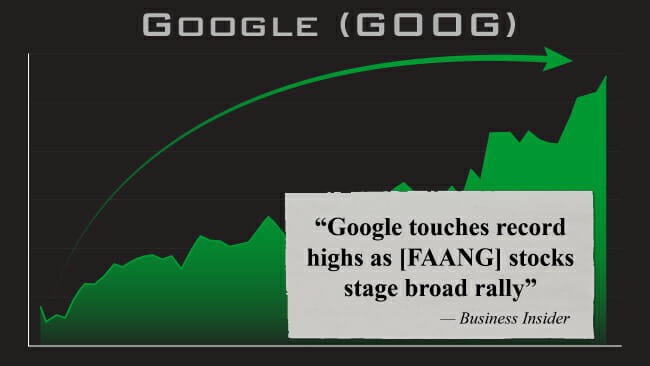 And these are just the big-name tech companies dominating the headlines…
I can go on and on about the lesser-known tech outfits with astronomic stock prices too…
As I write this…
These tech darlings have taken off since the "Corona Crash" last March:
Plug Power

+791%

Afterpay

+601%

Crowdstrike

+499%

Fastly

+433%

Cloudflare

+404%

Zscaler

+320%

Trade Desk

+341%

Bill.com

+303%

Shopify

+255%

DocuSign

+183%
Each of these companies had the dubious honor of making it onto Goldman Sach's list of companies in a…

Goldman is far from the only one ringing the alarm.
The surge in tech stocks over the last year has Barron's saying…

Legendary Jeremy Grantham, the "British Buffett" who called the housing crash, even went as far as to say…

The list goes on and on.
Pascal Blanqué, who oversees $2 trillion of financial assets for the asset management giant, Amundi, recently proclaimed this new tech stock boom is…

He went on to say…

Look: you might think I'm just crying wolf…
That's fine. It's your call.
But just understand this…
Ignoring what I'm saying could cost you in the end.
Because what I'm doing is literally like dialing back the clock and giving you the opportunity to profit from falling stocks.
That's why I'm beating the drum so hard.
You can forgive yourself for missing out when the world went to literal hell and tech stocks collapsed in 2000…
But if you miss out this time around…
Especially after seeing everything I've just shared with you…
Well, I hate to say it but…
THAT'S on you.
And I need to warn you…
If you do decide to lock in your shot at 1,288% gains with my Top 3 "Crash Contracts"…
You must do it today.
Because, I believe…
We're repeating the final days of the Dotcom Bubble RIGHT NOW
You see, right when the Dotcom frenzy was getting red-hot in the year 2000…
Then-Chairman of the Federal Reserve, Alan Greenspan, decided to cool off the mania by raising interest rates…
Three times in 1999.



Then a fourth time on February 2, 2000.

This is important because…
With every tick-up in interest rates, the return on "safe" bonds started to look more appealing than holding risky tech stocks.
Then on March 21, 2000, the FED pushed up interest rates again.
In a matter of months, the Fed raised rates from 4.75% to 6%…

And that herculean leap set off an unstoppable chain reaction in the stock market.
Investors started to dump tech stocks in favor of bonds…
Panic took hold as the selloff intensified.
And we witnessed one of the most astonishing crashes in stock market history.
Now guess what's happening today in 2021?
That's right…
Interest rates are ticking up again
Which has many on Wall Street worried…

And despite Fed Chairman Jerome Powell's promise to keep interest rates low…
The Wall Street Journal reported:

J.P. Morgan Chase agrees…

Just like in the Dotcom bubble…
With each tick UP in interest rates…
We get closer to proverbial straw that breaks the camel's back.
And the minute that happens…
We'll witness a tsunami of tech stocks crashing
down… down… down…
(And this is the fastest and easiest way to scoop up the profits from the biggest drops)
With my proprietary system, I've pinpointed 3 technology stocks that have the potential to fall harder and faster than all the rest.
And together, these Big Losers could pile up huge, fast "Crash Contract" gains.
In fact, depending on how you act today…
You could lock in a shot at a potential $104,377 payday.
Now, when it comes to making profits from crashing stocks…
The first thing that comes to mind for many investors is…
Short selling.
But I want to make this clear…
"Crash Contracts" do not involve shorting stock.
Shorting stock leaves you too open to tremendous risk… just ask the guys at Melvin Capital…
They shorted GameStop.
And when the Robinhood crowd drove share prices through the roof…
They lost $4.5 billion.
Instead, "Crash Contracts" are the most basic form of an options trade.
Now before you run for the hills because I said options, please hold on a second…
The simple options trade I use to profit from falling stocks gets rid of all the risks involved with short selling.
Meaning there are…
No margin calls
No painful short squeezes
And most importantly, unlike shorting a stock, your losses are always capped
Which means, even if the stock starts to go up…
The most you can lose is your initial investment.
And while your losses are capped…
Your profits are virtually unlimited
Best of all: if you know how to buy a stock, you can easily make the options trade I'm talking about.
All it takes is a few extra clicks in your investment account (or a short call to your broker)…
And you should be all set to potentially pocket monster profits when stocks plummet…
If you're not already.
Best of all, I'm going to make trading options a turn-key, no-brainer for you today…
And it's all thanks to my proprietary options trading system.
Like I briefly mentioned earlier, I've kept it to myself for years.
In that time, I've created a well-oiled machine that identifies which stocks are set to drop…
Allowing me to put together trades that can deliver huge, fast potential profits from stock market mayhem.
This is the precise system that uncovered my Top 3 "Crash Contracts" which could hand you a quick $104,377 payday.
I promise, you're just a few moments away from getting your hands on the details.
But before we get to that…
It's only fair to give you a quick peek "under the hood" to show you how my system works.
It starts with…
Phase 1: The Quantitative Analysis
You can think of this as the "how naked is the emperor?" step.
And we can actually measure the answer precisely.
My computer screens through 630,000 stocks with a series of valuation ratios…
Price-to-Sales Ratio
Price-to-Cash-Flow
Price-to-Earnings-Growth
This analysis is important because…
A stock with abnormally high ratios is overvalued.
Or in other words, it has a long way to fall.
To show you what I mean, let's take a look at when Netflix had an abnormally high Price-to-Earnings ratio.
Now to set up the example let's remember that the Price-to-Earnings ratio — or P/E ratio for short — simply compares the stock price of a company to the company's profits.
That's important because it gives investors a standard measurement to compare companies…
In a similar way that batting average lets us compare hitters in baseball.
In general, a company with a low P/E ratio compared to its competitors is considered undervalued.
And a company with a high P/E ratio compared to its competitors is considered overvalued.
Ok now that we have that set up let's look at the Netflix example…
Back in 2011, the average P/E ratio for entertainment technology stocks was 24.
That means any entertainment tech stock with a P/E ratio over 24 was considered overvalued.
Now that same year, Netflix had a P/E ratio as high as 68.32.
Simply put, Netflix was extremely overvalued..
An indication that the stock was due to drop hard and fast.
That's exactly what happened.
Subscribers revolted against a price raise and quit the service.
And Netflix plummeted 62%.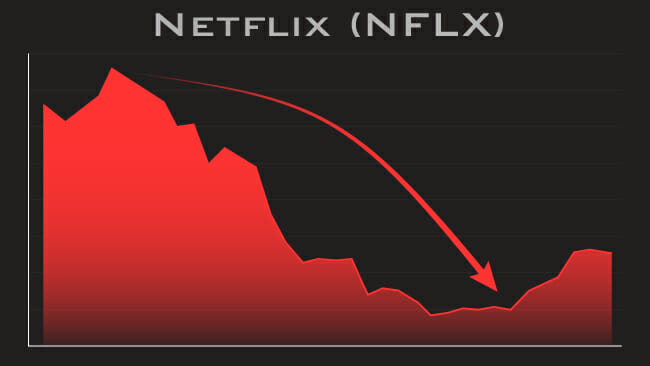 But investors who could see the writing on the wall and picked the right "Crash Contract" had an opportunity to pocket a 2,648% gain in just 15 days.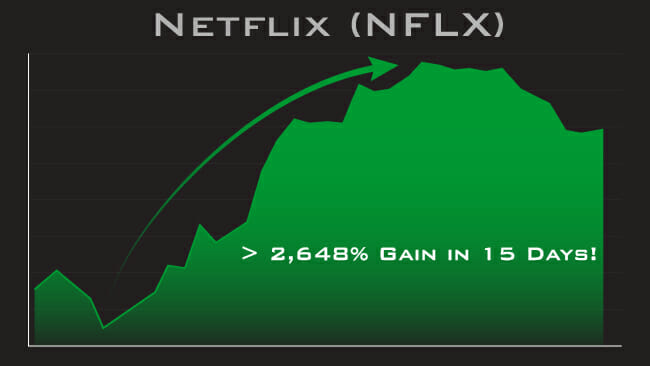 More importantly, the further a stock falls, the higher potential profits for our "Crash Contract."
After Phase 1 analysis, the universe gets narrowed down significantly.
From there I want to find which of these high-flyers could fall the furthest… the fastest.
Which brings us to…
Phase 2: The Volatility Analysis
With the new list of high-flying, precariously-priced stocks, my computer eats through millions of data points per day: crunching through endless gigabytes of trade volume, advanced decline lines, Bollinger bands, and more…
And a "deep dive" analysis is critical here…
Because it separates the minor volatility blips…
From the deeper-rooted, persistent, and correct — doubts.
The companies that get singled out by this test become my highest-conviction targets.
But even when I've got my crosshairs locked dead center on a target…
There's still a final key step to ensure you're only getting the biggest, fastest profit opportunities on the market.
Phase 3: The "Shock" Event Analysis
In this final phase, I take a "hands-on" approach.
I personally scour the financial news and tap into a rolodex of industry contacts that only comes with years of experience "in the trenches"….
To pinpoint specific, fast-approaching "Shock" events that will likely trigger a selloff…
And more importantly, identify a "Crash Contract" profit opportunity.
To sum it up, the road to uncover "Crash Contracts" looks like this: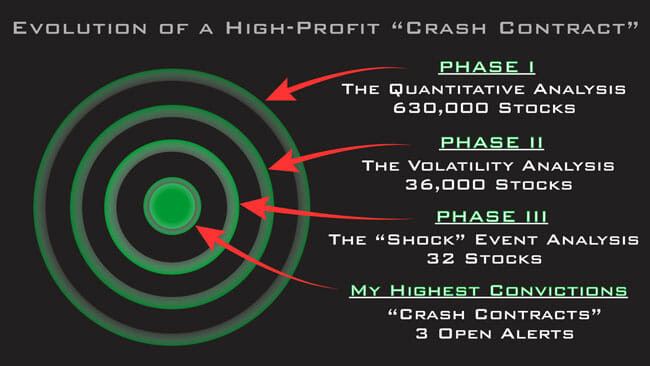 And when it's all said and done…
You're getting trades on the verge which major price movement, which could explode in a matter of DAYS
Like the 3 "Crash Contracts" that I'm going to share with you now.
"Crash Contract" #1: MicroVision (MVIS)
MicroVision develops a proprietary technology called long-range lidar sensors.
That's tech-speak for lasers that help cars know where they are in relation to other objects… including other cars!
With the hopes MicroVision could make "self-driving" cars a reality, investors piled in and sent the stock price skyrocketing from Corona Crash lows of $0.16 to as high as $23.72.
This is an all too familiar scenario. Back in the Dotcom bubble, MicroVision's stock soared to astronomic heights before losing -95% of its value.
And now in 2021, a deep dive into the company reveal this stock is primed to crash again.
MicroVision needs their new lidar tech to be a huge success. Problem is, they still don't have a viable product ready for sale.
What's worse, unlike many of its lidar competitors, MicroVision doesn't have any relationships with ANY major car makers.
With no viable product ready for sale and no eager customers, MicroVision will likely continue to do what it does best…
Pile up losses.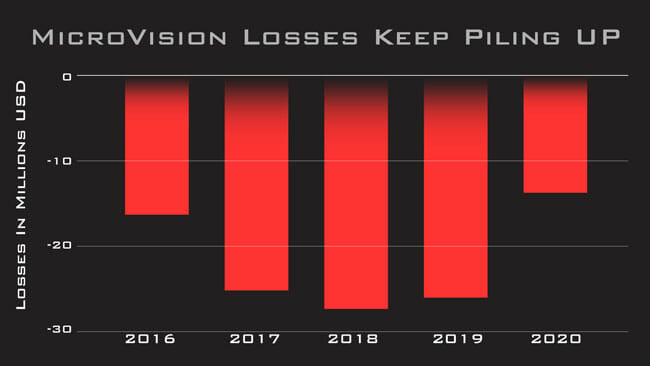 Microvision is in for a wild ride down, which could hand you a 136% "Crash Contract" gain.
Moving on to…
"Crash Contract" #2: Desktop Metal (DM)
Desktop Metal is a 3D-Printing company with a plan to reach $1 billion in revenue by 2025. The market must have loved this bold promise because the stock soared this year. But a close look at the financials reveals a different story.
Recently, Desktop Metal posted a $90.4 million LOSS on $16.5 million revenue.
What's worse, recent reports say, "The firm has consistently overstated capabilities. It has also had significant issues with deploying its technology in the field."
This one's overhyped.
And I don't believe they're up to the task.
When it drops, I believe investors who take action NOW could pocket up to a 249% "Crash Contract" gain.
Last but not least, let me introduce…
"Crash Contract" #3: Alteryx (AYX)
This software-as-a-service stock made a big run up during the early days of the pandemic…
But it has a BIG problem.
The company can't hold on to customers.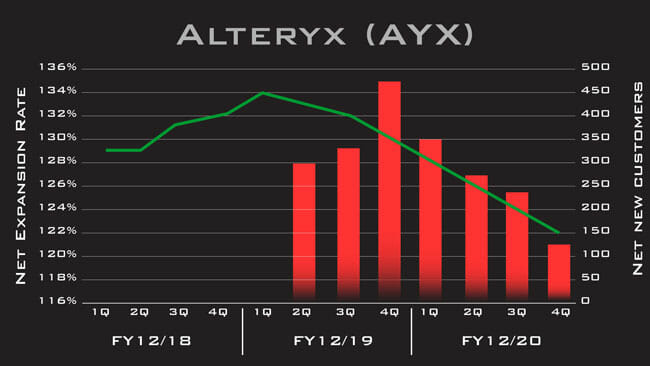 What's worse, Alteryx's existing customers are spending less and less.
As a result revenues are on the decline… budgets have been slashed… and the big kicker… their CEO recently quit out of blue.
This one has all the signs of a company starting a nosedive.
And when it does, the "Crash Contract" I've found could lift off and hand out gains up to 1,288%!
That means if you placed the average trade in America — which according to Nasdaq is $7,600 — you could pocket a $104,377 payday.
Now — not that you'd want to — but DON'T go off an buy these stocks.
Remember, if my research is right, these stocks are headed off a cliff… and if you want to turn these losers into profit windfalls…
You need the option code for these trades to work.
I don't encourage you to fill in the gaps on your own of course.
There are dozens of option codes to choose from.
Each comes with its own risks and rewards.
My system isolates the optimum option trade for maximum profits.
I cover all the key details you'll need to know to snap up my Top 3 "Crash Contracts" inside a special report I'm calling: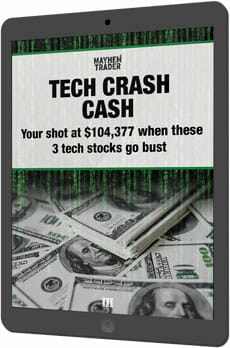 "Tech Crash Cash: Your shot at $104,377 when these 3 tech stocks go bust."
Inside you'll get my FULL easy to follow instructions so you can execute your "Crash Contracts" with just a few clicks of your mouse… or read them out loud to your broker over the phone.
These include:
Exactly how to make this trade
Exactly how much to pay
Exactly which option code to enter (there's 100's of them) — your broker needs this in ADDITION to the stock ticker or this trade WILL NOT WORK
Exactly how much profit you could make
Bottom line:
All my research is laid out for you…
In plain, easy-­to-­understand English.
And if everything I've said to you today has you chomping at the bit to discover the details of these 3 "Crash Contracts" then I've got good news…
Here's how to get your copy of
Tech Crash Cash For FREE
It's simple.
All you need to do is accept my personal invitation to join my elite research advisory called Mayhem Trader.
Within minutes of accepting this invitation today, you get the full details that will help you buy your first "Crash Contracts."
And you'll be well on your way to lock in your shot at a potential $104,377.
While I believe my top 3 "Crash Contracts" could deliver MASSIVE profits in 2021…
That's just the beginning.
Remember, my system screens over 630,000 stocks each day for the biggest movers…
Which identifies "mayhem profit" opportunities with stunning regularity… across ALL industries.
Just take a look for yourself: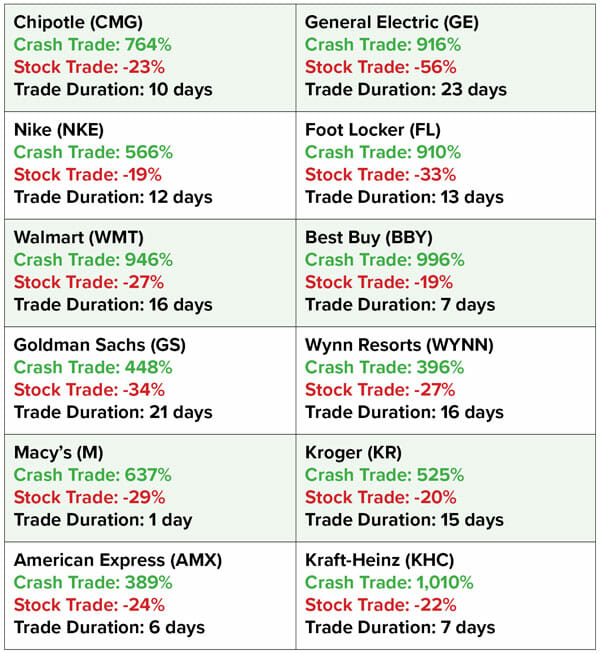 And these gains didn't take a decade or even years to make. You could have cashed out in weeks.
Of course, not every trade is pure gravy like these, but don't be mistaken…
These aren't quarantine "hallucinations" from spending too much time at home.
These are real trades pulled from recent stock-market data, in the major U.S. exchanges like the NYSE and the NASDAQ.
And these are the types of trades I want to send you every single month.
Right now, you have the opportunity to secure your shot at a potential truckload of profits inside Mayhem Trader…
When you say "Yes" to my special invitation today, you'll immediately receive your copy of "Tech Crash Cash: Your shot at $104,377 when these 3 tech stocks go bust."
Along with…
YOUR EXCLUSIVE MEMBERS-ONLY PROFIT KIT:
Brand-New Trade Alerts EVERY Month: The market never goes on vacation — and neither do we. Each month, I'll hand you the BEST trade my system singles out. And if it zeroes in on more than one? That's more shots for you to go after HUGE gains like what you saw today.
Full Access to my Model Portfolio AND My Watchlist: All of my current and future "buy" recommendations, right at your fingertips 24 hours a day, 7 days a week.
Private Access to the "Members Only" Mayhem Trader Website: Your personal online cockpit for navigating the markets & lining up promising "Mayhem Trades."
PLUS: Weekly Email Updates and so much more!
And when you take action today, you'll also get…
Mayhem Trader New Member Bonus #1:
The QuickStart Trading Guide to Turning Mayhem into Money ($229 Value: Yours FREE)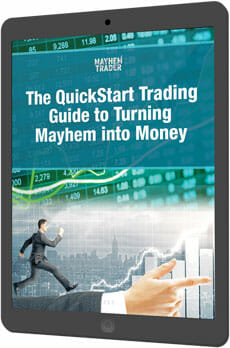 Your easy QuickStart guide will give you EVERYTHING you need to profit from my research, including:
How frequently to expect new plays
What makes some of them pop faster than others (only if you're interested in what's "under the hood" — not necessary to profit)
How to close out your trades for fast profits
Our favorite brokerage platforms & which one is right for you
What to do once you've secured a big gain in a short time
And much, much more!
But here at Investing Daily, one of America's oldest financial publishers… we don't just hand you trade instructions and send you on your way.
In a growing jungle of misinformation, fearmongering, and fly-by-night "advisory services"…
We're one of the rare few publishing groups whose track record spans decades… some of our work goes all the way back to 1974.
We emerged through BOTH the Dotcom bubble and the Great Recession of 2008.
Stronger than ever.
And joined forces with StreetAuthority and Profitable Trading to broaden our reach even further.
It pays to ride with a team who's been there again and again and emerged on TOP every time.
But in the spirit of making this decision as easy as possible for you…
I'll also hand you a way for you to potentially get into your "Crash Contracts" for FREE
Mayhem Trader New Member Bonus #2:
The Zero-Dollar Trade: Your quick guide to making "Crash Contracts" practically for FREE ($249 Value: Yours FREE)
This is the first time I've released this special report.
Inside are instructions on how to greatly reduce the price to make these "Crash Contracts"… and in some cases how to make them completely free. While at the same time maximizing your potential gains. And while the Zero-Dollar trade comes with more risk…
The potential rewards are enormous.
Now, if you'd rather stick to your shot at $104,377 from the normal "Crash Contracts" — no sweat.
But if you're the type who likes to jump straight into the "deep end," this FREE report was made for you.
Add it all up and you're getting $478 worth of bonuses for FREE when you join Mayhem Trader today.
But I want to go one step further.
I'd like to hand you a HUGE Quick-Action discount too!
Normally access to a year's worth of Mayhem Trader recommendations runs $3,000…
And considering you could make as much as $104,377 on your first 3 "Crash Contracts" alone…
You'd probably agree that joining Mayhem Trader at its full retail price is a screaming deal.
But you won't pay $3,000 when you agree to join me right now…
Because I'm going to slash over $1,000 off the price, to get the ball rolling.
That's right! You can get started with Mayhem Trader today for just $1,950.
Which comes out to just $5.34 per day.
In other words, for what many people spend on their morning espresso…
You could lock in your shot at stacking up profits, month after month for an ENTIRE year.
(Your credit card will NOT be charged… and you can review ALL of your order details)
I must note that there are no refunds when you join Mayhem Trader.
I'm sorry if that seems harsh.
But my experience has been that the folks who have the most success with my program are the ones serious enough to put some real skin in the game...
And are ok with the fact that all sales are final.
But if you have even the LEAST bit of doubt about joining me today...
I have one last thing that I believe will help you overcome your last-minute jitters.
Today when you join Mayhem Trader...
You're covered by our "20/20 Guarantee"
If for some reason, you don't see the opportunity to lock in twenty total winning trades over the next 12 months... or at least one gain of 20x your money or more...
Just reach out to our VIP concierge via phone or email...
And we'll give you $3,000 in "store credit" to use towards another year of Mayhem Trader… or one of our other premium investing newsletters.
No hard feelings.
No questions asked.
That's how confident I am that Mayhem Trader is the very best trading system available to you in 2021 and beyond.
But there is just one catch...
I can only extend this special offer to the first 150 investors who join Mayhem Trader today
I wish it could be more.
But my publisher insisted that was the maximum number of new members he'd let join me today at this insane discount.
That means less than 1/10 of 1% of the investors who had the opportunity to view this presentation will get a spot inside.
And you could be one of them…
If you make your move now.
Let's recap everything you'll get when you join Mayhem Trader today.
Tech Crash Cash: Your shot at $104,377 when these 3 tech stocks go bust
Full-Year membership to Mayhem Trader (at a $1,000 discount)
Mayhem Trader New Member Bonus #1: The QuickStart Trading Guide to Turning Mayhem into Money ($229 Value | Yours FREE)
Mayhem Trader New Member Bonus #2: The Zero-Dollar Trade: Your quick guide to making "Crash Trades" practically for FREE ($249 Value | Yours FREE)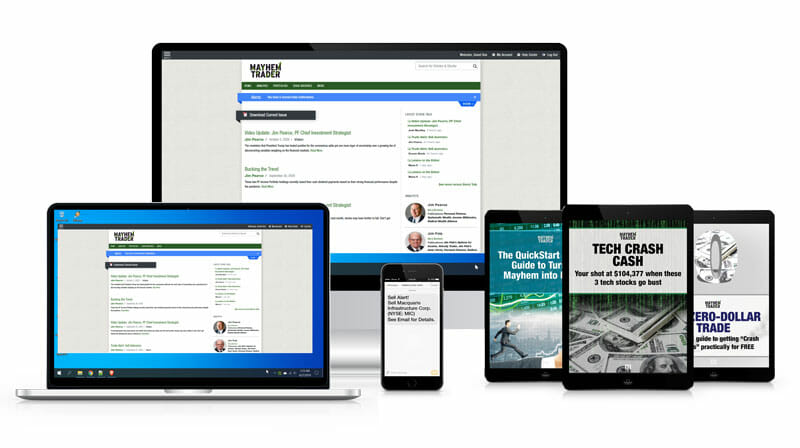 My research indicates that the tech bubble is ready to burst...
Which means you have an important decision to make... and there's no time to waste.
I'm ready to send my top 3 "Crash Contracts"...
Along with the QuickStart Trading Guide and the Zero-Dollar Trade report...
Directly to your inbox the moment you take up my offer to join Mayhem Trader today.
Click the button below to take the next step right now.
(Your credit card will NOT be charged… and you can review ALL of your order details)
The choice is now in your hands...
Are you going watch what could be the biggest moneymaking opportunity of your lifetime
from the sidelines...
Or are you going to grab your share of the
potential profits?
You've seen the potential to 13X your money when tech stocks drop.
And you've seen the blaring warning signs that the new tech bubble is at its breaking point.
All it takes is a slight move in interest rates — or even some other unforeseen event — to set off the next tech crash.
And when tech stocks plummet, most investors will be left watching a massive profit opportunity pass them by.
But with Mayhem Trader, you'll have everything you need to scoop up the profits...
Starting with these 3 "Crash Contracts" that could hand you up to $104,377 in the weeks to come.
Right here, right now is your big chance...
When tech stocks crash and burn...
You can look back at this day as the time you let 10s of thousands...
And potentially 100s of thousands of dollars slip through your fingers.
Or you can remember it as the day you made a bold move for you and for your family...
And locked in your shot at profiting wildly from stock market chaos.
I've made the decision as easy as possible for you by adding on $4,478 worth of discounts and free bonuses...
And you're covered by my 20/20 Guarantee, too...
But you must act now.
There are only 150 spots open today…
And when they're all snapped up, I'll be forced to shut this opportunity down.
Don't miss out.
Click the button below to Join Mayhem Trader today.
(Your credit card will NOT be charged… and you can review ALL of your order details)
I'll see you inside.
To your Wealth & Health,


Jim Pearce
Chief Investment Analyst, Investing Daily
Founder, Mayhem Trader
Copyright © 2021 Investing Daily, a division of Capitol Information Group, Inc. In order to ensure that you are utilizing the provided information and products appropriately, please review Investing Daily's' terms and conditions and privacy policy