Top Financial Journalist Declares…
"I've Uncovered the World's First EV Blue Chip Stock!"

INSIDE: How One Unusual Company is Secretly Siphoning the EV Industry's Trillion Dollar Profits into Investor Accounts Over and Over Again… Like Clockwork
Fellow Investor,
Unless you've been living under a rock for the past decade, you already know electric vehicles (EVs) are a red-hot topic right now.
It's almost impossible to check the news without seeing headlines like these…





And a quick glance at this chart reveals exactly how EV sales have exploded in recent years… as well as where they're headed…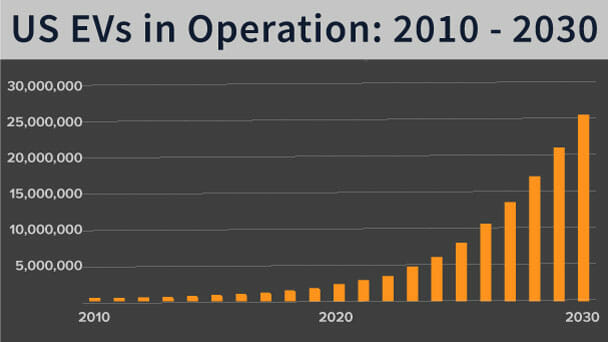 And while it may not be surprising that California has more electric cars on the road than any other state in America…
I was floored when I discovered the number two position is held by Texas…
That Florida is in third place…
And Arizona and Georgia clock in at numbers five and six in the country.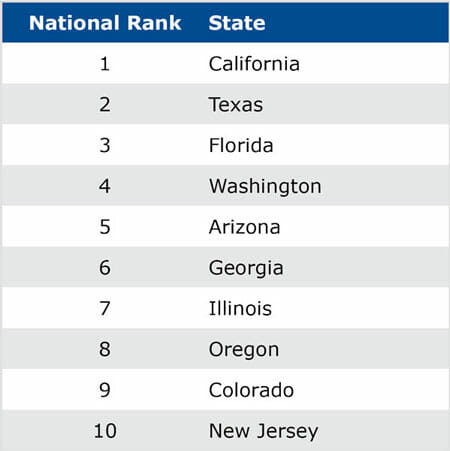 When I see people in an oil-rich state like Texas embracing electric vehicles in such an overwhelming way…
It only confirms my belief that EVs aren't just a short-term fad destined to lose steam and disappear a year or two from now…
But rather a global megatrend that's just getting started.
And it has enormous potential to turn one unexpected company into the EV industry's first-ever "Blue Chip."
Fair warning…
If you're looking for massive, overnight, "homerun" profits… you won't find them here.
This is an investment for the long haul…
And if you'll give me the next few minutes, I'll show you what I believe could be one of the most reliable, sure-fire ways for everyday investors to see payouts of $826… $1,652… even as much as $3,302… appear automatically in their bank accounts…
Not just once or twice… but every few months, like clockwork.
Imagine… one simple trade and a few mouse clicks could be all that stands in the way of being able to…
Rake in EV Riches Without The Stomach-Churning "Rollercoaster Ride"…
Let's face it…
Investing in an emerging industry often involves gut-wrenching market swings.
For just a moment, think back to the Dot-Com Bubble in the late 1990s.
During that period, investors were in full-on hysterics.
It was a time when virtually any company with a one-page website watched its stock go through the roof…
And investors were snapping up shares and raking in profits hand over fist.
It was a full-on market frenzy like nothing I'd ever seen.
Until…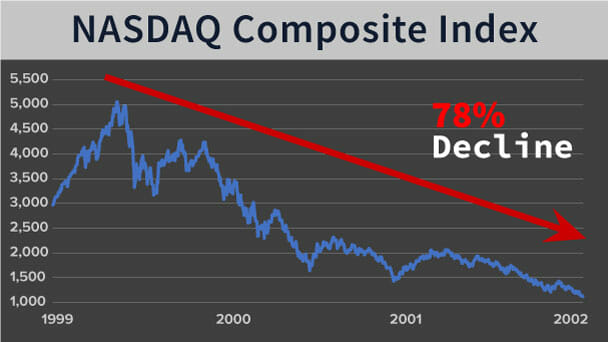 In the aftermath, $2.4 trillion in wealth evaporated, virtually overnight…
And millions of everyday investors were left holding the bag.
Yet, despite the stock market swing shaving years off some investors' lives in the early 2000s…
The Internet has gone on to create more wealth than virtually any industry in the history of mankind.
Here in America alone, in just the past four years, the Internet economy grew seven times faster than the overall economy… and created over 7 million jobs.
According to the U.S. Bureau of Economic Analysis… between 2005 and 2020, the Internet contributed almost $25 trillion to the U.S. economy.
That's the kind of impact a global megatrend of this magnitude can have on just one country.
But what on earth do these Internet trillions have to do with Electric Vehicles?
Well, I'm confident EVs are following an almost identical path toward generating immense global wealth.
Experts estimate the EV industry will be worth $1.3 trillion by 2028…
And remember… EVs are still very much in their early days…
So I won't be surprised at all to see that $1.3 trillion double, triple, or maybe even quadruple in the years ahead.
And I've just uncovered what I believe is a "hidden gem" of the EV industry…
A stock that's perfectly positioned to siphon billions of dollars a year out of this lucrative and surging industry…
And deposit it directly into the pockets of everyday investors like you…
Over and over again… like clockwork.
So while the stock prices of companies like Telsa, Rivian, and Lucid whip around wildly any time Elon Musk tweets something controversial…
You could be living in relaxed luxury…
Calmly sipping your morning coffee as deposits of $826… $1,652 … even as much as $3,302… show up in your investment account…
Without giving two hoots whether the stock market is up, down, or sideways.
When you follow my lead today, you could set yourself up for a shot at cashing in on the EV megatrend…
Without buying bloated, overvalued, or volatile stock in an electric carmaker…
Without taking a flyer on a mining company searching for rare battery metals in a corrupt third world country…
And without gambling on an obscure semiconductor chipmaker who may or may not be around a year from now.
Because my research tells me the real winner of the EV Revolution will be as far away from these types of stocks as you can imagine.
You see, the company I'm about to show you allows everyday investors to share in the industry's trillion-dollar profit streams…
Through an almost-secret "side door."
So when you pay close attention to the steps I reveal in this presentation, you'll see exactly how to get off — and stay off — the EV rollercoaster…
While still leveraging this global megatrend to see what I'm calling "EV Royalties" of up to $1,652 or more arrive in your account on a schedule so predictable…
You could almost set your wristwatch to them.
In just a moment, I'll show you exactly how to claim your stake in the surprising company most investors would never think of as an EV investment.
But first, a brief introduction is in order…
My name is John Persinos… and I'm Not Like the Financial "Gurus" You've Heard from in the Past
In fact, many of those gurus consider me an outsider.
You see, I don't belong to a private country club.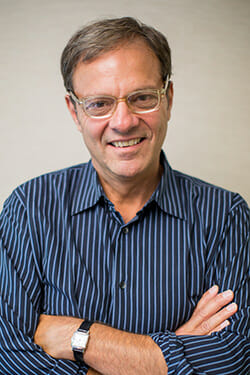 I don't hobnob with financial news celebrities.
And I don't have a reputation for making "crystal ball" predictions on the future price of oil…
The level of interest rates…
Or the collapse of American civilization.
Instead of offering theoretical investment advice, I'm a boots-on-the-ground investigative financial journalist.
I've spent over 30 years writing for below-the-radar financial publications…
Leaving no stone unturned to uncover wealth-building secrets Wall Street brokers are too lazy to dig up…
Fine-tuning my instincts for identifying the best investment opportunities in the market…
And bringing those opportunities to everyday investors like you.
Here are just a few examples of what people are saying about my work…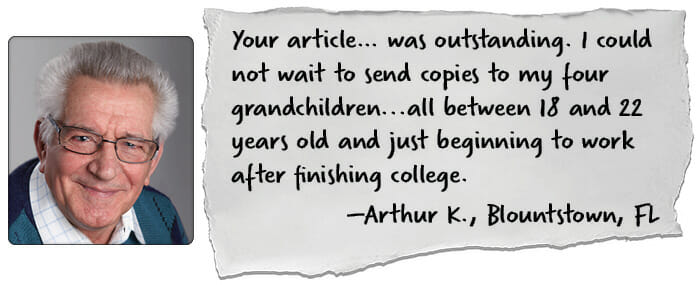 Over the past three decades, I've uncovered, analyzed, and exposed countless winning investments across every industry and market sector. For instance…
When I discovered a little-known FAA ruling permitting aerial drone use in commercial applications, I recommended drone specialist AeroVironment which jumped 169%…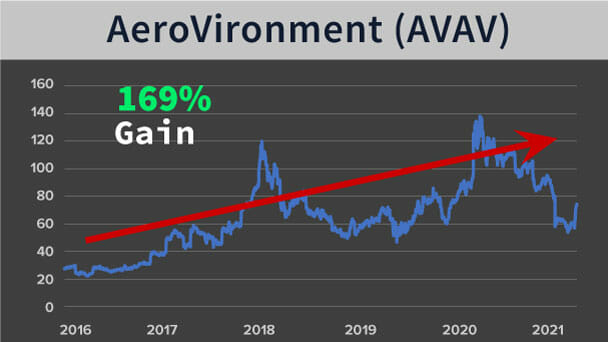 That's enough to more than DOUBLE your money — turning every $1,000 stake into $2,690.
Then there's online retailer, Target, which popped an impressive 245% since I first recommended them…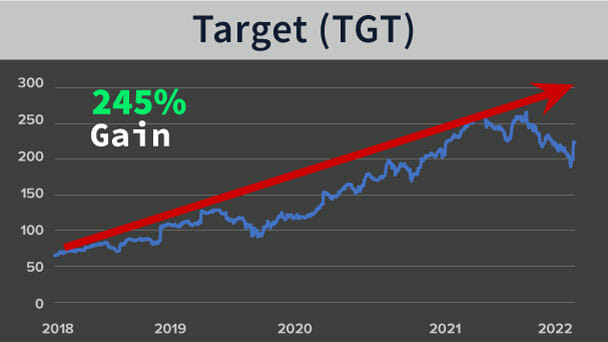 There's also cloud computing company, ServiceNow, showing a 195% gain…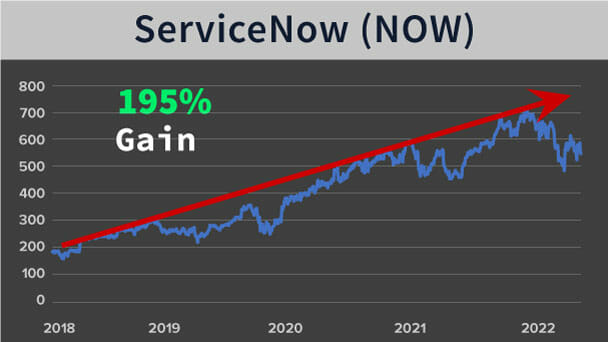 As I sit here today, the online real estate marketplace, Zillow Group, is up a healthy 68%…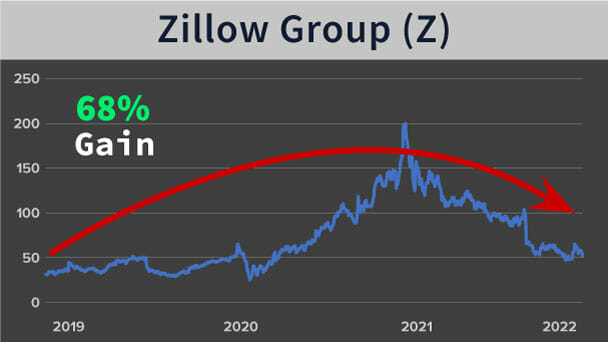 And when my top marijuana pick — GW Pharmaceuticals — received FDA approval for the first-ever cannabis-based prescription drug and quickly became a buyout candidate, the stock allowed some investors to lock in a 169% gain…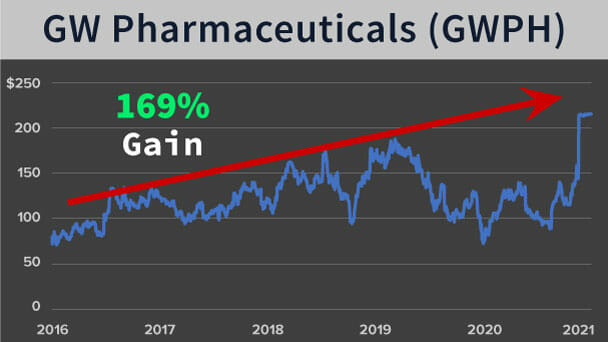 That was enough to turn every $1,000 into $2,690.
Now it goes without saying, not every stock I recommend ends up in triple-digit territory.
When it comes to investing, there are no guarantees…
And anyone who tells you differently shouldn't be trusted any further than you can throw them.
With that in mind, I only present my readers with the best investment opportunities in the market…
And the one I'm about to detail for you is among the most lucrative I've ever seen.
Because this one will help you tap into a $1.3 trillion megatrend…
And keep your nest egg far away from gut-wrenching market gyrations…
While still handing you the opportunity to collect predictable payouts every few months…
All through an opportunity so unexpected, most investors have never even considered it.
The Unusual Source of these "EV Royalties"
As you know, electric vehicles come in all shapes and sizes…
Sedans, roadsters, pickups, SUVs… and before too long, busses and transport trucks.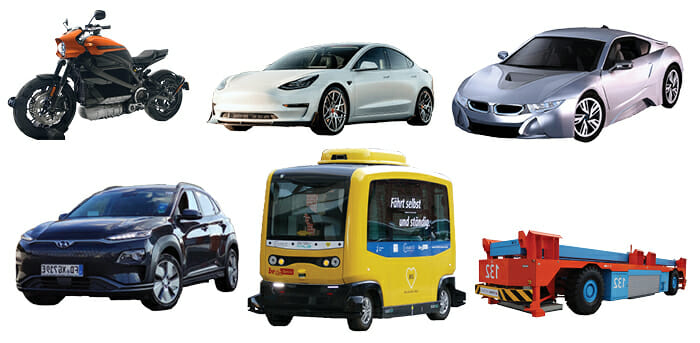 But no matter who makes these vehicles or how much they cost…
How big their batteries are… what rare metals are inside them…
Or whether they end up driving themselves on "autopilot" in the future…
They have one undeniable common thread…
They all need to be charged.
And that one simple fact holds the key to handing you repeat payouts of $826… $1,652… $3,302, or more.
The math is straightforward…
Today, there are just over 120,000 EV charging stations in America.
The International Council on Clean Transportation says the country will need 2.4 million stations by the time roughly one third of all new car sales are electric.
That puts us on track to approach 6.7 million charging stations nationwide as EV sales continue their rapid climb.
In reality, I expect the number to be much higher than that.
Here's why…
Even for the ultra-rich, it's virtually unheard of for private citizens to have gas pumps in their driveways.
By comparison, over 80% of today's EV owners charge their cars at home.
Charging ports are also becoming more common in places gas pumps have rarely, if ever, existed in the past…
Including the parking lots and underground garages of apartment buildings, office towers, department stores, and hotels across the country.

And that's on top of the 1.2 million existing gas pumps that will eventually be forced to convert to electric just to survive.
In fact, as this recent headline shows, the conversion process is already underway…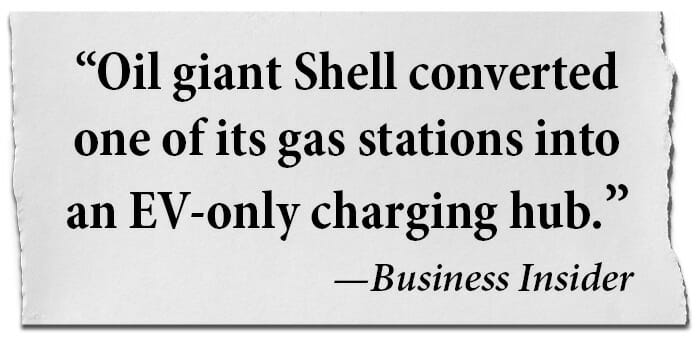 When you combine these factors, I won't be surprised if the all-in number of electric chargers across the country within a decade ends up being closer to 10 million… if not higher.
For investors, this is where things get really interesting…
Because whether we end up with just one million fueling stations… or 10 million… every last one of them will have one thing in common.
It's not the electricity flowing through them…
The copper wire or electronic components they're constructed from…
Or the hundreds of millions of cars, trucks, and SUVs they'll be able to service.
No…
What these chargers have in common is, in my opinion, the best-kept "secret" of the entire EV revolution.
And I've uncovered a unique way to take advantage of this secret and start seeing payouts as high as $3,302 within weeks.
The Real Winner of the EV Revolution Has Nothing to Do With Picking the Right EV Stock…
and Everything to Do With This Quote…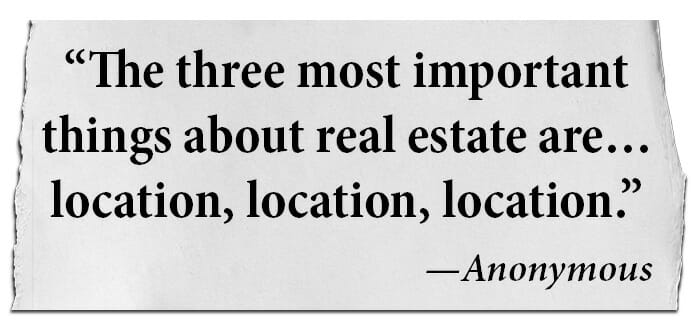 That expression might be the real estate industry's biggest cliché… but it's 100% accurate.
It's also the key to unlocking what I'm calling "the world's first EV Blue Chip."
Here's an example to drive the point home…
Today, Chick-Fil-A is the most profitable fast-food chain in America.
Open a new one at a busy intersection in New York City or downtown Los Angeles — locations that have more foot traffic than you can shake a stick at…
And you basically have a license to print money.
But open an identical restaurant on a winding mountain pass that sees less than a dozen cars breeze by each day…
And you'll likely be bankrupt within a year.
The exact rules apply to EV charging stations…
In order to capture the kind of wealth that's coming, they have to be in locations where there's a ton of EV traffic.
And the "EV Blue Chip" I'm going to detail for you now has mastered the magic formula…
They own the country's best-in-class locations…
Locations that are practically GUARANTEED to see immense EV traffic.
Even better…
This isn't something the company just started rolling out.
They're not trying to play catch-up with the growing EV megatrend.
Instead, it's a plan they started executing over a decade ago.
A plan that's already starting to pay off like gangbusters…
Because they're practically offering…
The Perfect Product…
To The Perfect Customer…
At The Perfect Time and Place
If you've ever visited a beach resort, you've seen this phenomenon firsthand.
Hundreds of pale-skinned vacationers jazzed up to spend their day enjoying sand and surf…
And almost every last one of them in desperate need of two things they didn't schlep with them on the plane…
Lounge chairs and umbrellas.
Companies who set up shop on the beach to rent chairs and umbrellas to these sun worshippers don't have to create demand… there's already more of it than they can handle.
All they do is offer a product these folks need… exactly when and where they need it.
For the record, our "EV Blue Chip" doesn't rent chairs or umbrellas.
But they do have enormous built-in demand…
And thankfully… what they offer their customers is far more profitable than beach rentals.
Here's what I mean…
Every last one of the millions of EV charging stations installed in America in the years ahead will be bolted down to a piece of real estate. It's unavoidable.
So anyone who owns the real estate these chargers are attached to…
Can essentially collect a "royalty" payment every time an electric car, truck, bus, or SUV stops to charge up.
Now… for the record, I'm not suggesting you wander the countryside buying up plots of land…
Praying an EV charging company falls out of the sky and leases it from you.
That would be beyond ridiculous.
However, the "EV Blue Chip" offers all the benefits of owning prime real estate… that already has a foothold in the growing EV charging market.
Allowing regular investors the opportunity to collect the "royalties" every EV charge will generate…
Without any of the headaches or expense involved in buying it yourself.
And to be clear, these guys don't own "just any old real estate."
They own some of the best-in-breed properties in the entire nation.
Properties that already see an almost limitless supply of EV traffic…
And could easily see that traffic double, quadruple, or even 10X over the next few years.
So, while other investors are frantically trying (and failing) to chase down huge overnight gains on stocks like Tesla, Rivian, or Lucid, I'm taking an entirely different approach…
One that sidesteps the gut-wrenching price swings the EV market seems to see on a near weekly basis.
Plus, unlike most "Wall Street Darling" EV stocks where you'll have to buy… hold… and pray the stock price surges at some time in the future…
The company I'm going to show you now could start flooding your account with "EV Royalties" within a few short weeks…
The World's First EV Blue Chip?
The juggernaut I've been following closely was an uber-successful real estate management company long before the EV revolution began.
They could have taken the easy route and continued doing things the same old way…
And getting the same (excellent) results.
But instead of resting on their laurels and being satisfied to be "just another real estate company"…
The firm's management team made a bold move that's already begun paying off in spades…
And I'm confident their decision will send increasingly larger payouts into shareholder accounts for years to come.
You see, way back in 2011… a year when just a little over 17,000 electric cars were sold nationwide and the "EV Revolution" was far from looking like a sure thing…
This company's top brass shrewdly predicted that electric cars would very soon become more than just a novelty for rich folks…
And began installing charging stations at its properties across the nation.
Since 2011, they've doubled down, time and time again — forging partnerships with industry leaders like Tesla…
As well as EV charging startups like Electrify America and EVgo.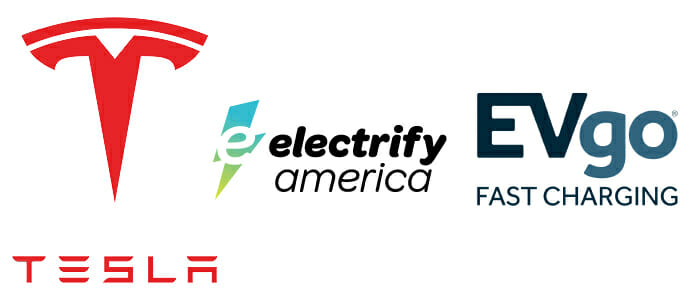 Today, the comapny in question has over 1,100 charging ports at 129 locations across 20 states.
In case it's not obvious…
For a real estate company… 1,100 chargers is a pretty big deal.
No other real estate company I'm aware of — on the entire planet — offers anywhere close to that number of chargers.
With all of this said, simply installing EV chargers could be seen as a colossal waste of money…
UNLESS they're installed at locations where EV owners spend their time.
Thankfully, this is where our company really shines.
Because they're world-class experts at following…
The Billion-Dollar Golden Rule of Business
In the business world, there's an unspoken "golden rule" companies often follow to amass mountains of money. It goes like this:
"Find your ideal customer and sell them exactly what they need."
On the surface, this short sentence may seem laughably simple.
But for companies who do it properly…
Following this "rule" has the very real potential to dump billions in profits into their coffers… year after year…
And reward investors by flooding their retirement accounts with regular, growing payouts every few months.
Companies who take this a step further and give their customers exactly what they need in the exact location they need it…
Well, those companies are playing on an entirely different (and highly profitable) level.
Some companies can take years to attract their ideal customer.
Our pick?
They've had the "ideal EV charging customer" flocking to their properties for decades…
Like a captive audience practically begging to be sold "exactly what they need."
And that situation has created…
A "Perfect Storm" Opportunity for Investors
It shouldn't come as a shock to find out most EV owners are fairly affluent people.
A recent study from the Fuels Institute found 57% of electric vehicle owners earned more than $100,000 a year…
Almost 80% of them have two or more cars in their household…
And on average, electric vehicles can cost as much as 40% more than a gas-powered model of the same size and style.
Say what you want about "the rich"… but they're an undeniable driving force in our retail economy.
And they're massively important to this opportunity in particular, because…
When folks in higher tax brackets go shopping…
I think it's safe to say they don't spend a lot of time sifting through bargain bins at Walmart.
Instead, they tend to sip café lattes while strolling through luxury boutiques in upscale shopping malls.
And that's where the loop closes…
Because our company is one of America's top-tier owners of…
You guessed it…
Upscale shopping mall properties.
The company specializes in high-end retail space… what are known in the property management business as "Class-A" shopping centers.
Here's an official definition of the term "Class-A" from a leading real estate industry organization…
"Class-A properties are the highest quality buildings in their market and area. They are generally newer properties with top amenities, high-income earning tenants, and low vacancy rates.
Class-A buildings are well-located and professionally managed. They demand the highest rent and have few if any maintenance issues."
This "EV Blue Chip" owns over 200 Class-A properties across the U.S., Canada, Europe, and Asia totaling over 240 million square feet of leasable retail space.
Why are Class-A properties important?
Because they attract high-end tenants…
Brands like Louis Vuitton, Rolex, Hermes, Tiffany, Prada, and others…
Who are happy to pay millions of dollars a year in premium, long-term leases to get their products in front of…
You guessed it…
Affluent shoppers.
Plus…
Class-A properties tend to be located near high population areas.
A study released by Evercore Research revealed the population within a 15-mile radius of our company's properties averaged upwards of 1.5 million people…
That's an insane amount of potential traffic!
And the average household income in that same radius was close to $95,000 a year.
So… these malls don't just attract affluent shoppers by offering luxury brands…
They're also incredibly convenient for shoppers to travel to and from.
On top of that — as you saw a moment ago — affluent shoppers are more likely to own electric vehicles than folks in lower-income brackets.
In case it's not clear…
These details combine to create what's I believe is a "perfect storm" for investors.
Affluent EV owners…
Shopping at upscale malls…
With more EV chargers than any other malls in America.
As I mentioned a moment ago, it's like renting lounge chairs and umbrellas to beach goers…
But far more profitable.
The bottom line here is…
If you're looking to cash in on the EV Revolution without the rollercoaster ride… there's no better way to do it than by claiming your stake in the ONE company I'm confident is on the verge of becoming the world's first-ever "EV Blue Chip."
I'll even go as far as to say this…
Even if I'm completely wrong about EVs and the explosive growth I see coming (and I'm confident I'm not wrong)…
This company is still a 100% rock-solid play.
Their stock has jumped 206% since the COVID market collapse in early 2020.
Think about that for a moment…
During what's likely been one of the worst periods in history for the retail industry…
The company managed a better than 3X stock gain…
Enough to turn a $10,000 investment into $30,600.
Just imagine the colossal gains they could deliver as COVID wanes and shoppers return to malls like zombie hordes in the months ahead.
This puts you in a rare win-win situation.
When you follow the simple instructions I'll reveal in just a moment…
You'll either own a piece of what's on the verge of becoming the most profitable EV investment available today…
Or…
You'll own the best Class-A real estate investment in America.
I'm confident you'll get both!
And here are a few crucial details that explain why I believe…
The Company's Next Move Could Be Your Ticket to a Luxury Retirement
As I showed you a moment ago, almost 80% of all EV owners currently charge their vehicles at home.
And studies show when they use public chargers AWAY from home…
They prefer to multitask with things like grocery shopping, dining, or social activities.
So any real estate company that can offer convenient EV charging where people live, shop, and play could capture close to 100% of the charging needs for the millions of electric car owners who live within a stone's throw of their properties.
And that's exactly why the company's next move is absolutely ingenious.
Their latest plans include a $4+ billion investment in what the company calls "integrated community centers" that include two or more of the following elements:
Multi-family residences
Restaurants
Gyms
Office facilities
Clinics
Churches
Grocery stores
Schools
Even skating rinks
The company has mixed-use projects like this underway today in Atlanta, GA… White Plains, NY… Philadelphia, PA… Thornton, CO… Sunrise, FL… Long Island, NY… Seattle, WA… Orange County, CA… and others.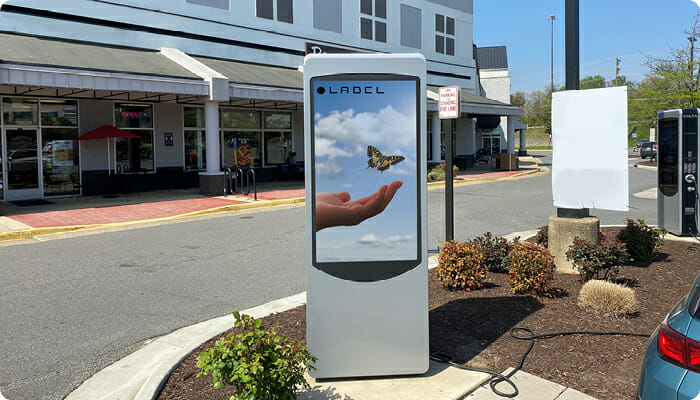 With these projects going live nationwide over the next few years…
And electric vehicles growing in popularity at an ever-increasing rate…
Our company has positioned itself to capture business from a huge swath of EV owners no matter where they are or what kind of activities they're involved in.
Whether it's eating, sleeping, shopping, exercising, learning, or praying…
The company has all the bases covered.
The bottom line here is…
More electric cars…
Combined with more places to charge them conveniently…
Means potentially bigger payouts to shareholders.
By opening the floodgates this way, our genius-level company has essentially transformed itself from a pure real estate play…
Into what could easily be the world's most profitable EV charging play… or what I would call the world's first-ever "EV Blue Chip."
One that isn't even close to being on the radar of most investors.
And when you lock down your piece of this company today…
You can effectively own a portion of every EV charge generated at every property the company owns across the entire United States, Europe, and Asia for the foreseeable future.
It won't matter what make or model of car connects to the company's chargers…
How much lithium or cobalt their batteries contain…
Or how the car owners pay for their charges.
Every time an electric vehicle plugs in at one of their properties…
The company effectively collects what I'll call a "royalty."
As these "royalties" grow… so do the company's revenues.
And as revenues grow… the company's "profit pie" expands in size…
Meaning there's more money available to payout to shareholders. For instance…
If you own 1,000 shares, what might start as a healthy $1,652 quarterly payout today could potentially double… triple… or even quadruple in the years ahead.
Now, in case you're wondering, "How can I be certain the company will share these surging 'royalties' with me?"
What's to say they won't hold back a big percentage for stock buybacks or general reinvestment…
Sink a major portion into building a "rainy day" war chest…
Or pay out obscenely huge executive bonuses?
Well, I can say with 100% confidence… that won't happen with these "EV royalties."
And here's why…
The Fascinating Eisenhower Era Law That Makes "EV Royalties" Virtually Guaranteed
In 1960, President Eisenhower signed an obscure act into law.
It was called the Cigar Excise Tax Extension and contained several minor updates to the federal tax code relating to the sale of cigars.
Shockingly, in the same document — buried deep beneath a mountain of dense legal jargon — was an unprecedented clause allowing the creation of a brand-new type of company that hadn't previously existed anywhere on the planet…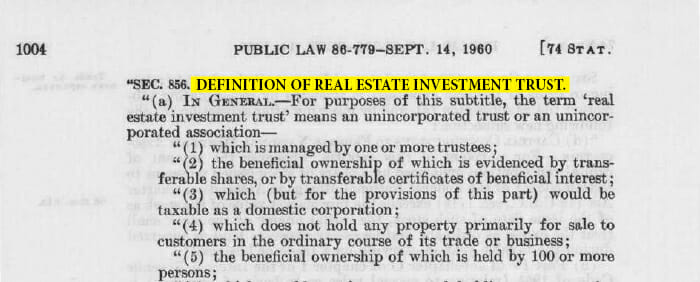 It was called the Real Estate Investment Trust or REIT… and it was a game-changer.
For the first time in history, everyday Americans had the freedom to pool their money together with thousands of other investors…
And have skilled professional property managers do all the heavy lifting for them…
Hunt down valuable properties, finance them, develop them, maintain them, find tenants, collect rent, pay taxes, and look for opportunities to sell them at a profit…
REITs effectively allowed investors to become landlords — in our case, "EV landlords" — without any of the headaches of being an actual landlord.
Most importantly, REITs are required to give shareholders…
A 90% Share of the Company's Profits
If you're not familiar with the way REITs work… this may sound a little too good to be true.
But it's 100% accurate.
REITs are legally obligated by the Federal government to pay out 90% of their profits to investors… usually on a quarterly basis.
By meeting and maintaining this obligation, REITs are exempted from federal income tax…
Freeing up even more cash to pay out to shareholders.
This means when you own even a single share in a REIT, you'll see money show up in your investment account every few months… like clockwork.
Basically, as long as the REIT makes a profit… shareholders get a mammoth 90% chunk of it.
And history shows investors who hold REIT shares over time make out like bandits. Here are a few quick examples…
First, there's Realty Income (NYSE: O).
If you'd bought 1,000 shares of this REIT back in the mid-90's and held onto them…
What started out as a puny $913 annual dividend grew to just shy of $3,000 a year by 2021.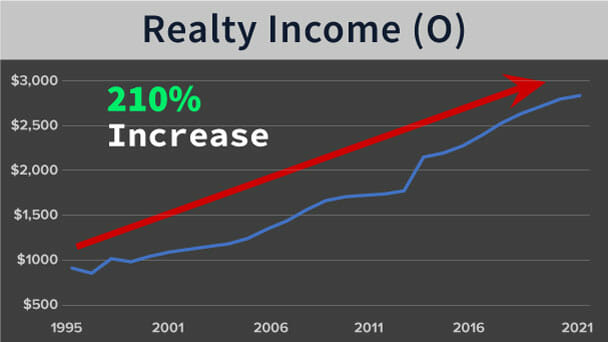 For a total dividend payout of $72,385.
All totaled, if you'd held 1,000 shares of each of these REITs over the timeline we're looking at, you'd have pocketed $159,124.

I can't stress this enough…
The numbers I've just shown you are not trading profits.
They're cash dividends that would have shown up automatically in your account no matter how wildly the markets were swinging around.
Better yet…
A recent study by Hartford Funds — an investment advisory managing over $157 billion in client funds — found that companies who consistently increase their dividends over time…
Just as Realty Trust, National Retail, Federal Realty, AND our "EV Blue Chip" have done…
Saw stock price increases as much as 1,357% more than companies who didn't pay dividends.
In fact, if we factor in stock gains for the three companies I just showed you, here are the results you could have seen from a $10,000 initial investment in each: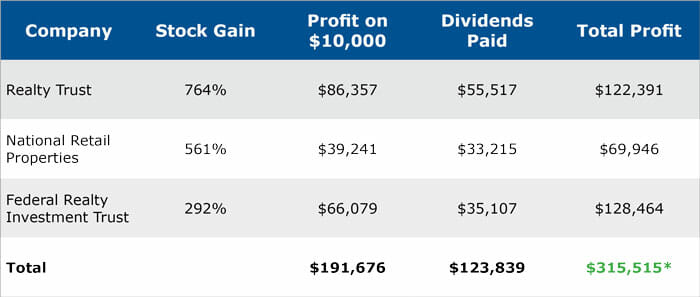 Keep in mind, this table details the all-in profits these stocks delivered through the market turmoil of:
The Dot Com bubble of 2000,
The Mortgage Crisis of 2008…
The COVID sell-off of 2020…
And they still generated gains that outperformed the market by healthy margins.
Our "EV Blue Chip" is precisely the same type of investment…
A generous, reliable, and growing dividend-paying stock with huge potential for triple-digit stock price increases.
No matter how you slice it, owning this stock is a win-win.
I want you to lock down your share of this opportunity as soon as humanly possible…
So I've compiled all the details you need into an exclusive report.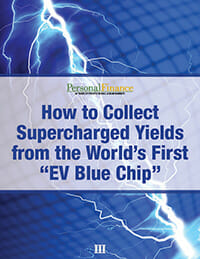 It's called How to Collect Supercharged Yields from the World's First "EV Blue Chip"
And I want to get a copy in your hands today… absolutely free.
Inside this report, you'll discover:
How the company's track record of real estate success combined with the surging EV megatrend ideally positions them to become the world's first-ever EV Blue Chip stock.
How to receive your first "EV Royalty" payout within weeks.
The financial "miracles" the company pulled off during 2020… one of the worst years in history for shopping mall sales, including:

Maintaining occupancy rates above 91%.
Collecting 90% of the rent it was owed.
Raising investor dividend payouts three times in only five months.

How the company recently purchased one of its most successful competitors for $3.4 billion in cash (yes, that's the kind of war chest they have available)… creating even more opportunities for the company to generate and distribute "EV royalties" to investors.
The shocking 206% boost the company's stock has seen since March 2020… which bodes tremendously well for their fortunes (and yours!) as shoppers return to malls in full force in the months ahead.
How other real estate companies — even the country's cream-of-the-crop — are completely missing the boat on "EV Royalties"… and how that clears a path for our company to rake in even more profits.
Details of the 60-year-old law guaranteeing 90% of the company's profits get paid out to investors every few months… without fail.
And of course, the company's name and ticker symbol… so you can lock down your shares right away.
If we were selling this report on its own, my publisher would slap a $199 price tag on it without losing a wink of sleep… and frankly, I wouldn't blame him…
It could easily sell for much more…
Especially when you consider the simple instructions inside show you how simply holding 500, 1,000, or even 2,000 shares of this "EV Blue Chip" will set you up to collect quarterly payouts of $826… $1,652… even as much as $3,302.
However, while this report will never be made available to the public… anywhere… at any price…
YOU can have a copy in your hands before the day is over… absolutely free.
Here's How to Get Started Today…
You might be wondering… "Why on earth would anyone give away a report like this without charging a penny for it?"
It's simple…
My greatest professional satisfaction comes from helping everyday Americans build the kind of wealth that will allow them to enjoy the stress-free retirement they truly deserve.
So when a once-in-a-lifetime megatrend like the EV revolution comes our way…
And I uncover what I believe is a sure-fire way for investors to turn it into cold, hard cash…
I pull out all the stops and share it with as many people as I possibly can.
That's why I want to send you this report today… completely free of charge.
With the instructions inside, you could start seeing "EV Royalties" hit your account within a few short weeks.
To get this report in your hands before the day is over…
All you have to do is make one simple move…
And accept a risk-free trial membership to my exclusive investment advisory…
Personal Finance
This hidden gem of the investment world has been helping investors navigate the markets since 1974.
My partners and I have a single goal with Personal Finance… and it's one we take very seriously…
To help everyday investors become incredibly wealthy… no matter what kind of hurdles the market throws in our path.
We're not satisfied delivering mediocre returns that just barely beat the market.
Instead, Personal Finance is designed to present you with opportunities to generate life-changing fortunes…
Just like the ones you'll discover inside How to Collect Supercharged Yields from the World's First "EV Blue Chip" which you can receive today.
But I want to make one point perfectly clear…
As incredibly bullish as I am about the "EV Royalties" opportunity I'm sharing with you today, Personal Finance isn't a technology-only advisory service.
My team and I analyze the economy, the markets, and individual stocks day in and day out.
And we work tirelessly to bring members the very best stock picks in the market… no matter what industry or sector they're in.
Here's a small sample of the profits my team has delivered our members…
508% on Bayer…
108% on Barrick Gold…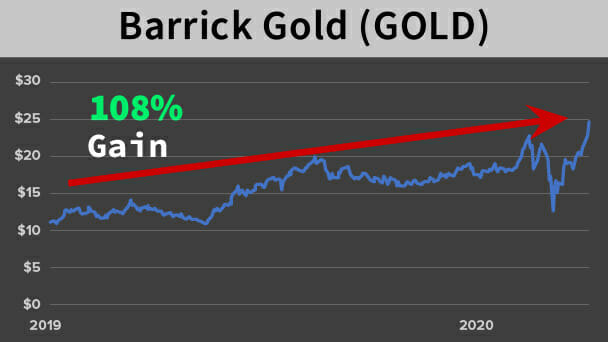 503% on multi-national alcohol producer Diageo…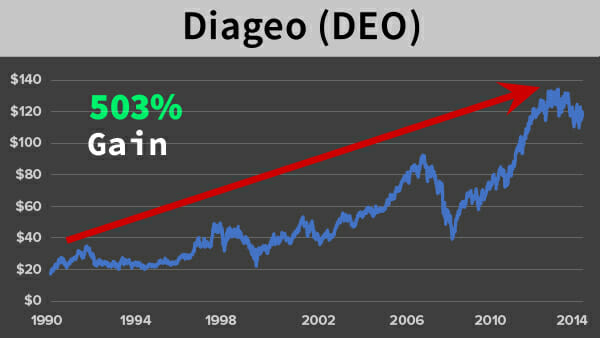 391% on Dominion Energy…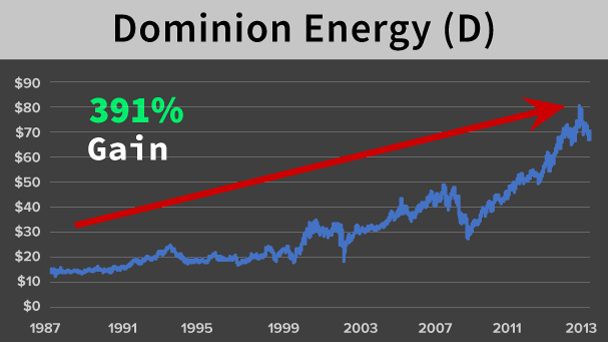 118% on Johnson & Johnson…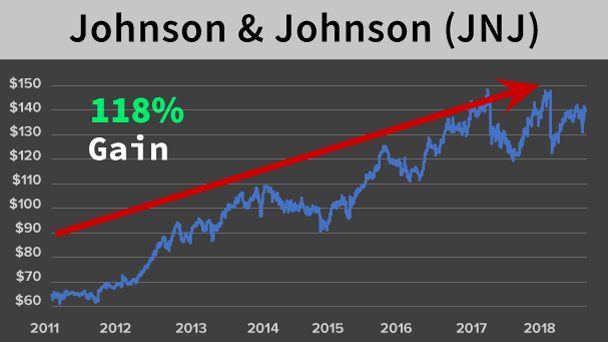 163% on Microsoft (MSFT)…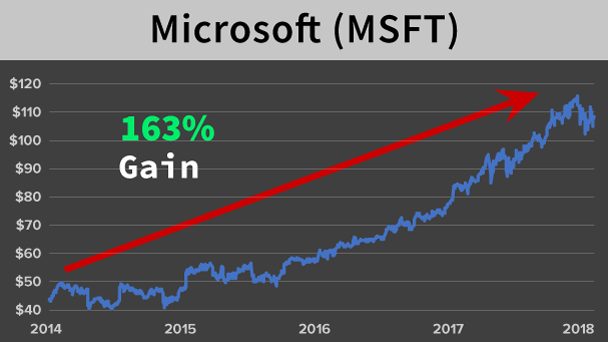 And 479% on Apple…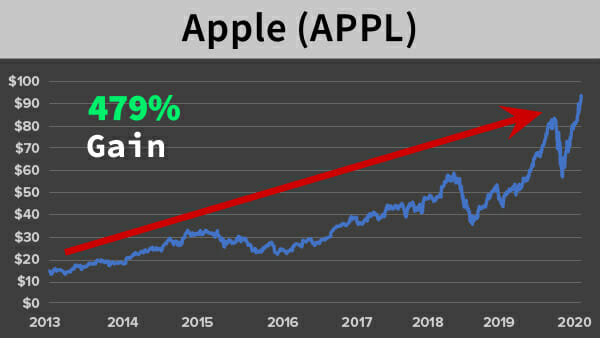 A $10,000 stake in each of these seven opportunities — all triple-digit winners — could have dropped as much as $296,989 into your investment account.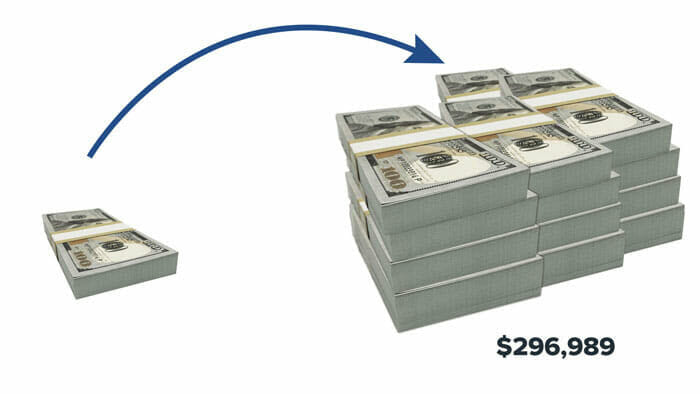 With all the double and triple-digit winning trades we've shown Personal Finance members over the years, it's not unusual for the team to receive messages from people all around the country who've followed our recommendations and are eager to share their results.
They include Martin F., who's made "a lot of money…"

Ben W. told me he regularly sees gains of over 300%.

Tim G. says he's up $63,000 this year.

Maryann M. let me know she went from being broke to having nearly half a million dollars thanks to our work.

And Glenn C. has used his membership to grow a seven-figure portfolio…

In full transparency, not every trade turns out as well as these have, and your results may differ. Nothing in the markets is guaranteed and it should go without saying, some trades have even turned against us.
But these examples show you the kind of profits that are possible as a Personal Finance member.
And today, I want to offer YOU the opportunity to join these folks and thousands of other members who benefit from the recommendations and research we publish each and every month inside Personal Finance.
It all starts with the one real estate superstar I believe is on the verge of becoming the world's first-ever "EV Blue Chip."
Despite the fact this stock has more than tripled since its COVID lows in early 2020, there's still massive potential for it to grow.
In fact, when the rest of the investment world catches wind of the details I've shown you today and puts two-and-two together…
It wouldn't shock me in the least if the stock tripled in price again.
So if you want to lock in your shot at collecting these "EV royalties" you must act quickly.
Here's Everything You'll Receive as a Member…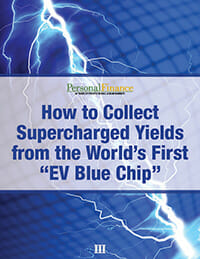 The moment you join Personal Finance, you'll get instant access to:
How to Collect Supercharged Yields from the World's First "EV Blue Chip" (value $99)
But the potentially life-changing opportunity I reveal inside this report is just the tip of the iceberg because…
You'll also receive instant access to my entire portfolio of open trades I'm tracking in the following sectors: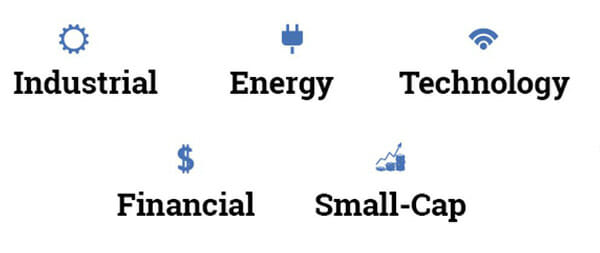 Each month, you'll receive the latest issue of Personal Finance containing new breakthrough profit opportunities.
You'll also receive Intra-Day FLASH Alerts any time I uncover an urgent BUY opportunity or when my research indicates it's time to take profits on an open trade.
You'll never wonder what to do or when to do it… I'll be with you every step of the way.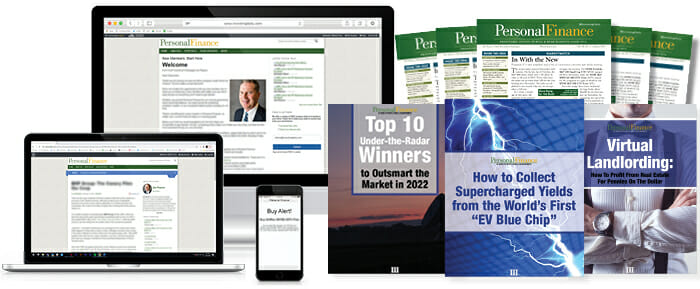 With your membership, you'll also receive:
Weekly Update Emails — Containing important news affecting our portfolio positions, the market, or the economy.
Confidential Members-Only Website — This secure, password-protected membership site is where you'll have 24/7 access to all past issues of Personal Finance, FLASH Alert histories, portfolio summaries, special reports, and bonuses, as well as daily opportunities to interact directly with me and the other experts in our private Stock Talk discussion forum.
Investing Daily Insider — Beyond the headline financial news, there are hidden fortunes in the stories that seldom get told. Enter Investing Daily Insider, our exclusive news digest with a simple goal… to provide you with money-making insights into the week's most pressing financial stories every weekday.
VIP Concierge Hotline — Where a real live human is available whenever you have a question or concern you need handled right away.
As you can see, Personal Finance is the total package.
Becoming a member means you're no longer "going at it alone."
Instead, you'll have a team of expert analysts doing the heavy lifting for you, day in and day out…
Providing all the investment recommendations and support you need to generate the kind of wealth you've always dreamed of.
All that remains is for you to follow our monthly recommendations…
Make a quick call to your broker…
Or tap a few keystrokes inside your online investment account…
And you're done.
The profits will take care of themselves.
Now, with everything you receive as a Personal Finance member…
You might expect membership to cost thousands.
And considering the sheer volume of profit opportunities we show members every year… it would be worth every penny.
However… my goal is to help everyday investors like you find profits in every market…
Not lock you out of opportunities like the "EV Blue Chip" I've detailed today simply because the price of entry is too high.
So I've worked out a special deal with my publisher to give you a risk-free trial of Personal Finance today at an incredible discount.
I'll share all the details on that in just a moment…
But first, let me show you two exclusive bonuses I'd like to send you when you become a member today.
BONUS REPORT #1:
Virtual Landlording: How To Profit From Real Estate For Pennies On The Dollar (value $59)
Andrew Carnegie once said…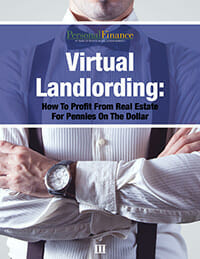 "90% of all millionaires made their money through real estate."
The reason? Over time, real estate returns have outpaced the stock market by a huge margin.
Inside this money-making report, we reveal our three top picks. Each offers you all the upside of real estate ownership without any of the downsides. They include:
A company specializing in government properties… with 99% of its income backed by existing long-term contracts with the U.S. government.
An owner of over 6,500 properties who's delivered investors annual returns topping 15% per year since 1994… and declared over 100 dividend increases to boot.
A diversified health care company with more than 2,000 tenants across three continents… and one of the highest monthly dividendyields in its peer group.
With this report in hand, you'll be just a few mouse clicks away from joining the likes of Andrew Carnegie, Warren Buffett, Donald Trump, and thousands of others who've made out like bandits with real estate investing.
And there's one more gift I have for you…
BONUS REPORT #2:
The Top 10 Under-The-Radar Winners to Outsmart the Market in 2022 (value $59)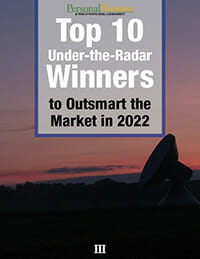 Inside this exclusive report, you'll discover 10 of my team's top stock picks for 2022. These are companies that get completely ignored by most Wall Street analysts… mainly because they do just fine without greedy bankers meddling in their business.
This premium report reveals the precise details you need to take advantage of these ten "under-the-radar" profit streams this year, and well into the future.
Together, your EV Blue Chip report and bonuses have a combined value of $217.
But I want to send you all three today as my free gift to you.
Look, I've worked extra hard to keep our regular membership fee at just $99 for a full year of access.
Given that you'll receive a minimum of 12 opportunities to generate double, triple, or even quadruple-digit returns each year…
And a single recommendation could easily cover your annual membership fee 100 times over…
I think you'll agree… $99 is more than fair.
However, through today's special offer, we're not asking anywhere near that amount.
I've negotiated a steep discount with my publisher…
And arranged for you to get everything I've outlined above including the free report and bonuses…
A total value of $316…
All for just $39.
(You Can Review Your Order Before It's Final)
But there's one small catch…
With such a steep discount — along with the massive profit potential on the line…
I was only able to convince my publisher to allow 100 new members to join today.
So if you want your shot at raking in "EV Royalties" hand over fist…
You need to make your move right away.
100 Memberships Remaining Today… for Only $39
When you break it down, a one-year membership comes out to less than $0.11 cents a day.
Think about that for a moment…
A few pennies a day could be all that's standing between you and a shot at life-changing profits.
The global "EV Revolution" is on the verge of turning thousands of everyday investors into brand new millionaires…
And I'm confident Personal Finance can help you become one of them.
But if you want in, you'll need to act quickly.
At just $39 for an entire year of access to Personal Finance… I don't expect the remaining seats to last much longer.
(You Can Review Your Order Before It's Final)
Still undecided?
Let me sweeten the pot a bit more for you…
When you join me today, you're covered by not one… but two Satisfaction Guarantees to ensure you're 100% happy with Personal Finance for the entire time you remain a member.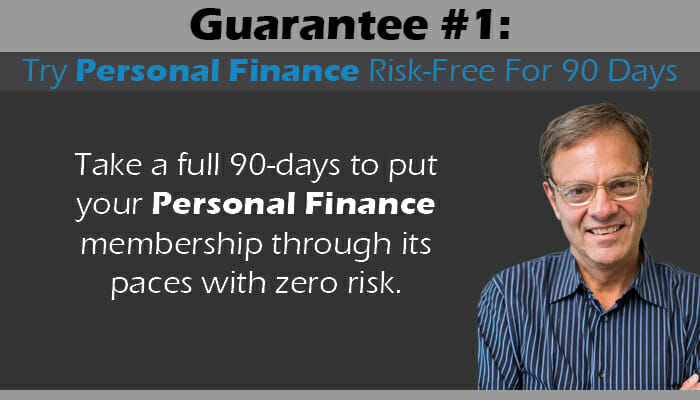 That's three full months to review your bonus reports…
Read through the newsletter back issues…
Maybe even take action on a handful of our current portfolio positions... there's no time like the present to set yourself up for profits.
If there's anything about Personal Finance you don't absolutely love, place a quick phone call to our Concierge Hotline within 90 days of joining and we'll return 100% of your membership fee… no questions asked.
And it doesn't end there because…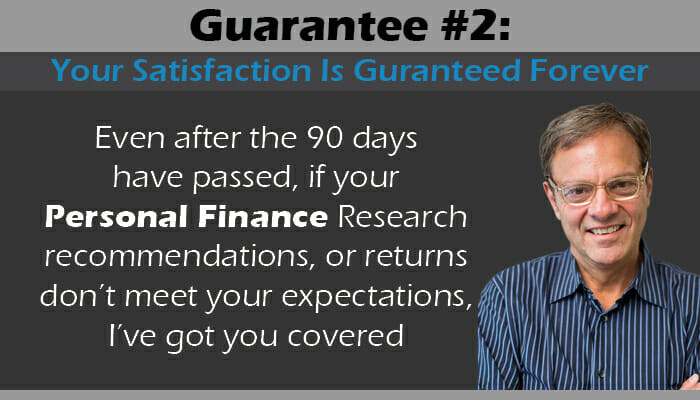 Once again, a phone call is all it takes.
We'll prorate your membership fee and refund you immediately for any unused months remaining on your term.
Plus… if you decide Personal Finance isn't right for you, all the reports, newsletters, alerts, and recommendations you receive during your membership period are yours to keep forever…
Think of them as my way of saying, "Thank you for trying us out."
The Next Move Is Yours
Electric vehicle adoption is on the verge of exploding at a global level…
Creating an equally massive demand for EV charging stations… there's no escaping it.
And one cutting-edge real estate company is about to lock down a massive stake of the EV industry's charging profits… and deliver a juicy slab of those profits straight into your bank account every 90 days.
Right now, you have a choice…
You can walk away from this presentation and immediately forget everything I've shown you here today.
If you do that, your life will remain in pretty much the same state it was yesterday… and the day before that.
You'll continue along your current path…
Endlessly scouring the Internet for "hot stock tips"… always wondering if they're worth the paper they're written on (they're not!).
Or…
You can join Personal Finance today and claim your share of this trailblazing real estate company…
The one I am calling "the world's first EV Blue Chip."
Before it becomes a household name…
And before Wall Street banks and hedge funds catch on and drive the stock price up to Amazon levels.
Make no mistake… millions of everyday investors could see "EV Royalties" start flooding their accounts like clockwork any day now.
The only question is…
Will you be one of them?
Click the link below and join Personal Finance, while there's still time.
I look forward to welcoming you as a new member soon.
(You Can Review Your Order Before It's Final)
Thank you,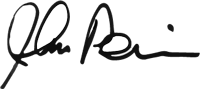 John Persinos
Managing Editor
Personal Finance
P.S. I don't expect the information I've revealed in this presentation to remain under wraps much longer. The moment Wall Street banks and hedge funds figure out the real EV play is in real estate, there could be a market feeding frenzy that drives stock prices to unprecedented levels. Taking action today is the only way to ensure you lock in your share of the EV megatrend… before Wall Street robs you… once again. Click the "Yes, I want in" button and get started right away.
(You Can Review Your Order Before It's Final)
Copyright © 2022 Investing Daily, a division of Capitol Information Group, Inc. In order to ensure that you are utilizing the provided information and products appropriately, please review Investing Daily's' terms and conditions and privacy policy pages.