Dear Reader,
It's hard to imagine becoming a millionaire off one stock.
But that's exactly what happened to anyone who moved early enough on Amazon, Netflix, Apple, Facebook, or YouTube…

And it's exactly what COULD happen to you, if you follow the simple trade in my presentation today.
See, I believe that in the coming days…
The #1 tech "IPO" of 2021 will start minting more millionaires than all five of those companies… combined.
And much faster, which is why I'm calling it the "Tech IPO Retirement Stock."
This once-in-a-decade opportunity is still on the ground floor…
Shares trade for dirt-cheap…
And century-old financial publisher Kiplinger just named it the #1 new stock of 2021.
In a moment, I'll reveal exactly how 60 seconds today — could mean a million-dollar tech fortune by the end of the year.
Already, this weird little tech company…
Has 6 million more  people using their product per day than YouTube.
And even more exciting:
Days from now, this weird stock could kick off its run as the biggest tech "IPO" of the 2020s
As the kids say, it's just math:
150 million people use this company's product every month…
And 29 billion hours are spent on it every year…
(That's 43,000 human lifetimes!)
But if you're thinking this is like another Netflix, let me assure you…
This has nothing to do with streaming movies, TV, or anything like that.
It's also not Bitcoin, 5G, or marijuana either.
I'll tell you exactly what it is shortly…
How it could hand you a gigantic cash windfall in 2021…
And why I believe it won't just be bigger than Netflix — but also…
Bigger than Netflix, Facebook, Apple, Amazon & YouTube — COMBINED
After this little tech stock slams onto the public stock market…
The million bucks you'd have made on Facebook, Apple, YouTube, Netflix & Amazon…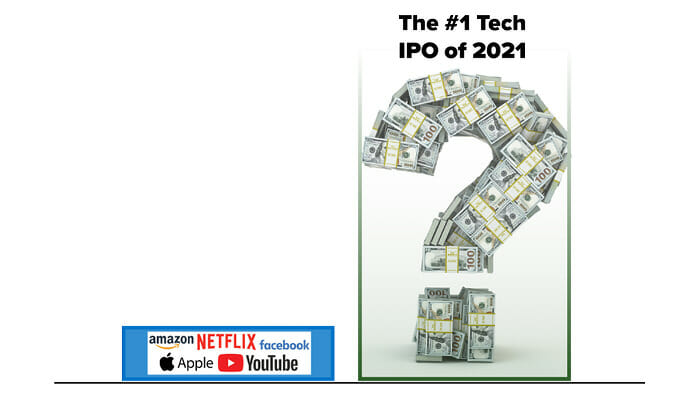 Will look like a toy poodle in the palms of a 600-pound gorilla.
But wait, is it really possible to retire on a single tech IPO?
And what about if you've never bought a stock before? Or if you don't have much money to start with?
Well, let's look at how investment would have performed in Apple, YouTube, Amazon, Facebook, and Netflix.
That's…
$257,850 on Apple
$45,452 on YouTube
$491,500 on Amazon
$4,250 on Facebook
And $341,250 on Netflix
As you can see — any one of those investments is a jackpot win.
The secret is a set of "Catalysts" buried inside Amazon, Apple, Facebook, Netflix & YouTube…
Which turned them from no-name stocks… into millionaire-making home runs.
And as I'll prove to you — today's tech "IPO" has all five of the same Catalysts.
Which is why staking your claim now…
Could be like getting the top 5 tech stocks of all time — rolled into one.
So instead of imagining where you'd be with just one of those cash payouts…
Picture where you'd be with all five.
That's a Tech "IPO" Retirement Fortune Worth $1,140,302
As you can see, well over $1 million dollars…
From a literal handful of $250 investments.
These numbers aren't options trades or "funny math."
In fact, they come straight from my proprietary research study seen here: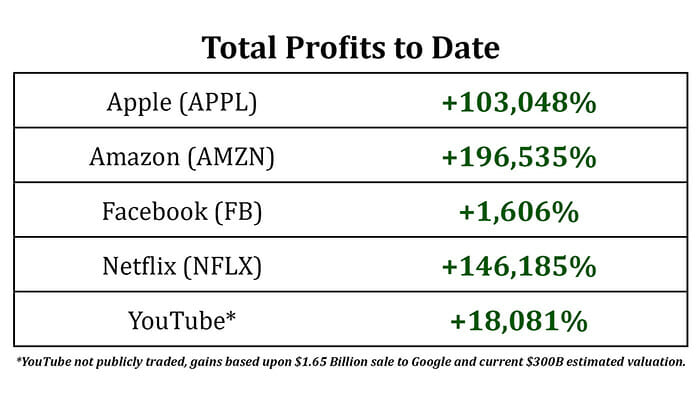 Since the 90's, thousands of internet companies have come & gone.
But these are the 5 companies that reshaped our daily life forever.
Each one had a hidden "catalyst" that allowed it to race past competitors & make investors rich.
Imagine the unbelievable freedom an extra million or two would provide…
Like a 300-pound weight off your chest… you could finally stop worrying about money… travel wherever you want… and help whoever you want…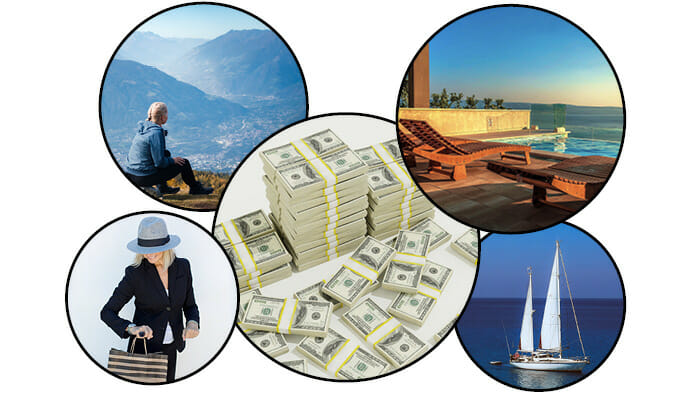 All of which could be possible with the rare second chance today's opportunity provides.
Now, I know you must be asking:
What are the 5 "Tech Catalysts" that all but guaranteed these companies would
change the world?
For Netflix, it was recurring revenue
For Apple, it was the App Store and iTunes
For YouTube, it was the "freemium" model
For Amazon, it was online shopping
And for Facebook, it was the "network effect"
Incredibly…
The same "catalysts" that helped explode those 5 great tech stocks…
(And unlock million-dollar fortunes for shareholders…)
Are all built into the stock I'll reveal today.
Which means today's new tech stock checks ALL 5 of these boxes.
I'll show you exactly how in a moment.
But right now, I want to prove why — if you're looking to pocket fistfuls of IPO cash — the fattest profits are made early.
USA Today reports:

Let me emphasize "first," with an example.
If you'd invested $1,000 early in Netflix, you could have cashed out with $1.46 Million.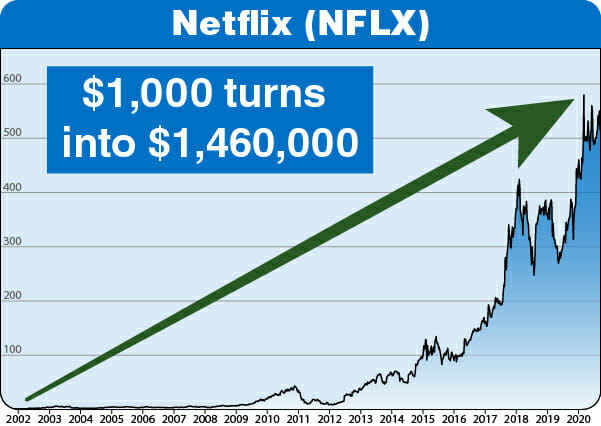 Incredible.
But if you'd waited just 5 months longer to invest that same $1,000…
You'd have walked away with $373,285 instead.
That's over a million dollars less!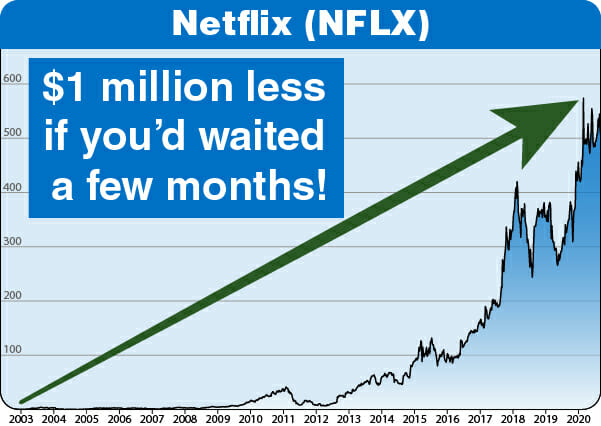 By no means is that pocket change. But it does show you… if you want to walk away a Tech IPO millionaire…
Hesitating on today's opportunity & waiting even a few days… could very well be a "million-dollar mistake" you'll regret for the rest of your life.
With opportunities this rare, you can't afford to wait.
Especially not when:
Top tech insiders like NASDAQ are whispering this stock could become the next YouTube.
Andreeson Horowitz, America's #1 tech hedge fund & early investor in Facebook, Instagram & Twitter suggested it could be "the next social network"… one that's "bigger than anything we've seen yet."
Investing legend David Sze, who made his first billion investing in LinkedIn, believes this will become "the largest social experience in the world."
But let me be clear:
This company isn't a big tech ripoff or a "flavor-of-the-month" social media platform…
This amazing business does something exponentially bigger.
Something I didn't even have words to describe until an 8-year-old explained it to me.
You can almost think about this company like a virtual amusement park.
An online "universe" that 36 million people wander in every day.
But just like the real world, things are being bought & sold too.
With real money.
That's the sweet spot of today's Tech "IPO" Retirement Stock.
Yet, this still hardly scratches the surface of this rare opportunity.
Before I give you the full scoop, allow me a brief introduction:
Hi, my name is Jim Pearce, Chief Investment Strategist of Personal Finance. Over the past 33 years, I've become known as one of America's top stock pickers.
At one point, when I was managing the money of Fortune 500 executives, I had over $50 million dollars under my direct control.
All of it entrusted to me for one purpose:
To pick the BEST retirement stocks on the market for my clients.
So they could retire on their terms: be it a snowbird home in Palm Desert… a 3-month European river cruise… or just never worrying about medical expenses again.
I haven't stopped helping make those same goals possible.
But instead of the ultra-rich, today I help regular hard-working Americans.
Readers of Personal Finance — one of the country's oldest investing clubs.
Like Grace Engelmann from Omaha, Nebraska. She didn't start out rich, but now she says: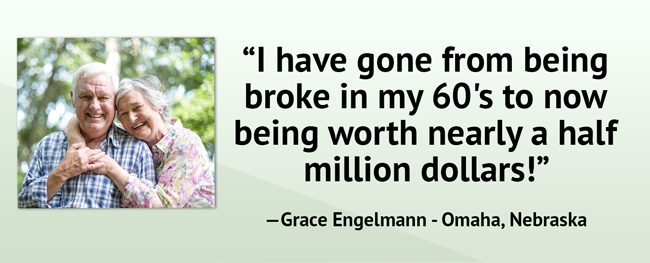 Then there's Edward O. who says: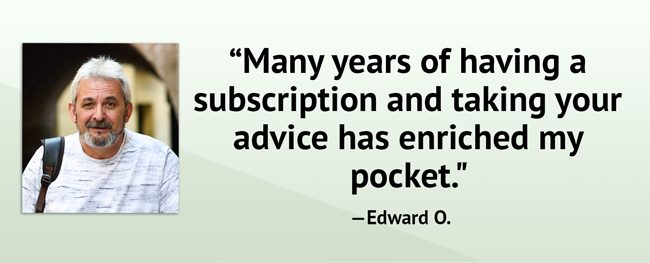 And Glen C., a multimillionaire, was so thrilled with my guidance he wrote: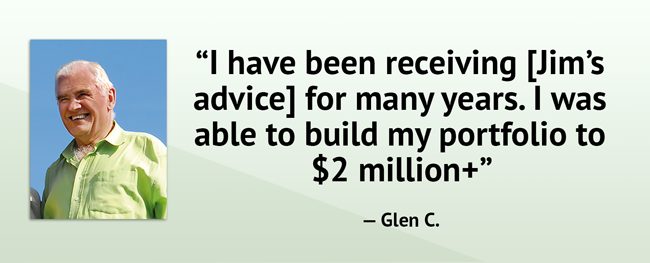 Now I can't promise you'll achieve the same extraordinary results as these folks. But you already know nothing in the stock market — as in life — is ever guaranteed.
That said, if you're anything like many Americans I talk to…
And you watched stocks like Amazon, Netflix & Apple slip through your fingers…
Then today is your opportunity to turn a profitable new page.
Here's your rare invitation make up a DECADE
of lost profits in a single trade, with
The #1 Tech "IPO" of 2021
One move could position you to blaze through 2021 in the profit fast-lane…
A fresh tech windfall stuffed in your bank account…
And all it takes is an easy "copy & paste" trade I'll share with you today.
While most experts babble on about complex asset allocation strategies… 300-stock portfolios… and other tricks designed to squeeze as many hard-earned dollars out of your pocket as they can…
I'm going to give you the simple rundown on one tech stock, and…
Why there's more money at stake now than ever before…
The 5 reasons it's set to create 6,000 new "IPO" millionaires…
A simple 60-second trade that offers you a chance to become one of them.
Plus, the weird "beehive" secret that made Facebook the fastest-growing company of all time…
And how today's company legally stole it — to double in size. Virtually overnight.
(Millions of Americans spend more time using this product than Facebook, YouTube & Netflix — combined.)
You already know tech stocks have gone on a tear the last decade:

I realize having "20/20 hindsight" isn't a special skill.
But getting in on the right tech stocks, at the right time, is.
And it's a skill I've dedicated my life to.
Who else do you know who correctly called the growth of ALL these tech winners… years before they shot through the roof?
First, 12 years ago we recommended Google before it shot up 12X: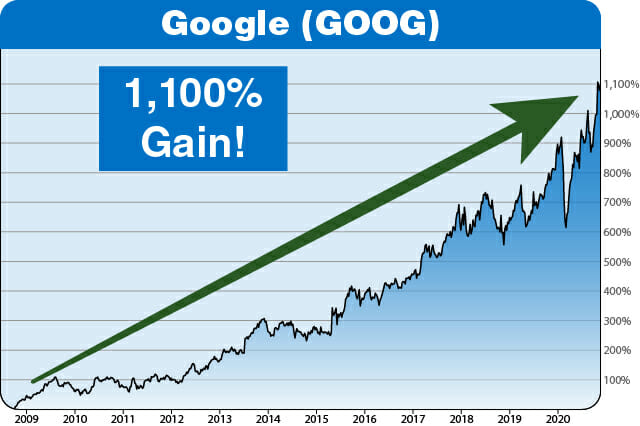 Today, every $500 you put down would be worth $6,000.
Then we singled out Amazon.
It went on to grace investors with 49 times their money.
Every $2,000 would have turned into $99,264.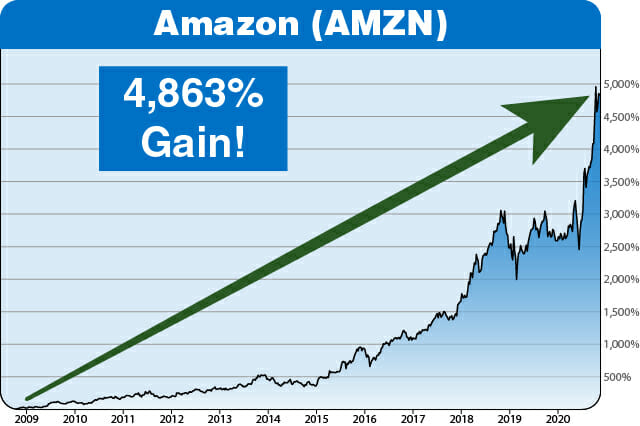 But what if you'd invested $5,000?
Today, you'd have an extra $248,150 to your name.
Soon after Amazon, Apple came onto my radar.
And after I gave my readers the buy signal, it shot up 3,888%.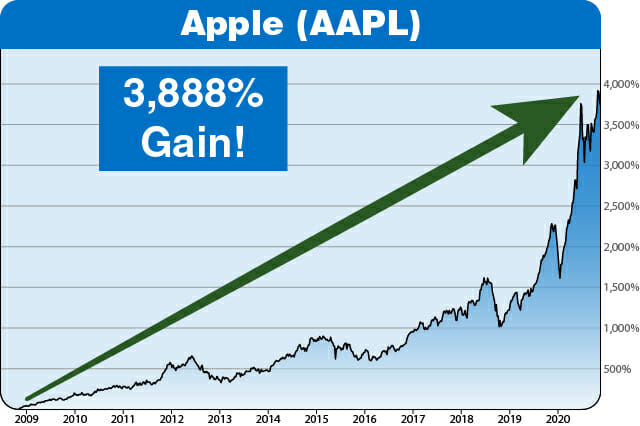 That's unheard of: 39 times your money from the iPhone maker.
And while I don't want to boast about the exact figures… personally, I've made a nice profit with Apple.
And, if you'd followed my recommendation to get into Microsoft for $205…
You'd be 5 times richer.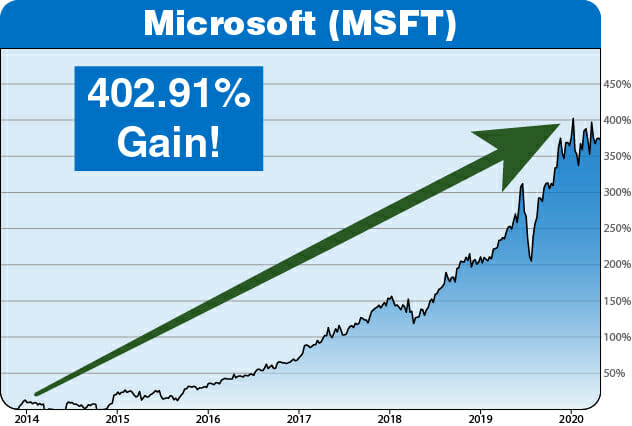 Any one of those tech stocks could've changed your life.
Together, you could be sitting on 105 times your money…
And every $1,000 you invested would be worth $105,000.
This kind of profit is only possible because each of these companies had 1 giant innovation.
A "catalyst" that allowed them to change the world.
If you missed the giant tech gains of the last decade, don't sweat it.
Because today's company is still dirt cheap.
What's more, this isn't the boring-old-IPO you've seen before.
(Which favors big banks & their Fat Cat friends, above investors like us.)
It's a special type of "IPO" that removes the expensive "middleman" …
So you can still buy & own this tech stock in seconds, without the typical IPO fees.
Better yet, it could be like buying Amazon, Apple, Facebook, Netflix & YouTube…
All rolled into one tiny stock… that's primed to "pop off" at any moment..
But what exactly are the 5 "Tech Catalysts"
I've been talking about?
Well, let me answer your question with another question…
What does a "perfect" tech stock look like?
I bet it would…
Make billions of dollars with a subscription plan that's attractive to millions (like Netflix)
Leverage user-generated content to rake in profits (like Apple)
Use a "freemium" model to attract millions of new customers (like YouTube)
Harness the "network effect" to grow with exponential speed (like Facebook)
Make other peoples' stores sell stuff for you (like Amazon)
I know you're smart enough to see where I'm going here.
Yes…
Today's little-known tech stock… CHECKS EVERY BOX l just listed.
If you're as "finger-on-the-trigger" excited as I am, GREAT.
In a moment I'll show you how to lock in everything you need… including the ticker symbol… company name… and how much you can expect to make.
If you're more of a "Careful Kevin," that's fine too… I'm going to prove to you step-by-step… in astonishing detail…
How today's genius company legally stole the secrets of the world's top 5 tech stocks…
Starting with Facebook:
Tech Catalyst #1: Facebook (FB)
The Network Effect
Could This Strange Picture Make You a
Tech Millionaire?
Remember when Facebook was something a coworker or friend casually mentioned?
Then the next day, all your kids were on it.
Then — practically overnight — everyone you knew was on it?
That kind of explosive user growth is "the network effect."
It's the secret that made Facebook the fastest-growing company of all time, according to Forbes.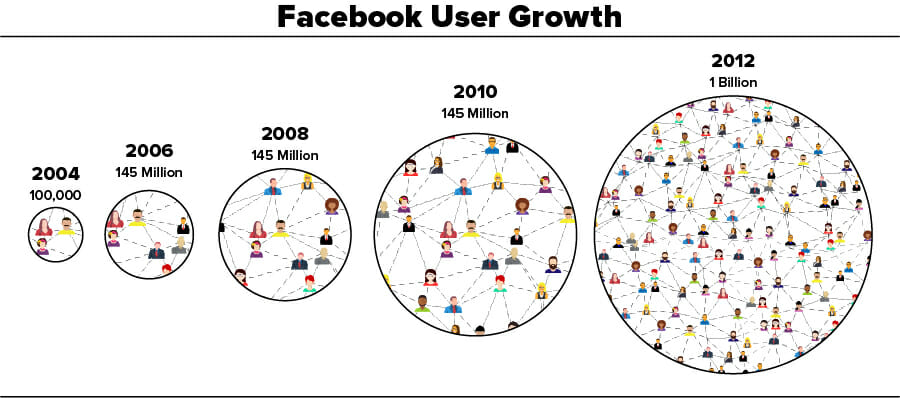 Now, this exact phenomenon is happening with today's stock.
In the past year they've doubled daily users.
150 million people use their product every month…
And now you can own a piece of this company while it's still cheap.
When the network effect takes hold of a stock like it did with Facebook, it's not hard to see how million-dollar fortunes are made.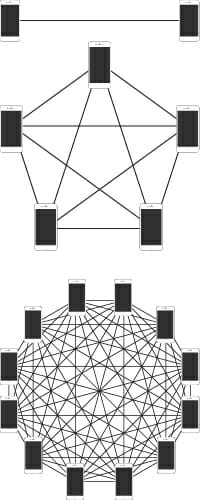 I'll prove it to you right now: look at this picture and tell me which network is the most valuable?
The one that connects you with:
1 person (top)
4 other people (middle)
Every person you know & anyone you ever wanted to meet (bottom)
You can see how obvious it is for yourself.
And how the bottom one — which looks like a beehive — makes the most honey.
I'll remind you, a $5,000 investment in Facebook in 2012.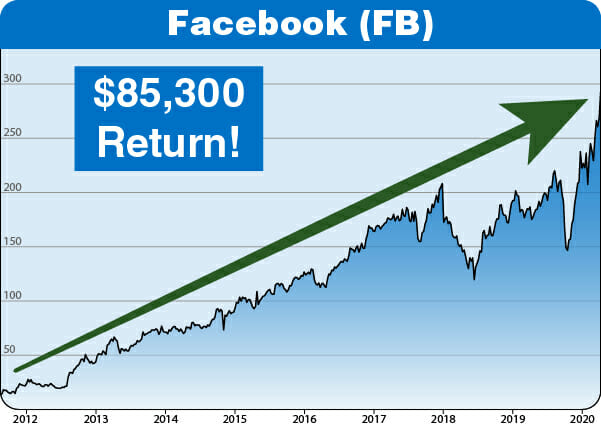 Would have spit out a giant tech payday of $85,300.
And now the same catalyst that made Facebook investors 17x their money…
Is quickly taking hold of today's stock.
One investor, thrilled with the "word-of-mouth" growth, said:

If you look at the numbers, "Excited" is a $300 million understatement, because:
These genius billionaires all bought Facebook when it was a college "dorm room stock"… and now they're ALL IN on today's "IPO" Stock
One glance at this All-Star investor lineup tells you..
This isn't hype.
Something BIG is happening inside this tiny tech stock.
Meet the "Facebook Billionaires Who Are
Gung Ho on this Tech Company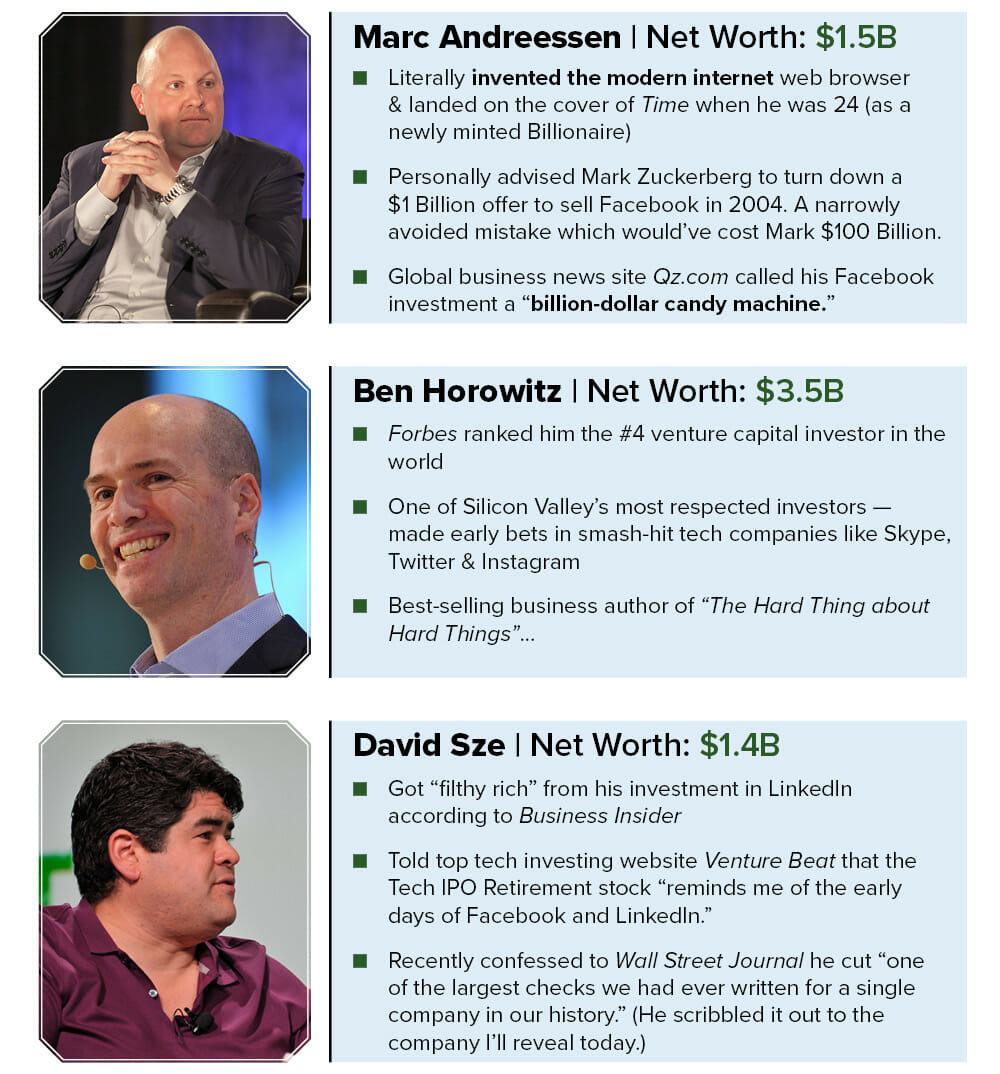 But here's the rub.
9 out of 10 times — the stocks these men invest in are closed to the general public.
So "Average Jims" like you and me, can't get in.
But that's the beauty of today's Tech "IPO":
You don't need a million-dollar "ante" to get rich in their high-stakes game.
Just an internet browser and a regular brokerage account puts you at the same table as these hotshots.
(I always tell my new Personal Finance members: "If you can follow the instructions on the brownie box, then this will be a cakewalk.")
Together these men invested half-a-billion dollars for 1 simple reason:
The smartest hedge funds in the world believe this little tech stock could be the next Facebook
If you're looking for that one stock capable of pouring a lifetime of wealth into your pockets.
Doesn't it make sense to follow the footsteps of someone who's been there?
These investors made BILLIONS on Facebook.
And out of the thousands of available companies — they've singled out today's stock as their next home run.
That's why I believe this rare opportunity could add $100,000… $300,000… even a million to your account.
I'm talking about the kind of money that lets you kick back every day, knowing your financial situation is bulletproof.
What would that mean for you?
A new level of unlimited freedom: to eat, travel, and enjoy life on your terms.
Whether it's a new RV to explore the National Parks… erasing the mortgage for good… or enjoying your favorite sushi every week, instead of every month…
That's all up to you.
But it could start right here, with this 1 stock.
And while this company is still unknown for the time being — this next "catalyst" is more than a century old.
Tech Catalyst #2: Netflix (NFLX)
Recurring "Rivers of Revenue"
How Netflix Stole a 126-Year-Old Secret from the "King" of Cash Flow
How, in less than two decades on the public markets…
Could one tech stock turn every $1… into $1,170… $500 into $585,000… and $2,000 into $2.34 million?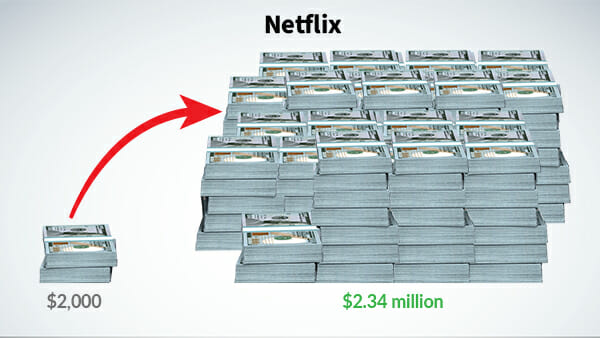 The answer is recurring revenue.
Netflix borrowed this secret from a man named King C. Gillette.
Even though Gillette's original idea was ridiculed and written off…
He quickly rose from laughing stock… to household brand… to multimillionaire.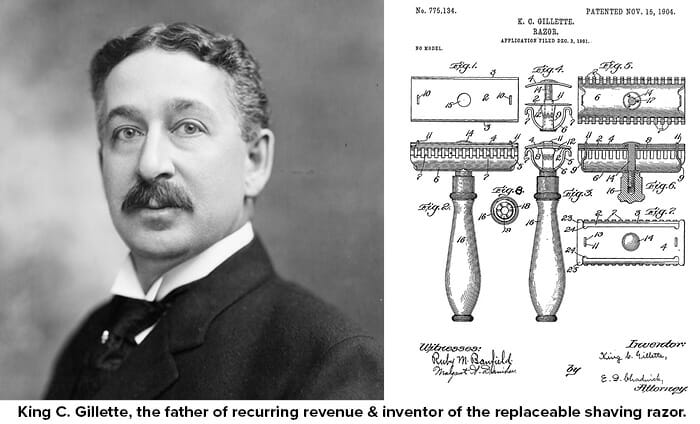 Now, more than a century later — his creation is probably sitting in your medicine cabinet.
Inspired by the disposable bottle cap, Gillette set out to invent a disposable product that would change the world:
The replaceable razor blade.
With this 1 move, he unleashed raging "rivers" of sales.
Because when his customers' blades ran out, they bought more.
This fueled a profit bonanza for any investor holding shares in his company.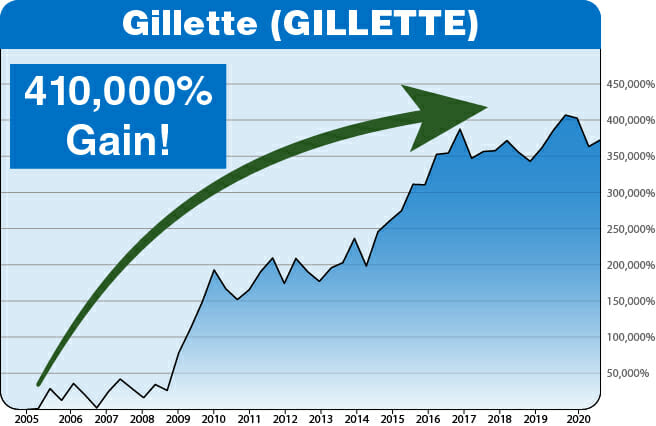 Incredible. A mere $500 invested in The Gillette Company when it first issued shares…
Would have grown into a staggering $2,050,000.
The equation is simple: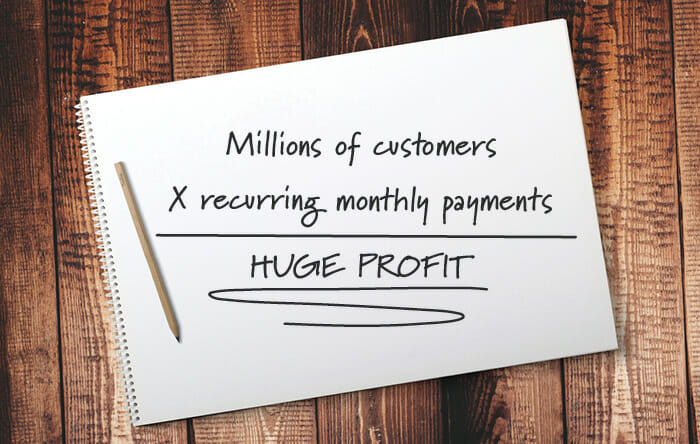 Now, history is repeating itself.
Netflix used this age-old secret to soar 146,185%…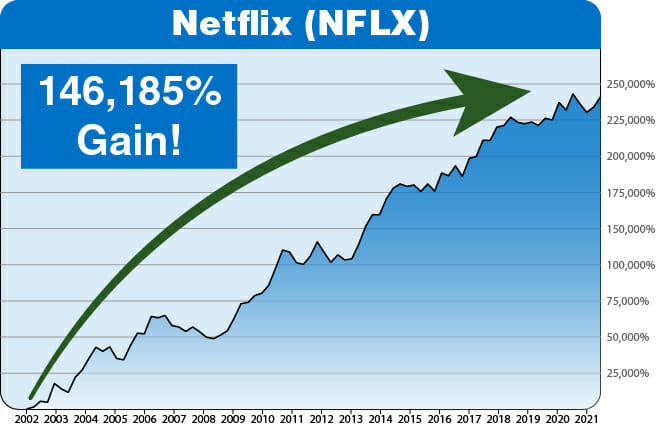 And today's stock is using the same secret to take investors to the moon.
Just like Netflix…
This company's members are spending money "on autopilot."
And last year alone, subscriptions helped them earn $1 billion in cash.
But it gets even better, because:
Instead of losing money like most companies that IPO…
This company is on track to produce $323 million in pure cash flow.
This is a key difference between today's stock & nearly every other recent IPO.
Many tech IPOs get slaughtered because they lose more money than they make
Take Casper Sleep, the online mattress company.
It's first day on the market, shares dropped 30%.
6 weeks later, it had plummeted from an IPO price of $15… down to $3.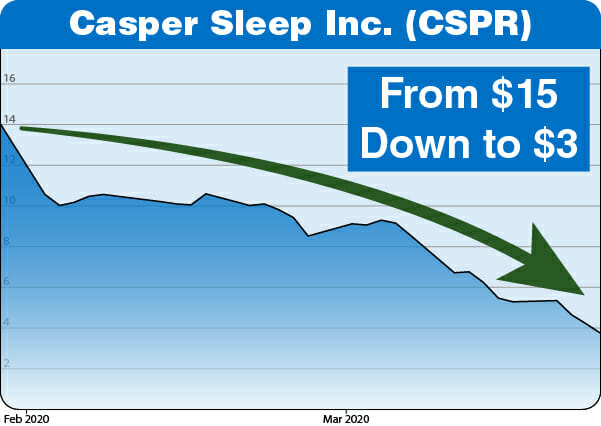 Forbes warned against buying "Casper, the latest money-losing IPO."
It was too late for many hopeful investors…
Lying bloody in the slaughter, they'd lost everything on Casper.
Another example is Sonim Technologies, the phone and tablet accessory company.
3 months after watching their shares hit $17…
Sonim was down to $3.79 per share.
Less than a year later, after declaring the negative profits were worse than anticipated…
It traded at just $0.63 per share. A devastating 96% loss.
Take these as warnings to avoid no-profit IPOs at all costs.
Especially in an era when Business Insider reports:

Unlike the no-profit "clunkers" who putter closer to bankruptcy every day…
Today's company started turning a profit back in 2015.
Last year their cash flow increased from $5.9 million to $292.6 million.
That's an increase of 48 times more cash!
It's why this "IPO" is in a different league entirely, and a virtually guaranteed win.
Because it's already banking massive profits.
This outstanding opportunity is a direct result of:
Tech Catalyst #1: The Network Effect
Tech Catalyst #2: Rivers of Revenue
Now let's turn to our third powerful catalyst.
And how this 1 simple move busted open a floodgate of new paying customers for today's company.
Tech Catalyst #3: YouTube
The "Freemium" Model
How cat videos turned every $1.65 into $300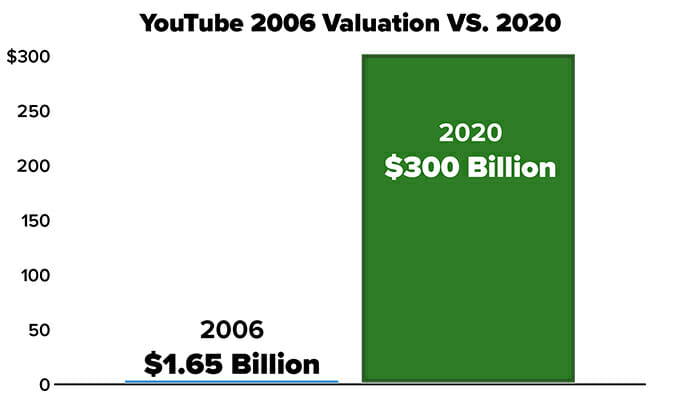 In 2006, Google bought YouTube for $1.65 billion.
Which, frankly, seemed insane at the time.
Now experts value YouTube at $300 billion — or 181 times more valuable.
Today, you can lock into what could be "the next YouTube" — or bigger — while it's still cheap.
See, every $500 worth of YouTube stock back then…
Is worth a potential $90,909 today.
Nearly six figures, from what started as a few hundred bucks.
Yet, stick with me, and you'll see why that's still a "small fry" estimate for today's stock.
Even though top financial news outlets are comparing today's stock to YouTube…
I still believe that's the understatement of the decade.
Because the real potential here is like the top 5 tech stocks of all time — rolled into one.
This opportunity wouldn't be possible without the 3rd "Tech Catalyst."
A page today's company tore right out of YouTube's playbook.
How the "Freemium" model helped EXPLODE YouTube's value 181 times over
The cute kittens didn't make YouTube investors rich.
It was letting people watch for FREE that did.
Because if you're going to make a stone-cold fortune in tech, USERS are the path to riches.
(That's just tech speak for "people who use the product.")
By letting users try its platform free, YouTube now reaches BILLIONS of people per day.
And if you've ever had a free sample at Costco, you know it makes sense.
This "Freemium" model is simple, but rarely executed well:
Step 1: Make your product free to try.
Step 2: Gain millions of new, excited users.
Step 3: Turn your free users into paying subscribers, by offering an upgraded experience.
(Steps 2 & 3 are the tricky parts).
YouTube mastered step #3 by removing ads… for a small monthly fee.
But get this…
EVERY DAY…
6 million more people use this new tech company's platform than YouTube.
Now that you know this company has:
Harnessed the network effect like Facebook…
Tapped into raging "Rivers of Revenue" like Netflix…
And stolen YouTube's "Freemium" model…
You're probably wondering what the heck they actually SELL, right?
The answer will shock you.
But to fully understand the profit potential — and how — among the largest age demographic in the world…
This company's product is being used by 3 out of 4 Americans, every single day…
You'll need to start by imagining an infinite library of content like that of YouTube or Netflix.
But also, a place where your friends can gather and talk. With a shopping mall a thousand times bigger than 'Mall of America' inside.
Is there even a word to describe such a thing?
Until this conversation I had with an 8-year-old, I didn't think there was.
What if I told you the BEST comparison for today's tech "IPO" isn't a tech company at all..
Because it's actually more like a
"Digital Disney World"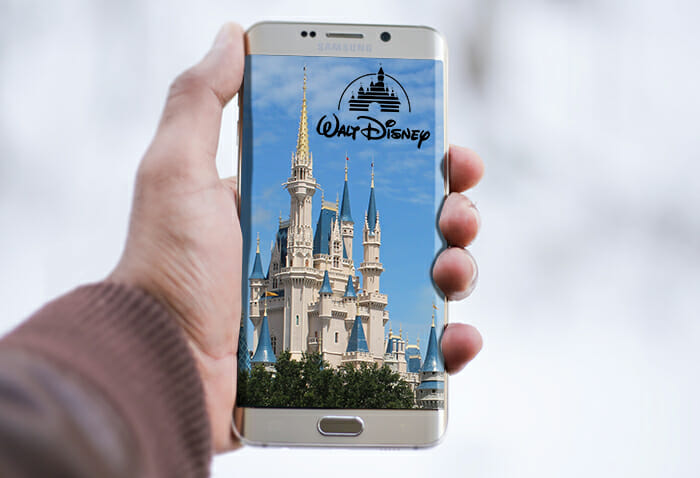 As much as I'd love to take credit for this "Trillion Dollar" idea…
My 8-year-old neighbor practically hit me over the head with it last week.
I know his parents, so when I saw Caleb sitting on a park bench, using this company's "app" on his phone — I asked:
"Hey Caleb, having fun?"
Eyes as wide as dinner plates, he looked up from the iPhone and said:
"Yeah! I just got a new cowboy hat & 6-shooter with my allowance money…
"Oh and tomorrow, me, Jackson, and Olivia are going to Rome. We're gonna make pizzas. Those are my friends from Denver and Fargo. That's in Canada, right?
Before I could answer, his phone buzzed.
"Oh sorry Mr. Pearce, the concert's starting. I gotta go!"
But he didn't GO anywhere.
Caleb simply put his headphones on, sat there & danced like he was front row at Madison Square Garden.
That's when it struck me, like a flash of lightning…
This wasn't a video game… a social network… a shopping app… or a streaming service…
This digital world is so fun, immersive &
real — it's everything we love about
DISNEY packed into a 24/7 online experience
Kids just can't get enough.
(And I can't blame 'em.)
Imagine if Disney created a NEW theme park so fun you never wanted to leave.
A place you could play & talk amongst friends… shop at real stores, with real money, even start your own digital storefront.
The way Disney made that world for us…
This company made a similar world for our kids & grandkids.
Only, you don't have to pack up the station wagon to go there.
Because this digital evolution is all in the palm of their hands, 24/7.
Incredible, no doubt.
But is this business model profitable?
Well, let's take a look…
Since Disney's IPO, it's gone on to return a whopping 2,782,825%.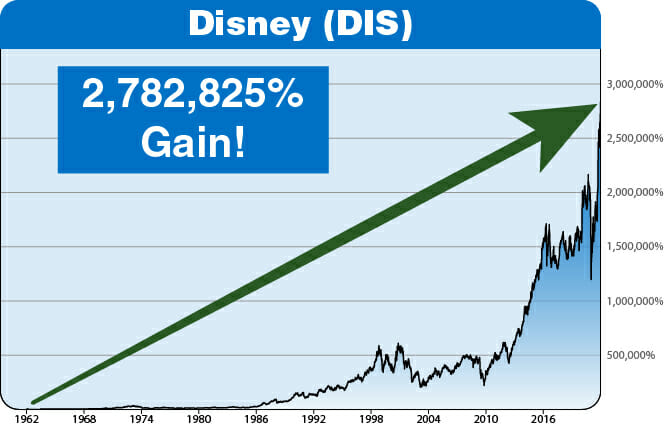 Talk about the flying carpet ride of the century.
Enough to turn every $100 into $2,782,924.
That's the power of creating an immersive NEW WORLD for your customers.
Look closer, and it's also a critical edge you have against virtually every other investor.
While Wall Street thinks it's just a video game… hedge funds think it's a social network… and others ignore it completely…
The "magic" here is much bigger. (The potential profits, too.)
Because the way this company blends together social interaction, music, movies, games & shopping…
Is a "profit cocktail" that, until now, only Disney knew how to mix…
And don't forget: it took Disney a CENTURY to do it.
But imagine this for a second:
Instead of spending years & billions of dollars to make movies & theme parks… what if someone ELSE:
Built it for you
For free
In a week
Sounds like a Disney Princess movie, doesn't it?
Except that's the "magic formula" behind another smash-hit company.
Who figured out how to do exactly this, back in 2003.
I'm talking about Apple.
Tech Catalyst #4: Apple (APPL)
User-Generated Content
Apple's #1 Success Secret
Wasn't the iPhone or Mac
(It's This "Free Money" Profit Machine)
Wall Street Journal calls it "Apple's Secret, but Very Large, Profit Center."
I just call it Steve Jobs' greatest innovation.
Lost beneath the hype of the iPhone, most people miss it completely.
What is it?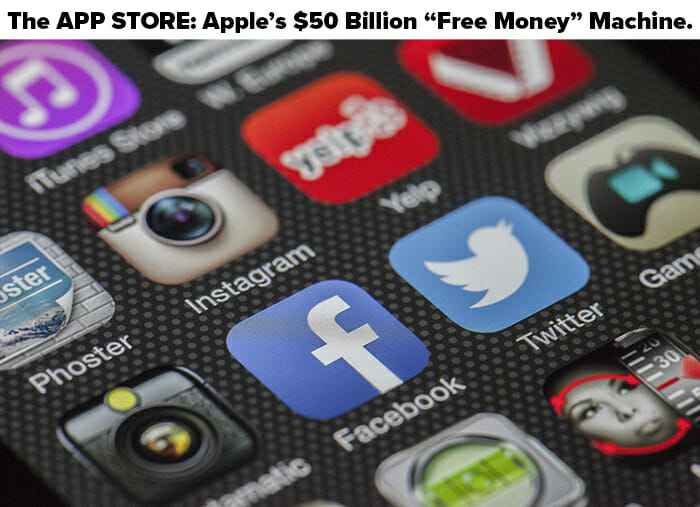 Steve Jobs realized that creating new "Apps" for the iPhone was risky.
Similar to how most songs never reach the Billboard "Top 40"…
MOST apps are duds that never make money
So it's impossible to tell what's a hit until after it's made.
(And after you've spent all that money making it.)
Rather than spend all of Apple's money creating this content, his "lightbulb" moment was this:
Steve Jobs made other people pay to create millions of iPhone apps
This masterstroke allowed Apple to rake in nearly $50 BILLION last year.
Helping transform it into a tech giant worth $2.29 trillion…
And — if you were lucky enough to get in early — turn your $500 into $515,500.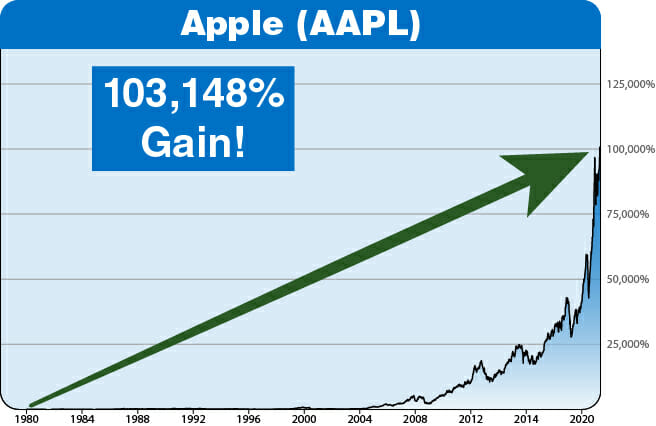 Incredible, but get this:
Today's company already has 20x more apps than you can find in Apple's App Store.
(A move that MUST have Steve Jobs grinning from tech heaven…)
They're borrowing this proven model — to build millions of little apps.
Each one an "online world" kids can safely explore.
But unlike Disney, who had to build its "world" from the ground up…
This company lets other people build it, for a cut of the profit.
Just like Apple!
Genius, isn't it?
Now I won't get too far ahead here…
But I simply can't wait to share the details of today's Tech "IPO" Retirement Stock.
I've put the name, stock ticker & every shred of money-making data — into an easy-to-read report you can claim in a moment.
It's called:
"Your 2021 Tech IPO Retirement"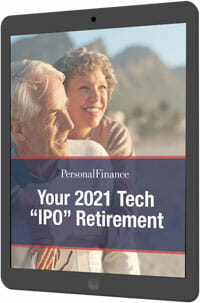 Only one tech "IPO" in 2021 is poised to grow into a trillion-dollar company.
Buying this stock could be like getting Amazon, Apple, Facebook, Netflix & YouTube — all rolled into one.
Because the 5 "Tech Catalysts" that turned those companies into household names (and ordinary folks into new millionaires)…
Are now "baked in" to the Tech "IPO" stock you'll discover in my special report.
I'll give you the full details of this no-brainer urgent recommendation in a moment.
But just so you're 100% certain on why I believe this is an absolute slam dunk investment…
I need you to flash back to April 11, 1997.
If you'd invested $510 in Amazon that day, shares would've cost you $1.73 a pop.
And now that Amazon blazed past $3,400 per share…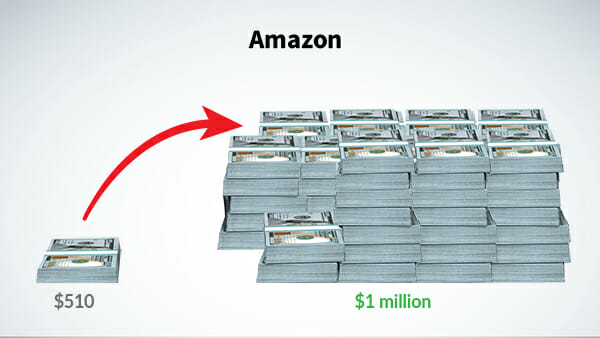 Your small stake would be worth a stunning $1 million.
None of that fortune would be possible, however…
Without THIS final "Tech Catalyst."
Tech Catalyst #5: Amazon (AMZN)
3rd Party Profits
The "Lazy" Way to $8.01 Billion per Week
Amazon changed the way we buy & sell everything.
And while I could talk all day about how Jeff Bezos is the undisputed King of Capitalism…
I'll quickly cover the final "Tech Catalyst" so you can take the next step with today's opportunity.
What most people don't know is: Most of what Amazon sells… other people make.
Amazon just takes a cut.
That's why I call Amazon "the LAZIEST company ever."
Market researcher Statista confirms that "3rd Parties" make over HALF of Amazon's sales.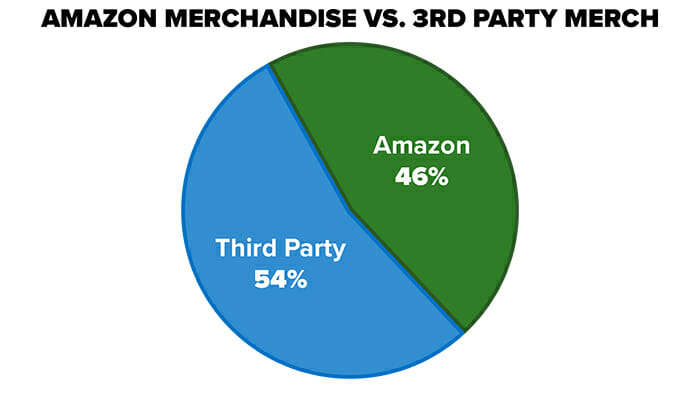 With an "everything store" like Amazon funneling $386 billion per year through its website…
Attracting the undivided attention of hundreds of millions of hungry shoppers…
You'd be a fool not to sell on their platform.
In real estate they say,
"Location. Location. Location."
If your store is online — Amazon is
the ONLY location that matters
The Tech "IPO" I'm sharing with you today is the most impressive online store I've seen since Amazon.
There's already more than 345,000 "shops"
Who made $250 million last year alone…
Selling digital products — on this "Amazon-like" platform.
This proven model let's others do the heavy lifting for you.
Lazy? Maybe. But admittedly genius.
Which brings me to another thing Facebook, Amazon & Apple have in common.
Jeff Bezos, Steve Jobs, Mark Zuckerberg…
Are all great leaders.
As for today's Tech "IPO" company? That's the final thing I'll break down.
The legendary CEO now has 15+ patents protecting his genius technology

From Minnesota-born engineer, to leader of 2021's top tech stock…
This company's CEO, who's first name is David, is the most underrated mind in the business world.
And he's been on a 30-year hot streak, with no end in sight:

Now he's stacked up 15 patents to shut out any competitors.
Yet, that isn't David's real genius.
His true masterpiece was taking a 71-year-old technology…
Spinning it into a "Digital Disney World"…
And cracking open a potential trillion-dollar market.
It's been right under your nose. A story that, as TechCrunch put it, "has gone mostly untold." Because if your kids aren't 8 to 12 years old, you've probably never seen what David's product looks like.

The worldwide pool of potential customers is a staggering 2.0 billion people.
Every day, the average user spends 3 hours on David's gaming platform.
When I say "gaming" — I don't mean video games. I'm talking about the online universe where kids can:
Chat with friends…
Engage in fun games & experiences…
Buy & sell digital products…
Build little "worlds" like online architects…
Start virtual businesses (one kid is making $1 million per year with his!)
If that sounds pretty out there, I hear you.
But even though Wall Street Journal called this stock: "The future of gaming."
That's just the tip of the iceberg with today's company.
And this is what Wall Street keeps missing:
When David graces the pages of history next to Steve Jobs, Jeff Bezos & Mark Zuckerberg…
He won't be remembered as an "online gaming" CEO (he'll be remembered for THIS)
Just like the world-shaping companies those men built, David did something equally groundbreaking.
In the same way…
Steve Jobs turned a computer company… into a trillion-dollar ecosystem of phones, tablets, headphones, apps & laptops…
Or Jeff Bezos turned an online bookstore… into an "everything store," advertising platform, pharmacy, subscription service & movie theater…
And Mark Zuckerberg turned a college social network… into an advertising platform, messaging service, photo sharing app, Yellow pages & virtual reality.
David baked all 5 catalysts of the best-performing tech stocks — into his one little-known company.
Shifting into a profitable category of its own, I'm convinced he'll go down in history as one of the tech greats.
Not 1 in 100,000 Americans knows who David is. Fewer know his company just hit the New York Stock Exchange.
That places you in a rare group of investors on the ground floor of a true phenomenon.
I've said it already, but let me repeat:
This stock could explode any day now.
If you're prepared to act, I'm urging you to make your move now.
It's the only tech "IPO" I've ever seen… to perfectly blend the "secret ingredients" of Facebook, Amazon, Apple, YouTube… and Netflix.
You can still stake your own personal claim in this company for dirt cheap.
So let's go ahead and wrap this up, ok?
Then you can decide for yourself if you're ready to get off the sidelines and ride this Tech "IPO" Retirement stock for all it's worth.
Look, I've been in the business a long time.
I've recommended hundreds of stocks…
But today's stock is the only "IPO" I believe could soar even higher than all 5 of these stocks.

As you're probably aware, opportunities like this don't come around often.
That's why time is of the essence.
Think about how rare & exciting it is to be alive to watch this 5-in-1 tech "unicorn" race onto the market before it becomes a household name
How much more special would it be to lock in your shares early?
Before they explode off the starting block like an Olympic sprinter.
Yet, I still know 99% of the people who read this message today will do NOTHING.
It doesn't matter how many facts I list showing this "IPO" is ready for takeoff.
It doesn't matter how many tech insiders I show, who built their billion-dollar fortunes on tech IPOs, are piling into this stock at breakneck speed.
It doesn't matter that we accurately predicted monster tech profits on companies like Google, Amazon, Apple and Microsoft years ago.
Because for the 99% of people who do nothing… logic doesn't matter.
They're slaves to their emotions.
Controlled by fear.
Yet that bold 1% that do take action?
They listen to the facts, and hit "mute" on the fearful voice in their head that wants to sabotage their best life… and then… they go for it.
Today, you have a chance to go for it as well.
To be in that action-taking 1%…
On the ground floor of the Tech "IPO" stock that we can all agree will be the #1 wealth-building opportunity of the decade… if not the century…
If you act fast.
Or, your other option is to ignore this opportunity.
And a few weeks from now, when you see it on MSNBC — the feeling of missing out on a stock that could've funded your retirement — will sting like heck.
Because today, just 500 people can claim immediate access to my full research report on everything you've heard about today.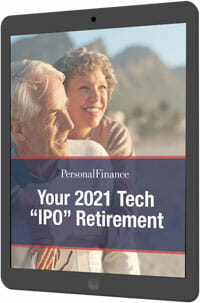 It's called Your 2021 Tech "IPO" Retirement and inside, you'll get all the details on the tech company poised to hit the New York Stock Exchange like a hellfire missile.
You'll get the ticker symbol of the company…
Full guidance on the precise time to buy your shares for maximum profit potential…
And exactly how much to pay for your shares, down to the penny.
All spelled out in simple-to-follow steps that are an absolute breeze.
Even if you've never invested before…
Even if you've lost money in the past…
Even if you don't know the first thing about IPOs, or you've never touched a tech stock.
However, if you do want to discover more about this explosive company… how much money is at stake… and just how big they could get… all my research is also laid out for you…
In plain, easy-to-understand English.
Which you can flip to when telling your friends how you made your "IPO fortune."
(Or your boss when you walk into his office and tell him you're retired.)
Keep in mind: this isn't the first time our Personal Finance members had the chance to retire on a single tech stock.
We've picked 3 of the most profitable tech stocks of the past decade
This "inside peek" at the Personal Finance archives reveals exactly what our members saw.
(And a backstage look at the opportunities you'll have a shot at when you say 'yes' to this "IPO" opportunity.)
A few years back, we released a small article about a rising tech company: Google.
When it was first recommended in Personal Finance, you could've picked up shares for just $158.
Here's the alert our readers saw: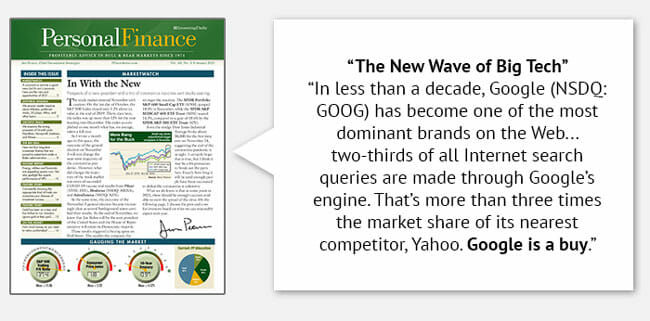 Today, Google has passed $1,800 per share.
Investors who moved on this could've made a killing.
But that pales in comparison to when we recommended Amazon.
It's hard to believe, but it was trading for less than $70 per share when this alert went out: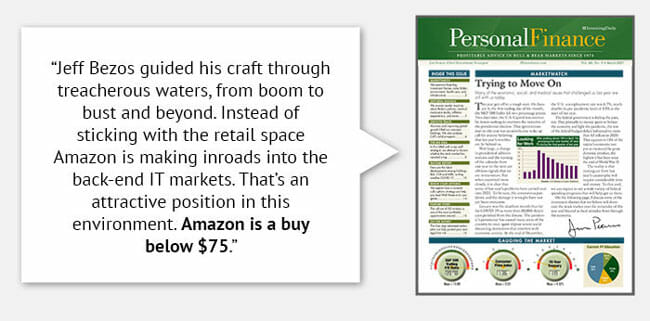 If you'd bought 500 shares at $68…
Today, those shares would trade 49 times higher…
You'd be sitting on a $1.7 million fortune…
From one stock.
Still wondering how a single tech stock could change your life?
This is it.
Then in 2009, when everyone was running around like headless chickens…
The recommendation we made on Apple could have put you on track for a swift retirement.
Here's a snippet of our research: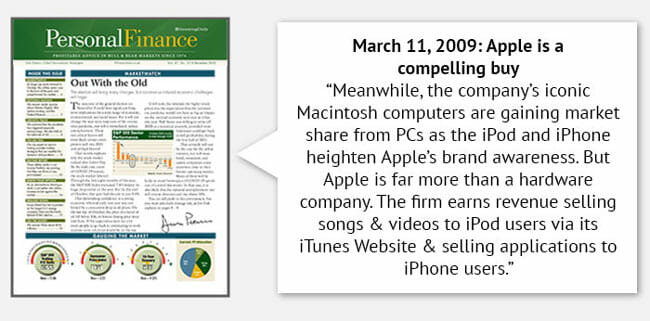 Apple was trading at just $3.31 per share at the time.
Today, it clocks in at north of $132 per share. That's 40 times your money from a single tech stock.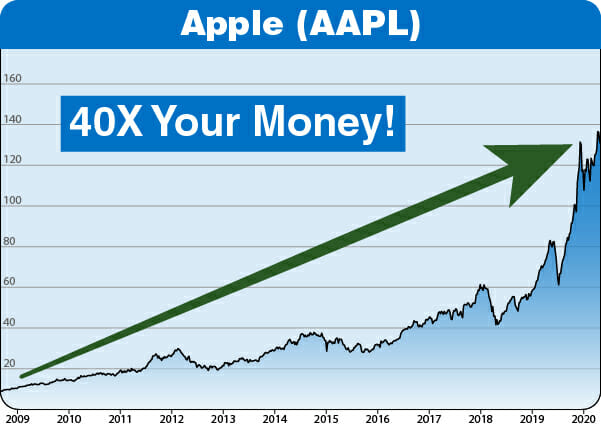 It's clear as daylight.
Take a position in the right stocks, and you'll walk away with a dream retirement.
Now, I know this is a little personal, but I have to ask:
What would life be like if you never had to worry about money again?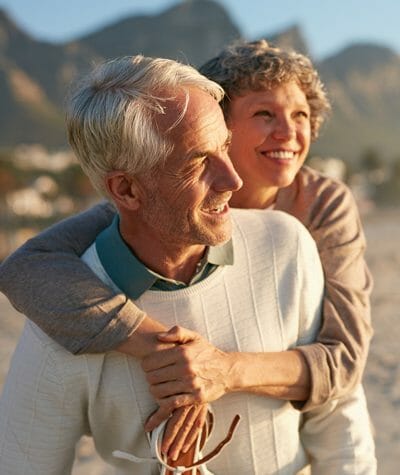 You've seen the proof of what's possible when you invest early in tomorrow's tech winners.
Put the numbers aside for a minute, and try to visualize what a massive payday would mean to you.
Would you cut a big check to your favorite local charity?
Finally buy a lake house for the family?
Could you pay off a mortgage, or put someone through college?
Maybe you'd buy a new set of clubs to go with your new Country Club membership.
Maybe… you wouldn't change anything. And kick back with the comfort that comes from realizing you can handle rain, shine, or any financial curveball life chucks your way.
For me, it's enjoying a nice cigar on my patio, and spending time with my 29-year-old twins…
Knowing neither of them will suffer if they fall on hard times.
I don't pretend to know your personal goals, but I'll tell you this:
Today's Tech "IPO" Retirement Stock could
start to make all that a reality — not decades
from now — this year in 2021
It all starts right here.
I've included all the urgent details of this stock in my new report: Your 2021 Tech "IPO" Retirement Stock.
My publisher has very conservatively priced this report at $249.
However, if you're one of the first 500 people to step up and accept my offer today…
I'm prepared to hand this valuable guide over to you right now… absolutely FREE.
Over the years, Personal Finance has recruited the best of the best into our group.
We pull in top gurus from every market sector, so you can beat the S&P 3x or even 5x in bull markets, bear markets, and everything in between.
Not only with tech and IPOs, but with highly-stable income investments… pharmaceuticals… energy… biotech…utilities and many more.
Personal Finance has something for everyone, and you gain access all of it (and more) the moment you join.
But I won't stop there.
I've also discovered a special "two-minute trick" that has the potential to 10X your profits on any stock coming your way as a member of Personal Finance.
My wife thinks I'm a little crazy for wanting to "put a jet engine on a Ferrari."
But hey, I can't fight what's in my nature. I'm including this this "weird strategy" in your first special bonus.
Bonus Report #1:
The 1,000% Cheat Code: How to Score Ten Times More Profit on any Stock (Value: $199)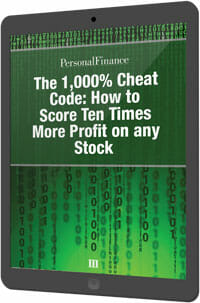 Years back, an elite group of 'delta traders' I worked with were making a stone-cold killing with this strategy. I became friends with one, and we swapped strategies over sandwiches for years. Eventually, once I'd gained his trust, he shared this secret with me — a simple 2-minute "Trick" that lets you:
Buy any stock for PENNIES on the dollar…
Score up to 10x more profits than "buying and holding"
Get in… and cash out days or weeks later (instead of years).
When you've been in the business as long as I have, these little "tricks" become second nature. Except most investors have no clue this exists!
With all the false information out there, that's no surprise. So I created this special free report to grab up to 10X MORE PROFIT on every stock pick. Oh, and it should go without saying, but yes — this is 100% legal.
The only way to claim the report (along with the explosive Tech "IPO" play we've just discussed), is by joining Personal Finance today.
Bonus Report #2:
The IPO Profit Calendar (Value: $179)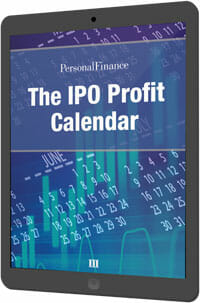 The 2021 IPO frenzy is thrusting more tech companies public than I've seen in decades. Forbes reported: "Just how many millionaires these IPOs will create is hard to predict."
This unprecedented flurry could make your head spin… unless you know what's coming. I created this special profit calendar, so you have breakdown of:
When we predict a company will go public with an IPO
Who the company is (stock ticker & company name)
Where it will list: New York Stock Exchange or NASDAQ
How High we expect the profits to go
Now you'll be able to "see the field" in advance, so no IPO catches you flat-footed. The look on your family's faces when you predict these new offerings with prophet-like accuracy… will be priceless.
BONUS Report #3:
Your 1 Move for a Triple Surge of Streaming Bucks (Value: $149)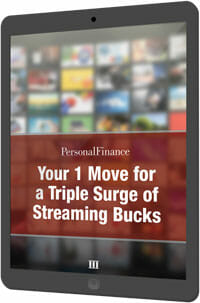 The great streaming TV war has just begun… $1.1 quadrillion is at stake… and now you could pocket as much as 21 times your money from the hidden winner of "World War Stream."
The winner is not Netflix, Amazon, Disney+, HBO Max, or Hulu. In fact, it's not a traditional streaming company at all — the secret is in the "play button."
When you watch a Netflix show, the video must pass through a complex network of "digital pipes"… like water before it comes out of your faucet.
But as COVID forced people indoors… and streaming hours skyrocketed to billions… the sheer volume of data threatens to burst these "digital pipes" and day now.
We've sifted through thousands of domestic & international companies to uncover 3 stocks set to fix this "plumbing" problem… save TV… and turn every $2k into a potential $42,980.
You'll discover 3 stock names & tickers, plus easy-to-follow buying instructions — all inside this special free report if you join Personal Finance today.
All 3 of these reports are yours today, a $527 value. You won't pay a cent for any of them.
Consider it my "thank you" for trusting me to show you today's stock & many others coming your way inside Personal Finance.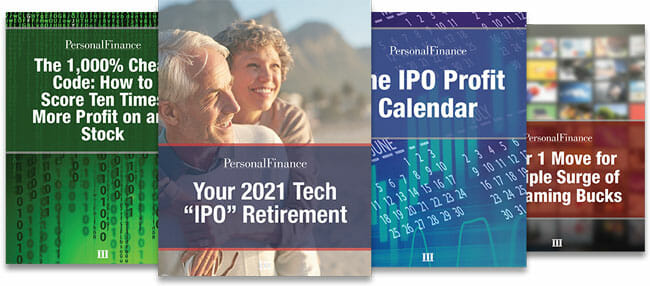 With more than three decades under my belt as a professional money manager, stock research analyst, and one of the country's top stock pickers, I know these valuable free resources will kickstart your most profitable year on record.
(And make 2020 a distant dream.)
If You're Wondering Why We're the ONLY Stock Investing Service We Know of Going Strong for 47 Years, Here's the Answer…
Most of these fly-by-night services hang around a few years at most. A decade is almost unheard of… but us… we've been on top for over 40 years.
We've created a system that actually works to produce a steady stream of groundbreaking high-growth stocks… paired with reliable income opportunities.
That's how we're able to bring our subscribers highly-lucrative opportunities, rain or shine — no matter what the market is doing. A track record that dates all the way back to 1974, when Personal Finance was founded.
It's no wonder thousands of satisfied subscribers are singing our praises…
But don't just take my word for it… because you can hear it from them yourself.
Countless Success Stories
Take Glen Carson, a loyal Personal Finance reader, and a multi-millionaire: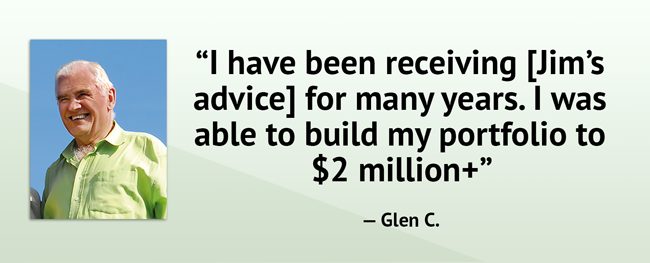 After 15 years of reading Personal Finance, John Stanley hasn't lost money once.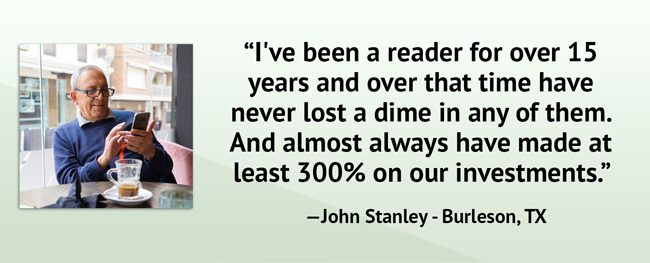 Maynard Frederick doubled his money: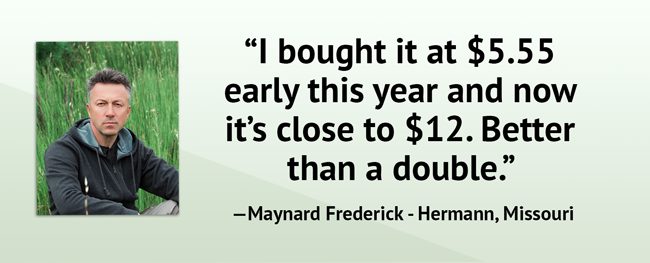 And Gary Johnson doesn't regret ditching his broker for a minute: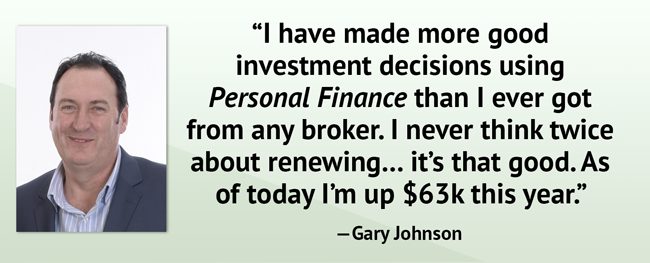 I lost track of how many emails like these I've gotten over the years…
But no matter how many it is — the one thing I can tell you about each of them is…
It's humbling.
Now of course, the exceptional results these investors achieved is never guaranteed. But none of these investors achieved success by twiddling their thumbs & not acting.
The easy-to-follow resources inside Personal Finance make it effortless to leap into action on the hidden opportunities like today's Tech "IPO" stock.
You're so close.
With a few more clicks, you can be a part of the Club — enjoying all the privileges it includes
Join Personal Finance today, and in addition to the $527 in bonus gifts I've included, you'll also get:
Monthly Personal Finance Issues
Every month, you'll get a 16-page issue of Personal Finance. Inside, my team will deliver the real picture on what's currently happening in the markets. Then we'll give you opportunities which can safely multiply $1,000 into $4,312… $11,877… and even $20,264. You're guaranteed to find a number of exciting new money-making ideas in every issue.
12 Mid-Month Position Updates Over the Next 12 Months
I don't just hand you great stock ideas and let you figure it out on your own. I'm with you all year round, helping you navigate the exciting world of wealth creation. You'll hear from me every single month with an update, or new idea, so you can stay up to date on market changes and open stock positions. These alerts will come straight to your email.
Password-Protected Access to the Members-Only Website
Everything is housed here… our current model portfolio, past recommendations, stock alerts, videos, income calculators, and more. Once you join Personal Finance, this website is your home base for everything profits related.
Direct Access to My Team
Have a specific question about we find the market's juiciest hidden winners? Please, ask away. Every month, my team and I take questions from my members on all sorts of investment and stock-related topics. I'd love to hear from you. I can't give personalized investing advice (the government frowns on that), but I'm happy to tackle virtually anything else you want to know.
Flash Trade Alerts to Your Email
When it's time to make a move on one of our stocks. Or a new, high-urgency opportunity appears — you'll get a flash alert email. It tells you exactly what to do. You can even make these easy trades from your smartphone or tablet.
Fully-Staffed Customer Care Team Dedicated to Your Success
I guarantee that none of the moves we make in Personal Finance are complicated. But if you ever need assistance, I've arranged for you to have a human touch whenever you need it. Simply contact your VIP concierge team with any questions you may have about your membership at any time. They are highly-skilled, English-speaking & ready to pick up the phone or reply to your email (M-F during market hours). Your VIP representative cannot give personalized trading advice, but they can assist you with any membership inquiries.
VIP Investor Reports:
Including, "Outrageous Drug Profits" "How to Buy Stocks at a Discount," and "Loser Investments to Sell Now."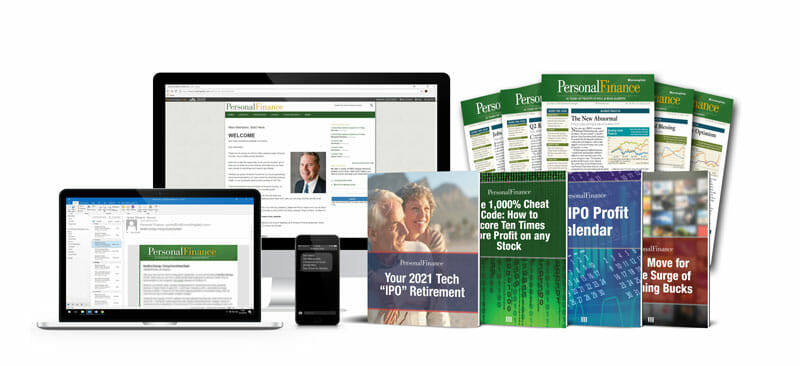 You'll unlock all this and more the moment you join.
Listen, I've sat across from thousands of investors in my 33-year career.
Many went from rookies to brand-new millionaires after working with me.
Not one of them got there by sitting it out on the sidelines.
I understand you might not have known me before today, and therefore it's fair to want to see a more comprehensive track record.
Personal Finance has been dealing out
giant gains like 4,322%… 499%…
536%… 343%… and 418%
A few of our open trades include:
4,322%

on Verizon

149%

on Abbvie

4,221%

on Chevron

224%

on Best Buy

536%

on Discover Financial

211%

on NextEra

159%

on Logitech

316%

on Target

499%

on Buffalo Discovery

133%

on Fidelity New Markets Income

343%

on Honeywell

100%

on B2Gold

155%

on BHP Billiton

418%

on iShares Russell 2000
As you can see, Personal Finance consistently churns out highly-profitable stock recommendations.
Across our portfolio the average pick is up 175%. Including the few picks that are negative.
That's 1,000% higher than what the S&P 500 returned last year.
Given that, you might think I've gone ahead and priced it out of your current reach.
Well, I think you're going to be pleasantly surprised at just how affordable I've been able to make everything today…
And by affordable, I mean it. Just $149 for a full year.
In the wealth management industry, you won't find a deal like that anywhere in America.
Clients paid tens, even hundreds of thousands of dollars for a year's access to my investing ideas.
And when I eventually hear from them about the success they've had and how they're now spending their time, I realize we could have charged much more for my service it still would have been a bargain.
But again, my own compass has taken me away from the elite…
To now showing regular Americans how to score life-changing profits with every recommendation in Personal Finance.
For you, it all starts with today's Tech "IPO" Retirement Stock.
And don't forget my goal with this stock isn't for you to add a few thousand bucks to your portfolio.
I want this stock to pay for your retirement.
Yes, whether that means $200,000, $1 million, or $5 million.
And because I want to make sure everyone gets a shot at today's "IPO" profits, I've negotiated an even better deal for you with my publisher:
When you join Personal Finance right now— you'll lock in your risk-free subscription for just $39.
I'm talking about a mere 11 cents a day.
Barely more than a dime.
Something you could lose every day in the seat cushions of your couch and not even think twice about.
But I've also put together one final resource to make this the ultimate no-brainer decision for you.
And when you join today — I'll show you how you can also grab these 2 extra bonus gifts.
Together, these 2 trades could help you add $200,000 or more to your net worth in the coming months and years.
First Added Gift Today:
AI Riches: How the Artificial Intelligence Revolution Could Hand You a $175K Windfall (Value: $139)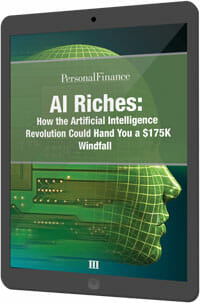 Before you blink, this market will be 10 times bigger than the U.S. Automobile industry.
Move on these world-changing artificial intelligence (AI) stocks now for a potential $175,000 payday…
Game-Changing AI Stock #1 — The Space Force Secret Weapon
The U.S. Space Force will do anything to dominate China & Russia in space. But this demands state-of-the-art satellite and robotics technology to predict attacks before they happen. Multiple government agencies have paid $100+ million EACH to hire this AI defense company. The stock is up 63% already, but it's still lifting off the launchpad — get in now.
Game Changing AI Stock #2 — AI "Lego World"
This company gives data engineers the virtual "blocks" they need (like Legos) to build smart software, so they don't start from scratch. An exponentially more efficient way to build "self-learning" computers. This stock just tripled in value — but there's still time to get in. Even after that explosion, it's still worth just $1 billion, so there's plenty of upside left — urgent buy.
Game Changing AI Stock #3 — The $4 Miracle Doctor
When fighting cancer, radiation can be worse than the disease itself. That's because radiation beams flare out of control, damaging healthy organs. This tiny company is using AI to focus radiation beams with pinpoint accuracy — to safely destroy cancer. The stock could quadruple very soon, but it's still just $4 (buy now).
Plus, you'll receive one last bonus report my team just finished…
Second Added Gift:
The Virtual Landlord: How to Get Rich on Real Estate Without Owning Any (Value: $119)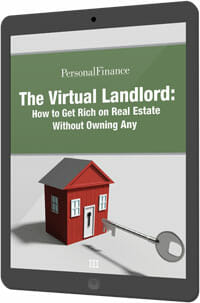 Everyone rich owns real estate. But as property values go from inflated… to bat**** insane… few have the resources to become a rich landlord.
This new "backdoor" investment is perfect for people who want to own property in New York, Hawaii, Los Angeles, Seattle, Nashville, and more — without the cost or complexity of buying real estate.
We've put together our latest report, "The Virtual Landlord: How to Get Rich on Real Estate Without Owning Any."
These additional bonus gifts are valued at $258, but today they're yours free for joining Personal Finance.
Altogether, that's $785 in additional free money-making gifts… on top of your annual membership to Personal Finance.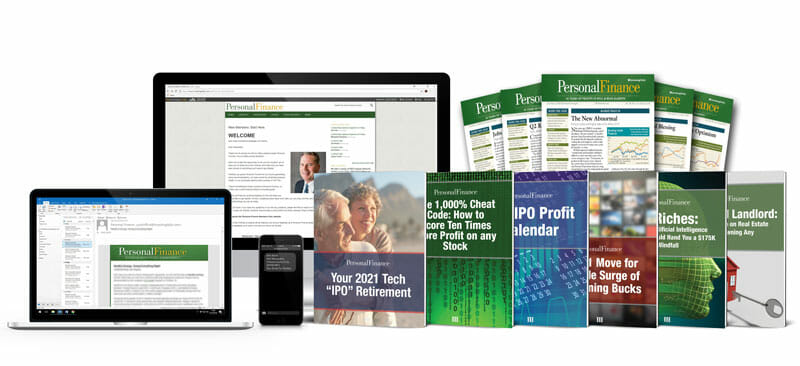 I'm pulling out all the stops in order to help you get as much out of the stock market and into bank account as humanly possible…
And on top of that: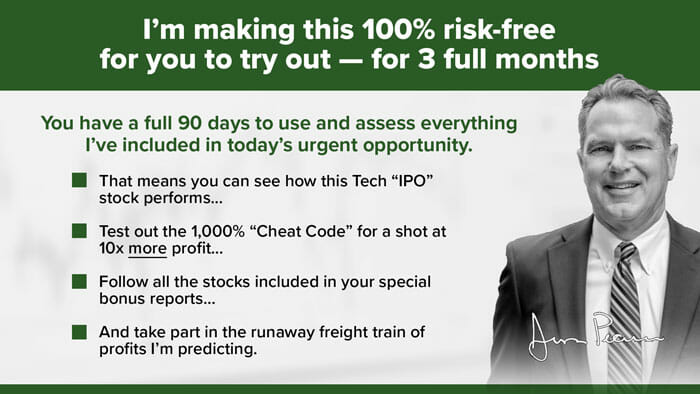 And after all that…
If anytime in the next 3 months you aren't 100% satisfied with your Personal Finance membership — just call or email my support staff, and you'll have every penny refunded.
(Even if 90 days have passed and you find yourself unhappy, we'll still have your back. Just let us know – and we'll refund the unused portion of your subscription.)
No high-pressure hassling, no "but tell us why," or store credit.
Just a polite and complete refund of your full subscription fee.
If that sounds like a dream-come-true, you're not wrong.
Frankly, at this point, I'm out of ideas.
I don't know how to make this offer any better!
This Tech "IPO" Retirement Stock is the single best opportunity I've seen in my 33-year career.
The sharks who joined "Billionaire's Row" with Facebook know something big is coming…
That's why I believe they're "all in" on this stock.
Again, it could be like buying the best 5 tech stocks of all time — rolled into one.
But as a final warning I'll repeat…
Waiting just a few extra days or weeks could mean missing out on hundreds of thousands… even millions of dollars.
You saw how hesitating on Netflix could've cost you over $1 million.
Which is why it kills me when I hear someone say:
"Right now isn't the perfect time, let me sit on this until next week."
Then, next week turns into next month…
Into next year…
Into… you guessed it… never.
Please don't look back months from now and regret this same mistake. Click the button below now to lock in this historic opportunity.
Stocks like these just don't come around often.
When I bought Apple, it took courage to quiet the butterflies in my stomach and take action.
But I ponied up and bought the stock anyway. I consider that one of the best investment decisions of my life.
Today, you could achieve the same thing.
I can't wait for you to feel what that's like.
For most of the people you know – your neighbors, your friends, your coworkers – the uncertainty has reached a breaking point.
You can be the voice of reason for them…
You can show them that it is possible to have freedom and control…
You can even show them how to invest with confidence too.
What a powerful position to be in. Especially with a future less predictable than ever… and especially when today's big discount means you can join for less than the cost of a single tank of gas.
It's time. Click the button below now, and you'll be in that position within minutes.
Thank you for your time today. I look forward to welcoming you as a member of Personal Finance.
Sincerely,


Jim Pearce
Chief Investment Strategist
Personal Finance
P.S. You've already read the stories of a small handful of Personal Finance readers who hit it big with my stock research.
And while I couldn't possibly include all the notes from our satisfied members here today…
I'd still like you to hear from a few more readers of Personal Finance: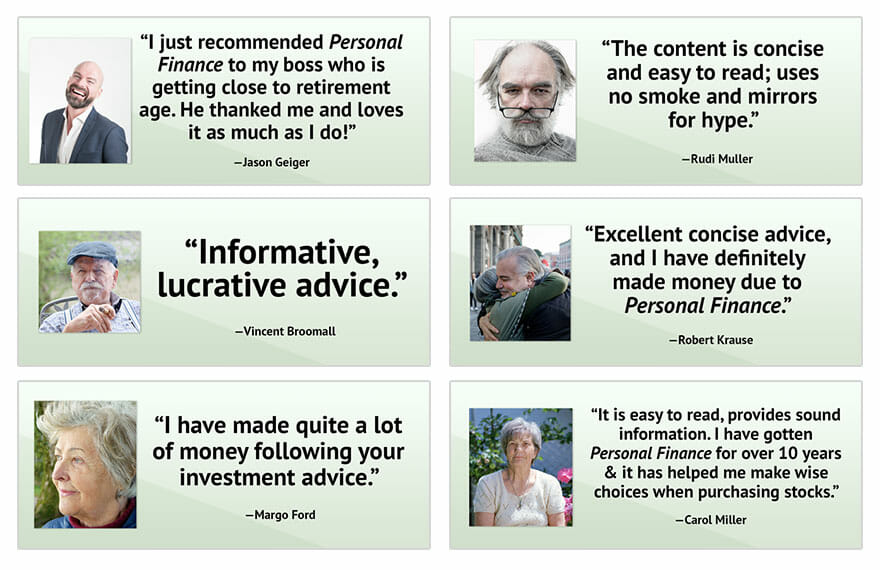 Keep in mind none of these people are the wolves of Wall Street or the toast of Silicon Valley.
They're ordinary Americans just like you.
Their backgrounds & experiences vary, but they all share a few things in common:
The willingness to take action.
And the courage to take control of their finances.
I hope you'll trust your gut today — and do the same by clicking the button below right now:
Copyright © 2021 Investing Daily, a division of Capitol Information Group, Inc. In order to ensure that you are utilizing the provided information and products appropriately, please review Investing Daily's' terms and conditions and privacy policy pages.