We Just Launched An Exciting New Level of Personal Finance
"If you like the profits you're getting from Personal Finance now… you're going to love what I've got in store for you next!"
– Jim Pearce
Get the full story below…
Dear Reader,
Hi, Jim Pearce here.
We've just made some MASSIVE changes to Personal Finance…
And I couldn't be more excited!
After all, it's not often that you get the greenlight to tinker with a formula that's been pumping out profitable trades since 1974…
One that's helped readers successfully navigate some of the worst financial disasters of our time, including the dotcom crash and the Great Recession…
One that has them sitting on gains like…
109.20% from Aecom
319.02% from Honeywell
635.58% from Discover Financial
1,516.35% from Verizon
And a whopping 3,337.62% from Chevron
And one whose average return across all open positions — including the few that are in negative territory…
Is an eye-popping 132.25%.
Talk about standing the test of time!
How do you improve on performance like THAT?
Well, that's the exact question my publisher dropped in my lap during our last meeting.
And it only took me a few seconds to land on the answer…
More Profit Opportunities
Because as impressive as our track record at Personal Finance might be…
The one thing we hear more than any other from readers is that you want MORE money-making opportunities.
That makes sense.
Especially since we only release a handful of new recommendations each year…
With the intention to hold each one for the long haul.
Heck, some of the trades in the Personal Finance portfolio have been there for decades…
I'm not apologizing for that either.
I mean, would you really care how long you hold a stock if it gives you a shot at making nearly 16x your money?
Which is exactly where our Verizon trade sits right now… up 1,516%.
Think about that for a moment — anyone who plunked $5,000 into Verizon when we recommended it…
Is sitting on $75,800 right now.
And Verizon isn't even our biggest long-term winner.
That honor goes to Chevron — which is up 3,337%.
This energy giant has given readers the opportunity to multiply $5,000 into a staggering total return of $171,850!
Or put another way…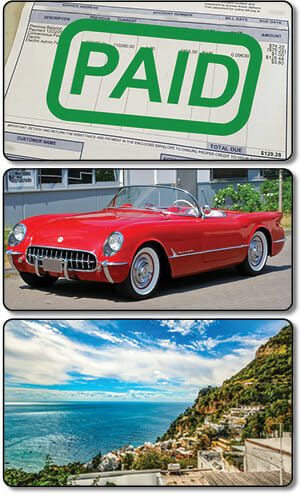 It's a trade that could've paid your bills for years…
Bought you a 455-horsepower cherry-red Corvette…
And even funded a dream vacation to Italy's Amalfi coast.
So yes…
It's clear a conservative buy-and-hold approach can help you build tremendous wealth when you pick the right stocks…
And have patience.
But at the same time…
Finding stocks you can hold for the long haul means we're only scratching the surface on the number of profit opportunities available at any given time.
It also means we've been ignoring some insanely lucrative corners of the market.
Opportunities that will give your portfolio a boost of one of the most crucial keys to increasing your wealth…
Velocity.
I know that using a term from a high school physics class while talking about your investments might seem a bit odd… but hear me out.
Because the simple fact of the matter is…
Velocity is nothing more than speed with a direction.
And since some stocks are like coiled springs…
Getting in as they're taking off…

Then getting out near the top…
Gives you MORE shots… to make MORE money… MORE often.
And that quick leapfrog action is what creates the kind of velocity in your portfolio that can really add up.
Now before I go any further…
I need to be crystal clear about something.
I am NOT talking about day-trading stocks here.
We'll leave that to the "kids" who believe Reddit is a legitimate source for investing information.
When I say quick…
I'm talking about weeks or months… not minutes.
If you're looking to make money faster than that…
This is where we should part ways.
Because that's not what the new level of Personal Finance is all about.
But if you're smart enough to understand that the more investments you stack on top of each other that shoot up 39.16% in six months like Caterpillar did…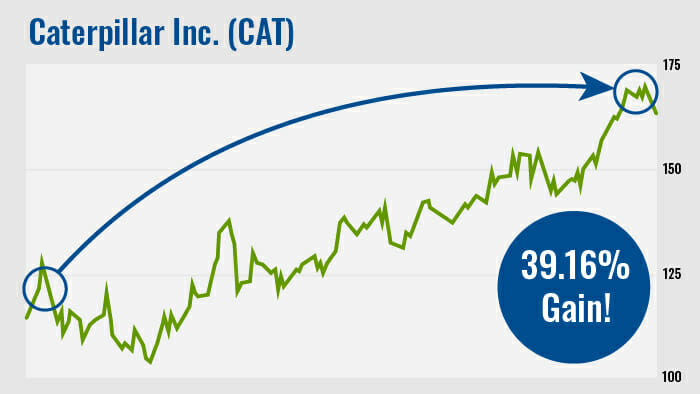 55.10% like the tech fund XLK did…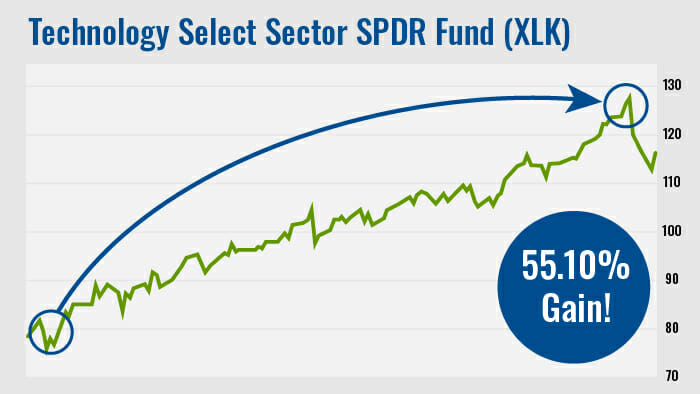 75.17% like Amplify Lithium and Battery Technology (BATT ) did…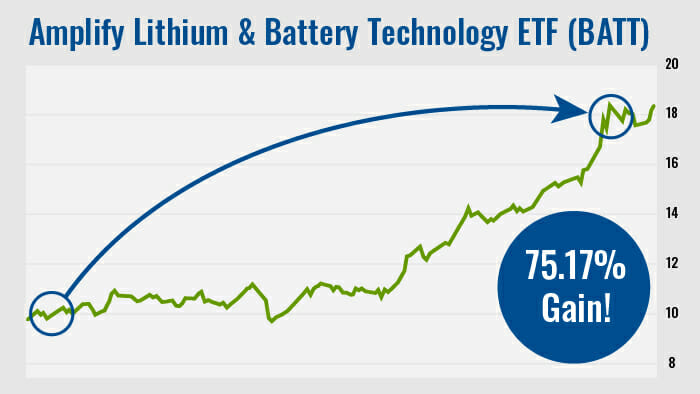 Or even the 129.02% that Logitech exploded for…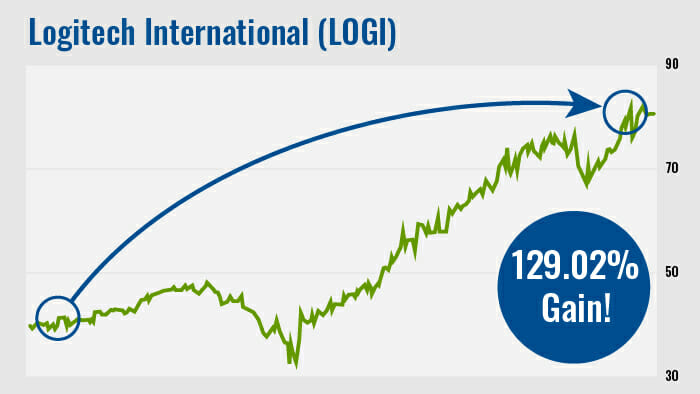 Could lead to a king's ransom…
Then you'll love what I'm about to show you.
Because…
I created a tool that lets me pinpoint MORE lightning quick profit opportunities…
MORE often
One that I believe is unlike anything else you've ever seen…
It's also a tool that won't be available to anyone else…
Not even existing Personal Finance subscribers.
You see…
I'll only be sharing the trades it pinpoints inside my new advisory, Personal Finance PRO.
Three times a month I will give you the important details on AT LEAST one new trade…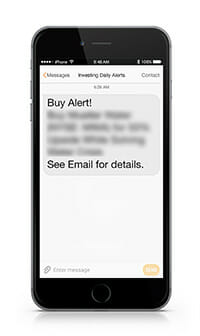 I'll reveal what's going with each opportunity…
Why it's important to act NOW…
How to make the trade…
And most importantly…
The profits you can expect.
Before I show you how to lock in your shot at tripling-up the number of profit opportunities you get from me…
Let me share with you how my proprietary PRO system works.
Because once you understand how it zeros in on these profit opportunities…
I don't think I'm going out on a limb when I say…
You'll never want to invest
any other way again
Look, I know there's a ton of "gurus" out there…
All claiming to have the perfect investing tool.
And if you're like some folks I've talked to…
You looked at a few of these so-called "solutions" and realized they were so hopelessly complex…
You couldn't figure out how they worked, even in a month of Sundays.
Or worse still…
You let the fear of running out of money in retirement push you into taking a leap of faith with one of them…
A move which ultimately left you with less money than when you started.
No matter which camp you may fall into…
I have some good news.
My new system is as simple as 1-2-3…
Or in this case P-R-O.
Which means even a beginner can understand it.
Let's take a quick look and I'll prove it to you.
Hurdle #1:

P

riced Too Low

It doesn't matter if you're Warren Buffett…

Or picking up shares for the first time…

The key to making money in the stock market is to buy low and sell high.

I know the idea sounds simple enough…

But with nearly 6,000 publicly-traded stocks floating around out there…

The truth is…

Finding the ones that are worth MORE than the market is giving them credit for…

Can be a daunting task without the right tools.

And that's where my PRO system comes in.

Because the very first thing it does when I start it up — is sift through the entire market…

Looking for companies that aren't just undervalued based on how much they earn today…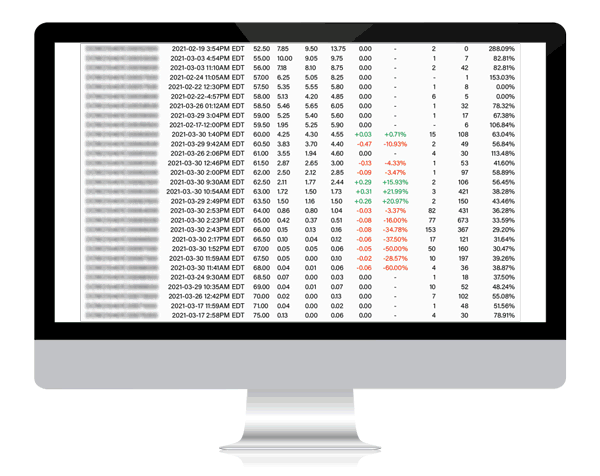 But are undervalued even when accounting for how much they're expected to grow those earnings in the future.
Because in the end…
These diamonds in the rough are the ones that have the greatest chance of delivering massive profits.
Here's the thing though…
While this hurdle helps narrow down the field…
It's only the first of three I use to pinpoint a stock poised for liftoff.
The second is …
Hurdle #2:

R

eturn on Equity

A company doesn't get the nod from my PRO system simply because it's undervalued…

Far from it.

It must also prove it can generate a return on the money it gets from investors.

The reason for that should be clear…

When you invest in a company…

The expectation isn't that they'll use your money to buy the CEO a new helicopter…

Or to pay for a lavish employee Christmas party.

Quite the opposite.

When you buy shares…

You expect them to use your money to grow income and profits…

Which ultimately translates to you being able to sell your shares for a hefty gain.

And my second hurdle is a calculation that measures exactly how effectively the company is using your money.

If the company can't generate at least a 10% return on its investors' money…

YOUR money…

It doesn't bear any further investigation.

It doesn't matter how well-known the company is…

Or if every other analyst in the world is in love with its stock…

My system simply throws it out and moves on.

Some surprising names that haven't made the cut include…
Hyatt Hotels
First Solar
Virgin Galactic Holdings
Molson Coors Canada
Under Armour
Ralph Lauren
United States Steel
Amazingly — that's just a few of the 1,000s of companies that drop off the radar when I put this hurdle in front of them.
Hurdle #3:

O

ngoing Earnings Growth

As you can see…

Clearing the first two bars is quite a feat.

It's not often, after all, that a company consistently delivers a superior return on its shareholders' money AND is still worth more than Wall Street values it at…

But it does happen.

And when my system finds a company like this…

It puts one final challenge in front of it…

One that's a two-pronged doozy.

At least for companies that are full of flash… but short on cash.

Because the last hurdle is all about growing profits.

And when I say growing…

I don't mean 7%… 11%… or even 17%…

I'm talking about 25% growth…

Bare minimum.

And not just now…

But for the coming year too!

The number of companies that pass this test…

Along with Hurdle #1 (Wall Street values the company too low)…

And Hurdle #2 (the company creates at least a 10% return from the money it receives from shareholders)…

Are few and far between.

In fact, as I sit to write this…
Only 36 Stocks (Out of 6,000+) Have Made It Over All Three Hurdles
Which means they're part of an elite group.
It also means they're ready for the final test…
A gauntlet of three technical measurements made up of Relative Strength Index (RSI)… Directional Movement Indicator (DMI)… and a Stochastics Crossover (SO).
I'm not going to cover these indicators here…
Each one has literally had books written about it…
Books which I bet would bore you to tears.
The important thing to understand about these three powerful screening tools right now is…
They help pare the remaining three dozen companies down to just a handful that have the highest probability of delivering oversized gains…
FAST!
And the less time you spend waiting for a stock to start its upward run…
The quicker you could cash out with a big gain.
Which of course…
Increases the number of trades you can take part in.
And as I mentioned earlier…
Stacking one gain on top of the next…
Over and over again…
Is what creates VELOCITY in your portfolio.
The kind that can make a significant difference in your financial future.
Which is why when you join Personal Finance PRO…
You'll receive trades from me at least 3 times each month.
Odds are…
The investing opportunities I'll put in front of you with each trade alert…
Will be for companies you've never heard of.
Companies your golf buddies don't know about…
And ones that aren't the "darlings" you'd hear analysts gushing about on TV either.
That shouldn't bother you in the least.
Investing isn't a popularity contest after all.
It's about making money.
And to give you the best shot at doing exactly that…
You'll only hear about companies that cleared all three hurdles in my PRO system…
And made it through the final 3-stage technical gauntlet as well.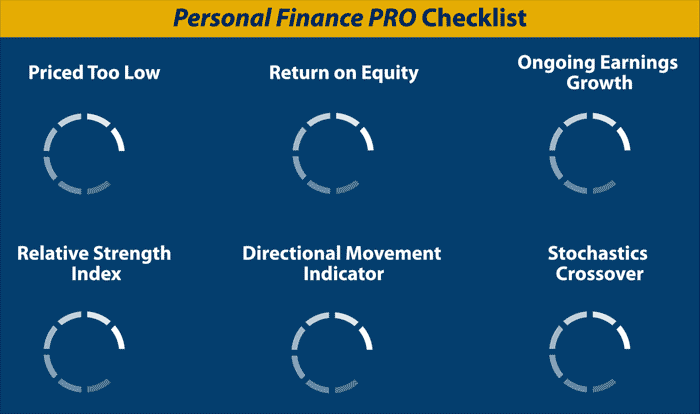 Which means they're poised for liftoff…
Potentially in a matter of days.
In addition to giving you all the details on each opportunity…
Including the company name…
Ticker…
And the price to get in at…
I'll also "go out on a limb" and give you the profit potential I'm targeting for each trade.
But then I'll take things one big step further…
Because I'll also track the stock and let you know when it hits my profit target…
And whether I think it has more room to run.
From there, it's up to you what you do.
You can either hold on and ride the stock for a shot at even bigger gains…
Or…
You can cash out and move on to the next opportunity.
Now before I go any further…
Let me state the obvious…
Not every trade I put out will be a winner.
No system is perfect after all. Including mine.
But that's what I love about my PRO system…
Because it's designed to provide you with an unending stream of profit opportunities…
So your next potential winner is always right around the corner.
In fact…
I Have TWO Trades Queued Up
and Ready to Send to YOU Today
The first is a unique investment that gives you a share of a handful of companies operating in an insanely lucrative corner of the market…
And the second opportunity — well, let's just say when you see what this company does…
You'll probably be shocked its share price isn't double what it is today.
Both opportunities have cleared all three of my PRO hurdles…
And have made it through my gauntlet of technical indicator "tests" as well…
Which means…
The time to act is now.
Before Wall Street catches on…
And before you see some hotshot "expert" on cable TV shouting about it going "to the moon."
But you need to let me know if you want in on the action soon as possible.
Because I can only let 100 people join Personal Finance PRO today…
And once folks see everything you get as a member, I don't expect those spaces to last more than a few hours.
That's right.
MORE — fast-moving stock picks are just the beginning.
When you step up to Personal Finance PRO today…
You'll also get the opportunity to…
Multiply Small Stock Moves
Into Life-Changing Winners
That's the beauty of using my PRO system to narrow down the market from 6,000+ stocks…
To just a small handful.
Because now the choice isn't so much a matter of if a stock is going to move…
But when.
And when you know the odds are high that a stock's share price will rise…
Simply buying shares isn't the only way you can profit.
Because this advanced knowledge opens the door to making a completely different type of investment…
One that packs the potential to quickly multiply even the smallest of stock moves…
Into gains of 44%… 52%… 60%… 150%… 200%…
Sometimes even more!
I'm talking about an options trade of course…
But before you run the other direction because I muttered the dreaded "O" word…
It's critical that you understand I'm not talking about the risky kind of options trade most investors get caught up making…
Where you've not only got to be certain WHICH direction a stock is going to move…
But also know WHEN it's going to move too.
And I'm talking about a window as small as just a few weeks.
That is, at least…
If you want the cartoon-sized, lightning-quick payouts options trades are famous for.
The problem with that should be obvious…
But if it's not…
I'll spell it out for you…
Having to be right about the direction of a stock move over a very short amount of time…
Shrinks the bullseye you're trying to hit so much…
If effectively turns most options trades…
Into nothing more than a high-risk, all-or-nothing bet.
And we all know gamblers rarely win…
In casinos. Or on Wall Street.
Fortunately, there's another type of options investment out there…
One that…
Is as simple as buying regular shares…
Gives the stock a longer (more realistic) runway to make its move…
Has the potential to deliver substantially higher profits than just buying and holding shares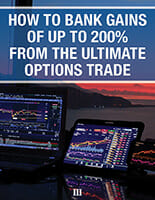 I'll give you all the details on this little-known market move in my brand-new report called How To Bank Gains Of Up to 200% From The Ultimate Options Trade.
Don't worry…
I'm not expecting you to find your own options trades (although you may find yourself doing exactly that as your confidence inevitably grows)…
Because many of the profit opportunities I'll pinpoint in Personal Finance PRO…
Will come with BOTH a stock recommendation…
And a way to play the same movement with this unique options trade.
The reason for a twin-trade approach is simple…
It gives you more choices.
Look, I know everyone's financial situation is different….
So rather than a "one-trade-fits-all" approach…
Where you're shoehorned into a single way to profit…
I'm covering both bases.
That way…
Whether you're simply looking to increase your portfolio's velocity — and profits — with regular stocks…
Or you're comfortable taking a shot at multiplying those gains even further with the unique options trades I'll recommend…
Or even both…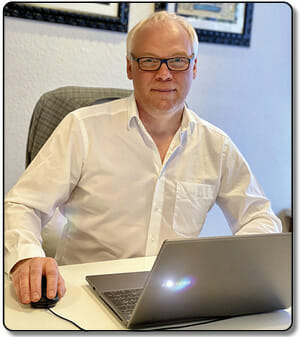 YOU are in complete control!
It all starts the moment you "level up" and join Personal Finance PRO.
Just be sure to do it right away.
This offer is so heavily weighted in your favor….
I can only let 100 people get in on the action today.
The minute you say "yes"…
You'll not only get access to the two trades I have lined up to send you right now…
The stock picks I put out 3x a month…
And the simple long-tail options trades that could help you turn a modest $1,500 stake into you gains of $2,160… $2,280… $2,400… $3,750… $4,500.
Once a month, you'll also get the opportunity to….
Join My "PRO Insider" Video Call
Ever wonder why most people struggle to beat the market?
Well, I can tell you one thing…
It's not because there's a lack of investing ideas.
A quick internet search backs me up on this…
Because it turned up a staggering 2.1 billion pages of information.
You read that right.
Billions. With a "B."
That may sound great at first…
Until you start diving in.
I mean, within a single page of results you'll find links to sites saying the best investments range from penny stocks to futures…
To high-yield savings accounts… real estate… art…
And everything in between.
With so much clutter, it's hard to know what to do…
Or who to believe.
Especially when listening to the wrong person can cost you a chunk of your hard-earned money!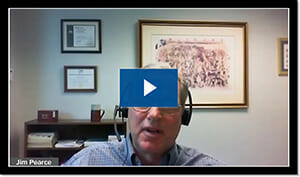 That's why once a month…
I'll host a call that you can think of as my private "state-of-the-market address"…
Because it gives you a view of Wall Street — and the moneymaking opportunities inside it — which can only come from a grizzled 35-year investing veteran.
During these "insider" calls…
I'll cut through all the BS you're constantly bombarded with on TV and the internet…
And share my best investing ideas and research with you.
This is information that I won't share anywhere else…
Including with regular Personal Finance subscribers…
It's only available to investors bold enough to take me up on my offer to join Personal Finance PRO today..
And to be clear, while you won't be able speak directly to me during these calls…
I can still answer your questions.
It doesn't matter if you want to know how a recent decision by the Federal Reserve could affect your investments….
Or if you want to know something more interesting…
Like five stocks you should avoid like the plague…
All you have to do is send me your questions in advance of the call…
And I'll answer the ones that come up the most.
These monthly "Pro Insider" Video Calls…
Along with the 3x-a-month PRO Alerts…
Will ensure not a single week goes by without some type of investing idea crossing your desk from me.
Even better…
After haggling with my publisher about what this new level of Personal Finance is worth…
I've arranged for you to get access to it…
At an incredible discount off what he wanted to charge.
The only catch is — as I mentioned before…
We can only let 100 people join today under this special deal.
No exceptions.
Your Chance To Step Up To Personal Finance PRO
Here's a quick breakdown of everything you'll receive the moment you take me up on this offer and add Personal Finance PRO to your investing arsenal today…
3x-a-Month PRO Stock Picks
Bonus High-Probability PRO Options Trades
"PRO Insider" Video Calls
All three of these benefits perfectly complement your regular Personal Finance subscription…
Because in addition to the rock-solid buy-and-hold opportunities we cover there…
Personal Finance PRO delivers the one thing you need the most if you're looking to accelerate your investing success…
More profit opportunities.
And at the risk of repeating myself…
It's this quick leapfrog action from one winning trade to the next that creates the kind of velocity in your portfolio that really adds up.
Look, I know not everyone will be comfortable with the idea of making more trades…
Even if they're capable of handing you quick payouts of $2,087… $2,327… $2,628… and $3,435…
And they may be even more uncomfortable with the idea of using the unique options investment I've mentioned to multiply the gains they'd get from simply buying and holding the stock…
Even though the profits could easily reach 44%… 52%… 60%… 150%… and even 200%.
If you fall into that camp…
It's perfectly ok!
The regular Personal Finance subscription you have is enough for you right now.
But if you're someone who's looking for MORE…
MORE — faster-moving — profit opportunities…
And MORE behind-the-scenes insight into how to make money in the markets…
(Since you made it this far, I bet you are…)
Then stepping up to Personal Finance PRO is the best — and smartest — move you can make today.
Because within minutes of joining…
You'll get your first PRO Alert with the details on two stocks poised to pop in the coming weeks.
But that's not all…
I want to start out on the right foot with you…
And to me — that means shining a bright light on the full money-making power of Personal Finance PRO.
So right out of the gate I'm going to give you a taste of everything you can expect for the next 12 months…
Which means in addition to your first PRO Alert which includes TWO stock picks……
I'll also send you the details on
TWO of my special options trades
you can make as well.
Both sport the potential to hand you quick gains 34%… 57%… 71%… 111%…
Maybe even as much as 172%.
I'm still not done though…
Because I just recorded a "PRO Insider" video call…
And I promise you this….
You won't want to miss what I share on this call…
Especially in the last 2 minutes…
Because I'll give you a takeaway — one of my most prized investing secrets — that you can use to maximize your profits…
For the rest of your life.
I'll send you a copy of the video as soon as we confirm your membership.
You'll Also Get Immediate Access To My Entire "Start Up Library"
valued at $398 — Yours FREE
Special Report #1:
Personal Finance PRO Quick-Start Guide

(a $199 value – yours FREE!)
Consider this your full A-to-Z guide on PRO trades.
Inside you'll discover EVERYTHING you need to know about:
How increasing your portfolio's velocity can boost your profits
How frequently to expect new trades
What the THREE key PRO hurdles are that every stock must clear (this is a peek "under-the-hood" of the PRO engine — not necessary to profit)
Why the final gauntlet any stock must pass are three technical indicators made up of Relative Strength Index (RSI)… Directional Movement Indicator (DMI)… and a Stochastics Crossover (SO)
How to squeeze more profits out of every trade — and limit your risk — with one simple move
How to sell your shares for quick profits without lifting a finger
Which types of trading accounts could help minimize the taxes you pay
How to lock in a big gain AND give yourself a shot at even more profits!
And much, much more!
Special Report #2:
How To Bank Gains Of Up to 200%
From The Ultimate Options Trade
(a $199 value – yours FREE!)
Once you've read through the Quick-Start Guide and grasp the basics of how my PRO system works…
You owe it to yourself to check out this special report next…
Because I'll walk you step-by step through the options trades I'll recommend.
That includes…
What makes these simple opportunities so unique
Why they're better than the options trades most investors make
How to decide if they're right for you
What exact words you need to tell your broker to get approved fast
Even if you're completely new to options trading…
When you're done reading this report…
You'll be armed with everything you need to make your first trade in as little as 5 minutes.
This full library — with all the information you need to maximize the money you make with Personal Finance PRO — will be rushed to you within minutes of joining.
If it isn't obvious by now…
I'm removing all the roadblocks to get you in the door…
So you can start your money-making journey with me right away.
And I'm not done just yet either. Remember…
When You Join Today You'll Get MORE Profit Opportunities…
AND a Massive 75% Discount!
Of course, I'm sure you're wondering by now how much it costs to access the full money-making power of Personal Finance PRO.
And that's reasonable.
Secrets and recommendations like the ones I'll share with you over the coming months can go for a pretty penny after all.
In fact, some of the other advisory services I'm a part of at Investing Daily sport price tags of up to $2,495 per year.
And that's exactly what my publisher wanted to charge to get in the door at Personal Finance PRO.
He argued it was a fair number…
And at some level I see his point…
Since you could easily earn back your subscription price with just one winning trade.
But I'd never dream of asking that much…
Because it would be beyond the reach of too many of the people I want to help…
Good, hard-working folks like you…
Who are just trying to get a slice of the American Dream we were all promised.
So I twisted his arm a little and he ended up settling on $997 per year.
Better… but still not what I was hoping for.
So I kept the pressure on.
And after a lot of back-and-forth…
I managed to get him to agree to a special "kick-off" price for Personal Finance PRO.
One that saves you an incredible $752.
Which means when you join today…
You'll get a full year of Personal Finance PRO for only $245.
That breaks down to just $0.67 cents a day.
Which is about the same as you'd pay for a cup of coffee at your local convenience store.
Better still — the minute you say "yes" to this special deal…
You're covered by my one-of-a-kind double-barrel satisfaction guarantee.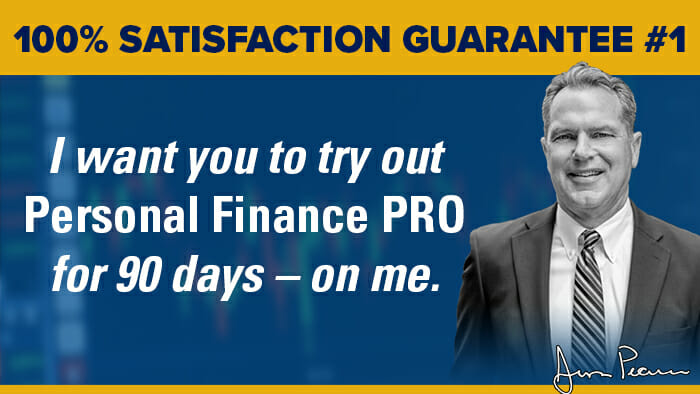 I want you to be 100% sure Personal Finance PRO is right for you.
So I'm giving you three full months to try it out at my expense.
That's plenty of time to dive in and check out everything on the members-only website…
Read a bunch of the weekly alerts you'll start receiving the moment your membership has been activated…
Take part in the money-making opportunities I cover inside each one…
And even potentially cash out a few winners.
If at any time during those 90 days you're not completely happy with what you're getting from me…
Or with the profits you're seeing from the dozen trades (or more) I'll send you during that time…
Just let our customer care team know.
And we'll issue you a prompt, no-questions-asked refund for every penny of your membership.
I have no interest in keeping your money unless you're 100% satisfied.
But that's not all.
You're also covered by…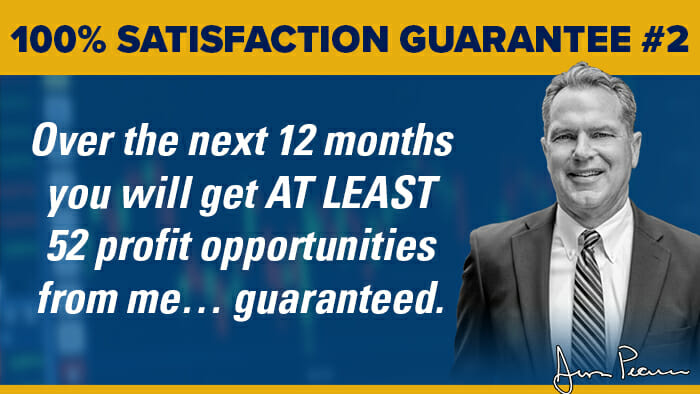 Here's how it works…
I'm 100% committed to helping you increase the velocity of your portfolio…
So over the next year, I promise you'll see AT LEAST 52 trade recommendations from me.
And I want you to hold me to it.
If I miss the mark…
By even a single trade…
All you need to do is call in and let my customer care team know about it.
Because I've instructed them to give you another year of Personal Finance PRO…
On the house.
That's a $997 value… yours free.
I'd never make you this offer if I wasn't 100% sure I could deliver on everything I promised…
I couldn't afford to!
You Need To Make Your Move Now…
Only 100 Spots Available Today!
I've done everything I can to make joining Personal Finance PRO a no-brainer.
I've shown you how my new PRO system could help you quickly turn a modest $1,000 stake…
Into $440… $551… $752… $1,500… and even $2,000…
Of pure profits.
Over and over again.
I'm kickstarting your Personal Finance PRO journey by giving you access to a library of powerful — FREE — special reports…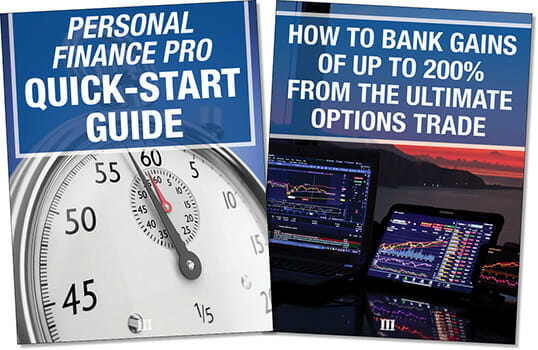 You're completely covered by my Double-Barreled 100% Satisfaction Guarantee….
Which gives you 90 days to try out your new Personal Finance PRO membership.
And backs it up with my promise that if you don't see 52 trades from me over the coming year…
You'll get a second year of Personal Finance PRO completely FREE.
I even convinced my publisher to slash the price to join by 75%.
So when you sign up today…
You'll save $752!
You can do whatever you like with the money you save of course.
But my hope is you'll use it to take part in the new trades you'll receive within moments of completing the membership form…
Trades which could ultimately hand you profits of 44%… 52%… 60%… 150%… 200%…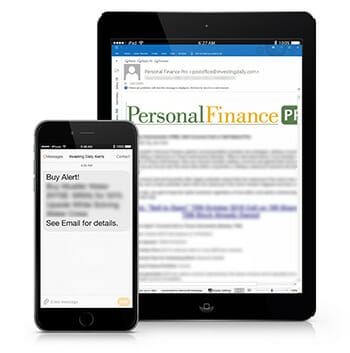 It's time for you to act.
You can either seize this opportunity… or let it slip through your fingers and kick yourself later.
Remember, there are only 100 spots available today.
To claim yours…
And take your investing to the next level…
Simply click on the blue button below button below…
(Your credit card will NOT be charged… and you can review your order before it's final)
It will take you to a secure — encrypted — membership form where you can review everything one last time before joining.
Thank you so much for reviewing this invitation.
I look forward to welcoming you to Personal Finance PRO in the next few minutes.
To quickly and safely multiplying your wealth,


Jim Pearce
Founder
Personal Finance PRO
June 2022
P.S. Remember, when you step up to Personal Finance PRO today…
You're covered by my Double Barrel 100% Satisfaction Guarantee.
If at any time during the next 90 days you're not completely happy with what you're getting from me at Personal Finance PRO, just let us know… And we'll issue you a prompt, no-questions-asked refund for every penny of your membership.
If I don't give you AT LEAST 52 trade recommendations over the next year, I want you to call in and give my customer care team a "heads up".
Because I've instructed them to give you another year of Personal Finance PRO on the house…
That's a $997 value… yours free.
P.P.S. Locking in this special deal today could be the most profitable few minutes of your life…
But you've got to make your move now…
We're only taking on 100 new members today.
To get started — simply click the blue button below.
(Your credit card will NOT be charged… and you can review your order before it's final)
Copyright © 2021 Investing Daily, a division of Capitol Information Group, Inc. In order to ensure that you are utilizing the provided information and products appropriately, please review Investing Daily's' terms and conditions and privacy policy pages.