MINED IN AMERICA
Dear Reader,
You probably don't remember it…
But a few years ago, former President Donald Trump signed Executive Order 13817.
The mainstream media didn't pay it much attention…
In fact, here's the following day's top headlines from The Wall Street Journal, The New York Times and The Chicago Tribune…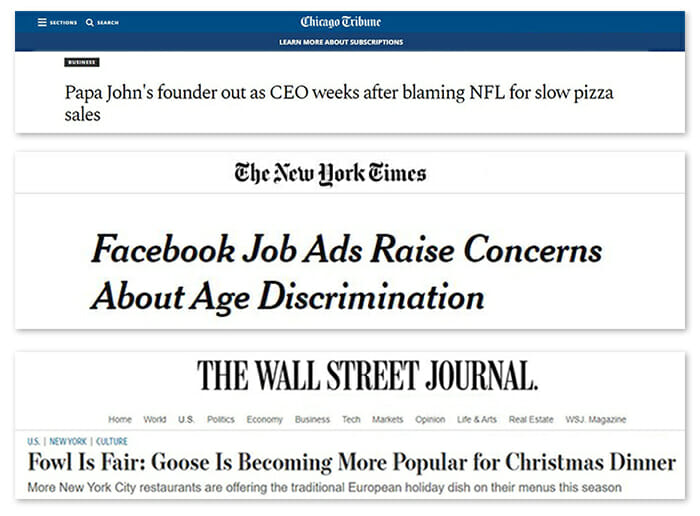 But looking back, they missed what could be the story of the decade…
Because that Executive Order from 4 years ago just opened the door for a spectacular wealth-building opportunity. One that's playing out right now as I speak…
The chance to rake in gains of up to 563%.
I'll show you how to stake your claim in just a bit.
But first, here's the story:
After issuing Executive Order 13817, Trump spent years fighting environmentalists in the Bureau of Land Management to see it through.
Then, in the final days of his presidency, the badgering paid off...
And the Bureau of Land Management finally relented...
Giving ONE company the green light to mine its massive reserve of a vital resource I call AN3…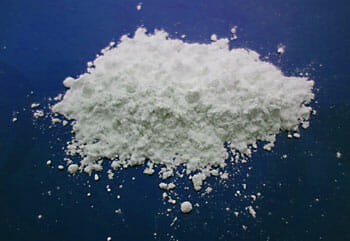 This powdery metal is so valuable, many people call it "white gold."
Reuters says AN3 is "the next big thing" and "the metal of the future."
And Bloomberg recently revealed that "Wall Street is betting billions on [AN3]."
Now, with 12 billion pounds of AN3 under its thumb…
The largest reserve of its kind in the United States, and the second largest in the entire world…
This little-known company — with a share price hovering around only $15 — finds itself sitting on a colossal $54 billion fortune.
As enormous as $54 billion sounds, I wouldn't be surprised to see this figure grow even bigger — much bigger.
And I also wouldn't be surprised to see its share price soar north of $90 in the near future… making select investors very rich.
Why?
Because, demand for AN3 is EXPLODING, with prices already up 88% just in the first quarter of this year.
And as you'll see, this skyrocketing demand is about to run right into the teeth of a massive supply crunch — pushing prices into the stratosphere.
So why am I so confident about this particular investment in AN3?
You see, I've been tracking this coveted material for years. And it wouldn't be the first price boom we've seen with this crucial material...
But my research indicates it could be the biggest.
How big are we talking?
Well, during the first major AN3 boom, investors had the chance to rake in gains of 120% and 140%.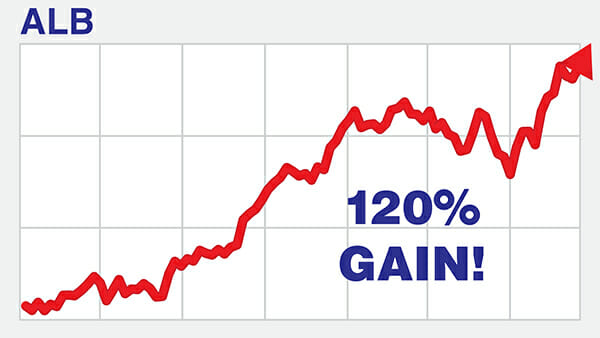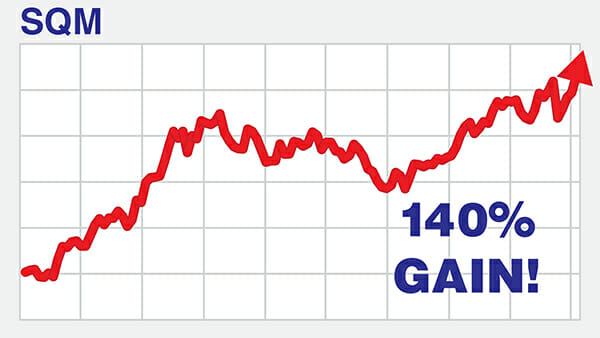 And just a few years ago, investors were able to lock in 135% gains.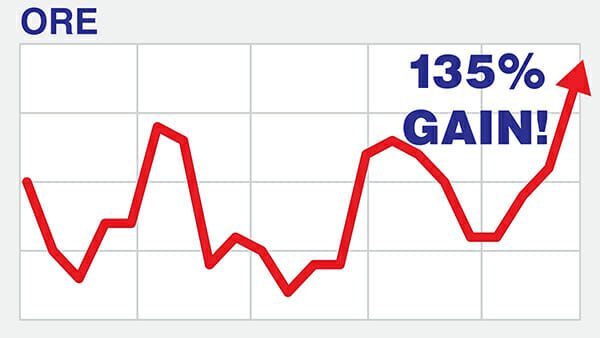 But based on the details I've uncovered…
I believe these spectacular windfalls could soon look like crumbs from a beggar's table.
As a matter of fact, investors who get in on the ground floor of this brand-new opportunity to play the rise of AN3 — well before the first ounce of this massive motherlode is pulled from the ground — will cement their chance to rake in gains of up to 563%.
That's enough to turn every $1,000 into $6,630…
So what makes AN3 so special?
And why do I believe now is the absolute best time to get in on the action?
Well, for one thing this material is a vital component in anything from medicine to nuclear reactors, and from air-conditioners to glassware, TV screens, cosmetics, and even fireworks.
But it really gained fame in the early 2000s as the crucial component for batteries powering all the smartphones, laptops, and other devices that power our increasingly mobile world.
Explosive Demand =
Major Profit Opportunity
As you may have guessed, I'm talking about Lithium — Atomic Number 3 on the periodic table… or AN3 for short.
It was booming demand for smartphones and laptops that took lithium from a metal only mineralogists were familiar with...
To one that handed everyday investors gains of 120%, 135%, and 140%.
But as thrilling as gains like that are, it's the opportunity to pick up shares of the one company that stands benefit most of all from Executive Order 13817 that has me really excited.
Because there's another earth-shaking phenomenon on the scene, one far bigger than cellphones and laptops, that could require ALL of the lithium this tiny $15 producer can pull from the ground.
I'm talking about electric vehicles (EVs).

Now, for years EVs have either been too expensive or too impractical for most Americans to own.
And most auto manufacturers have been slow to adopt EV technology.
But that's all changing right now. As I write this, the world's biggest corporations and governments are going "all in" on EVs — right as a critical supply crunch is set to send lithium prices soaring.
General Motors is investing $27 billion in producing EVs and plans to sell one million of them by the middle of the decade. What's more, the auto giant plans on eliminating all gas-and diesel-powered light-duty cars and SUVs by 2035.
Ford just began shipping its all-electric Mustang Mach-E and plans to spend up to $12 billion on EV development, creating 40 different electric models.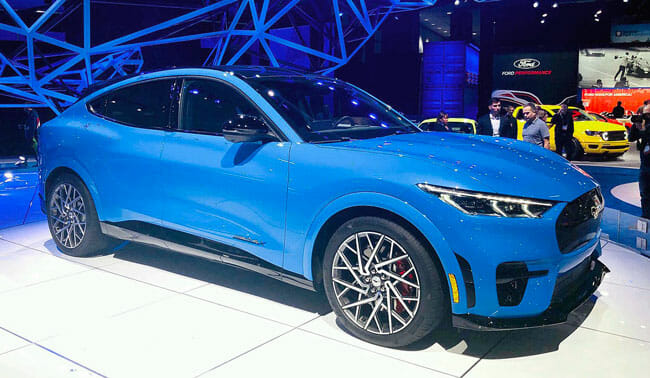 Nissan has already sold 500,000 Leaf EVs since 2010 and they're projected to double that amount, to ONE MILLION EVs by next year.
Honda plans to electrify two-thirds of its global auto sales by 2030.
Hyundai plans on selling 1 million EVs by 2025.
Toyota, plans on selling 5.5 million EVs by 2030.
And it's not just automakers that are making this massive push towards electric vehicles.
The truth is, when you also have the world's biggest governments standing solidly behind a mega-trend, you know it has nowhere to go but up, up, up.
Take the United States for example.
Not long ago, Washington announced its intention to convert much of its fleet of more than 645,000 vehicles to EVs.
In addition, there are also plans to take the nation's 500,000 school buses all electric.
That's hundreds of thousands of vehicles... millions of pounds of lithium... and tons of money to be made.
Then there's China.
When tens of millions of your citizens have to breathe like this, it's easy to see why they plan on phasing out all gas-burning cars by 2035.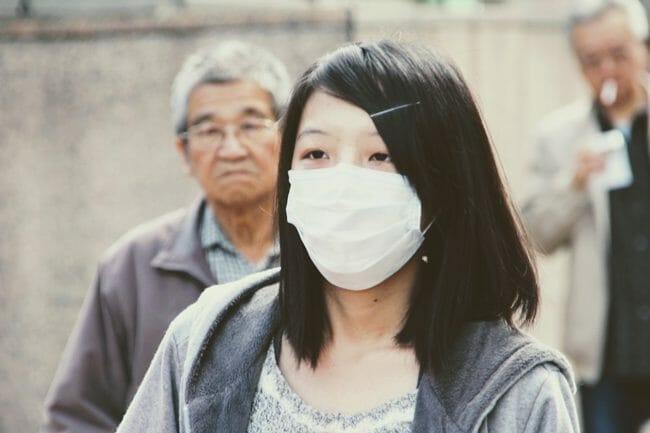 Norway says they will do the same by 2025, followed by France in 2040, and Great Britain by 2050.
With such heavy economic and political power behind them it's no wonder why sales of EVs are set to EXPLODE over the next two decades.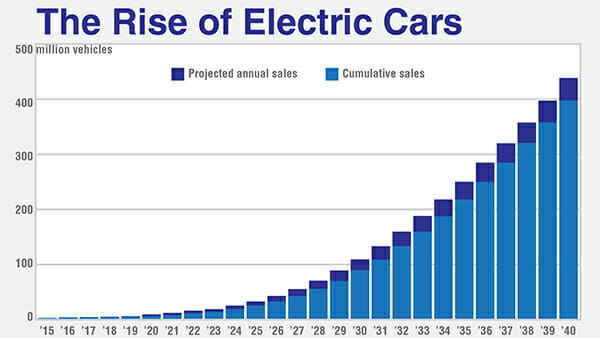 So what does this mean for lithium?
Well, with over 400 million electric cars set to hit the streets by 2040, and each one containing 22 pounds of lithium, we're looking at over 8.8 billion pounds of lithium that will be needed to power them.
And that's just for electric cars. Keep in mind, at the same time these 400 million electric cars are rolling off the assembly line, we're also set to see 1.3 million electric buses, over 14 million electric lawnmowers, plus millions more battery-powered drones, heavy-duty trucks, motorbikes, and scooters!
In other words, if it can be powered by lithium, it likely will be.
No wonder why Swiss banking giant UBS forecasts that lithium demand will explode 11-fold between now and 2030.
It's also the reason I firmly believe the 120%, 135%, and 140% gains investors saw from previous lithium booms could soon look like chump change.
Limited Supply = Limitless Opportunity
Now, at this point you could be forgiven for wondering if there's even enough lithium in the ground to power all these electric machines.
The truth is... there probably isn't.
In fact, demand is already so strong, that according to Benchmark Mineral Intelligence, it's set to outstrip supply by nearly 228,000 tons by 2025.
That's just a few years from now!
And from there, the gap just grows... and grows:
By 2040 demand is set to outstrip supply by 100%!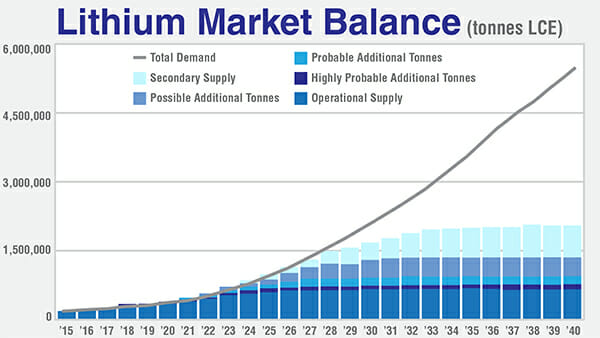 And we all know what happens when demand for something already extremely valuable starts to exceed supply — prices skyrocket!
It's ECON 101.
The less there is of something, the more it's worth.
And that means by getting in on the ground floor of the tiny $15 lithium miner I've uncovered, you have an extraordinary opportunity to lock in earth-shaking gains for years and decades to come.
I've seen opportunities like this occur over and over again over the last 25 years, with severe supply crunches sending certain metals soaring.
Take platinum. Used in catalytic converters, sensors, and spark plugs, a massive supply crisis caused it to soar 503% higher.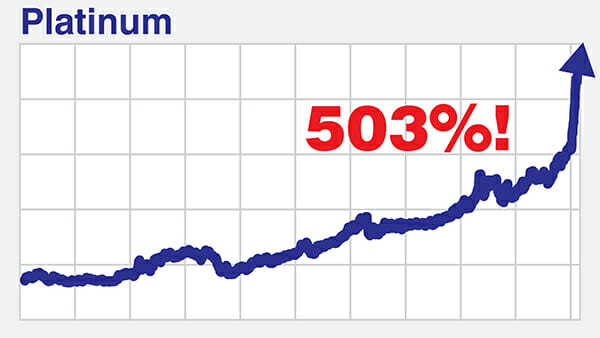 The same thing happened to palladium (also used in catalytic converters), with prices spiking 875% higher.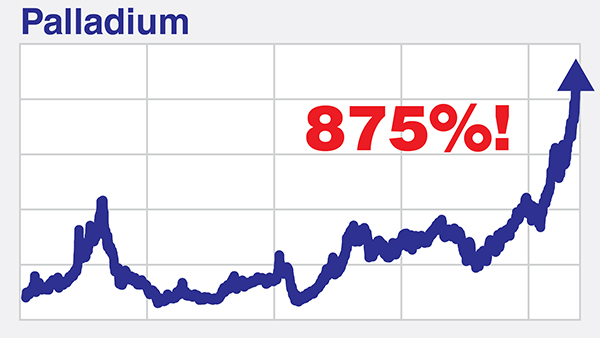 Then there's rhodium. Also used in catalytic converters, a severe supply squeeze caused prices to skyrocket by 1,469%.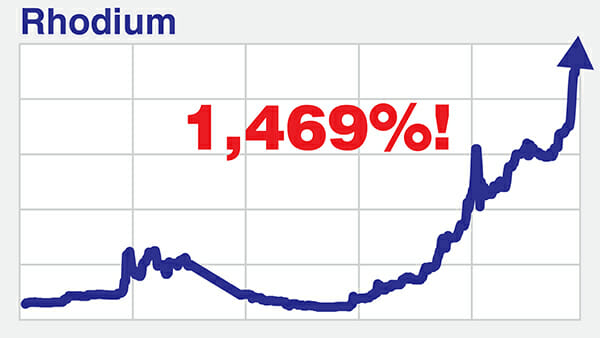 Now, with the rise of electric cars... exploding demand from automakers... and a massive supply bottleneck washing over the industry, it's lithium's turn to shine — and for a new class of early investors to rake in life-changing gains.
And that brings me right back to the opportunity I mentioned earlier.
Here's what makes it so special:
You see, right now, America supplies barely 2% of the world's lithium.
Yes, that's right. Just a measly 2%
So where does our lithium come from?
A big chunk of the world's lithium supply comes from unstable, remote, or war-torn countries like Zimbabwe and Argentina.
And unfortunately, an even larger share of it comes from one of America's most dangerous enemies — China.
I think you and I both know China has been doing everything they can to monopolize key metals and minerals — and put America in what amounts to a resources chokehold.
Whether you loved him or hated him, former President Trump knew this, too.
Mined In America
And that's exactly why he signed Executive Order 13817 — so America could develop its own supply chain of vital metals like lithium.
Thanks to this Executive Order, one tiny $15 company now has the go-ahead to develop America's largest lithium reserve.
All 12 billion pounds of it.
That's enough lithium to catapult our current production by 1,250%!
And feed much of the world's demand for 46 years!
In other words, the moment the first ounce comes out of the ground, America will become one of the world's top producers of lithium.
Make no mistake, this is a powerful one-two punch for patriotic investors who are passionate about making America great again.
In one simple move, you can help this miner loosen China's chokehold on one of the world's key metals...
While setting yourself up for a chance to lock in life-changing gains, at the same time.
Unlike many other mining projects, this isn't some speculative venture in the middle of a decaying third world country that will never pan out.
Just the opposite.
Not only is it already one of the most advanced lithium projects currently under development with $100 million invested and permitted for construction… but this massive motherlode is located right here, in the USA...
Blessed with first-class infrastructure nearby, including paved highways, a nearby rail, and transmission lines. It simply couldn't have more going for it.
Sadly, most investors will never hear about this extraordinary opportunity until it's splashed across the evening news.
And by then it will be too late.
But that's not something you need to worry about…
Because today, you can get all the details on this company and how you can lock in your shot at raking in gains of up to 563% — that's enough to turn every $1,000 into $6,630!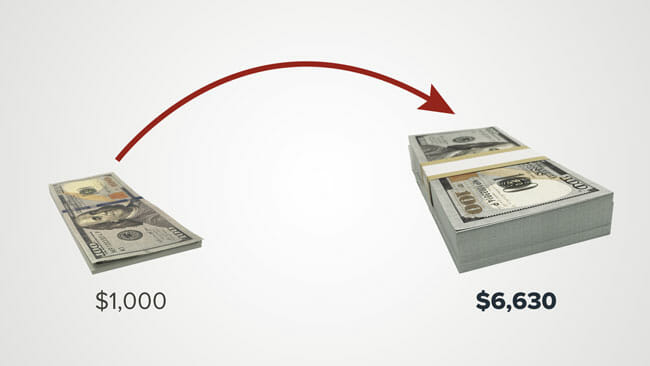 But before we go any further…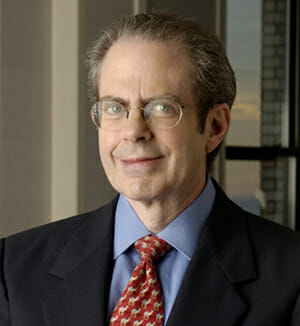 I think a formal introduction is in order.
My name is Dr. Stephen Leeb. I'm a Wharton-trained economist... A New York Times best-selling author…
And for the last thirty years, I've made it my mission to help ordinary investors get in front of earth-shaking megatrends and events that produce extraordinary fortunes.
I've done it over and over through a series of best-selling books, such as...
Defying the Market: Where I predicted the collapse of the dot-com market, warning readers that the tech market was "full of high-flying stocks on the brink of a meltdown." I also pounded the table about gold, which was then trading below $275, saying, "gold could… come back to $800 and even to $1000 or higher. A buy and hold strategy for gold should make you a big winner." Those who listened to me had the chance to reap epic fortunes as gold soared 600% between 2001 and 2011.
The Oil Factor: Protect Yourself and Profit From the Coming Energy Crisis: Published in 2004 when oil was trading at about $40, my prediction that oil prices would soar led some to derisively dub me "the oil guy." That didn't bother me at all. The book laid out what I was convinced was a forthcoming mismatch between supply and demand. In the next several years oil climbed to over $150 a barrel.
The Coming Economic Collapse: Where, well before the Great Recession, I told readers what would happen if home prices started to fall, stating, "If home prices suddenly started to fall it could be the vicious circle to end all vicious circles… Could the policy rescue such a situation? Clearly it would be a far greater challenge than rescuing the economy in the wake of the tech bubble… It would take massive amounts of money. Interest rates would likely fall to zero. Government spending would need to reach unimaginably high levels." As we all know, that's exactly what happened — in 2008 the housing market collapsed and the Fed printed trillions of dollars to save the economy, while interest rates still hover near zero today.
Game Over: How You Can Prosper in a Shattered Economy: Where I accurately predicted both the stock market's rise past 14,000 and the commodities boom that pushed gold prices past $1,700 an ounce. Once again, investors who heeded my forecasts and got into both had the chance to rake in fortunes for themselves.
Red Alert: How China's Growing Prosperity Threatens the American Way of Life: A decade ago, as many U.S. "experts" insisted China couldn't keep economic growth going, I warned that the Red Dragon was leapfrogging over the U.S. in key areas. In particular, I pointed to China's accumulation of vital resources needed for its industries and military. I also noted that China is building the world's largest alternative energy structure, and that this would be bullish for solar stocks. Since then, TAN, the world's largest solar ETF, has climbed more than five-fold.
Because of accurate forecasts like these, I'm constantly asked to share my insights on CNN, Fox News, NPR, and Bloomberg TV...
They're also why I'm frequently quoted in the financial media, including Investor's Business Daily, USA Today, The New York Times, and The Wall Street Journal.
But I'm not here to brag.
Because the truth is, my primary goal is, and always has been, helping ordinary investors make extraordinary profits from the unstoppable mega-trends and events shaping our world from behind the scenes.
And lithium's epic rise stands to be one of the most spectacular of our lifetimes.
That's why I created this urgent presentation for you.
To give you a head start…
Because, while Wall Street may be a bit slow at times, it's not stupid.
And it's only a matter of time before it catches on to this incredible opportunity and PILES IN — pushing prices of this tiny $15 stock into the stratosphere.
And I'm not talking about some far-off date in the future… its happening RIGHT NOW. As I write this, lithium is already up 88% in just the first quarter of this year.
And when it moves, so do lithium stocks.
In fact, over the last few months, miners like SQM have gone up 51%.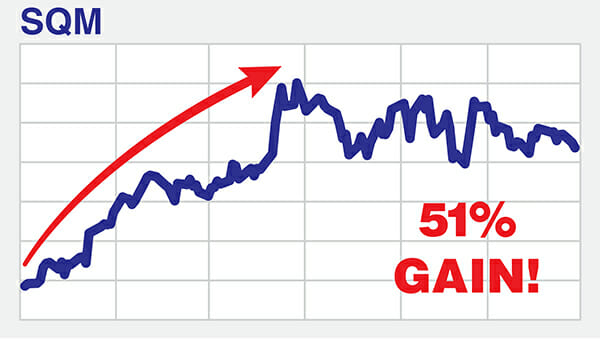 Neometals is up 128%.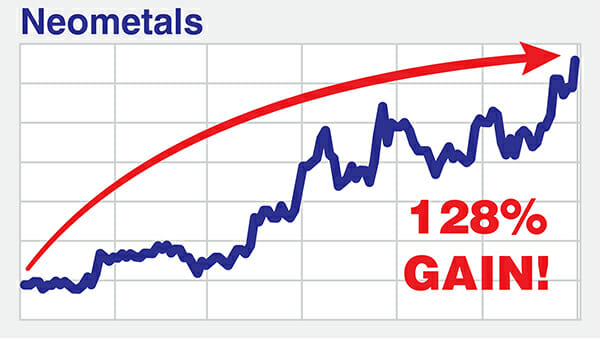 And Pilbara Minerals has gone up 246%.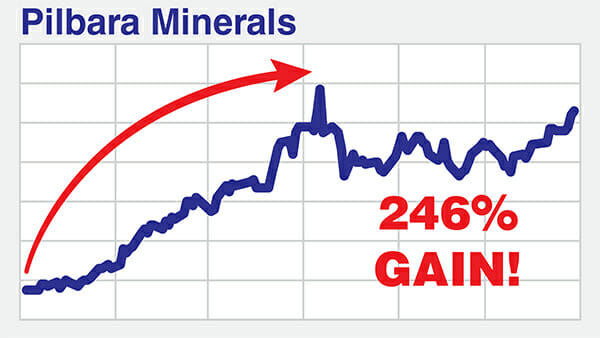 Which is why I can't emphasize it enough:
RIGHT NOW is the ultimate ground-floor opportunity to get in on the lithium miner I've been telling you about and lock in your shot at gains up to 563% (or more).
That's enough to turn every $1,000 into $6,630.
Every $5,000 into $33,150...
And every $10,000 into $66,300...
Just imagine what you could do with that kind of money…
Would you spend a week or two at a first-class luxury resort on the French Riviera?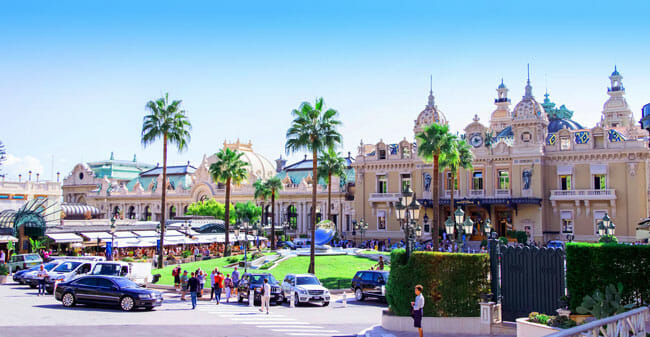 Buy that cherry-red Corvette you've always had your eye on?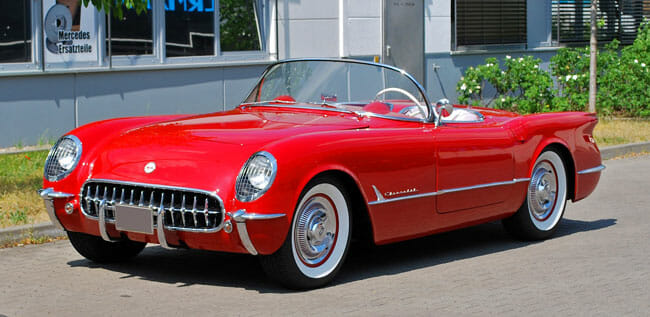 Or maybe finance a first-class college education for your grandchildren?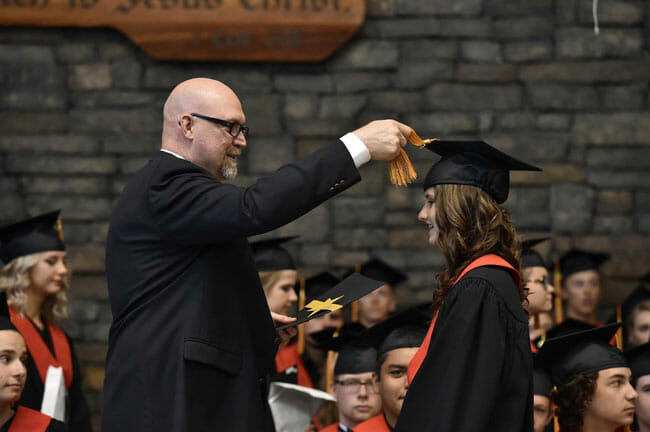 Whatever's on your wish list, this one stock could be the key to making it a reality.
Because I firmly believe the looming lithium supply crunch coupled with skyrocketing demand will position this tiny $15 miner to hand out massive gains to early investors.
But if you want to get in on the action — you need to act fast.
And to make it as easy as possible for you to stake your claim…
I've created a jam-packed report that exposes everything you need to know to squeeze out maximum gains from it: Great Again: How to Bank 563% Gains from America's #1 Lithium Play.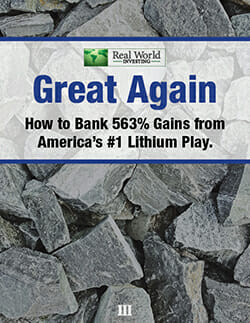 Inside, you'll discover:
The name and ticker symbol of the obscure $15 small cap miner sitting on America's motherlode of lithium...
Why I believe this stock could easily soar to $94 (or more)...
Why lithium has nowhere to go but up and away...
The major force pushing it into the stratosphere...
And most importantly, how to make sure you're set to squeeze as much money as possible out of this opportunity.
Keep in mind, you won't find this special dossier for sale, anywhere.
Not on eBay. Not on Amazon.
If I had to put a price tag on it, I'd ask $2,500...
I know of some Wall Street research firms that would happily charge even more…
But today this special report is yours, absolutely free, the moment you join me inside my premium investment service…
Real World Investing
At Real World Investing we take a straight-arrow, no-brainer approach to making money.
It's very simple:
When major corporations and governments are clamoring for something and there isn't enough of it to go around, we know it's a gift-wrapped profit opportunity.
There's simply no stronger position you can be in as an investor than to own shares of companies that are on the selling end of a market that's desperate for their products…
Supplying people and industries with the critical resources they need to survive: oil, coal, zinc, silver, natural gas, and most dependably of all, lithium.
It's all about profiting from scarcity.
Once you burn a barrel of oil or a ton of coal, it's gone forever. No one else can come along and make more.
This simple insight is the reason why becoming a member of Real World Investing can be so profitable.
And it's why my readers have been able to accumulate some pretty spectacular open gains, including...
112% on a Fortune 500 energy explorer...
168% from a major silver miner...
227% from a potash miner...
204% on one of the world's largest mining giants...
233% on an offshore driller...
117%, 258%, and 540% on three copper miners...
146% and 559% from two solar panel manufacturers...
252% and 412% from two lithium plays...
Of course, not every trade we release works out this well…
Some don't make any money at all.
It's true what they say — there are no guarantees in investing and you should never risk more than you're comfortable losing.
But considering my 30 open positions in Real World Investing are currently up by an average of 156% since March of 2020 (nearly double the S&P 500!), I'm confident my service could set you up for life-changing profits.
And it all starts with the tiny $15 lithium miner I've uncovered.
I'll give you the full story in Great Again: How to Bank 563% Gains from America's #1 Lithium Play…
I'll send you a FREE copy today when you're one of the first 50 people to join my Real World Investing advisory service.
The minute you say "Yes" you'll get access to: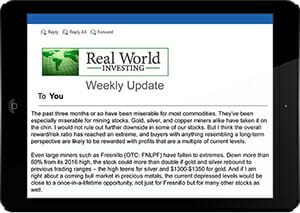 Intelligence Reports — I give you my bird's eye view on what's going on in the markets and what it means for both commodities and investors, along with any new stocks we're adding to our portfolio. With these intelligence reports, you'll never be "left in the dark." You'll always know exactly where we are, where we're headed, and what action you need to take next.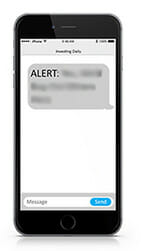 Flash-Alert Emails — Anytime there's an urgent profit opportunity you need to know about, I'll send you a quick-action alert via email. My alerts are easy to follow. In a few simple sentences, you'll have all the information you need to place your trade. You'll get the name of the stock, the ticker symbol, exactly when to place your trade, and price limits. Just hop online to your brokerage account... or phone your broker... and in minutes you'll place your trade.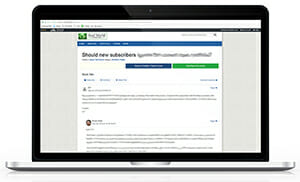 24/7 access to my private website — The moment you join Real World Investing, you will have access to our password protected, members-only site. It's your one-stop hub for all my timely alerts and special market updates, plus a full archive of all previously published content and advice. No matter where you are or what time it is, you will always have access to my latest move.
Unlimited access to my entire portfolio — Anytime you want to check how our stocks are doing, simply log on and you'll see the latest prices for each one. Plus up-to-the-minute buy, hold, and sell advice for every position.
Now, you may be wondering... how much does all this cost?
That's the best part.
The regular price for Real World Investing is $2,495 a year.
Considering the tiny $15 lithium miner we've been discussing could turn every $5,000 into $33,150, that's a drop in the bucket.
My Next 50 Members Get $1,000 Off
However, if you're one of the first 50 investors to claim your spot today, I've got a much better deal for you.
Instead of $2,495…
You can lock in an entire year of my service for only $1,495.
That's right… if you're one of the first 50 people to grab this one-time offer, you'll receive an instant $1,000 discount off the regular price.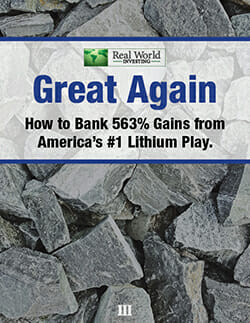 And within moments of joining Real World Investing, your personal copy of Great Again: How to Bank 563% Gains from America's #1 Lithium Play will be delivered straight to your inbox (so you can take action on this opportunity RIGHT AWAY).
You'll also have access to every single recommendation I've made — and will be making — in Real World Investing... including a handful of picks that could be on the verge of a major breakout.
For example, besides lithium, did you know there are six other key resources that are absolutely critical for electric vehicle production...
And just like lithium, demand for each is set to skyrocket between now and 2030: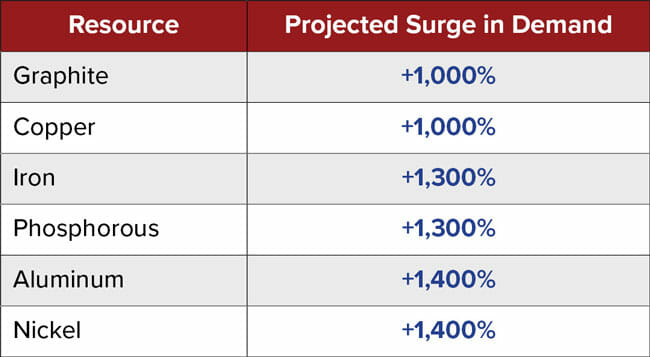 If you are truly committed to making capitalizing on the EV boom (and setting yourself up for a potentially life-changing windfall), you need to know how to profit from each of these resources right now.
The good news is, I've made it very easy for you to do so.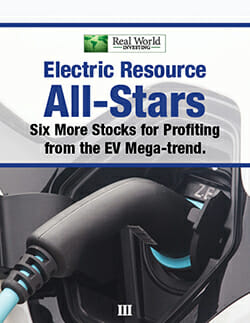 In Electric Resource All-Stars: Six More Stocks for Profiting from the EV Mega-trend, I reveal the single best stocks for profiting from these six resources.
Inside, you'll receive their names and ticker symbols, the stories behind each of them, and what kind of gains you can expect.
Wall Street research firms would happily charge $5,000 or more for the profit potential inside this blockbuster report. But this special bonus is yours free, the moment you join me inside Real World Investing.
And that's not all...
If you like the idea of banking solid gains in just days or weeks, you'll love this extra bonus that shows you how to bank turbo-charged gains from some resource stocks:
It's my three-part video series, Quick-Start Master Class to Wealth (VALUE: $979 — Yours FREE!).
Investors using the secrets revealed in my Master Class have been able to make incredibly quick gains, like: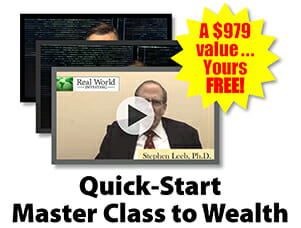 18% in 9 days…
35% in 2 days…
12% in 7 days…
20% in 21 days…
18% in 4 days…
And an incredible 150% in just 12 days!
A $979 value, this special bonus is yours, free — and just another way of saying "thanks" for joining Real World Investing.
Now, before I go any further… I must make one thing clear…
There are no refunds when you join Real World Investing.
I'm sorry it has to be this way, but my publisher simply can't afford to waste any of the 50 memberships we've opened today on folks who are not 100% committed to taking advantage of the extreme profit opportunities I've shown you.
You're either all in. Or you're not in at all.
However, that doesn't mean you're out of luck if you join and decide having the opportunity to make money hand over fist in the resource markets isn't for you.
My Iron-Clad "Double Your Money" Guarantee
Because I'm so sure about my ability to deliver on what I've promised that I'm backing it up with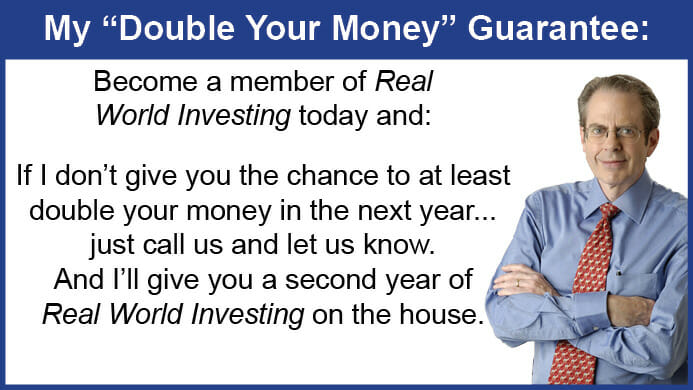 I'm not too worried about that happening, though.
After all, you've seen the massive triple-digit gains my readers are currently sitting on.
You've also seen:
How investors have made gains of 120%, 135%, and 140% from previous lithium booms...
Why I believe demand for lithium will skyrocket 11-fold between now and the end of the decade...
How a massive supply crunch could soon send lithium prices into the stratosphere...
And how one tiny $15 miner is now in total control over America's largest lithium reserve...
Given all this, you now have two choices:
Ignore everything you've seen here today and risk the regret you'll feel a few months from now, as you read about a tiny American lithium miner that's skyrocketing… knowing full well, the details — and profits — were just one click away from you.
Grab your free copy of Great Again: How to Bank 563% Gains from America's #1 Lithium Play and get the full story on how you could turn every $1,000 into $6,630 (or more) — with one simple move.
The ball is in your court, but if you're serious about taking advantage of this exciting profit opportunity... along with the many others you'll discover inside Real World Investing, you need to act fast.
Remember, you must be one of the first 50 readers to claim your free report, bonuses, and guarantee in order to secure your $1,000 savings.
Don't get left behind: Simply click on the orange button below now to secure your savings and lock in your chance to turn every $1,000 into $6,630 from the EV-fueled lithium boom that is barreling our way.
Yours in Wealth,

Stephen Leeb, PhD
Chief Investment Strategist
Real World Investing
Copyright © 2021 Investing Daily, a division of Capitol Information Group, Inc. In order to ensure that you are utilizing the provided information and products appropriately, please review Investing Daily's' terms and conditions and privacy policy pages.