10 years from now, when you tell your grandkids stories of what happened…
You'll be able to trace it back to here.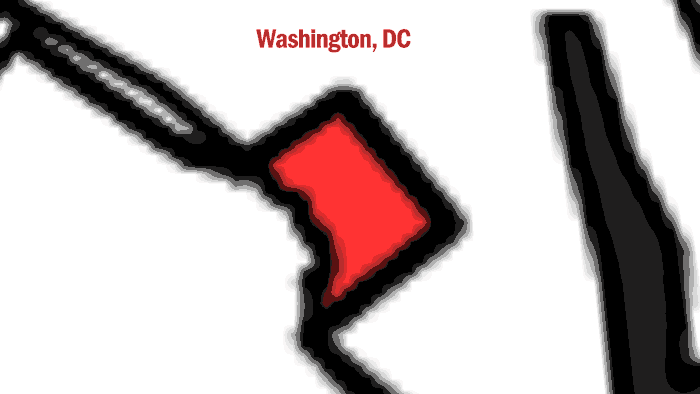 To this city…
Filled with politicians and lawmakers.
You'll grit your teeth and say…
 "Here. This is where life at Ground Zero started… when everything began to change."
After all, the changes are clear as day, if you know where to look.
Rising gas prices…
Grocery shortages…
War on the horizon…
And increasingly volatile markets…
Unfortunately, I believe what we're witnessing today is only the beginning of something much bigger and much more devastating.
Your life savings, your income, your investments, your family… are all at risk.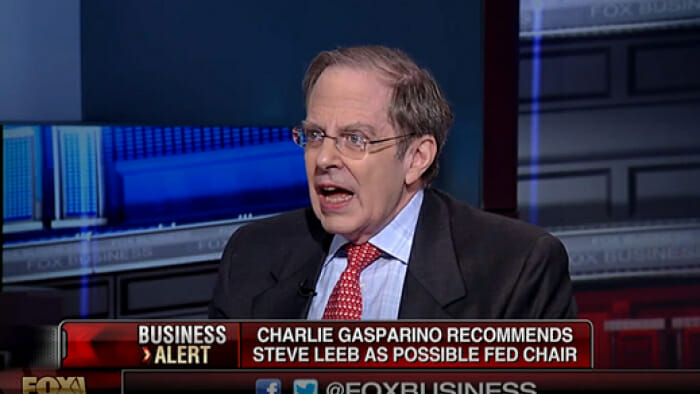 Hello, my name is Dr. Stephen Leeb.
You may have seen me on Fox News, CNN, or Bloomberg TV before.
I'm an economist with a B.S. in Economics, a master's degree in Mathematics, and PhD. in Psychology.
I've advised Congress on energy matters and the direction of the economy. And in 2016, I was even recommended as the next Federal Reserve Chairman.
I'm writing to you today because even though you may feel like there's something deeply wrong with America's financial system…
You may not know just how bad it's about to get.
Like a blast wave from a nuclear bomb, my research has revealed a devastating financial event that could soon ripple across America.
When it hits, the wealth of millions could be obliterated, virtually overnight…
Americans who have saved for years in order to live out their golden years in comfort will have no other option but to continue working, years after they wanted to retire…
And they'll be counted as the lucky ones, as millions more find themselves unemployed and out of luck.
Others will be forced to face the harsh reality of overpriced but sub-par healthcare… or no healthcare at all…
While millions more will be ground down into a permanent state of poverty much harsher than anyone would have believed possible in America.
Sadly 99% of them will never know what hit them… but that doesn't have to be your story.
Because in the next few minutes, I'm going to reveal …
Exactly what I see coming…
How we got to this point (and why)...
Along with the steps you can take today to protect yourself, your wealth, and your family…
And most importantly how one move today could allow you to avoid the harsh reality of life at "Ground Zero" entirely, while also possibly racking up as much as 50 years' worth of stock market gains in a fraction of the time it would normally take most investors…
By investing in a special asset that skyrockets during strange times like these. One which costs just $1 to get started with.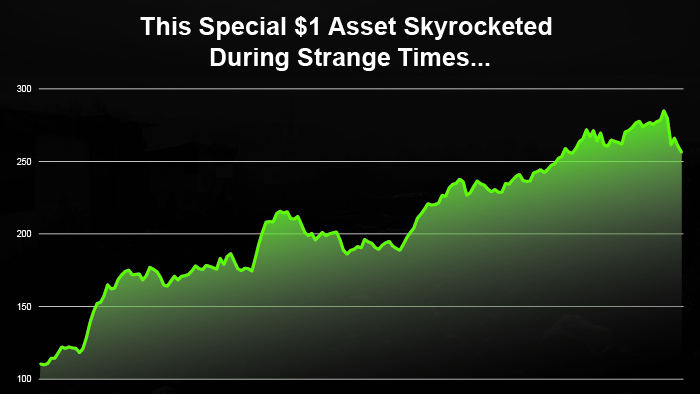 And one which my research indicates has the potential to multiply a tiny stake of $2,700 into $16,200… and larger stakes into as much as $62,500.
A potential lifetime of wealth — not in 50 years' time… but much sooner, and when you need it most.
I understand it might seem opportunistic to profit when so many people will suffer, but the truth is — this money is on the table….
And if you don't take your fair share... someone else will. We're not taking food out of anyone's mouth here.
So I'm hoping you'll give me the next few minutes of your time to hear me out.
I'll show you how to take the steps I believe necessary to sidestep the coming chaos…
And avoid facing this radical financial reckoning on your own, all the while potentially padding your portfolio with profits.
How "Strange" Has Become America's New Normal…
Something odd is happening in America.
Prices are skyrocketing at historic rates…
We're running out of everything from cream cheese… to nickel… to microchips…
And for millions of Americans, it's getting harder and harder just to make ends meet.
Take for example what's happening in the used car market…
Used Toyota Tacoma trucks are now selling for as much as $4,500 more than brand-new models…
As are used GMC Yukon SUVs, which now sell for up to $8,200 above their retail price...
And at a recent auction, the Washington Post reported a "three-year-old Toyota Camry with large dents and scratches on its hood sold for $14,200, nearly twice what it would have brought in just a few years ago."
One car buyer at the auction said, "I entered this car market like, oh my God, this is worse than the house market… It is crazy, so crazy."
The automotive industry isn't the only sector seeing strange times… the real estate market is even more insane.
In Boston, a burned-out, three-bedroom home recently went under contract for $399,000.
This home was literally on fire just a month beforehand and yet still sold for nearly $400,000!
A housing market so hot that a burned-out home listed for $400,000…
Meanwhile, a dilapidated home in Colorado filled with graffiti and animal remains, described as a "house from hell," was listed for $600,000 and has since received multiple cash offers.
While these are extreme examples, they are not the only cases of ludicrous home prices…
According to the Federal Housing Finance Agency, the average home price in America jumped by 20% in the third quarter of 2021.
And in the Miami Metro area alone, the median monthly rent price recently surged to $2,850 — a 49.8% year-on-year increase.
But again, the issues go even deeper.
The cost of food is rising at record speed across the country.
Arabica coffee beans are up 75%. Beef is up by 20%. Frozen orange juice concentrate is up 59%.
A NY Times reader recently complained…

While another pointed out…

While a third said…

Similar price hikes are being seen nationwide across all sorts of essential goods and commodities.
Cotton is at a 10-year high…
Fertilizer is up 200% since 2020…
Aluminum's up 54% and reaching record highs...
Tin, at $43,000 a ton, has nearly tripled in price over the last two years, and is the highest it has ever been.
And steel is fast approaching record prices.
One metal manufacturer said, "It's crazy for steel… I can't even get material at times."
Rare materials used in the tech industry are even more in demand (with an ever-dwindling supply).
Trading of nickel — used in electric-vehicle batteries — was recently halted on the London Stock exchange as bidding pushed contracts to $100,000 per metric ton — a price FOUR times higher than it had traded at a week before.
Meanwhile, battery-grade cobalt has risen 119%...
And lithium carbonate, used in smartphones, rose 569% over the last two years.
The CEO of Lithium Americas Corp. called the hunt for these resources "a mad scramble."
But the problems STILL don't end there…
For most Americans, this strange market distortion has been most obvious at the pump…
The national average for gas is hovering around record highs of $5 a gallon.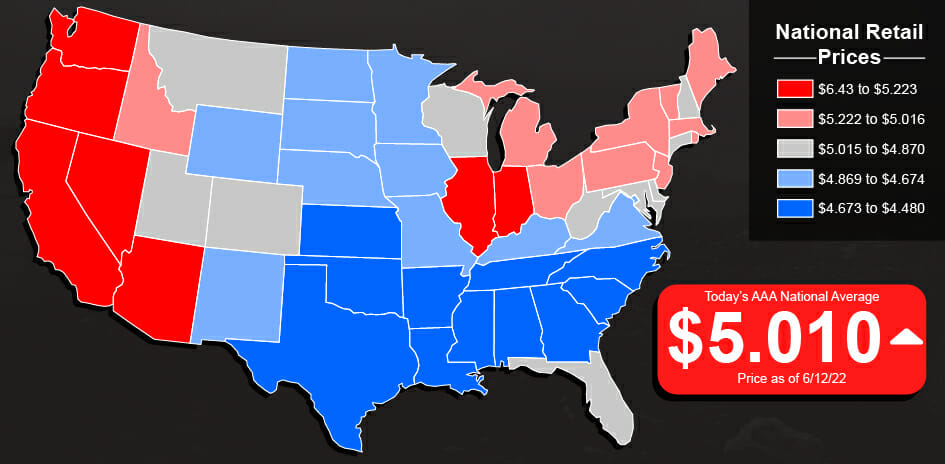 With prices reaching as high as $7.19 a gallon in California.
So what's happening here?
When everything — the house we live in, the food we eat, the car we drive, the energy that powers our world, and the things we buy — is roaring higher…
What does it mean for your wealth? Your future? Your family?
And could these strange market conditions actually help you make 50 years' worth of stock market gains…
(That's a total return of 500%, the equivalent of 10% a year for 50 years IN A ROW...)
In a fraction of the time it would normally take?
Thanks to a monumental economic event that took place not that long ago, the surprising answer is YES…
The $5.2 Trillion Financial "Booster Shot"…
It all started on March 11, 2021, when a massive financial "booster shot" was administered to the American economy.
I'm talking about the $1.9 trillion "American Rescue Plan" signed into law by President Biden.
The subsequent printing of $1 trillion dollars by the Fed on March 12th and 13th…
And a further $2.3 trillion spent on government aid, unemployment insurance, and "paycheck protection," among other things.
Marketed as a plan to "rescue" the American economy, these programs represented a government spending spree unlike anything the world has ever seen.
A massive $5.2 trillion total in U.S. "fiscal response" to the pandemic.
To put that in perspective, stimulus measures during the Great Recession including…
Bush's $152 billion Economic Stimulus Act…
The $700 billion Asset Relief Program…
And Obama's $832 billion American Recovery and Reinvestment Act…
Totaled less than $1.7 trillion.
In other words, the current stimulus is more than THREE times larger than anything we've seen in history.
Larger than the market caps of Netflix, Facebook (Meta), Google (Alphabet), Amazon, and Walmart combined.
The Pandemic Stimulus Was Larger Than The Market Cap Of These Brands COMBINED… And 3 Times Larger Than Anything We've Seen In History…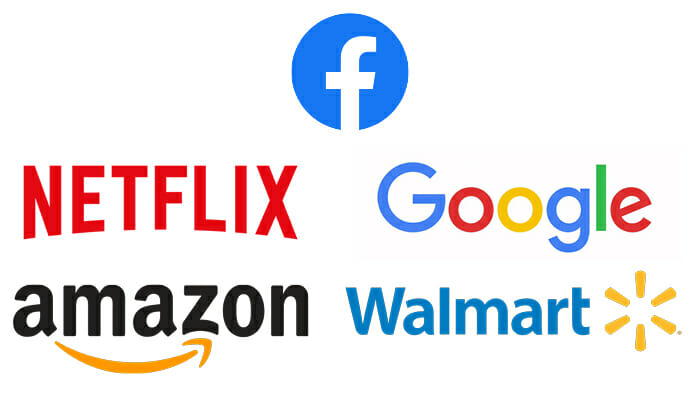 We could argue until we're blue in the face about whether this much stimulus was needed in response to the pandemic…
Whether everyone that received a $1,400 check actually deserved it…
Or whether unemployment payments should have been jacked up by an extra $300 per week.
But regardless of any individual's social or political beliefs, one thing is now blindingly obvious...
Because of this immense "booster shot" — along with one secret factor I'll get to in a minute…
America must accept we're now facing the greatest inflationary period in a generation.
After downplaying it for months, the government has finally admitted consumer inflation — having reached a 40-year high of 8.6% — is out of control…
In his State of the Union Address, President Biden acknowledged that inflation is running wild, even saying tackling it is now his "top priority."
And you've got financial leaders including one of the world's greatest hedge fund managers, Ray Dalio, issuing the dire warning: "Misery and turbulence are ahead."

Billionaire Paul Tudor Jones exclaiming: "Things are absolute bat-sh*t crazy right now."

And has Vice-Chairman of Berkshire Hathaway (and Warren Buffett's right-hand-man) Charlie Munger warning that surging inflation is "the biggest long-range danger we have probably apart from a nuclear war."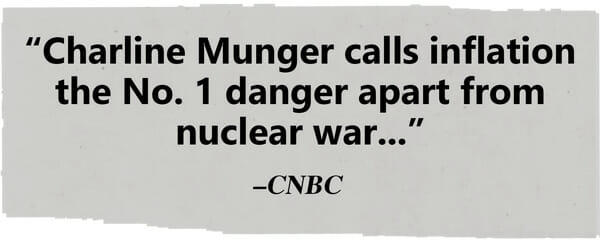 Yes, the fact that inflation is here is no longer debatable.
You feel it every time you fill your tank… or pick up your groceries that somehow weigh less but cost so much more…
But the truth is, inflation isn't what's keeping me up late at night…
It's what inflation is leading us towards.
Something most Americans haven't caught wind of yet…
And won't understand until it's already too late.
Because I believe what we're actually facing is a complete re-ordering of our financial world.
One where millions could soon find their livelihoods ground down so relentlessly… so brutally… they reach a point of absolute financial desperation I call…
GROUND ZERO
On the other hand, those who have the foresight to act on the information I reveal now could seize a lifetime of wealth — as much as 50 years' worth of stock market gains in a fraction of the time it would normally take with basic buy-and-hold investing.
As you'll soon see, whether you hit Ground Zero or secure the wealth to help you weather any storm…
Could hinge entirely on the decision you make in the next few minutes.
And your willingness to tap into a $1 asset most Americans will completely overlook.
With that being said I'd like to clarify one thing…
What I'm going to share with you next may scare you…
Because I believe it will confirm — with hard evidence — what you may have already been suspecting…
The heart of American finance is rotting like an over-ripe apple.
So before you read on, I'd like you to understand a few things…
I take NO pleasure in what I'm about to reveal.
I am no "shock jock." I do not make my living by saying outrageous things on the radio.
Or by making economic claims I cannot defend.
I have built my career and reputation on making accurate macroeconomic predictions.
Often long before other experts are clued in and the mainstream financial media starts harping on about it on the nightly news.
For example…
In my 1986 book Getting in on the Ground Floor, I accurately predicted the Dow's rise above 4,000, nine years before it reached that momentous milestone…
In my bestseller Defying the Market, I accurately predicted the collapse of the Dot-Com bubble a prescient 12 months before the NASDAQ peaked…
In my 2004 book The Oil Factor: Protect Yourself and Profit from the Coming Energy Crisis, I accurately predicted $100-a-barrel oil a YEAR before prices skyrocketed...
In my 2006 book The Coming Economic Collapse, I predicted the 2008 housing crash…
And in my 2011 book Red Alert, I warned Americans of the coming rare material shortage the Biden Administration is only seeming to catch on to now…
In light of this track record of accurate predictions, I've been called an "Oracle" of macroeconomic trends.
Forgive me if any of that sounds like bragging. It's not my intention.
I only mention it now because I want you to take what I say next very seriously.
I believe we're on the edge of an entirely new financial paradigm.
A profoundly different investing environment, where the currently understood ways of building wealth will simply stop working.
Americans who fail to adapt to this new way of investing will face a fast and potentially devastating financial reckoning…
While those who learn how to master the new rules could soon see opportunities to double, 3x, and even 5x their investments, making up to 50 years' worth of stock market gains in record time…
Imagine taking a small stake of just $2,700 and confidently parlaying it into $16,200… or putting up a little more and scoring $62,500.
Not by "risking it all" on some crypto, leveraged ETF, or options bet…
But by making an educated play on one of the most powerful macroeconomic trends in a generation.
The birth of a "New World Order" for the stock market.
The Birth Of A Financial "New World Order"…
Unfortunately, for this New World Order to be born, the old one must die.
And that's exactly what's happening in our country.
The bull market American investors have grown rich off for decades is all but dead and buried. To be clear, I'm not talking about the recent and relatively short post-pandemic bull rally…
But rather a more powerful trend… a "super-bull-market."
You see, there are two types of bull markets:
Cyclical bull markets that run for months or years, such as the recent pandemic recovery. One which the mainstream financial media is obsessed with.
Secular, or what I call super-bull markets, which run for decades and surprisingly few investors know anything about.
During a super-bull market, there can be crashes or corrections, but markets tend to recover quickly.
And they demonstrate persistent growth, rising more than they fall… in a staggered one step back, two steps forward pattern.
For instance — the most recent super-bull market started in August 1982 and saw the S&P 500 rise from 107 points to a high of 4778, an extraordinary 4,365% gain.
There were many ups and downs during this rally, but it was overwhelmingly positive and responsible for building much of the wealth and security in this country.
But this period of investing is categorically finished, and its demise was all but assured the moment the ink dried on the $5.2 trillion financial "booster shot"…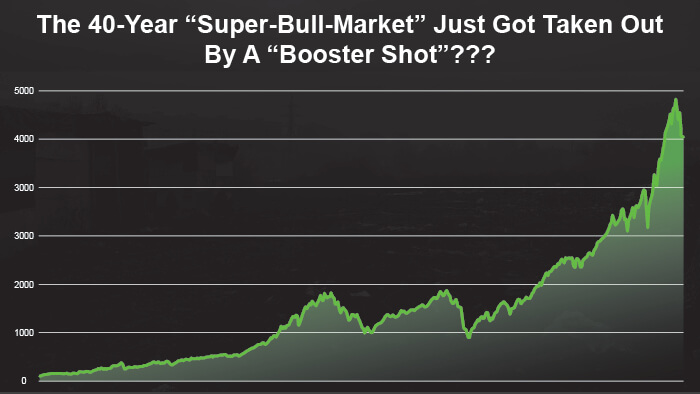 Inflation has sent a bullet straight to the heart of the super-bull market, and we're now witnessing its death throes.
Because persistently high inflation — driven by rising commodity prices and an ever-growing money supply, affects everything.
It affects our currency, our housing, our food…
It affects oil, iron, and gas…
And it affects the way we can or cannot successfully invest.
That's what I really want you to grasp today.
Because understanding this is the key to avoiding a Ground Zero financial reality that could make the homeless encampments in San Francisco look like five-star resorts.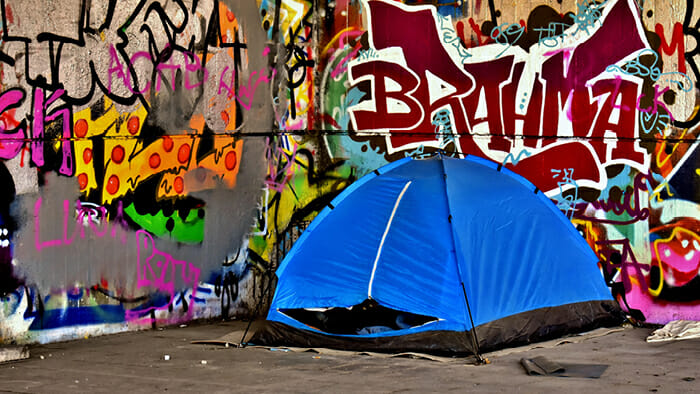 However, understanding is one thing…
Actually ACTING on what you understand is another…
And acting on this opportunity could lead you to 50 years' worth of stock gains in a fraction of the time it would normally take.
Or in dollar terms — a $16,200 windfall from a starting stake of as little as $2,700.
I understand that may sound exciting and scary at the same time…
But I urge you, no matter how you're feeling right now, NOT to bury your head in the sand and ignore what's coming…
There's a clear and profitable path through this new financial reality.
Because as new and uncertain as all this may sound, we've been here before.
Let me show you what I mean…
America's Worst Financial Nightmare Revealed In 3 Simple Charts…
Take a look at this chart of the Dow Jones, specifically the period starting in 1950 and running until 1970.
This is when our country came to the forefront as the world's super-power and super-economy.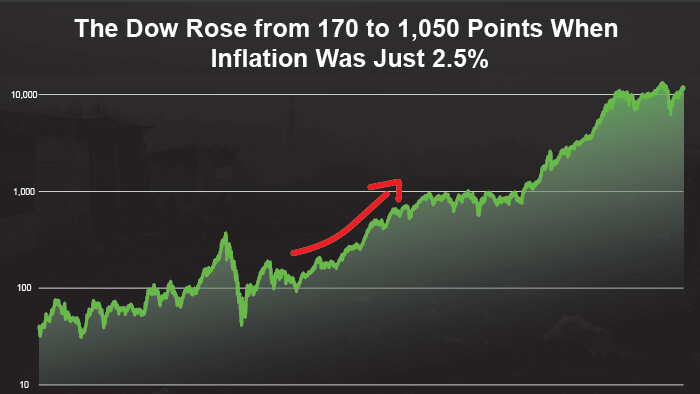 During this period, the Dow rose from 170 to a high near 1,050 points...
While inflation averaged just 2.5%.
Strong stock market growth, low inflation.
Got it?
Now take a look at this chart…
This represents the super-bull market I referred to earlier.
From 1982 until January 2022, the Dow Jones soared to a record high of nearly 37,000 points.
During this growth period, inflation averaged just 2.65%.
So, we have two post-WWII periods where stock market growth was strong, and inflation was low.
Now I'd like you to pay attention to the middle of this chart.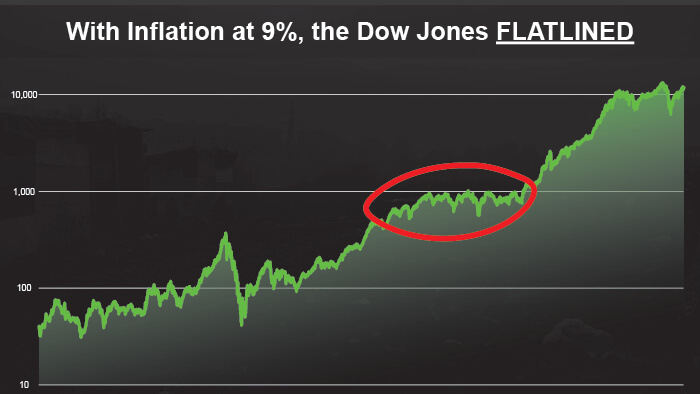 Look at this "flat" section…
The red circled part represents a third, post-WWII war period where the Dow Jones went virtually nowhere for an entire decade.
Specifically, the Dow Jones closed in 1970 at 839 points.
And opened in December 1979 at 839 points.
Stock market performance was — to understate it — horrific.
And during this period, inflation averaged 9% and even hit 14% in 1980.
The fallout was devastating…
Economist and Wharton Business School professor Jeremy Siegel called it "the greatest failure of American macroeconomic policy in the postwar period."
As devastating as this period was, we now know it was predictable.
Because when inflation rises — especially when it rises fast — companies struggle.
As the economy tumbles and investor sentiment changes… super-bull markets die.
Painful at Best… Catastrophic at Worst…
Depending on your age, you may have lived through this period and remember it well.
But if not, let me paint a picture of the hell that investors went through during this period…
From December 1971 to December 1981…
The S&P 500 returned a negative 16%
Utility stocks returned a negative 9%
Corporate bonds returned negative 23%
And 10-year Treasury bonds returned a negative 38%
This period of history wasn't confined to the U.S. either…
In Britain, bond-holders lost so much money to inflation that bonds became known as "Certificates of Confiscation."
On an individual stock level, IBM tells the story well…
From January 1973 to September 1974, the stock — at the time considered the world's leading computer company — fell from a high of $20.98 to just $9.50 a share...
A 54% crash.
As terrible as these numbers are, they don't really capture the human price of a persistent inflationary environment like this.
Take a moment to imagine what it was like for a retiree during the 1970s…
Your portfolio cut in half, virtually overnight…
Tens of thousands, or even hundreds of thousands of dollars in bonds and stocks disappear in a heartbeat…
And then your investments stay down, or worse, keep losing ground against inflation for more than 10 YEARS straight.
Meaning, you're not only losing money… you're also losing a decade of time.
A decade when you give up the kind of lifestyle and level of healthcare you were used to.
A decade where you're forced to cancel vacations, aren't able to treat your grandkids, and even something as simple as going out for dinner at a chain restaurant becomes little more than a pipe dream.
Meat prices rise seemingly right in front of your eyes, increasing by as much as 90% on an annual basis in just one quarter… which sends housewives to the streets in outrage.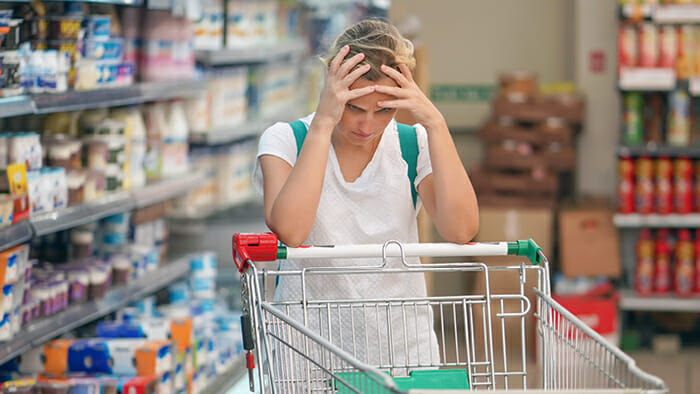 And due to skyrocketing oil prices, filling your gas tank becomes a painfully expensive experience.
Every night you stay up late, stressed to death about bills.
Even cash isn't safe, with the value of the U.S. dollar plunging by one-third.
Saving and planning for the future becomes a fool's errand.
And your home? Your castle? Your one place of safety and comfort?
It doesn't feel quite so comfortable any longer with an interest rate that has now soared to 20%. If you can't make your loan payments, the bank might even foreclose on your home.
Yes, that was the 1970s — but it sure feels similar to what we're facing today.
And yet, despite the obvious signs of inflation everywhere you look…
And the crystal-clear evidence that inflation can kill a super-bull market…
You still have so-called experts doubting whether it's a possibility now.
Case in point — for months, mainstream media has been blowing smoke, telling you "not to worry about inflation" while prices at the pump rose higher and higher.

And only today — when EVERYONE is already feeling inflation — are they finally acknowledging it's a genuine concern…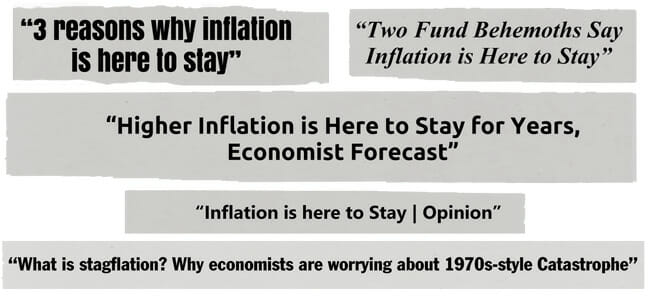 But I'm not tipping my hat to them for that.
Because the simple truth is…
They're not doing nearly enough to warn the average American just how serious this situation really is.
They don't realize — or refuse to admit — that the super-bull market is dead and buried.
Or that millions of Americans could be pressed into a financial reality so hopeless it can only be called Ground Zero.
But I'm going to pull back the curtain and show you exactly what they're not willing to…
Starting with a little-known economic secret 99% of Americans have no clue about. One that could make this inflationary period far worse and far longer-lived than before…
As well as what you need to do now to potentially flip this chaos into a 50-year stock windfall that will set you up for years, if not decades, of financial security.
It's got to do with supply and demand — a simple concept…
But you won't ever hear this kind of supply and demand discussed on television, or printed in mainstream publications for two reasons;
It reveals an uncomfortable truth about the direction of our country…
Unless you're an economist with a very specific focus, you'd need to be psychic to see it coming…
When The World Changed (And Why Nobody Noticed)…
The year is 2011.
What takes place is as monumental as the assassination of Archduke Franz Ferdinand (at the start of WWI)…
More transformative than the advent of the internet…
And more economically important than 2008's great recession.
Economically speaking…
It was the first time in history…
Where the DEVELOPING world outshined the DEVELOPED world.
Specifically, for the first time ever, developing nations like India, Brazil, and China produced the lion's share of the world's $151 trillion in total gross domestic product.
If most Americans failed to grasp the significance of such an event…
Or failed to notice at all…
You can't blame them. Hardly anyone did.
But ironically, this monumental shift would affect Americans the most…
After all, we have the most to lose.
It showed that these countries can now be expected to contribute MORE to the worldwide economy.
And to do that they would need to demand MORE from the economy as well…
For instance, the Organization for Economic Co-operation and Development (OECD) — of which the United States is a member — now anticipates developing countries will account for producing 60% of the world's gross domestic product by 2030.
These global economic and demographic forces explain why the inflationary environment we're now facing CAN NOT be transitory.
Why even if the "oil shock" triggered by the Russia-Ukraine conflict is resolved… we're unlikely to see commodity prices fall to any significant degree any time soon.
And since the Fed cannot possibly control inflation with incremental interest rate hikes…
It explains why the current inflation could be far more devastating than the 1970s and why millions of Americans are now facing a future at Ground Zero.
But it also illuminates a path towards 50 years' worth of stock gains in the form of a rapid five or even six-figure windfall — if you're willing to face the realities at hand…
And the core reality? I believe…
Life at Ground Zero is All But Certain For Millions of Americans Who Fail To Act Now…
Here's why I've come to such a devastating conclusion…
Economic growth goes hand in hand with demand for commodities.
And developing countries' growth tends to be more commodity-intensive than growth in developed countries…
Since they need to build all the infrastructure, roads, and goods we already have in America.
Like a growing child, they are always hungry, always ready to consume more.
There's no better example of this than China. In 2015, the Wall Street Journal reported…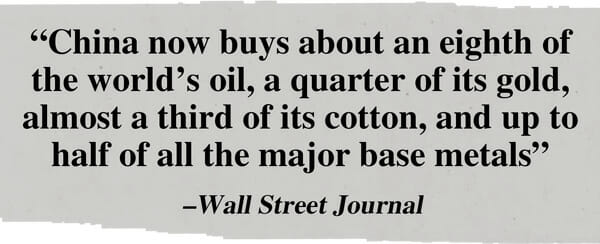 Since then, their appetite for commodities has only grown larger…
As of 2018, China uses more steel, cement, copper, nickel, and coal than the rest of the world — combined.
That's 59% of cement...
57% of nickel…
And 50% of both copper AND steel.
Of course, this commodity grab was going on at the same time as China was transforming into the world's second largest economy.
It wasn't coincidental.
Now, imagine the same demand for commodities taking place in…
India with its 1.38 billion population…
Indonesia with its 273 million population…
Brazil with its 212 million population…
Plus billions more scattered across the developing world.
AT THE SAME TIME.
The world has never seen anything like the level of commodity demand that is coming.
That is here…
And the mainstream media is completely missing it.
Almost all analysts have pointed to a decrease in production and supply as the driving force behind the recent surge in commodity prices and the various supply shocks across the globe.
And brushed the resulting inflation off as temporary.
And look — without a doubt, the pandemic had a huge impact on supply chains.
We're even seeing this happen again, with recent outbreaks in China triggering renewed lockdowns.
Likewise, the war in Ukraine is interfering with the global supply of oil.
But to focus on these short-term trends, assume they can and will be resolved, and not recognize the historic and immense DEMAND coming out of the developed world is short-sighted…
Because the world is NOT filled with limitless resources… and we're not the only ones after them.
America, along with the rest of the modern world, will now be forced to watch as these emerging markets eat up resources with an endless appetite.
These countries need oil.
They need steel.
And coal.
And their appetite is only going to continue to grow.
Which is why I expect to see higher demand, less supply, and higher prices across all commodities FOR THE FORESEEABLE FUTURE.
But what would this look like, in concrete numbers?
Well, the Asian Development Bank — one of the world's largest financial organizations — has projected the developing world will need a staggering $26 trillion worth of resources just for infrastructure over the coming decade.
To put that in perspective, that's more than 14 times the value of every cryptocurrency asset on the planet...
More than 2 times the value of every ounce of gold on the planet...
And more than 3 times the size of every company that makes up the Dow Jones Index.
It's simply extraordinary. So, here's the bottom line…
On top of a jaw-dropping $5.2 trillion in pandemic stimulus AND the fit of money printing that dwarfed anything we've ever seen and essentially broke the super-bull market that was powering our economy…
We're now facing the biggest tailwind for rising commodity prices in history — massive and sustained demand from the developing world.
This is why the inflation eating away at American paychecks and savings accounts is not "transitory"…
And why I believe we're facing the beginning of a New World Order in investing.
It's now imperative you learn how to invest through what could be a decade (or more) of high inflation and abysmal stock returns.
The alternative is a new nightmare reality: life at Ground Zero.
That's zero economic security…
Zero wealth…
And zero hope of it getting better.
But let me reiterate — this does NOT have to be your story.
How to Avoid Life at "Ground Zero"…
I've written this message to reach as many Americans as I can before it's too late.
Because NOW is the time for you to make your move.
Not tomorrow, or a week from now.
At the current inflation rate of over 8%, the U.S. dollar will lose more than 30% of its buying power in just four years.
And if it hits double digits like it did in 1974, it will take just three years.
If you're like most Americans, it's taken decades to build your wealth… but we're now facing the very real possibility of it being destroyed before the next Presidential election.
This is why I've prepared a blueprint detailing the exact three steps you should take to protect your wealth and family from what's happening.
It will give you the tools you need to help safeguard your family...
To protect your wealth…
And most importantly, to give you hope.
Because it will show how, even with all the confusion and financial turmoil threatening America today, there are STILL extraordinary investing opportunities…
IF you know where to look.
The first step I'm recommending is taking advantage of one of the most radical and promising opportunities I've seen in years…
Step #1

: Pick Up THIS $1 Asset to Secure a Shot at Raking in Up to 50-Years' Worth Of Stock Market Gains in a Fraction of the Time…

Imagine.. one trade that sports the potential to turn:

$2,700 into $16,200…

$10,400 into $62,400…

And if you're bold enough to go big… an $85,750 investment that could easily rocket into $514,500…

Take a moment and think about those numbers.

Imagine how it would feel to rake in up to 5 times your investment in just a few months…

Cash like that could help slow the drain of inflation (and then some)…

Help you completely avoid the horror of a Ground Zero economic future...

Heck, depending on what you invest, that much money could change the entire course of your life… and it could all come from a single trade.

That's what's possible with opportunities like the one we're talking about today…

And it's why I'm advising my readers not to settle for meager or negative returns during this record inflation…

But rather to go after extraordinary gains from inflation-proof assets instead.

This goal is far more achievable than you might think.

Especially if we use history as our guide.

If we look at the 1970s inflationary period again, it's clear that a small part of the markets performed extremely well…

Even as large-cap stocks and bonds cratered and skyrocketing prices ravaged the nation.

That asset class?

It was small-cap stocks.

During the 1970s, only small-cap stocks — companies with a market cap between $300 million and $2 billion in today's money — generated a positive return when adjusted for inflation…

Beating out large caps, corporate bonds, and 30-day treasury bills…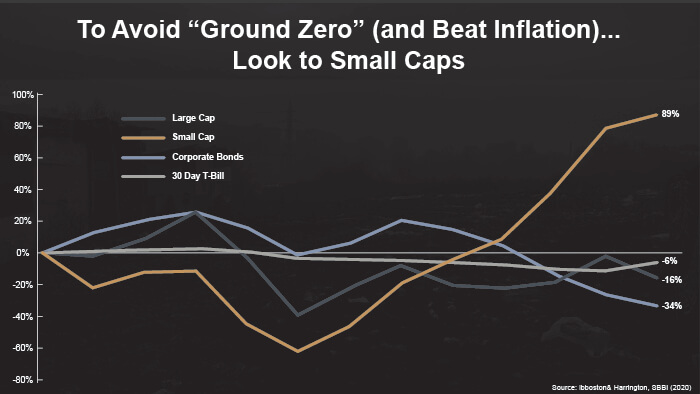 And boy did they perform…
The NY Times reports: "Between 1974 and 1983, the smallest 10 percent of American stocks rose by 28.4 percent a year."
And looking at a slightly different period in that timeframe, from 1974 through to 1980, small caps grew sevenfold.
In other words, by investing at the right time, small caps could have handed you back up to 7 times your money.
And small caps prepared to take advantage of inflation and surging energy demand performed even more spectacularly during this period, in some cases returning twenty times your money.
So, as we face another frightening period of inflation and historic commodity demand, I'm recommending you take a position in a small-cap stock positioned to dramatically profit from rising prices.
But not just ANY small-cap...
This "Inflation-Crushing" Opportunity Could Hand You A Lifetime of Returns in a Fraction of The Time…
For the last half-century, the stock market has returned 9.1% a year on average.
That's a total gain of 455% over a 50-year period.
Not a bad return…
But what if you could condense that 455% gain into just one year? Or even a few months?
Just imagine…
No stressing through the ups and downs of the market…
No waiting a lifetime for a payoff that never happens.
Just one trade and 455% gains in a fraction of the time.
That's the potential we're looking at with this inflation-crushing stock — a junior mining company harvesting hard resources desperately needed by the world's largest businesses and nations.
Now, could I be off the mark with this?
Sure. But even if I'm only half right, we'd still be looking at a spectacular 225% return… and that's worth taking a look at.
So, what makes it so special?
Well, as I said — it's a small-cap stock, so it has market history working in its favor.
But like all mining companies, this tiny stock's value is inherently tied to the land it mines and the resources accessible on that land.
And right now it's sitting on a multi-billion dollar treasure trove.
Take for example its "Alpha" site, deep in the American wilderness…
It's one of the highest grade resource deposits in the world, packed with…
159 million pounds of copper
199 million pounds of zinc
33 million pounds of lead
3 million ounces of silver
And 30,600 ounces of gold
To give you an idea of just how valuable this site is, consider this…
As I sat to prepare this presentation, gold was trading at $1,947 an ounce.
Which makes their current gold deposit worth a touch under $60 million.
Only, get this — those figures I just mentioned are NOT total deposit size, but rather annual production projections.
Meaning over the 12 years of production life anticipated for this site, their gold deposit could be worth 12 times that…
$720 million.
Or more than three times their current market cap, which is under $200 million USD.
Not bad…
But those figures are dwarfed by the potential production capacity of their other precious metals on site…
For example — with copper currently selling at $4.27 a pound, and a potential 159 million ounces produced per year — their copper production could add another $678 million a year in sales.
While their zinc deposits could add another $344 million per year…
That's more than $1 billion a YEAR in potential production capacity and doesn't include their lead or silver reserves…
Again, this company's market cap is less than $200 million USD.
Which means every year in operation holds the potential to yield a production total five times the size of their current market value.
And a very productive yield at that…
I should mention this company has been extremely conservative with its profitability estimates.
For example — they've demonstrated mining these resources will be feasible and profitable with copper at $3.00/lb. and gold at $1,300/oz.
As I write this copper is selling for $4.27/lb., while gold is trading at $1,947/oz.
Meaning if commodities continue to soar, which I have full conviction they will due to demand from the developing world, this company is on the fast track to becoming extraordinarily profitable.

I hope you can see why this "Alpha" site is so remarkable to me…
And why this small-cap miner has the potential to crush inflation and hand you extraordinary profits at a time when they're needed most.
But remember, that's the value of just ONE mining site.
Their "Bravo" deposit is equally as promising, with 8 billion — with a B — pounds of copper.
With immense amounts of copper needed for the development of clean energy (solar panels, wind turbines, batteries, and so on)...
Which are just as important to the developing world as they are to us…
Future contracts on copper have soared since 2020.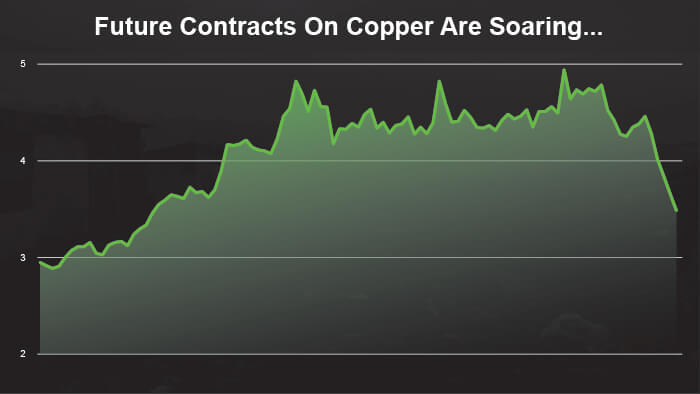 The price per ton recently hit $10,000 for the first time in a decade.
This prompted CNBC to report...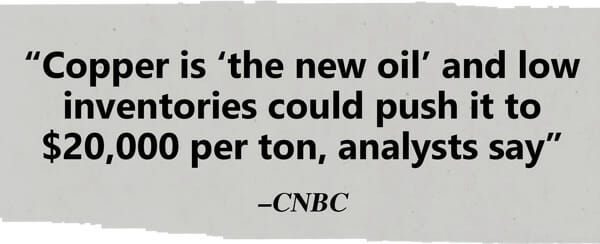 They aren't the only experts calling for a run-up in copper…
Goldman Sachs has projected prices could reach $12,250 a ton by the end of this year.
And Bank of America has revealed copper prices could reach $20,000 a ton by 2025.
But whether copper reaches these prices or not is largely irrelevant, since this junior miner's current reserves are already worth in excess of $36 BILLION.
Remember — this small-cap miner is currently valued at less than $200 million.
So the upside potential here is astronomical.
This "Bravo" site isn't only home to a vast copper reserve... it's also sitting on roughly 88 million pounds of cobalt.
Cobalt used in electric vehicle batteries is currently trading at $77,000 a ton — a 4-year high.
With 50% of the world's cobalt located in the unstable Democratic Republic of the Congo, this cobalt supply — located in America — is more valuable than ever.
And remember — commodities and consumer prices are intertwined.
When commodity prices go up, it affects everything down the line…
While you may not feel the "cobalt crunch" directly…
If cobalt rises in price, you can bet your bottom dollar it will be reflected in the cost of your next smartphone.
Hopefully, by now, it should be crystal clear that I'm confident the inflationary period we're entering is only going to add fuel to the commodity price fire.
Add this to the demand coming from the developing world and we have a recipe for shortages and ever-rising copper and cobalt prices.
This small-cap miner is sitting on a literal and figurative gold mine.
And it's absolutely imperative you consider investing immediately due to pending and urgent government approval…
U.S. Government Approval Could Ignite A Rapid 500% Rally…
Ground Zero will manifest in many ways, but as I said before one of the most pressing is the material and commodity shortages that are hitting globally.
This is why the U.S. government is urgently negotiating with our inflation-crushing small cap on how to proceed with mining these projects.
As soon as they give the federal stamp of approval, production will be initiated and ramped up, ASAP.
And according to a recent statement from the White House, approval and initial production on the site could be accelerated as a matter of urgency.
That's because the resources on these sites have emerged as a critical lever in our rivalry with the world's second largest economy and competing superpower — China.
You see, China currently controls 35% of the world's supply of rare metals.
Including 80% of the United States' rare metal imports.
But to rely on critical materials from a country that's dead set on toppling us from our spot as the world's premier economic superpower is — simply put — a disaster in the making.
And it's no surprise the Foreign Policy Research Institute says this situation represents…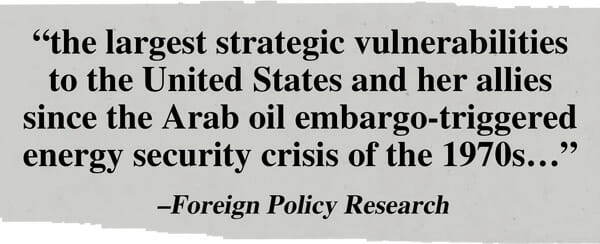 Which is why on February 22, 2022, an official brief from the Biden administration revealed it's now a national priority to secure a domestic supply of rare materials to break free of dependence on China.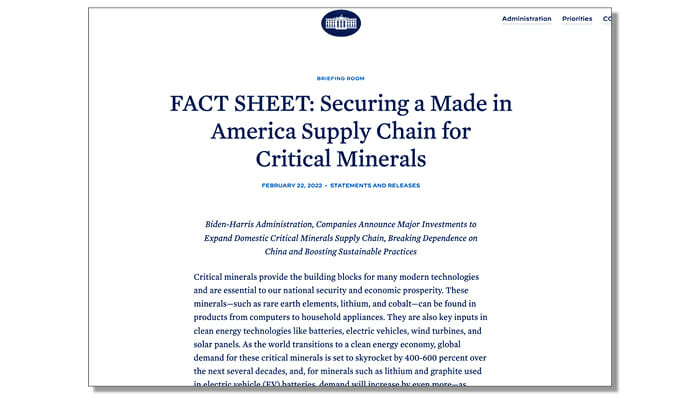 In the very first paragraph of the document, they highlighted just two critical minerals: lithium and cobalt.
Stating that demand for cobalt could "skyrocket by 400-600 percent."
And that procuring it is now a matter of national security.
With war breaking out in Europe and increasingly close ties between China and Russia developing, this situation is close to a tipping point.
Ground Zero is on the horizon…
And our administration must act to seize these resources now.
Of course, nothing in the markets (or politics for that matter) is certain.
And there is a chance that this deal doesn't go through...
At the same time, I wouldn't have shared all this with you today if I wasn't confident the odds were in our favor
Which is why NOW is the time to make your move — before the U.S. government signs off on this critically important resource project and we find the name of this company plastered across the financial news.
(Especially since, at roughly $1.00 a share… you can set yourself up for a sizeable windfall without betting the farm.)
FAIR WARNING: Today, the stock trades for around $1 USD — but if they are given the "green light" I wouldn't be surprised to watch it rocket right past $5.00 a share.
Could it hit $15 or even $25 a share?
Only time will tell…
But once the project is in full swing, I expect over a decade of profitable production as they procure billions of dollars of rare resources from their Alpha and Bravo sites.
I don't think it's an overstatement to say this is likely the opportunity of a lifetime.
And exactly the kind of OUTSIZED investment you'll need to survive the new financial reality knocking on many Americans' doors…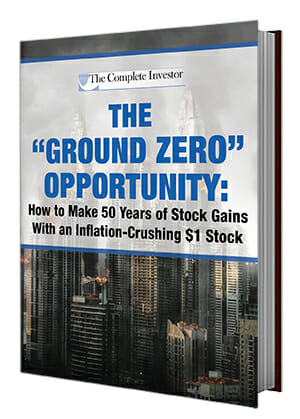 I've outlined everything you need to know about this inflation-crushing small-cap miner and how to get started in the fastest possible time inside a brand-new report: The "Ground Zero" Opportunity: How to Make 50 Years of Stock Gains With an Inflation-Crushing $1 Stock…
Taking a small position in this promising stock is the first step I recommend today to secure your family's financial future and potentially claim an extraordinary five, or even six-figure, windfall.
I have this report finalized and ready to send to you immediately.
And at no cost.
All that I ask in return is you take…
Step #2

: Give My Award-Winning Financial Newsletter The Complete Investor a Risk-Free 90-day Test Drive…

The Complete Investor is a monthly investment research advisory that's been helping Americans seize extraordinary investing opportunities…

Build a steady flow of safe dividend income…

And avoid the pitfalls of impending financial crises…

For nearly two decades.

Often people join The Complete Investor after reading one of my NY Times best-selling books or after stumbling upon one of my accurate financial predictions…

They tend to be smart, independent thinkers who can see the writing on the wall…

Such as now, when inflation is sweeping the United States… and threatens our very livelihood.

And they know they've got to do something, but they're not sure what exactly.

That's when The Complete Investor comes in…

I pinpoint extraordinary opportunities… make calculated recommendations… and help investors navigate the choppy waters of the market in a simple, clear, and easy to execute manner.

And with over 40 years under my belt… I've gotten pretty good at it.

Last year alone we closed a 949% gain on Fortinet…

A 215% gain on Taiwan Semiconductor Manufacturing…

And a 273% profit on ONEOK Inc.

In our "growth" portfolio, our top open position is up 530%...

Our current open positions are sitting on an average return of over 82%...

And across all our portfolios, more than 20 of my recommendations have more than DOUBLED in value.

Even our dividend portfolio — geared for income generation — is showing an average return of 56%...

While paying hefty yields up to 8.8%!

Basically, whether you've never placed a trade in your life… or you're a seasoned investing vet with decades of trades under your belt…

I'm confident you'll find spectacular opportunities that fit your investing style inside The Complete Investor.

When gold is hot, we show readers ways of investing to take advantage and make even more money than investing in the metal itself (like when we made a play on Barrick Gold in 2015 and rode it for a tidy 121.5% just a few years later)…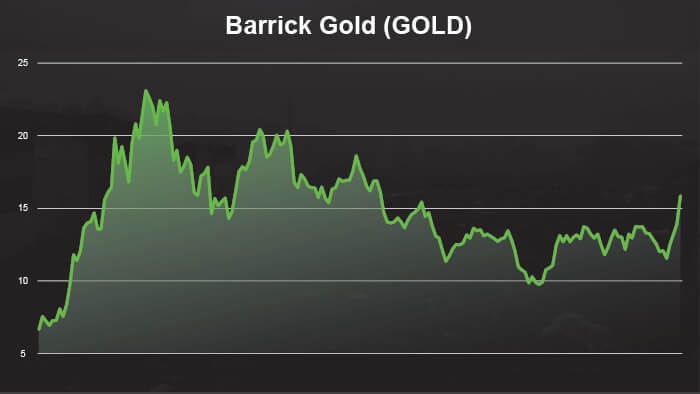 Members of The Complete Investor who took part in this trade could have more than doubled their money… giving them a total return of $2,215 for every $1,000 invested
When real estate goes on a tear, we figure out ways to grab our share of the profits (e.g. securing a 69% return on Ventas, a real estate play focused on health facilities)…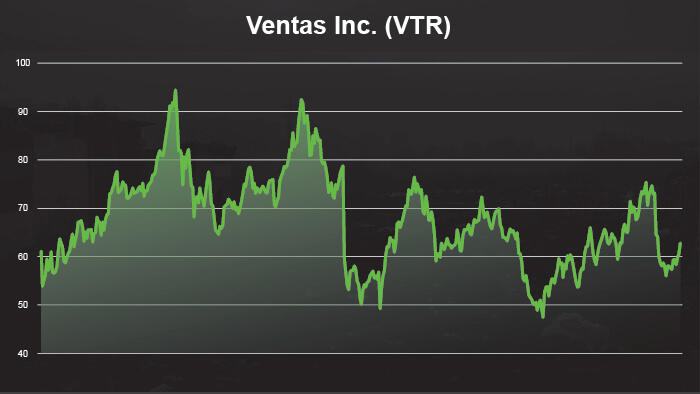 And during geopolitical conflicts, we provide hedges and unique ways to benefit from defense spending — and while it took a few years, Raytheon, one of our past defense recommendations racked up a huge 578% return...
Imagine… one simple 'sit and hold" trade with enough juice to turn every $10,000 into as much as $67,800.
We do all this in a transparent manner that puts our readers first and keeps the lines of communication open.
It's likely why I receive so many messages from my readers, such as…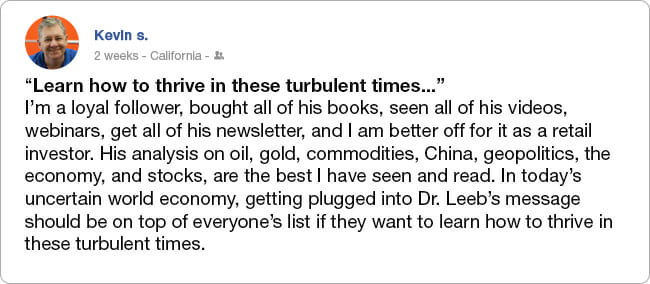 While Experts Say...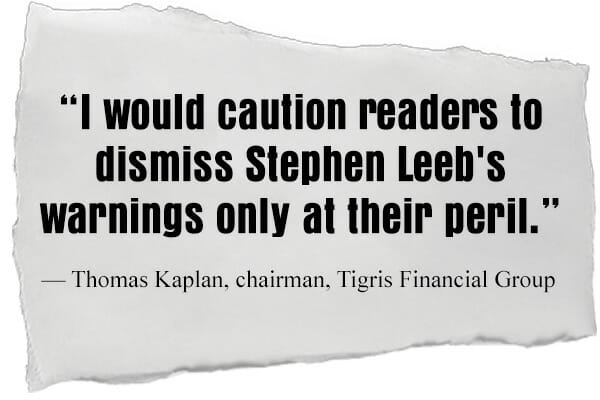 Of course, no matter what the experts say… there are no guarantees when it comes to investing… and your experience will differ.
In all my years in the financial markets, one of the most important things I've learned is that you should never invest more than you're willing to walk away from.
But with life at Ground Zero imminent for millions of Americans, I believe my message is more important than ever…
So, if you'd like to have a PhD. economist who's been named America's #1 Stock "Market Timer" by Timer Digest and Hulbert Financial Digest — the nation's leading independent newsletter ratings service…
And who's won both the Forbes and Wall Street Journal stock-picking competitions, help you navigate the coming inflationary period and the frightening new financial realities at hand …
You only need to join The Complete Investor today on a 90-day, risk-free test drive.
Just click or tap the "I Want In" button below to discover the massive savings on the table today…
But that's just a taste of the analysis, opportunities, and recommendations I'll be bringing you inside The Complete Investor.
You're also unlocking…
Monthly issues of The Complete Investor — Get access to well-researched and extraordinary opportunities to add a fortune to your nest egg no matter what the market throws at you… complete with specific instructions on when to buy and when to sell every month!
INSTANT access to our model portfolios — Designed to outperform in any market. Get into these trades like this immediately for your opportunity to profit.
Free Weekly Updates — When something important happens in the markets, I won't leave you waiting for weeks to hear about it. Each week, I send an email update to ensure you're on top of any and all late-breaking market developments and company news.
FREE flash alerts — To help you quickly benefit from breaking news that could dramatically boost or break your wealth.
FREE 24/7 access to our private, secure website — With a searchable archive of past issues and special reports covering dozens of opportunities to multiply your money.
Investing Daily Insider — Beyond the headline news, there are hidden fortunes in the stories that seldom get told. Every weekday, our exclusive news digest, Investing Daily Insider delivers money-making insights into the week's most important financial news.

VIP Concierge Hotline — As soon as you're on the inside, you'll have access to a special phone number where you can reach my VIP concierge team every weekday during normal business hours. They're standing by to ensure any questions, concerns, or problems you have as a member is dealt with quickly and thoroughly.
But I'm not stopping there…
The moment you click the button above, I'll show you how you could get even more out of your membership… including a shot at outsized income payouts, and a portfolio saving "blueprint," detailed in two bonus reports…
Step #3

: Pick Up These Bonus Reports Valued At $398 Immediately — For Free…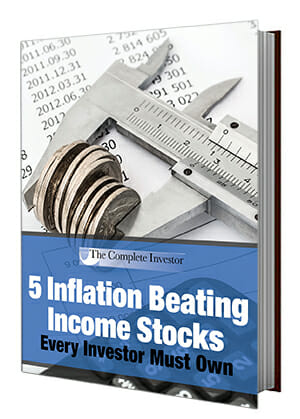 Bonus Report #1: 5 Inflation Beating Income Stocks Every Investor Must Own Now ($199 value FREE)
These five incredible income stocks could add even more protection to your portfolio…
They've increased their dividends for years, creating steady, reliable income for U.S. investors. Inflation is going nowhere (but up) in the near future… but you don't have to simply take it on the chin. As inflation wreaks havoc across the nation, these 5 proven inflation-beaters could keep you sitting pretty while everyone else panics.
But I'm not stopping there… I don't make just make recommendations on what stocks to buy… I also help you steer clear of stocks you should avoid like the plague!
(Not even so-called "blue chips" are safe in this market.)


Bonus Report #2: 10 Stocks That Could RUIN Your Financial Future ($199 value FREE)
Millions of Americans are rushing towards a financial future so nightmarish it will make the homeless encampments in our major cities look like five-star resorts.
When the dust settles and people are looking for someone to blame, these 10 stocks will be among the worst offenders. I call it my "Blue-Chip Blacklist"...
AVOID THEM AT ALL COSTS!
So, to recap…
Join The Complete Investor today at a tremendous discount and you can receive a total of three incredible reports for FREE, including…
The "Ground Zero" Opportunity: How to Make 50 Years of Stock Gains With an Inflation-Crushing $1 Stock ($199 value FREE)
5 Inflation Beating Income Stocks Every Investor Must Own Now ($199 value FREE)
Blue-Chip Blacklist ($199 value FREE)
These resources reveal exactly what you need to do if you'd like to set yourself up to profit no matter what happens next in the market.
This is already an incredible package…
But despite what my publisher would want… I'm going to take things a step further.
I understand that making any kind of financial decision can be hectic… especially right now.
Which is why, when you join me as a Complete Investor today, you'll enjoy all everything we've just discussed with the additional peace of mind that comes with a 100% satisfaction guarantee.
My "Ironclad" 100% Satisfaction Guarantee…
Take a full 90 days to put The Complete Investor membership through its paces.
Review your bonus reports…
Take action on any of the wealth-building opportunities inside each issue…
Check out our model portfolios' performance and see just how good our returns are.
And if after all that, you find you're not completely satisfied with our research, simply place a quick phone call to our Concierge Hotline within 90 days of joining and we'll return 100% of your membership fee…
No questions. No hoops. No loopholes.
What's more, even after 90 days, you're still free to cancel whenever you'd like…
AND receive a prorated refund on any unused portion of your membership.
You can even keep all the reports, newsletters, alerts, and recommendations you receive during your membership period.
Consider them my way of saying, "Thank you for trying us out."
So, let's get started by unlocking an immediate and massive savings for you.
Here's the deal…
The total value of today's "Ground Zero" package, including a subscription to The Complete Investor and the three exclusive reports detailing the extraordinary profit opportunities I explained above is $795.
That's a fair price…
Considering any one of the 20+ open double-bagger trades across my portfolios could cover that amount many times over...
And that we're fast approaching one of the most tumultuous financial periods in our country's history.
But you won't pay anything close to $795 for access today.
Rather than charge the maximum amount people can stomach OR jack up our prices like every other business is right now, we've decided to offer these valuable resources at a rock-bottom price.
You won't pay half of $795…
Or even a quarter…
You won't even pay $99…
The total price for this package amounts to as little as $3.25 a month.
Or to put it another way, just $0.11 a day.
You're just a click away from potentially life-changing trades… for less than the cost of a stick of gum.
The reason we're offering such a tremendous discount is simple…
America is headed down a dangerous path.
Millions are barreling towards life at Ground Zero… and they don't even have a clue what's coming.
But I believe The Complete Investor CAN help.
By reading this far you've shown you're prepared to take a simple step towards protecting your family and your financial future.
Now, will you join me inside The Complete Investor and add a PhD. and former congressional adviser to your corner…
Or will you walk away and face the greatest inflationary period in a generation alone?
The right choice is yours to make...
But I hope you'll join me as a new member of The Complete Investor so we can work together to achieve an extraordinary level of wealth and security for your family.
Just click or tap the "I want in" button below to see our pricing options.
Sincerely,

Dr. Stephen Leeb
Chief Investment Strategist
The Complete Investor
P.S. There aren't many things you can buy for $0.11 these days. And certainly nothing as valuable as a membership to The Complete Investor. When you factor in just how much money our "Ground Zero" $1 opportunity could make you… I don't believe I've ever uncovered a more drop-dead simple opportunity, in my entire career… and I'd hate for you to miss out on it. Click here to arrange access now.
Copyright © 2022 Investing Daily, a division of Capitol Information Group, Inc. In order to ensure that you are utilizing the provided information and products appropriately, please review Investing Daily's' terms and conditions and privacy policy pages.