$128 Trillion Profit "Wave" Set to Drop a Fortune in Investors' Laps:
When one of these profit waves hit in 1996… tech stocks rocketed 1,427%
In 2001, a profit wave sent energy stocks soaring 784%
Another struck in 2010, sending healthcare stocks on a 366% sprint
We watched as one washed across Wall Street again in 2019, shooting 5G stocks up 333% since then
NOW – another massive profit wave is forming… this time it's poised to send 3 stocks in ONE sector on a 3,060% surge
Fellow Investor,
Every few years, a series of obscure "waves" wash across the markets, handing investors a shot at massive fortunes… IF you know where to look.
You don't hear about them on the evening news…
Most people have no idea they even exist…
But if you spot these waves before they hit Wall Street head on, you can position yourself to ride them to incredible profits.
My name is Stephen Leeb. Right now, I'm going to show you what these "waves" are... where they come from... and how you can ride the latest wave for total gains as high as 3,060%.
These "waves" have been tricky to track down, as they don't stick to a single sector of the market…
In fact, from the outside, there doesn't seem to be an immediate connection between them.
It took nearly three decades of dedication and research… but the secrets I discovered behind these "profit waves" are absolutely shocking.
And once you understand the pattern behind these "profit waves" (and the massive gains that tend to follow them)… it may change the way you invest, for life.
After years of research, I finally cracked the code and uncovered the one common connection that each of these waves share… Washington, D.C.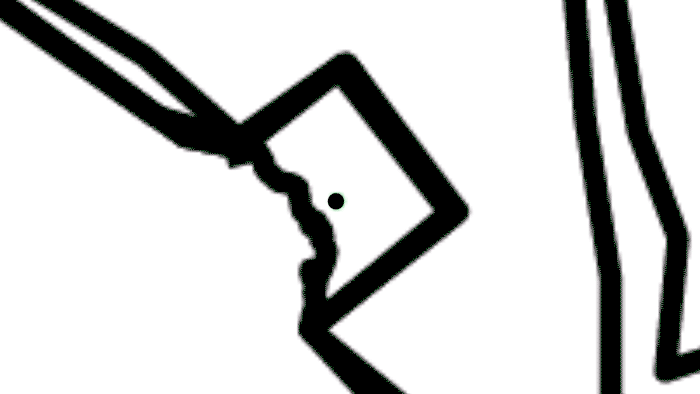 The epicenter of each wave starts in the exact same place, every time…
Right, smack in the middle of Washington D.C.
Let me explain…
The first wave caught my attention when it took shape over 25 years ago, when President Bill Clinton signed the 1996 Telecommunications Act into law, de-regulating the telecom industry.
Which finally allowed Americans access to faster, cheaper internet.
At the time, I was digging into the new telecom law and noticed a huge spike in internet and tech stocks immediately after it was signed.
During this tech boom, investors saw massive gains like:
438% off of IBM, creator of one of the first commercial Internet Service Providers...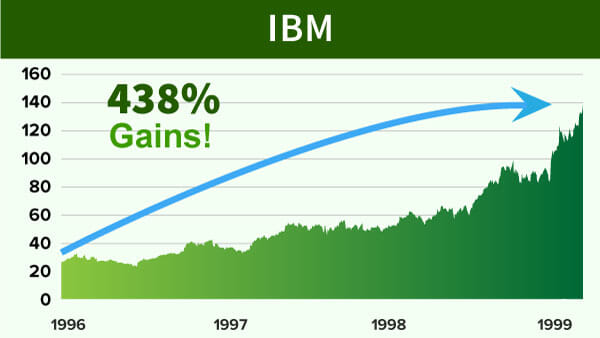 790% from Microsoft, which gave us Internet Explorer and our first glimpse at the future...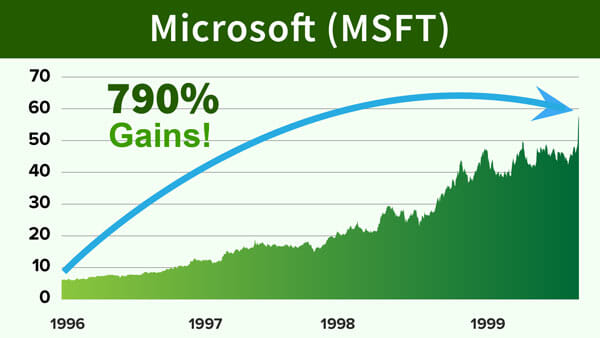 875% off of Adobe, which allows us to create, share, store, and sign online documents...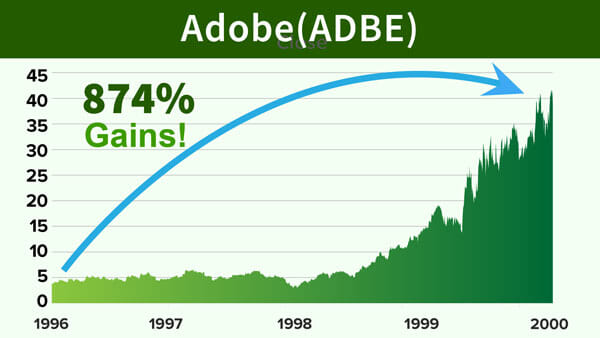 Oracle, which made it possible to store and organize massive amounts of online data, skyrocketed 1,085%...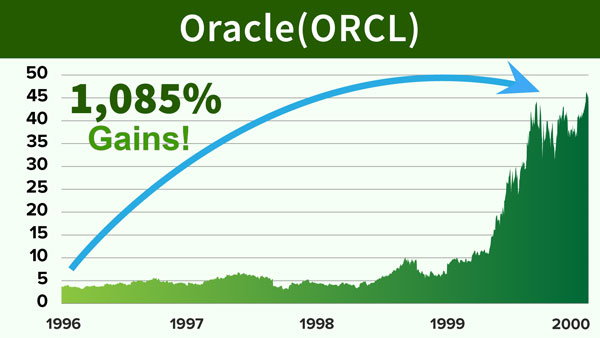 And Cisco Systems, global networking kingpin and "architect" of the internet, handed investors a 1,427% windfall...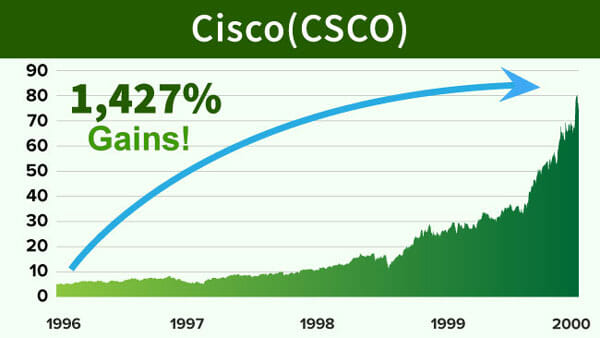 A $1,000 stake in each of these plays during this time could have handed you $46,150 in total profits.
But don't feel bad for missing out. As you'll see, another wave of profit opportunities like these is forming just now... allowing you the chance to make up to 3,060% total gains.
I'll reveal how in just a moment...
But first, there's a pattern behind waves like this that I want to show you...
We saw it appear just as the first massive wave of profit opportunities went out with the tide... when President George W. Bush convened the National Energy Policy Development Group in 2001.
The purpose: to "develop a national energy policy designed to help the private sector... promote dependable, affordable, and environmentally sound production... of energy for the future."
Devon Energy shot up by 555%...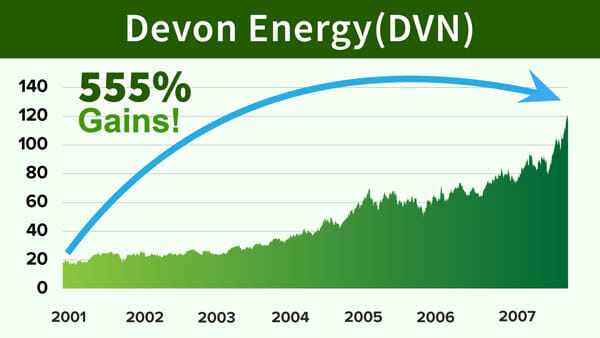 EOG Resources handed investors a 632% fortune...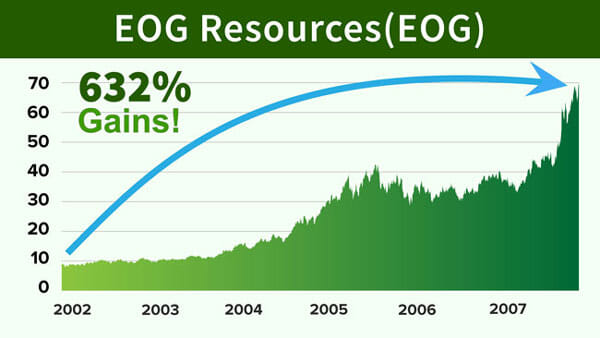 And Valero Energy dropped a 784% windfall in investors' laps.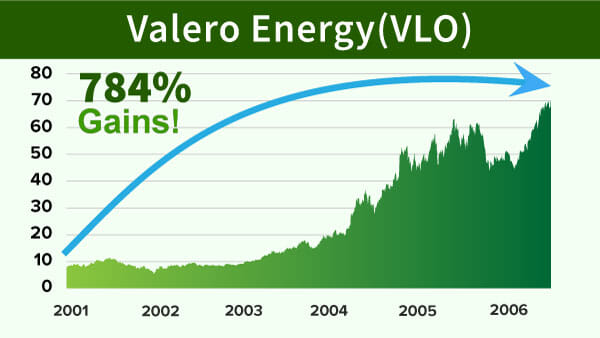 Again, just $1,000 invested in each of these profit-wave stocks could have handed you $22,810 in pure profit.
Then, even as investors were still enjoying their huge gains from the Bush-era profit wave, another wave began in 2010, shortly after President Barack Obama signed the Affordable Care Act, or Obamacare, into law.

As a result, healthcare stocks shot to the moon during Obama's presidency...
Including United Health Group...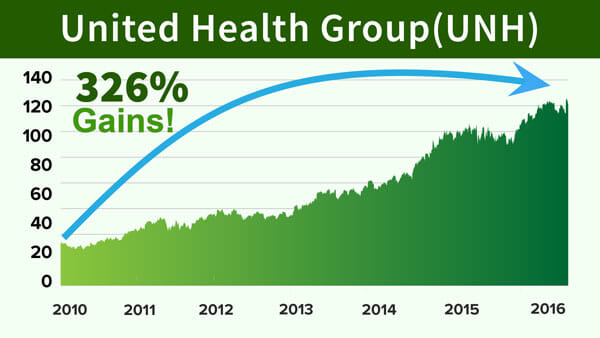 Humana did the same...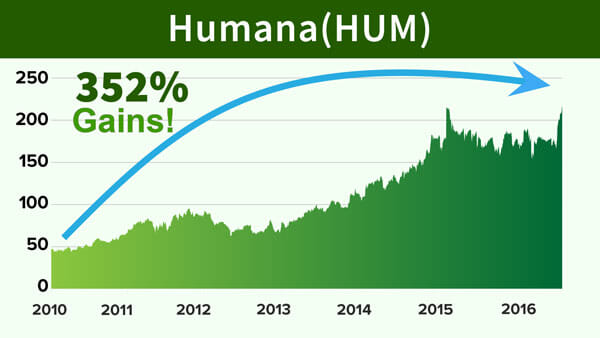 And so did Cigna.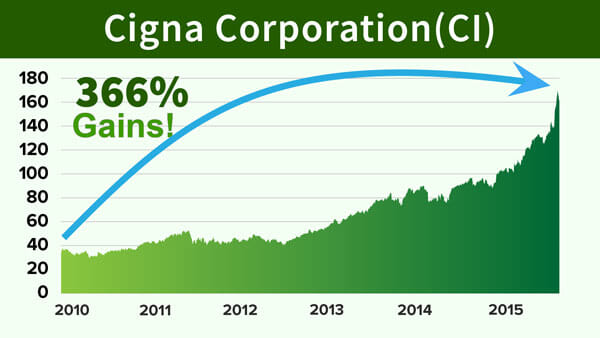 Just $1,000 invested in each of these three stocks would have handed you $13,440 in cold, hard cash.
Are you beginning to see the pattern behind these waves?
Every new administration tends to focus their time, attention, and resources on one specific sector of the economy.
Creating a massive surge, or "wave" in that sector (potentially loading up investors in it with lifechanging profits).
With Clinton it was the internet.
With Bush it was energy.
And with Obama it was healthcare.
The "Profit Wave" currently washing over markets began under President Trump in the Telecom sector.
In 2019, he announced a new wireless spectrum auction to speed up the rollout of America's 5G network.
As he said at the time, "Secure 5G networks will absolutely be a vital link to America's prosperity and national security in the 21st century."
Unsurprisingly, 5G stocks have followed this same pattern and taken off like a rocket.
Since 2019...
Analog Devices, which helped create one of the world's first 5G networks, has more than doubled...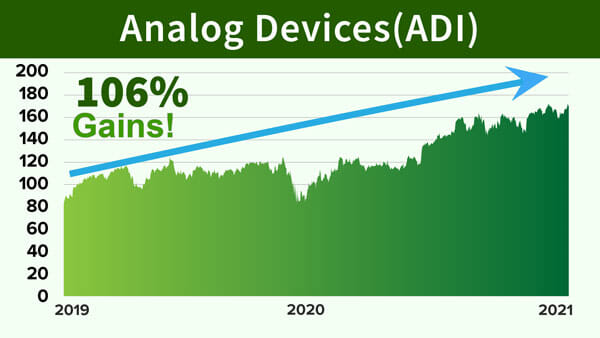 Qorvo, producer of radio-frequency solutions for 5G networks, has more than tripled...
As did Marvell Technology, whose silicon chips help telecoms deploy their 5G networks across the globe...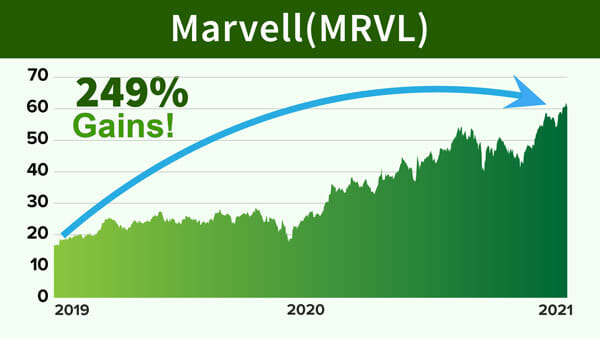 While Teradyne, producer of testing equipment for 5G-enabled devices, has more than quadrupled.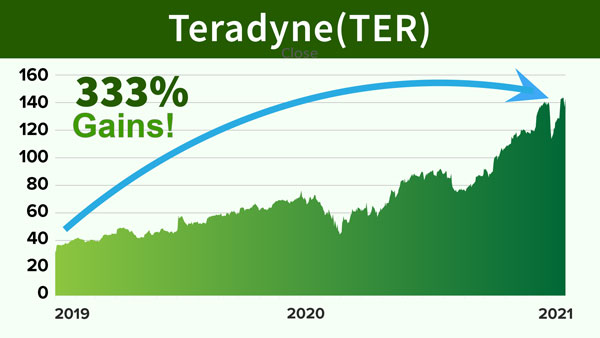 The Biggest Wave of Them All?
As we speak another wave is cresting — perhaps the biggest yet — and we could be days away from watching it wash across Wall Street, sending ONE sector surging.
This is one of those rare occasions when history repeats itself like clockwork...
Only this time, with a few simple clicks, you could lock in a shot at gains up to 3,060%.
I'll lay everything out on the table in just a moment, but first, allow me to formally introduce my myself.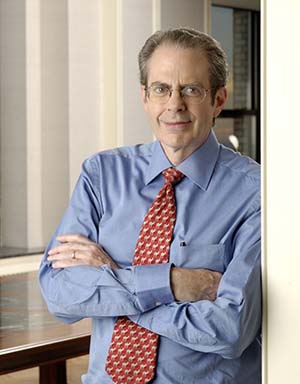 As I said earlier, my name is Dr. Stephen Leeb.
I hold a B.S. in Economics from the Wharton School of Business…
A Masters in Mathematics…
And a PhD in Psychology from the University of Illinois.
I've worked for decades as an investor, analyst, and board member of various tech, finance, and resource companies.
I was named America's #1 Stock "Market Timer" by Timer Digest and Hulbert Financial Digest — the nation's leading independent newsletter ratings service.
I've won both the Forbes and Wall Street Journal stock-picking competitions...
Regularly made appearances on Bloomberg TV, CNN, Fox Business, and CNBC…
And am frequently quoted by publications like The Wall Street Journal, Investor's Business Daily, USA Today, Forbes, Business Week, The Washington Post, and many others.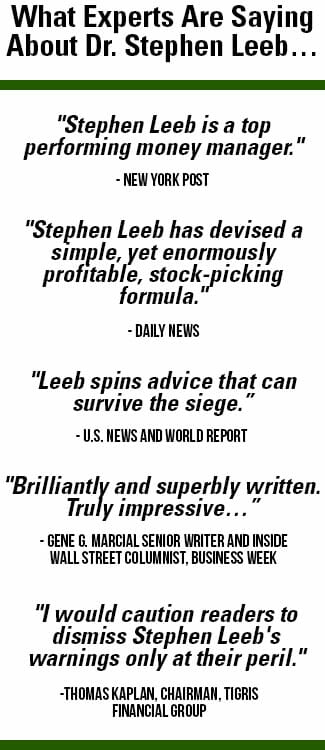 Over the last decade, I was ranked in the top 5% of money managers nationally.
And I've even been called an "Oracle" of macroeconomic trends.
I earned this title after making a number of urgent and accurate forecasts over the course of my career. For example:
Defying the Market: I pounded the table about gold, which was then trading below $275, saying "gold could… come back to $800 and even to $1000 or higher. A buy and hold strategy for gold should make you a big winner." Those who listened to me had the chance to reap epic fortunes as gold soared 600% between 2001 and 2011.
The Oil Factor: Protect Yourself and Profit From the Coming Energy Crisis: Published in 2004 during the Bush energy wave when oil was trading at about $40, my prediction that oil prices would soar led some to derisively dub me "the oil guy." That didn't bother me at all. The book laid out what I was convinced was a forthcoming mismatch between supply and demand. In the next several years oil climbed to over $150 a barrel.
The Coming Economic Collapse: Well before the Great Recession, I told readers what would happen if home prices started to fall, stating, "If home prices suddenly started to fall it could be the vicious circle to end all vicious circles… Could the policy rescue such a situation? Clearly it would be a far greater challenge than rescuing the economy in the wake of the tech bubble… It would take massive amounts of money. Interest rates would likely fall to zero. Government spending would need to reach unimaginably high levels." As we all know, that's exactly what happened — in 2008 the housing market collapsed and the Fed printed trillions of dollars to save the economy, while interest rates still hover near zero today.
Game Over: How You Can Prosper in a Shattered Economy: I accurately predicted both the stock market's rise past 14,000 and the commodities boom that pushed gold prices past $1,700 an ounce. Once again, investors who heeded my forecasts and got into both had the chance to rake in fortunes for themselves.
Red Alert: How China's Growing Prosperity Threatens the American Way of Life: A decade ago, as many U.S. "experts" insisted China couldn't keep economic growth going, I warned that the Red Dragon was leapfrogging over the U.S. in key areas. In particular, I pointed to China's accumulation of vital resources needed for its industries and military. I also noted that China is building the world's largest alternative energy structure, and that this would be bullish for solar stocks. Since then, TAN, the world's largest solar ETF, has climbed more than five-fold.
I'm not telling you all this to brag, but to make one thing clear:
When I make a prediction like this, it pays to listen.
For more than 40 years, I've used my deep understanding of the economy to help investors survive, thrive, and profit through anything the market could throw at us.
And that's why I'm alerting you to this urgent opportunity.
Because this next wave of presidential profit opportunities coming over the horizon stands to be the biggest yet.
Bigger than what we saw with the internet, oil and gas stocks, healthcare stocks, and even 5G.
Why?
Because I believe this next wave strikes at something fundamental — a mega-shift in the very foundation of our daily lives.
Without it, we'd all be living in the dark age.
I'm talking about energy production.
Or, more precisely, the snowballing shift towards a cleaner, greener future...
And the massive 3,060% total potential gains it's bringing with it.
Because make no mistake:
Just as Clinton made the internet the focus of his administration...
Just as Bush made oil and gas companies the focus of his...
Just as Obama held a laser focus on the healthcare sector...
And just as Trump did for 5G...
So too, is President Biden making clean energy the centerpiece of his administration.

To prove just how serious he is, Biden is on the cusp of signing the massive $1.2 trillion infrastructure bill, which includes $73 billion to expand clean energy sources and modernize the nation's aging electricity grid with new transmission lines, the single largest investment in clean energy transmission in American history.
And as I write this, Biden is pushing for an even bigger $3.5 trillion spending bill that provides tax incentives for clean energy and electric vehicles.
No longer just a pipe dream of far-left hippies, clean energy is also gaining surprisingly strong support among the American people.
According to one George Mason University survey, 66% of registered voters said developing clean sources of energy should be a "high" or "very high" priority for the Federal Government.
What's more, 72% of registered voters support transitioning the economy from fossil fuels to 100% clean energy by 2050.
In order to hit that goal, The International Energy Agency estimates that $128 trillion will need to be invested in clean energy technologies over the next 3 decades
That's an absolutely staggering amount — over 76x more money than Amazon's entire market cap.
With that much money flowing into a single sector, if you make the right move today, you might need a bucket to catch all the cash that comes gushing out of it.
And that's not just me talking.
Kingsmill Bond, an energy strategist at Carbon Tracker, remarked, "people who successfully carve out new niches in this new economy will be the owners of the wealth of the future."
No wonder why some of the world's wealthiest individuals and institutions are racing to go "all in" on a clean-energy future.
Take Jeff Bezos of Amazon.
In order to reduce Amazon's carbon emissions to zero by 2040, the company has invested in 206 clean energy projects, making it the largest buyer of renewable energy in the world.
Just a few of its projects include:
The first combined solar project with energy storage in California. The project will generate 100 megawatts (MW) of solar energy — enough to power more than 28,000 homes for a year — and includes 70 MW of energy storage.
The first renewable project in Alberta, Canada. An 80 MW solar project that will produce more than 195,000 megawatts per hour (MWh) of renewable energy — enough to supply more than 18,000 homes for one year.
A 350 MW wind farm off the coast of Scotland in the UK, which will be the largest corporate renewable energy project in that country.
Then there's Warren Buffett's Berkshire Hathaway, which has already invested $15 billion in the clean-tech sector and plans to invest $15 billion more.
And Bill Gates, who along with 24 other billionaires, invests in his Breakthrough Energy Ventures, putting money into startups that are developing clean energy technologies for everything from lithium extraction to steelmaking.
I hope you can see why the opportunity I'm writing to you about today is so urgent
I don't think I need to tell you that when the richest people in the world are putting so much "skin in the game" at the same time, you know something BIG is coming….
And the profit opportunities unleashed stand to be ENORMOUS.
And the shocking truth is: billionaires are just the tip of the spear here.
Because mega-banks JP Morgan Chase and Bank of America have each pledged $4 trillion in clean energy financing over the next decade.
And then there's the biggest player of them all — Wall Street.
When it gets involved, you know the REALLY big money will come gushing out soon.

Which is why you need to act fast — if you want to claim your share of it.
Because Goldman Sachs projects that clean energy projects will become the largest area of spending, surpassing oil and gas for the first time in history… before the year is out
What's more, the mega-banks expect the clean energy sector to reach a $16 trillion investment volume through 2030, eclipsing fossil fuels.
The trend couldn't be any clearer — the big money is going ALL IN on "going green."
As Brad Smith, the CEO of Microsoft says, "This is where the world is going. It's where regulators are going. It's where customers and investors are going."
And it's where YOU should be going, too — if you want to lock in a shot at making what could be the easiest (and largest) windfall gains of your life.
Look, I don't know what your thoughts are on green energy... or whether or not you think climate change is complete hogwash.
My job isn't to tell you what to think… my sole mission is to point you to the biggest potential profits…
And the money doesn't lie.
It goes only where it can GROW.
And that's why you need to get in front of the clean-energy mega-trend NOW, before the next wave from Washington sends it surging and all the big profits are scooped up by Wall Street.
And to help you do so, I've uncovered 3 of the very best clean energy stocks — ones that have the potential to hand you 3,060% total gains.
Where the Big Money Really Lays
Now, to be clear, these aren't exactly solar, wind, and electric vehicle companies.
While I have no doubt that many of these clean energy companies will do very well, I believe the REAL money will be made behind the scenes...
With picks-and-shovels plays that provide the resources and capital each of these sectors desperately needs to survive.
Take copper, for instance.
You may not realize this, but renewable energy systems — including wind, solar, and geothermal — consume nearly five times more copper than conventional power generation systems.
What's more, electric vehicles use three times more copper than conventional gas-powered vehicles.
It's a big reason why Goldman Sachs calls copper "the new oil" and says, "Copper will be crucial in achieving de-carbonization and replacing oil with renewable energy systems."
It's also a big reason why copper demand is set to soar 600% to 900% higher by 2030.
Luckily, I've uncovered just the play for profiting from this rapid surge in demand.
This juggernaut is already one of the world's largest copper producers... and just one of its mines has enough reserves to continue feeding much of global demand for the next 80 years!
Incredibly, as I write this, you can still grab the stock for under $40.
But I don't expect it to stay this cheap for long.
Because as copper demand explodes due to demand for clean energy technologies, "green" companies could soon be beating down the door of the ONE company with such a massive amount of this red metal under its thumb...
And could push its stock 1,307% higher.
That's enough to turn every $1,000 into $13,070.
I'll tell you how you can get this copper producer's name and ticker symbol absolutely free in just a moment... but copper isn't the only resource powering the green energy wave.
There's another relatively unknown material with massive potential to ride this wave to fantastic gains..
I'm talking about beryllium.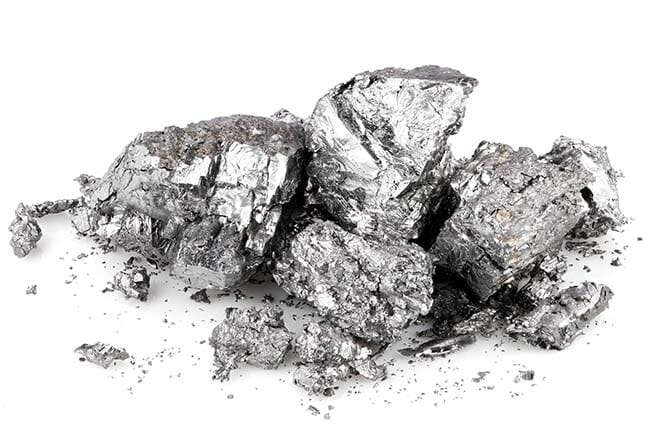 Why beryllium?
Right now, this resource is used in solar panels, allowing the solar cells to operate at very high concentrations — 1,000xs the intensity of the sun — while still keeping electronics in the solar cells cool enough to operate efficiently.
What's more, it could soon play a key role in preventing the tiny eruptions that halt fusion reactions in nuclear fusion reactors — which promise to deliver virtually unlimited energy with almost no greenhouse gases.
And it's why I want to you to get your hands on this under-the-radar developer and supplier of beryllium.
Since I recommended this small-cap to my readers last year, it has already soared 57%.
But that's nothing compared to where I see it going next. As a matter of fact, I'm forecasting this stock to soar up to 1,232% higher as the clean energy wave really takes off.
That's enough to turn a small $1,000 stake into $12,320.
Before I show you how to grab a piece of it, there's one final play you'll definitely want to get your hands on.
Remember how I told you that transitioning to 100% clean energy by 2050 would require $128 trillion in new investments?
Well, all that money has to come from somewhere.
And one of the places it will come from is this next company, which specializes in loaning hundreds of clean energy firms the billions of dollars they'll need to carry out this massive transition.
It's perhaps the ultimate picks-and-shovels play for profiting from the clean energy sector.
Not only has this dynamo more than doubled since I recommended it just two years ago, but, thanks to an obscure law, it is legally obligated to share the vast majority of its profits with investors in the form of dividend payouts.
What's more, over the last eight years, dividend payouts have soared by an incredible 595%!
It's the ultimate one-two punch of stellar growth and soaring income.
And when you combine these growing dividend payouts with the 521% gains I'm forecasting, you could soon be well on your way to easy street, with just this one stock.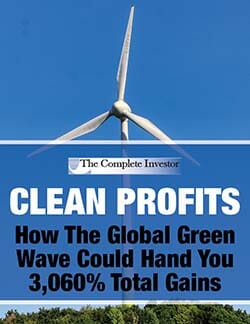 I'll give you the names and ticker symbols of all three stocks in a brand-new report I've put together, Clean Profits: How the Global Green Wave Could Hand You 3,060% Total Gains. Inside, you'll discover...
The names and ticker symbols of the three stocks that could hand you triple and quadruple-digit gains... and how to play them for maximum profits...
How clean energy stocks are trouncing fossil fuel stocks...
Why clean-energy is the latest — and perhaps biggest — profit wave ever to come from the White House...
Why those who stake their claim now in this sector will be "the owners of the wealth of the future"...
The big names financing and profiting from this multi-trillion-dollar mega-trend...
A $199 value, I want you to have this special report absolutely free.
All I ask is that you accept this special invitation to test-drive The Complete Investor, at absolutely zero risk to yourself.
The Complete Investor publishes profitable investing ideas you simply won't find anywhere else.
And it's the ONLY way I plan on communicating with my followers to guide them through the rapid technological and economic changes happening in America today.
Inside each issue we don't just cover the "big picture"…
We also give you specific investment recommendations that could turn every $1,000 invested into $3,000… $5,000… even $10,000.
And we've got the track record to match.
Over just the last three years, my readers have seen massive gains with my recommendations, such as...
113% on EcoLab
118% on Tencent...
121% on Barrick Gold....
142% on Intel...
158% on Amazon...
160% on Bioverative...
265% on Novartis...
273% on ONE OK...
448% on Aqua America...
And a shocking 578% on Raytheon
Of course, not every trade turns into a triple digit winner.
Some trades only hand us a double-digit return… and on occasion a trade does turn against us… which is why it's important to remember that every trade involves risk, and I'd never recommend you invest more than you're willing to part with.
But in full transparency, while not every trade we put out ends up in the green, in the 17 years since the doors first opened on The Complete Investor, our GROWTH portfolio alone, (the green line below) has trounced the S&P 500 by roughly 57%.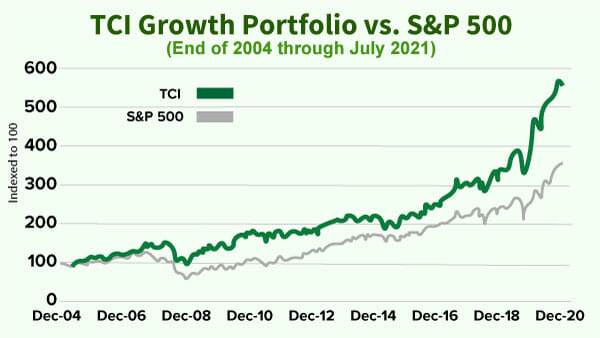 A track record like this is something that's only made possible when you rack up A LOT of winning trades. Trades that you'll have the chance to take part in, the moment you join The Complete Investor today.
Including the massive 3,060% surge I believe is barreling our way from the green energy "profit wave."
Which is why there isn't a moment to lose.
Lock in Your Shot at Life-Changing Profits Today:
Join The Complete Investor NOW
I've made it my mission to get ahead of the big trends by making bold predictions — and I believe this "profit wave" could be one of the biggest opportunities I've seen in the last decade.
So, if you want to lock in your shot at snapping up three stocks that could hand you up to 3,060% total gains, you need to join The Complete Investor pronto.
Now, at this point, you're probably wondering how much access to The Complete Investor costs.
An arm? A leg? Both?
Well, when you consider that each of my recommendations has the potential to help you make you tens (or even hundreds) of thousands of extra dollars in the coming years...
I could easily justify asking for $1,000 or more to access them. But that's not what The Complete Investor is all about.
My goal is to help regular investors just like you lock in life-changing profit opportunities from the latest earth-shaking megatrends shaping our world…
It's why I usually charge just $99 for a full year's membership to The Complete Investor.
But here's the thing:
If you want to grab your copy of Clean Profits: How the Global Green Wave Could Hand You 3,060% Total Gains and lock-in your access to every potentially life-changing trade we release inside The Complete Investor, you need to do it now.
And I don't want price to ever be the one thing that stands between you and a lifetime of financial freedom.
Which is why I went to bat for you and cut a blockbuster deal with my publisher... but ONLY if you act fast.
What do I mean?
Well, this presentation has been sent out to over 200,000 investors.
But for the first 150 who respond today, I've set aside something very special:
12 full months of The Complete Investor for just $39…
That's more than 60% off!
Once word gets out about these spectacular savings and all the profit opportunities detailed in this presentation, I don't expect those 150 spots to last long…
There's no time to waste, so let me go ahead and show you everything you'll receive when you join me today:
12 monthly issues of The Complete Investor — Chock-full of urgent profit opportunities that can add $2,580… $3,730… even $6,780 or more to your nest egg in double time, complete with specific instructions on when to buy and when to sell.
INSTANT access to our model portfolios — Now beating the S&P 500 by 57%, nearly every single trade you'll find inside is still a screaming buy.
Market Updates — When something important happens in the markets, I'll send you an email update to ensure you're on top of any and all late-breaking market developments and company news.
Flash Action alerts —With our flash action alerts, you'll receive a message the moment any news breaks on one of our picks that we think you need to hear. Whether it's an urgent buy alert, time to pull our profits, or assess where we're headed, you'll be the first to know.
24/7 access to our private, secure website — With an archive of past issues and special reports covering dozens of triple-digit profit opportunities.
VIP Concierge Hotline — As soon as you're inside The Complete Investor, you'll have access to a special phone number where you can reach my VIP concierge team every weekday, 8:30 a.m. to 6:00 p.m. ET. The team is standing by to ensure any questions, concerns, or problems you have as a member are dealt with quickly and thoroughly.
Investing Daily Insider — Beyond the headline financial news, there are hidden fortunes in the stories that seldom get told. Enter Investing Daily Insider, our exclusive news digest with a simple goal: provide you with money-making insights into the week's most pressing financial stories every Monday, Wednesday, and Friday.
But that's not all...
When you join today through this special offer, in addition to Clean Profits: How the Global Green Wave Could Hand You 3,060% Total Gains I'll throw in two special bonus reports, each worth $99.
Blue-Chip Blacklist for 2022: They might look big and safe... but each of these beloved blue-chip stocks are ticking time bombs that could soon blow a smoking crater in your portfolio. If you own any one of them, get out now.
5 Inflation-Beating Income Stocks Every Investor Must Own: If you've been to the grocery store, filled up a tank of gas, or gone out to eat, you can't help but notice: inflation is back with a vengeance! That's why you need the five ultra-generous dividend stocks you'll find in this special report, each of which has the potential to generate so much wealth and income, they could put you miles ahead of the "silent thief" now ravaging the American economy.
That's $397 in free gifts you'll receive the moment you accept this special invitation to view The Complete Investor at absolutely zero risk.
(Click here now, and I'll show you how to "double your discount" and get two more blockbuster reports — a $198 value — absolutely free.)
But most importantly of all, when you join you'll be protected by...
My Double-Barreled 100%
Satisfaction Guarantee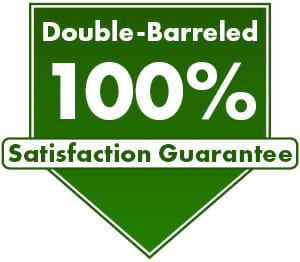 Because I want you to be 100% sure The Complete Investor is right for you, I'm giving you three full months to try it out at my expense. That's plenty of time to check out everything on The Complete Investor website… read a few issues… and take part in the moneymaking opportunities you'll discover in your free reports.
If at any time during the first 90 days you're not completely happy with what you're getting from me — or the money you're making — simply let my Customer Service team know.
And I'll issue you a prompt, no-questions-asked refund for every penny of your membership.
I have no interest in keeping your money unless you're 100% satisfied.
But I'm still not done…
Because even if it's past the 90-day mark and you find yourself unhappy for any reason, I still have your back.
Simply let my team know and I'll give you a refund for the unused portion of your subscription.
Regardless of which way you go, I insist you keep the free reports and issues you receive as my way of saying "thank you" for giving it a try.
Look, you've seen how previous profit waves have handed investors triple- and quadruple-digit fortunes…
You've seen how the clean energy craze is the latest and perhaps biggest "wave" to ever come out of Washington...
You've also seen how big banks, billionaires, and Wall Street are pouring trillions of dollars into clean energy investments...
And will be pouring in tens of trillions more over the next three decades...
So now it's time for a decision. The way I see it, you have two options:
Option #1: Do absolutely nothing and stay right where you are. If you already have enough to retire on and are satisfied with the gains you're earning now, then maybe you don't need no-brainer opportunities like this.
Option #2: Test drive The Complete Investor, risk free for 90 days and grab your free copy of Clean Profits: How the Global Green Wave Could Hand You 3,060% Total Gains, locking in the chance to make what could be the easiest, surest money you'll ever see.
The right decision is yours to make…
But whatever you decide… you need to do it FAST.
Remember, the Global Green Wave could come crashing down at any moment, and only 150 investors will be able to join me in this incredible opportunity today…
And if you put this off, even for a few minutes, you run the risk of getting locked out.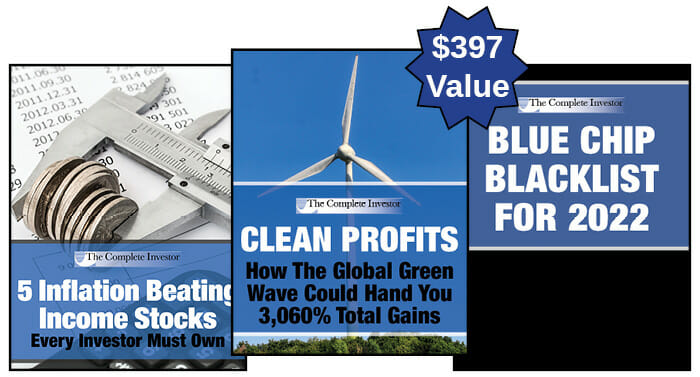 And the moment that happens, you lose your chance to claim your new members package valued at $397.
Remember, thanks to my double-barreled satisfaction guarantee you risk nothing by joining me today…
So do yourself a favor and click the orange button below NOW.
To a lifetime of wealth and happiness,

Dr. Stephen Leeb
Chief Investment Strategist
The Complete Investor
Copyright © 2022 Investing Daily, a division of Capitol Information Group, Inc. In order to ensure that you are utilizing the provided information and products appropriately, please review Investing Daily's' terms and conditions and privacy policy pages.