The Key To Making 30,231% Profits
In Only 6 Years
Hi. Jim Fink here.
Thanks for signing up for the Velocity Profits Summit!
As Jeff mentioned in his earlier post (you can read it here), we're about to pull the wraps off my Velocity Profit Multiplier.
And I couldn't be more thrilled.
Because what you're going to see isn't some "new idea" we hope will work. Or a hypothetical strategy based on back-tested results.
It's a proven system. One that juices even the smallest stock gains into massive triple-digit windfalls so consistently…
I was able to personally make over $5 million with it.
More importantly though, I used it to deliver gains of 30,231% to small group of regular investors just like you in just six years.
So what's the secret?
Well, it all starts with advanced knowledge.
The first thing you need to understand about what you're going to see during the Summit is that every stock sends out hidden signals before it moves.
Whether it's up or down.
My Profit Multiplier system runs 24 hours a day scanning the market for those "tip-offs"…
And when it finds one, I use the data it provides to put together a trade that statistically guarantees you can turn that movement into a winner that's up to 111 times better than what a buy-and-hold investor would see.
I emphasized statistically for a reason…
There's no guesswork involved with what my Velocity Profit Multiplier does.
There's no emotion. No hunches. And no gut feels.
It's a scientific system designed specifically to find the five most reliable patterns that show up right before a stock's share price moves.
It's also quite complicated. And proprietary.
So I'm only sharing the details with the folks who tune in to the Summit.
But what I can share with you about the Profit Multiplier right now is…
It focuses on finding five patterns that statistically predict stock movements in advance.

When it finds one, I put together two-sentences of instructions you can execute in your trading account in just a few minutes.

And folks who follow these instructions step-by-step have had the opportunity to bank gains of

gains of 108%, 118%, 122%, 127%, 138% and even 163%. In as little as 3 days.
Now I'll state the obvious here.
Even though the double and triple-digit winners my Multiplier delivers are far better than what most investors see…
And come far quicker too…
You're not going to get rich overnight using it.
But I don't think it's hard to imagine how quickly the money will add up when you know you can do it over and over again.
At the same time, I wouldn't be telling you the level truth if I didn't point out my system isn't perfect.
No program is.
Whether it triggers the trade too early, too late, or some outside market force hits at the same time…
Sometimes it misses the mark.
In fact, the first full year I let people use my Velocity Profit Multiplier, it "only" got 107 trades right out of 121…
Which is an 88% win rate.
I say "only" because while that trumps the results of about every system I've ever seen…
I was NOT happy with that number.
I hate losing money!
And I know I'm not the only one.
Some folks don't just hate it. They can't afford to use a system that produces more losers than winners.
So I came up with a special way to extend a trade until it makes money…
And thanks to that small tweak to my program…
I'm on a current five-year win streak where I've delivered gains of 27,670% without booking a single loss.
I'll walk you step-by-step through how I make this unique move during the Summit.
I promise you, by the time we wrap things up, you'll be armed with everything you need to take Jeff up on his guarantee that when you use my system, you'll have the opportunity to walk away with total gains of 5,000%.
I can't wait to show you the Velocity Profit Multiplier.
See you at the Summit!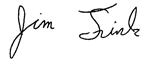 Jim Fink
Founder
Velocity Profits Summit