"Stopwatch System"

Delivers Simple Instructions to Americans For Big Money Fast
You must take action on
August 19 to collect the next cash payout.
Hi, I'm Scott Briggs.
One of the financial researchers here at Investing Daily.
And although we haven't met…
I bet you're like most people I know…
You're looking for a way to grab hold of thousands of dollars more in extra cash.
That's possible. And it can happen fast – in fact, extremely fast.
Because this tiny little slip of paper — smaller than a golf tee — has the uncanny ability to…
Turn 60 Seconds of "Work" into $2,348.

Now I want to be perfectly clear...
That slip of paper gives you the exact instructions you need to follow.
And even though they're just two sentences long, it's enough for you to potentially pull down...
$258… $1,274… $2,348… or even $5,436… in 60 seconds.
You can read those two sentences word-for-word over the phone.
Or, if you want, you could just use your computer or smartphone to get set up...
No matter which route you choose, you'll be setting yourself up to...
Start Collecting Payments
Adding Up To $5,800
The instant cash you could collect from this system really starts to pile up fast. Like those stacks you see in the movies.
Of course, just starting out, most folks use the "Stopwatch System" to make:
$300 a week...
$500 a week…
Or even $1,200 a week…
That's nothing crazy.
But it still adds up.
Because Steve Brewer started small like this and still collected $5,800 in about a year.
But it pales in comparison to what Mark Johnston did..
Because this retired truck driver from Omaha, Nebraska, told me that he collected more than $20,000 in four months.
All by faithfully following the "Stopwatch System" each week.
I know this all may seem a bit shocking… even unbelievable.
But the truth is, this system is so powerful, some regular people have made much more…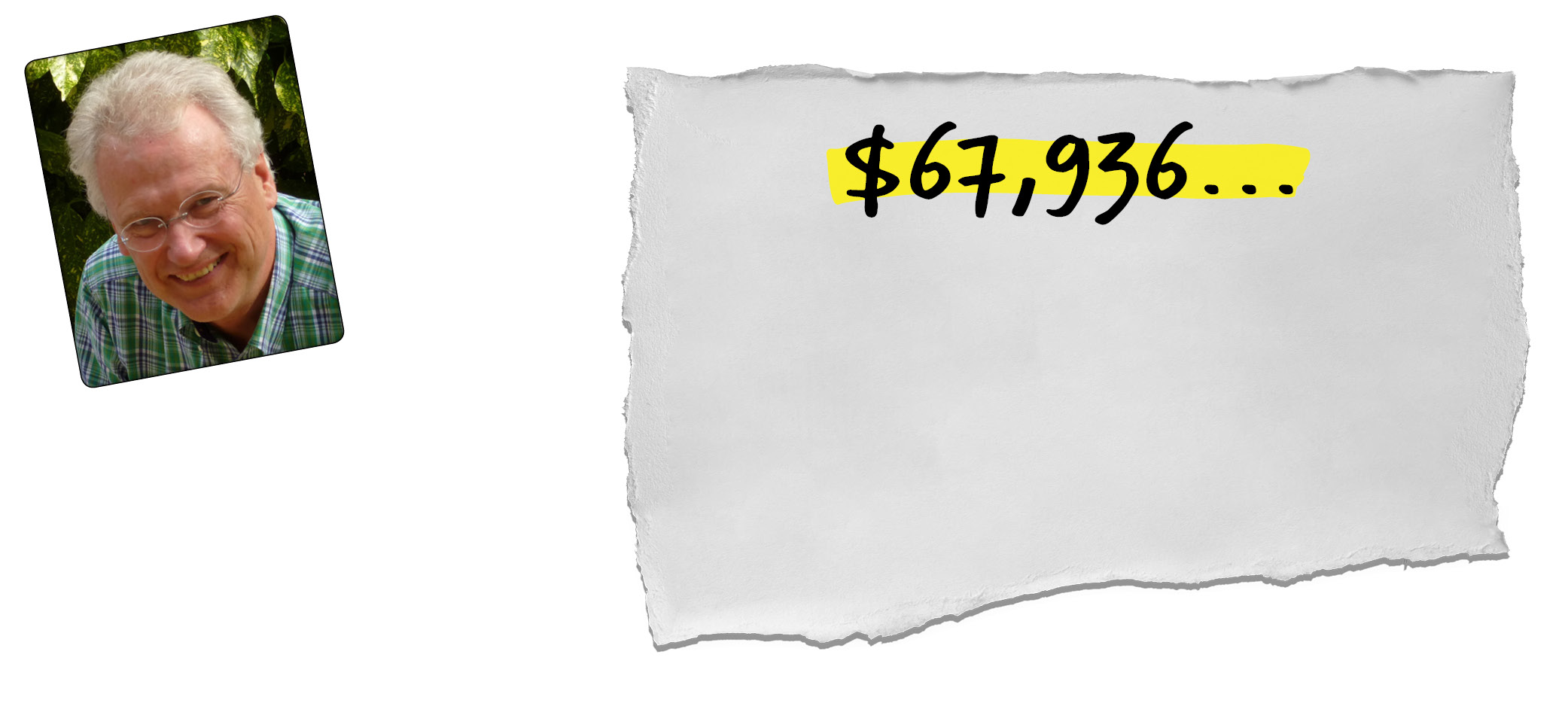 Henry Boyd in Tallahassee, Florida, told us he's quickly collected $67,936.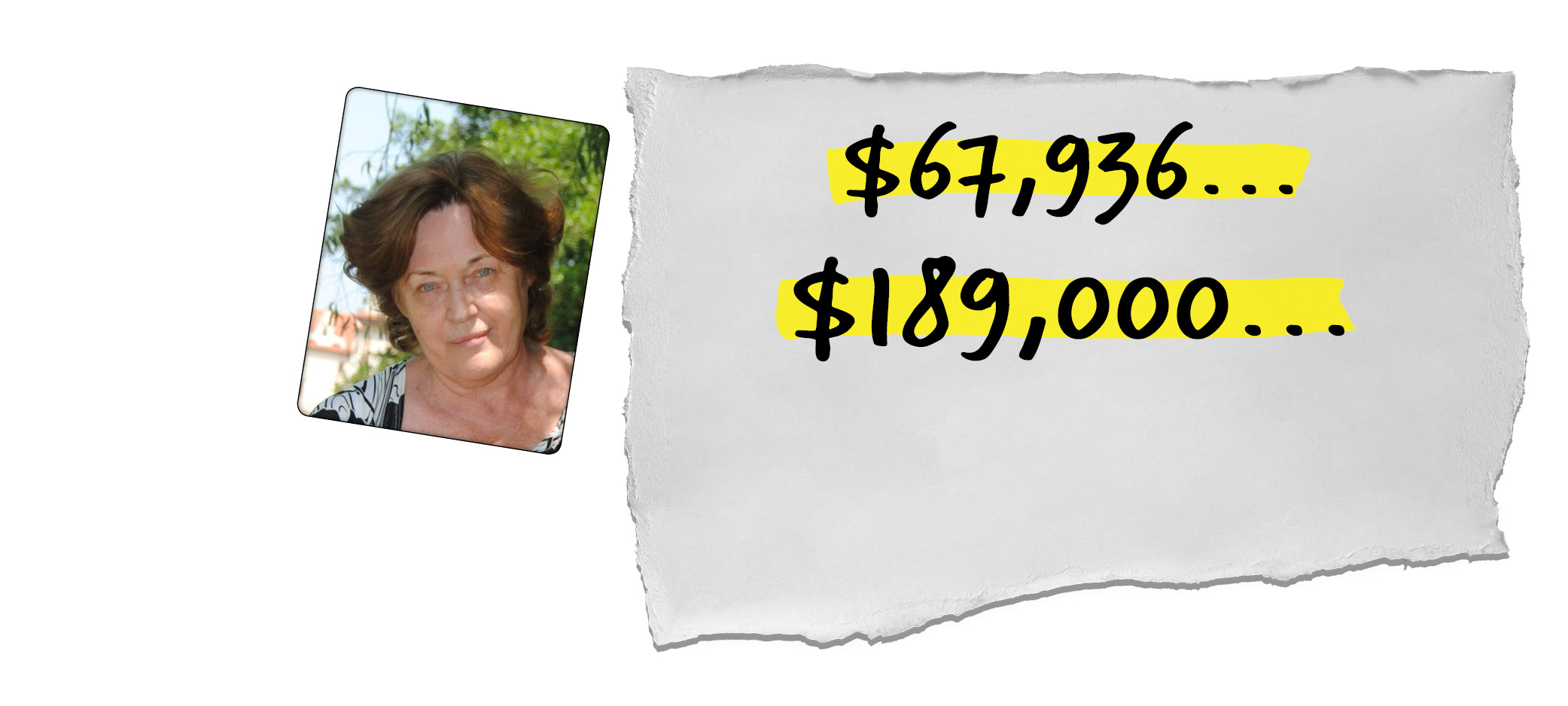 Nicole Stewart in Philadelphia, Pennsylvania, told us she's up $189,000.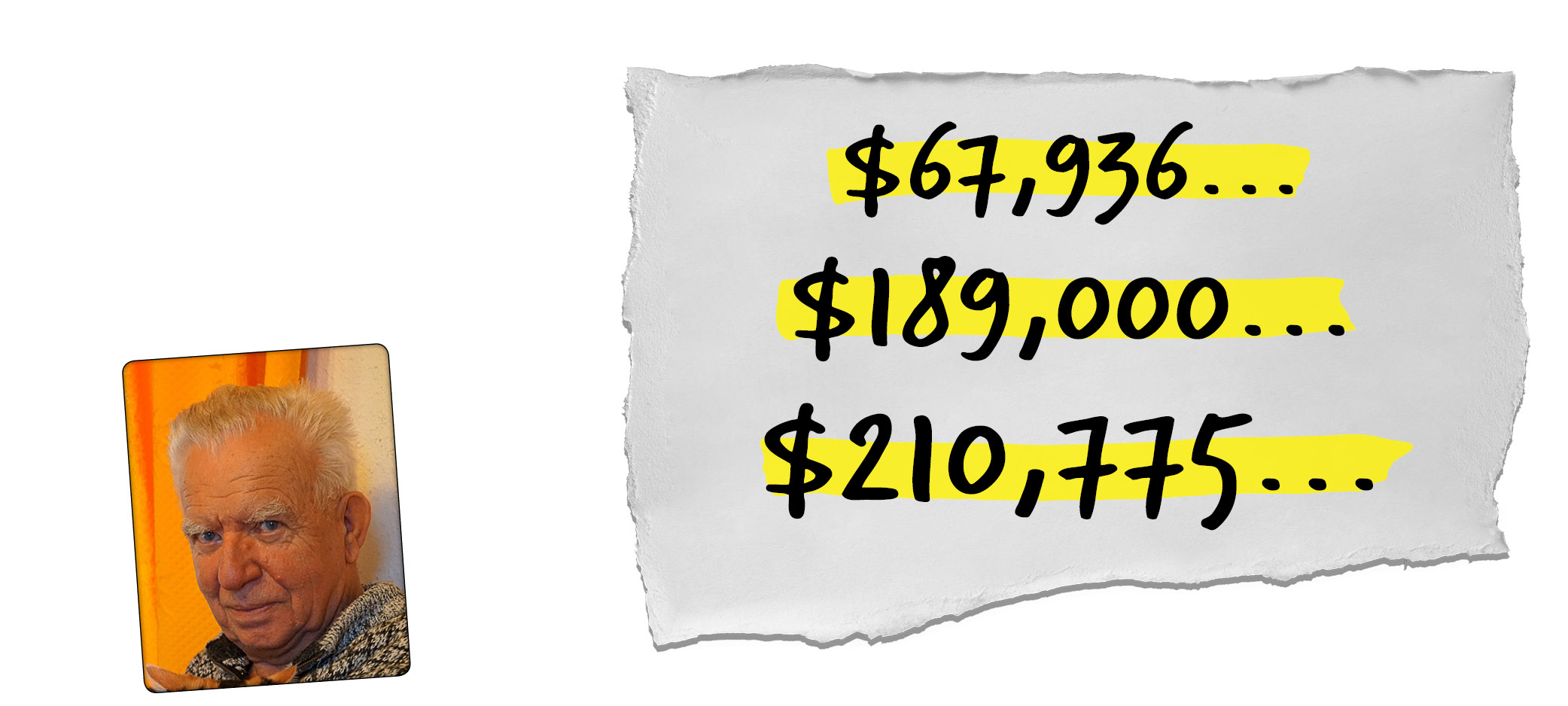 Robert Holt in Oakland, California, said he's made $210,775.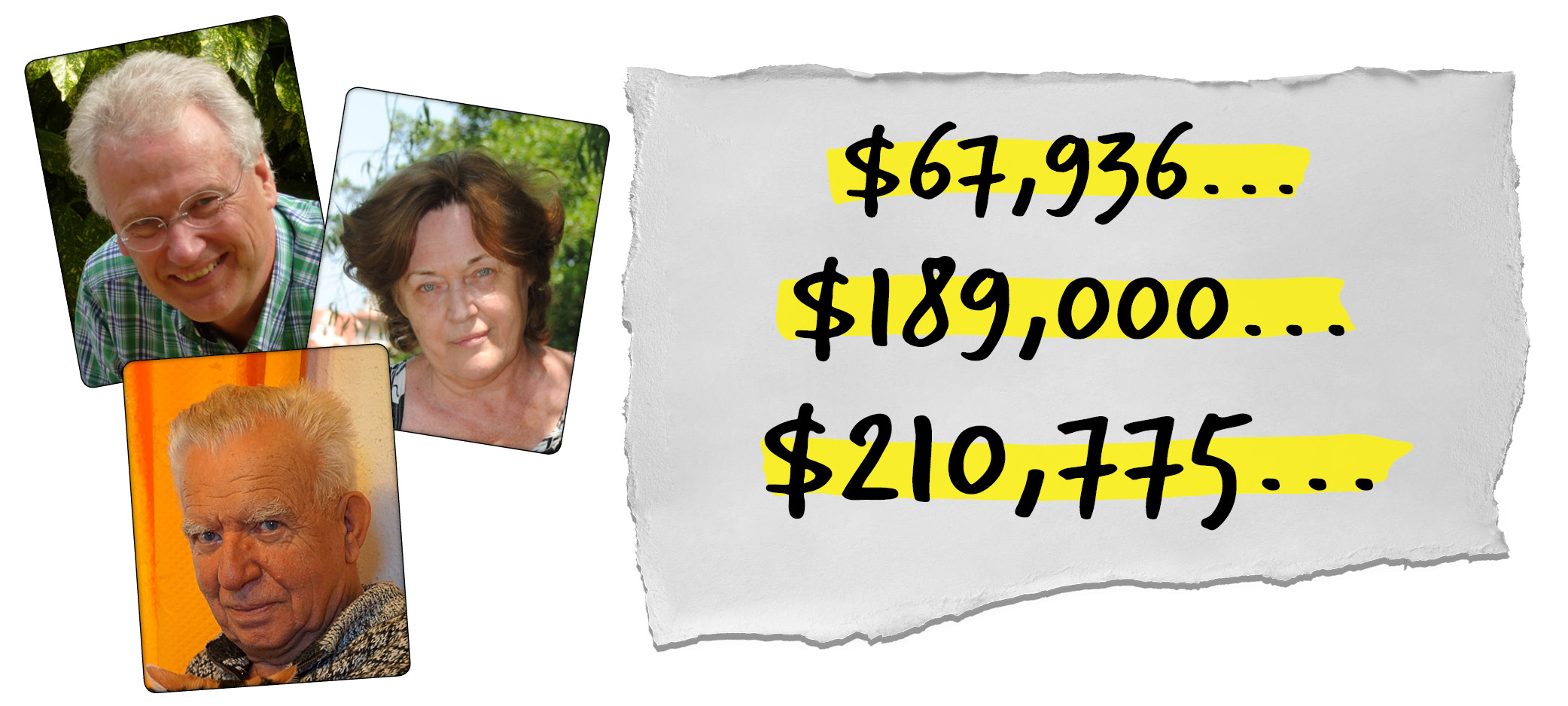 Now, it goes without saying, these are extreme examples.
And I certainly can't promise you'll see the same results.
Nothing in the market is guaranteed after all.
But the potential is clear.
This simple "Stopwatch System" is by far the best way I've seen to instantly collect payouts, adding up to huge sums of cash…
Better still, these instant payouts aren't coming from risky "all or nothing" payments or big gambles.
Instead, you're hitting lots of singles and doubles.
That's because this system consistently produces opportunities to collect.
It's very regular. And you're just following simple 2-sentence instructions, week to week.
But the best part?
The "Stopwatch System" fills you with confidence because...
It's Beaten the Market


56

Times in a Row!
Over the last 10 months the "Stopwatch System" has produced 56 winners without a loss.
Think about that… it's been 100% accurate for months.
And in total over the past year, it's produced 59 winners… with just one trade that didn't pan out.
No system is perfect after all… but this one's been close.
The payouts are just so regular. And I'm sure it's why people take time out of their busy lives to tell us they've how much money they've made.
"Over 72K"
~ Jacob Finley, Susquehanna, PA
"...my account has gained approximately $49,000"
~ Steve Haygood, Baltimore, Maryland
"I have made in excess of $100,000…"
~ Jim R., Fort Worth, Texas
Plus, there's no upper limit on how much cash you can collect.
The system delivers payout after payout, stacking up over time, like clockwork.
Every week there are more opportunities for you.
And sure, it's quick cash. But you'll feel calm and confident as you collect what's yours...
Because the simple 2-sentence set of instructions you'll get each week fit on a little slip of paper, like this…

And in one minute… just 60 seconds… your account could be brimming with an extra $1,000… $2,000…  $5,800. Maybe even more.
Plus, as you're collecting, you're really feeling secure because you're using a system that just keeps delivering.
One that's been accurate 58 out of 59 times in the last year…
Including a 10-month streak where it delivered 56 winners without a single loss.
With performance like that, it's just plain common sense to follow along because you'll be setting yourself up to...
Collect Regular Payouts
Without Any of the Stress
Following this system is like looking into a crystal ball...
You know the exact day and time to place your perfect trade.
You know exactly what to do.
You know you can instantly collect payouts every single time.
That means you're not waiting around for years to collect your money.
You're not waiting weeks, or even days.
Instead, you can get paid less than 60 seconds after you hit the submit button. Then…
Hundreds, even thousands of dollars, are pouring into your account...
Which means you can immediately enjoy your money...
Go ahead and fly to Rome. See the sights and sip fine wine. Feel free to spoil the grandkids or donate to your favorite charity. The money is yours to keep no matter what happens with the trade.
It's instantly paid to you, all with low risk, as I'll explain in just a moment.
But first, it's important you know that this is...
NOT

Theory,


NOT

Random,


NOT

Unplanned
This system is proven.
After all, the "Stopwatch System" has been 100% accurate 56 times in a row.
Now look, that's all fantastic stuff… but I understand if you're skeptical.
I know I was, too.
So I did a deep dive into this system and how it works.
And try as I might — I can't shoot any holes in it...
In fact, I've spent my entire career following the work of some of the world's best investors…
And while this system isn't perfect (no system is), it's still the best money-making machine I've seen.
And I'm not the only one that feels this way.
Jacob Cunningham, from White Plains, New York, had this to say...
"Have invested for over 30 years in the market, and this is by far the best strategy I have experienced. Bravo!!! So well done!!!!"
~ Jacob Cunningham
Pat Crockett, from Granite Shoals, Texas, put it this way...
[The "Stopwatch System"] ...with its built-in safeguards, when properly followed, is a fantastic tool in your arsenal to achieving financial independence. I cannot thank you enough..."
~ Pat Crockett
And, even a skeptical Rick B. Franklin, from Greensboro, North Carolina, agrees...
"I wanted to see if my results tracked the marketing hype, and after the first 13 months, I am a believer. The net gain on my 78 closed trades is $106,209.78."
~ Rick B. Franklin
You just follow along like Jacob, Pat, and Rick... and collect your instant payouts.
Mike Lombadri is using his payouts for luxury vacations, and even bought a house...
"I have paid for a family vacation to Beaches in Jamaica for 6 people (Grand kids loved it). I also pulled out a sizable amount to help pay cash for our new home in Sun City Texas. (a great fun place to live). Plus other vacation expenses."
~ Mike Lombadri
Again, the instructions for the payouts are easy to follow.
In fact, Andrew Stanton says the "Stopwatch System" is…
"The most successful trading program
I have used in my 77 years."
Right now, he's taking his mandatory IRA distributions...
Yet his retirement cash keeps growing like clockwork.
But to be crystal clear, the "Stopwatch System" isn't exactly what you picture as trading.
Because you're not buying and selling stocks.
You're not grinding it out for hours and hours. You're not hunched over a computer.
You're not watching red and green squiggles on charts that require a Ph.D. in math to figure out.
And this isn't about rubbing a lucky rabbit's foot.
The system delivers cold hard cash. There's no guessing here.
Because while it's based on common sense, it's a scientific system.
So let me show you...
How to Double Your
Cash

EVERY WEEK
It works by placing a trade in the stock market using a normal brokerage account.
But it's a different kind of trade than what most people make.
And I promise I'll explain it in more depth in a short bit.
For now, here's a quick overview to give you a feel for how easy this is...
First, you read the short instructions that the system generates.
Next, you do 60 seconds of "work" following those simple instructions.
Then, you instantly collect cash into your account.
That's it. That's how it works.
And you collect your money without making any upfront investment.
And you're not waiting 5 years for some "unicorn" or "megatrend" to turn $5K into $25,000. Because you're instantly collecting your cash.
Point blank…
The "Stopwatch System" gives you way more cash without waiting.
Imagine how you'd feel knowing you're setting yourself up to collect payouts like the ones below…
Over and over again.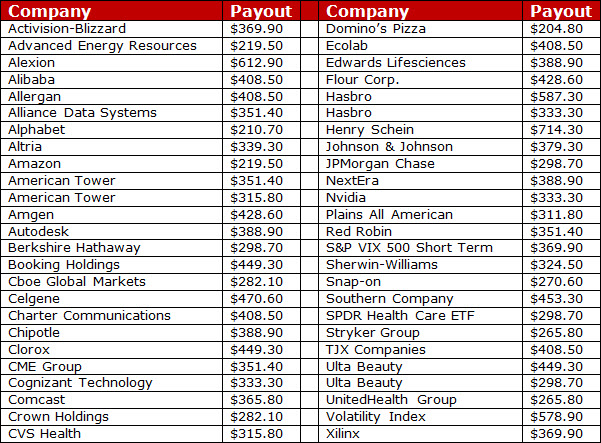 I want to be totally transparent about all of this…
You're seeing a flood of "Stopwatch System" trades here... with wonderful payouts.
And adding it up — you're looking at $18,403.70 in gains in less than one year.
Of course, that's pretty exceptional. I can't guarantee similar results ahead.
But clearly this isn't some risky "all or nothing" or "bet the farm" system.
It's a smarter way. And you could instantly collect payouts between $200 to $3,800… every week.
Delivers Peace of Mind
Week After Week
Ordinary Americans can use this system to immediately safeguard their retirements… right now.
In fact, all you've got to do is get over these simple hurdles…
You need to read and understand plain English
You need to follow the 2-sentence instructions
You need to spend 60 seconds per week "working"
It's pretty easy to see why people using this system feel almost zero stress.
Because this little-known system has been 100% accurate for the past 10 months, and has provided...
"...over $40K in gains..."
That's what Bob Gordon, a 56-year old mechanic in Chicago, IL, just recently told me.
And Richard Wells, a 44 year-old author from Norfolk, VA, let me know he's already banked $30,714.
Plus there's Steve Williams, who's fully retired at 73 years old in Portland, OR… he's used the "Stopwatch System" to put $76,371 into his account.
All this cash allows ordinary people like Bob, Richard, Steve the financial freedom to pay down a mortgage, or even live debt free.
And you could collect your cash while living in any state… or anywhere you plan on living in the future…
What really matters how much money is on the table, ready for you to start collecting.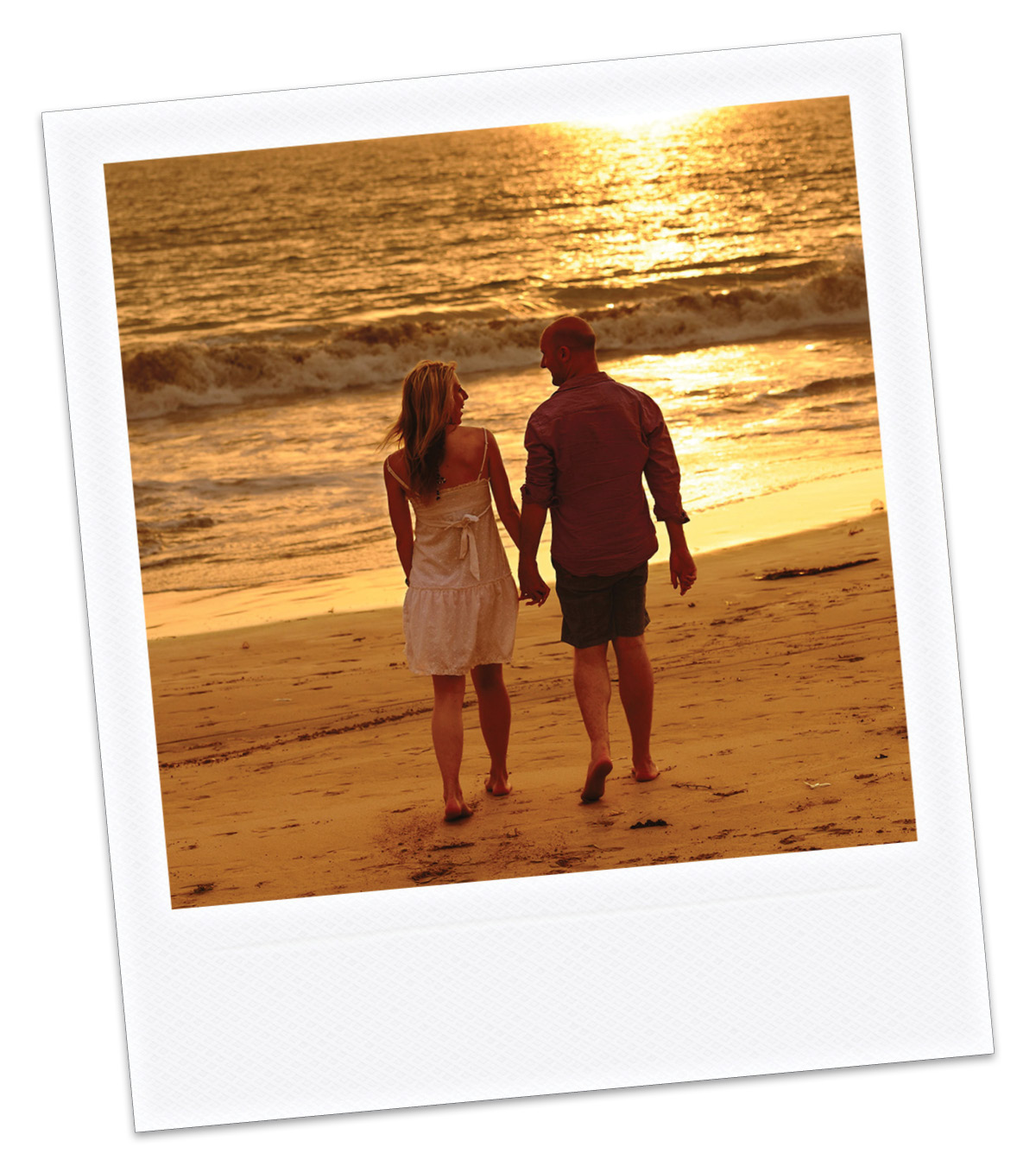 In fact, Bob makes so much he's planning a 2nd honeymoon with his lovely wife.
And, it'll be a dream come true because they'll have enough money to afford everything.
Or imagine being like Richard, who's collecting so much he's now buying his second motorcycle. It's a loaded Harley-Davidson.
He loves his bikes...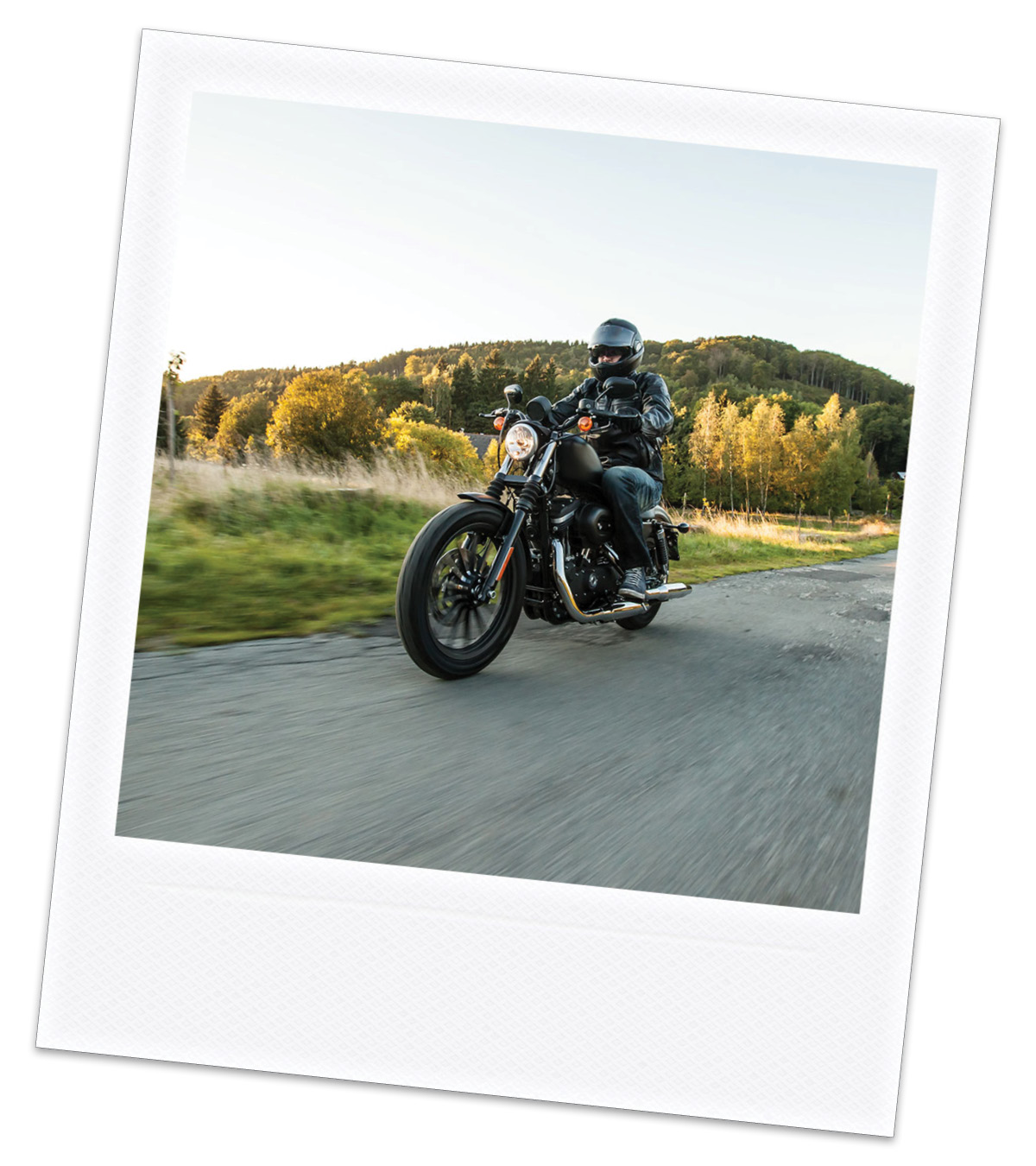 And his wife loves that they're renting a fancy RV for their next trip. Of course, it's all paid for in advance…
Plus, there's Steve. He's using the "Stopwatch System" to ensure there's always plenty of cash for antique shopping.
He's having the time of his life going to estate sales on the weekends with his brother.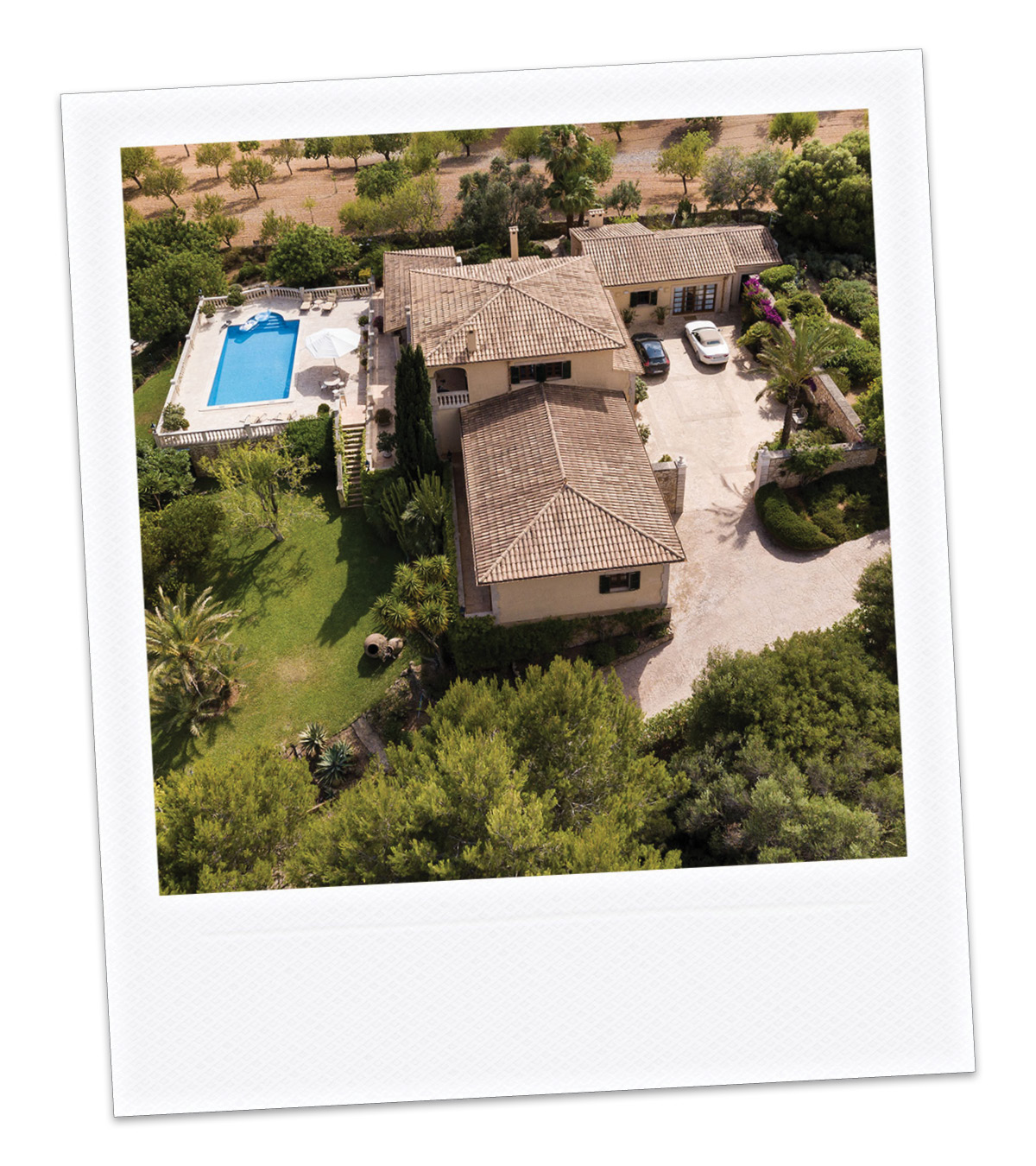 Bargain hunting's fun when you've got so much money.
And he's thrilled he's got lots of extra cash to help out his grandkids, too.
Here's another bit of good news…
There are no age restrictions, and no income limits.
This program is ready to go for you, right now...
And even though you've got to put in a little bit of time to use the system, it's fast and easy.
Then you can immediately collect hundreds or even thousands of dollars in cash.
And, that's true no matter what's happening...
You Could Still Collect When The
Stock Market Is Up, Down, or Sideways
Because this program works no matter what the stock market is doing…
The next set of instructions is being sent on Thursday... no matter what...
And if you don't act right now to get your hands on them…
$2,344… $7,683… even $12,119… could be collected by someone else.
Just look for yourself...
Every single week you have the chance to collect.
I've personally verified that the 2-sentence instructions have been delivered every single week… and I feel comfortable staking my claim on the authenticity.
Now, I know that many researchers in my position like showing off. They like making big claims and bragging… but in reality, they're just guessing about when the money's showing up.
Frankly, most of what they say is just a lot of garbage. So, I'm taking a stand.
I've asked our legal team here in Virginia audit this. And they've verified that every Thursday the "Stopwatch System" provides another money-getting opportunity.
Don't just take my word for this.
Look for yourself…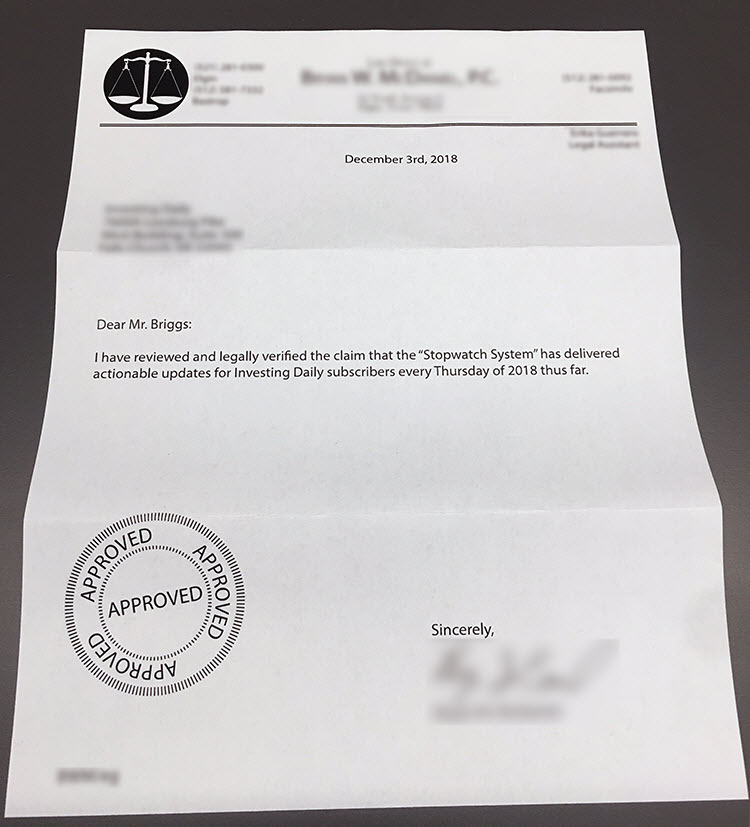 Fact is, there are no holes here.
Every week in 2018 the "Stopwatch System" delivered the opportunity to instantly collect cash. By taking just 60 seconds to follow the instructions, you can have these instant payouts showing up.
And take a look at 2019. The opportunity to collect continues on and on.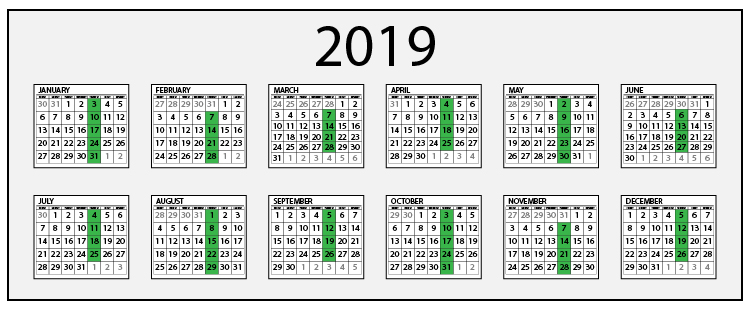 Of course, there are no guarantees here, but it's plain to see how these payouts can add up over a year or two…
Reaching $25,000… $50,000… and beyond.
You can relax because the "Stopwatch System" will be pumping out even more opportunities.
Every single Thursday in 2019.
And now it's your turn get set up so that you can start collecting what you deserve using the 2-sentence instructions provided by the system.

The system captures the perfect trading opportunities and delivers them to you every week on a silver platter.
How You Can
Collect Every Thursday
Now I'm going to show you what the "Stopwatch System" output really looks like.
I just logged in to the system and jumped back to January 4th, 2018.
There's a title, some quick notes about the timing of the trades, and even a "Print to PDF" button if you'd like to save a copy.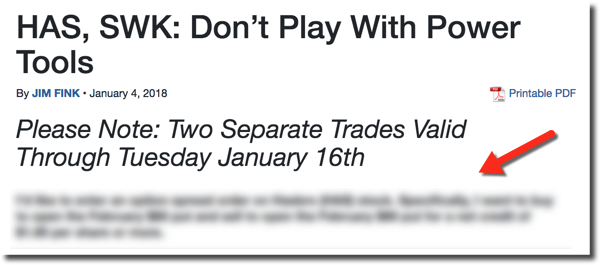 In this quick example, you can see that there are two stocks involved. One is Hasbro (HAS) and the other is Stanley Black & Decker, Inc. (SWK).
And look, see that red arrow? It's pointing to that fuzzy blob with the 2-sentence instructions you'd use. You're literally just using those words to place your trades.
That means you get the symbols. You know what to say. You know what to do with your phone or laptop to place your trades...
And every Thursday, the "Stopwatch System" delivers your next instructions so you can instantly collect $2,344… $7,683… even $12,119…
Of course, I want to remind you...
These are pretty incredible results. And require a larger account balance to work with...
So some people prefer to start small for a few weeks like this…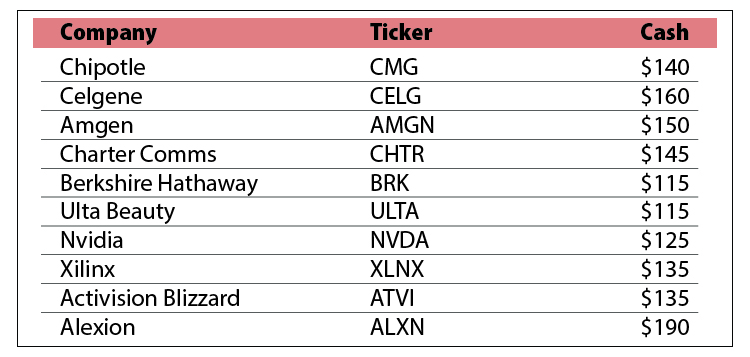 $140… $160... $150... it might not seem like much. Until you realize in 5 weeks you'd have made $710…
And after 10 payouts in a row, suddenly you're holding $1,275 in cash…
And in a year, you've got the potential to hold $9,880 extra.
Now, if you want, you could spend all that money. After all, that's more than enough for a gently-used pontoon boat, a luxurious ski & lodge vacation, or even pampering yourself with a 14-day European cruise.
On the other hand, you could use it to simply multiply your nest egg by socking away the money you're collecting every Thursday.
And if you start with a larger account balance, you open up even more possibilities…
Here's what you could have recently collected: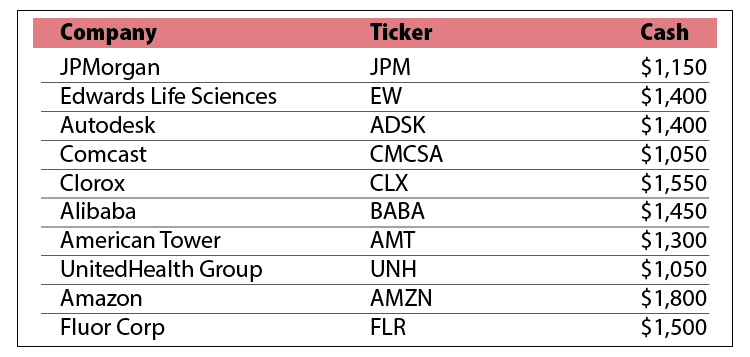 In less than 3 months, that means you're banking $13,650 like this…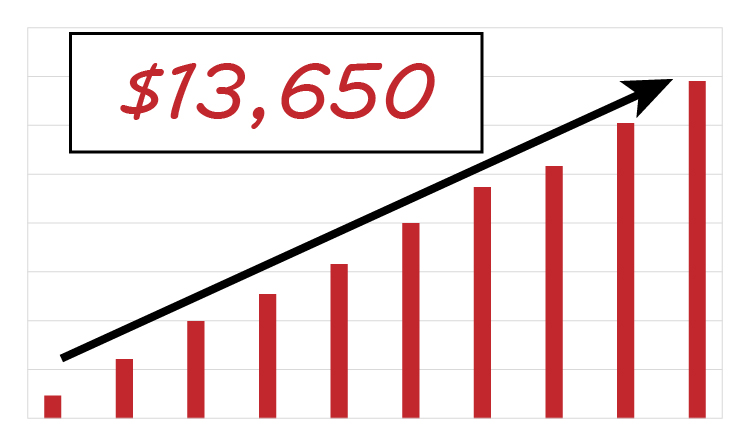 And, you can potentially collect even more than $13,650 in a few short months.
Most importantly, this is money flying in every single week, like clockwork…
And that's precisely why collecting $13,650… and $42,328… and even $93,608… is totally within reach in one year. Nothing else has the potential to scale up like this.
And remember… these payouts are in addition to your stocks, bonds, CDs, and annuities. It's extra money, on top of any pension, Social Security, or any other government payouts you've earned.
But, by now, you've got to be wondering…
What's Really on
Those Slips of Paper?
You're getting word for word, exact instructions. No kidding… there's no smoke and mirrors here.
You can enter your trades using a smartphone or laptop. Do it all in 60 seconds, while sitting at your kitchen table, or even from the comfort of your favorite chair.
That's totally up to you.
And you can easily understand what you're doing because everything's simple.
Every week you receive two stock names you'll be using to collect cash. That includes two special "Stopwatch" trading symbols you'll need for each trade. There's no guessing.
Plus, you'll know exactly how much money you need to set aside to cover every trade you make… to get the payout size you're looking for.
There are no mysteries here. The system spells it all out for you up front.
That's why if you follow this system to a "T"...
"I swear on a stack of bibles, you will
have a chance to collect money
every Thursday..."
My confidence is so high because I've heard firsthand how following the "Stopwatch System" has turned ordinary Americans into winners… over and over again.
Like Thomas Anderson, a retired 68-year-old school teacher from Aurora, Colorado, who wrote in to say...

"Great returns! Many thanks!! I have been an investor for 40 years, and this is the BEST!" - Thomas Anderson, Colorado
And, John Angel, a 53-year-old firehouse chief from Huntsville, Alabama, who made $28,700 last month… and has raked in $138,860 in the last year…
In fact, the "Stopwatch System" is so powerful, John just recently said that he's...

"...thanks for the incredible results… Has this 53-year-old contemplating early retirement…" - John Anderson, Alabama
The "Stopwatch System" could deliver a life-changing retirement windfall to you in just a few short years. What matters the most is getting started right now.
It's safe, steady, and predictable. It even works for beginners, and other ordinary people who've previously struggled...
Like Craig Baptiste, a 49 year old hospital administrator from Frisco, Texas, who sent this note over…

"I just recorded my first monthly profits… That was the easiest investing I've ever done. Signed on for life." - Craig Baptiste, Texas
It doesn't matter how old you are. It doesn't matter where you live. It doesn't matter how much you're collecting from Social Security, or a pension, or an annuity. It doesn't matter if you're getting ready for retirement, or if you're already retired...
The "Stopwatch System" is the simplest way I know to collect money every single week.
When you're on board, you know you can get paid every Thursday.
But I know you want to understand how it delivers those results…
So I'm going to show you…
3 Reasons Why the
"Stopwatch System"
Wins Week After Week
You've seen the proof. You've seen the piles of cash. You've heard from me and from others.
The "Stopwatch System" just plain works. Here's why…
First, you're not buying and selling stocks.
Instead, you're using a special type of trade in a regular brokerage account.
This special trade is simple and easy-to-follow. After all, the instructions fit on a slip of paper.
Each trade is so basic it's just two sentences long.
And, you're always — and yes, I mean always — collecting cash up front.
Second, there's built-in protection for your trades.
Because the system shows you how to re-run the trade if it isn't going as expected, until you get the result you're looking for...
And, if the entire market drops like a rock, you're protected by a safety valve built right in.
It's a "Protection Trade" that's super easy to set up. Take just another 60 seconds, and your downside is covered, too.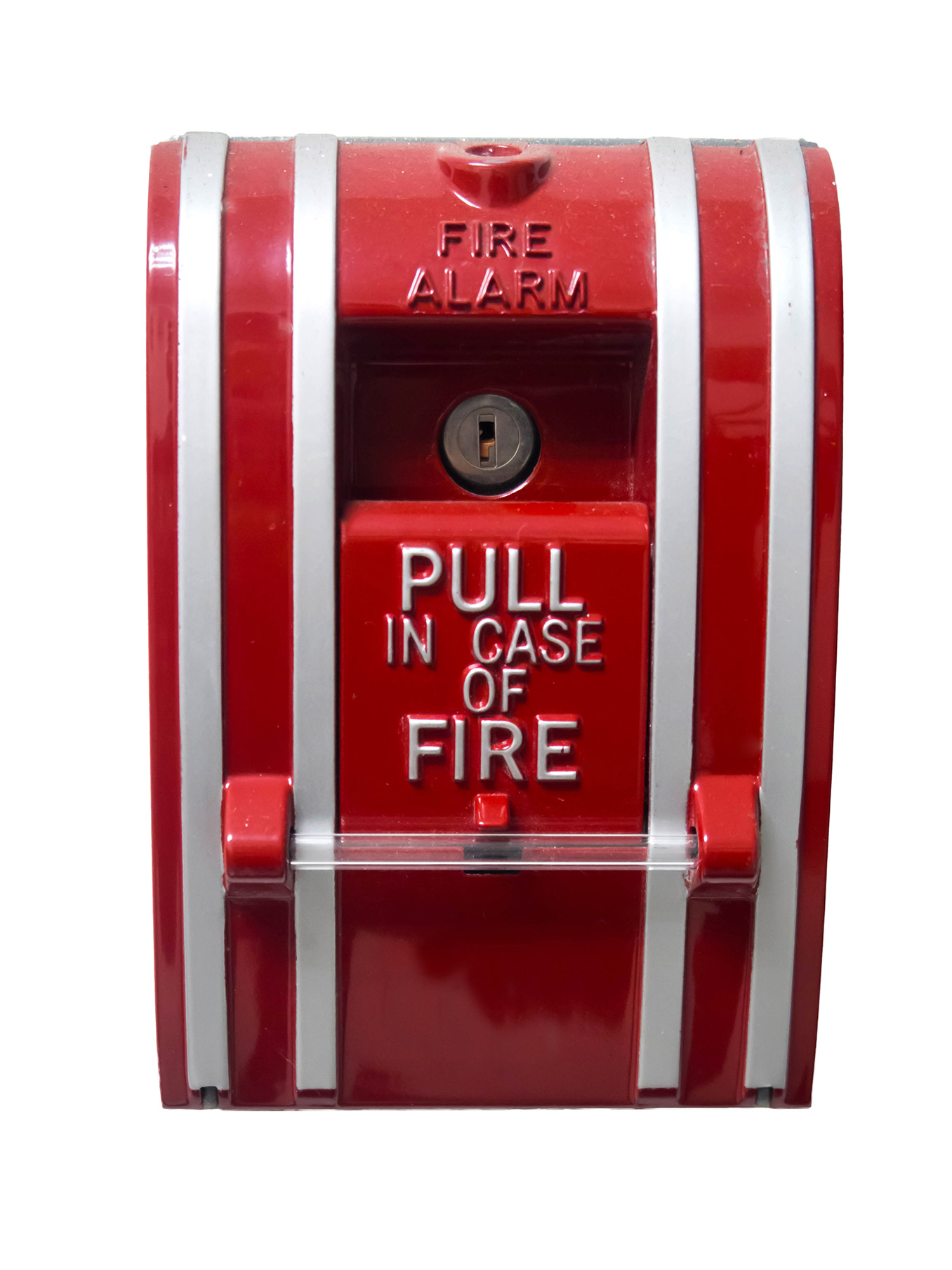 So, as they say…
In Case of Fire Break Glass…
Third, the creator of the "Stopwatch System" is someone who I consider to be the world's best trader…
And using the engine behind this system he's made a whopping $5.3 MILLION dollars.
Now he operates his system for you because he loves it…
And he loves what his "Stopwatch System" does for average Americans…
I'll tell you more about all that in a few minutes.
Let's just say, it's not dumb luck his system works. He's a trading genius.
A man with piles of advanced degrees and years of experience… who found a loophole in the market that lets you collect instant cash.

Because every Thursday, he writes the 2-sentence instructions…
And cheerfully hands them over to you.
Now, check this out, because…
It Lets You Bleed Gamblers Dry
Take a look at this chart the system uses…
It shows you a concept called "seasonality." It's a simple idea…
Because it just measures how a stock moves between certain dates over time.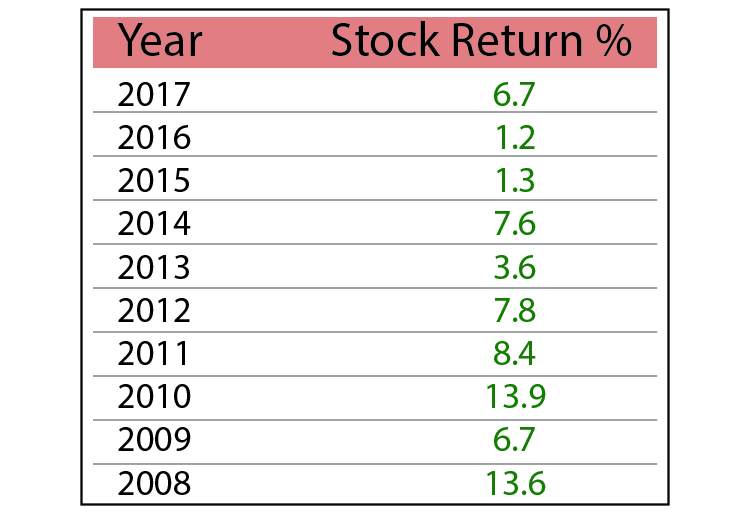 Between August 22nd and the end of September,
the stock has risen in each of the past 10 years.
In this example, the stock it's tracking has risen during this 5-week period every year for 10 years running.
So, I think you'll agree that tracking "seasonality" gives you an unfair advantage as to knowing what's going to happen next.
After all — what would you do if you knew a stock went up, between August 22nd and the end of September… every year… for 10 years running…
And, that a bunch of suckers wanted to bet against it making that same move again?
With your knowledge of seasonality, you'd take their money, right?
I mean, they're betting against something virtually set in stone!
It's no wonder this system works like gangbusters.
Because it could have delivered a $1,100 payout to you in less than 60 seconds on a lazy Thursday.
Here's another example of seasonality…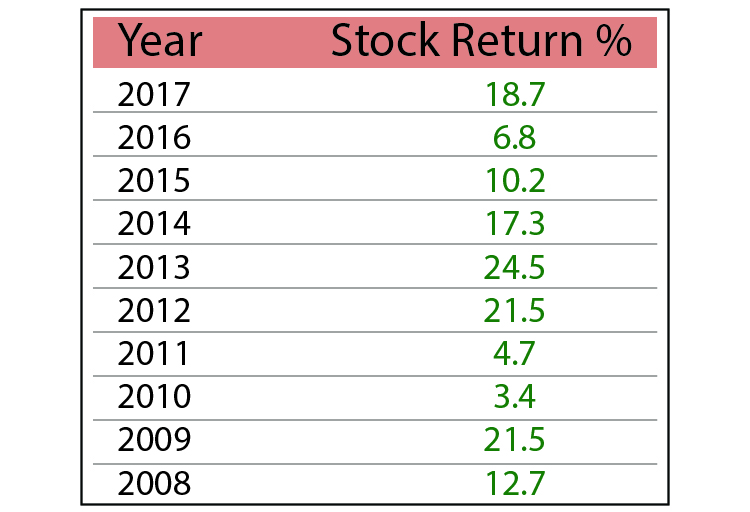 Between June 13th and the end of September,
the stock has risen in each of the past 10 years.
Again, the stock has risen during this time period 10 out of 10 times over 10 years.
It's just common sense to follow along and use what works.
And sure enough, you could have collected another $1,600 with a simple but unique trade based on this trend.
Of course, there's not always perfect seasonality.
For example, take a look right here…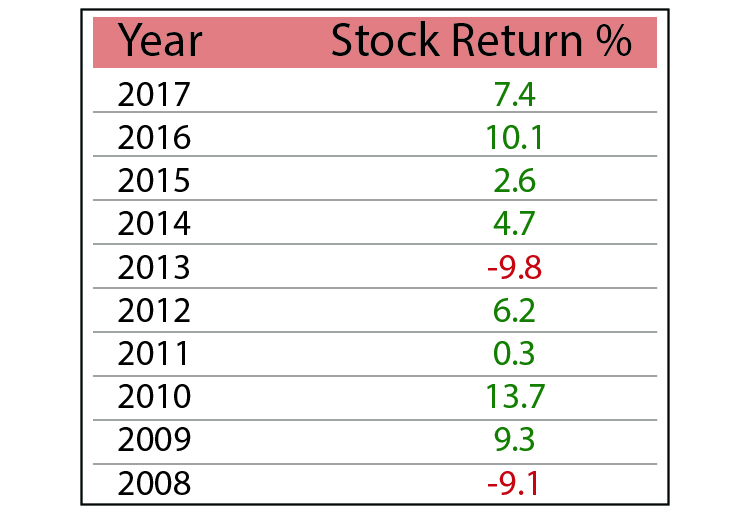 Between May 9th and the end of July, the
stock has risen in eight of the past 10 years.
In 2008 and 2013, the stock didn't move upward.
But part of the beauty of seasonality is that it doesn't need to be perfect to deliver a winner.
Because no matter what, you always collect up front.
In fact, you could have collected $1,300 with this special "Stopwatch System" trade.
And now…
Time to Come Clean...
You may have guess it already…
The "Stopwatch System" uses options.
But not the risky kind you're probably thinking of… that's clear by now, right?
You're not "betting everything on black" at the roulette table. You're not taking that risk.
Instead, you're the casino. You're the house. You're the one who's instantly collecting.
Let the fat cats gamble… while you use the "Stopwatch System" to tell you in advance how much you could collect from them.
It's like you can see into the future, like you've got a crystal ball...
How could this NOT work?
You've got seasonality. You've got a millionaire trading genius running this…
And you've seen conclusive proof that this system delivers payout after payout...
Bottom line: It just plain works.
So, this is perfect for those people who crave...
Instant Payouts
Without the Big Risks
All it takes is a normal brokerage account, plus following instructions each week.
Of course, some people still freak out because they hear the word "options"...
That's their loss. You know they're leaving easy money on the table...
You don't have to be a stock trading genius.
You don't need a college degree or a Ph.D. in Economics.
You don't need to spend hours grinding through graphs and charts.
This system's produced 59 winners in the past twelve months…
Including 56 opportunities for instant cash payouts in a row.
And we're so confident in this system that we invest hundreds of thousands of dollars every year to keep it up and running…
Plus, I believe that Jim Fink, the man who created and runs this system, is our #1 options trading genius.
But, don't just take my word for it...
Here's what Betty Friedman from Falls Church, VA, has to say...
"I pray for the Lord to bless Jim Fink and
his family every day and thank the Lord
for showing me the path to Jim Fink."
And Betty's not alone in her praise. Not by a longshot.
Rose Woods from Clearmont, MO, sent this to Jim…
"I love you very much, you are the greatest.
I am so happy that I have you on my side."
And the praise keeps coming… because these people are getting rich.
People like Mike Finch from Manchester, NH... who tells his friends bluntly…
"Just shut up and do what Jim says."
Maybe that's not politically correct… and maybe that's rude, but…
There's real passion and energy for the guy running the "Stopwatch System" for you.
Jim's the real deal…
He's got all the credentials… he's been trading the markets for over 20 years… and he holds degrees from Yale and Columbia…
But most importantly, Jim Fink's made $5.3 million...
Using the same technique that drives his "Stopwatch System."
Hands-down, he's the best guy to deliver your 2-sentence "Stopwatch System" instructions every Thursday.
And having Jim Fink on your side is a big reason why...
This is the Best Way I Know to Add
$625,664 Extra to Your Retirement
I looked back in time so I could see "Stopwatch System" results for myself over the years…
In 2018, you could have instantly collected…
$1,250 with Hasbro
$1,400 with Chipotle
$1,300 with CME Group
$1,100 with Cboe Global
$1,600 with Celgene
$1,500 with Amgen
$1,450 with Charter
$1,150 with Ulta Beauty
$1,250 with Nvidia
$1,900 with Alexion Pharm.
$1,350 with Activision-Blizzard
$1,150 with JPMorgan
$1,400 with Autodesk
$1,050 with Comcast
$1,300 with American Tower
$1,450 with Alibaba
$1,800 with Amazon
$1,500 with Fluor
$2,450 with Sherwin-Williams
$1,100 with Crown Holdings
Plus 30 more…
So, then I went back another year…
The story was the same.
In 2017, you could have immediately banked…
$1,250 with Cognizant Tech
$1,200 with CVS Health
$2,400 with Amerisource Bergen
$1,050 with Stryker
$1,250 with CBS Corp
$1,800 with Blackrock
$1,800 with Charter Comms
$1,250 with Raytheon
$1,600 with BioMarin Pharm.
$1,000 with SPDR Health Care ETF
$1,450 with Ulta Beauty
$1,350 with Royal Caribbean
$1,250 with Alliance Data Systems
$1,250 with Jack in the Box
$1,050 with Honeywell
$1,100 with Air Products & Chem
$1,400 with Lowes
$1,400 with Nasdaq Inc.
$1,200 with Home Depot
$1,300 with Adobe
Plus 40 more…
I went back again.
In 2016, you could have instantly pocketed…
$1,200 with Buffalo Wild Wings
$1,300 with Domino's Pizza
$1,400 with Altria
$1,260 with Vanguard REIT ETF
$3,250 with AutoZone
$1,500 with Henry Schein
$3,250 with Priceline
$1,150 with IBM
$1,300 with Ross Stores
$1,150 with Monsanto
$2,600 with BlackRock
$1,350 with Magellan Midstream
$1,250 with Bunge
$1,550 with Raytheon
$1,500 with Broadcom
$1,900 with Ely Lilly
$1,900 with Shire
$1,250 with Berkshire Hathaway
$1,450 with Aetna
$1,300 with TJX Companies
Plus 40 more again…
And it's the same story all the way back to 2011.
Now, here's the fast math… These instant payouts average $1,504 each.
So, that's $78,208 extra per year, without going hog wild.
And if you started in 2011...
You could have already collected $625,664.
I know that's an exceptional total. And I'm not promising everyone will make that much. In fact, some people have lost money. But the bottom line is…
Jim Fink keeps fine-tuning and improving every little piece of the system for you…
So, I believe there will be a massive surge of people collecting up to $100,000 extra per year.
Because this system proven to be safe, conservative, and evergreen.
So, what next? Well...
In just a few days, Jim Fink and the "Stopwatch System" will release the next trade...
Here's How to Fatten Your Wallet
And Finally Get the Retirement Relief
You Deserve
In order to collect on the next trade the system delivers, you must sign up to become a member of our premium trading advisory, Options for Income.
It's how Jim Fink delivers "Stopwatch System" instructions to members every Thursday.
Options for Income was designed for ordinary Americans looking for regular income, no matter if the economy is roaring or there's a deep recession.
It's been proven again and again to work when the entire market is up, down, or sideways.
And, it pumps out winning trades even when individual stocks swing all over — in fact, it creates even larger windfall opportunities for Options for Income members in times of chaos.
Every single week… every Thursday… you're getting an opportunity to collect $250… $1,500… and even $3,800 in less than 60 seconds.
Just follow the simple 2-sentence instructions and take control of your financial future.
Easily collect extra retirement payouts... feel the surge of cash…
Because every week an easy trade is delivered to you on a silver platter…
"Stopwatch System"
Trade Alerts Delivered
Every Thursday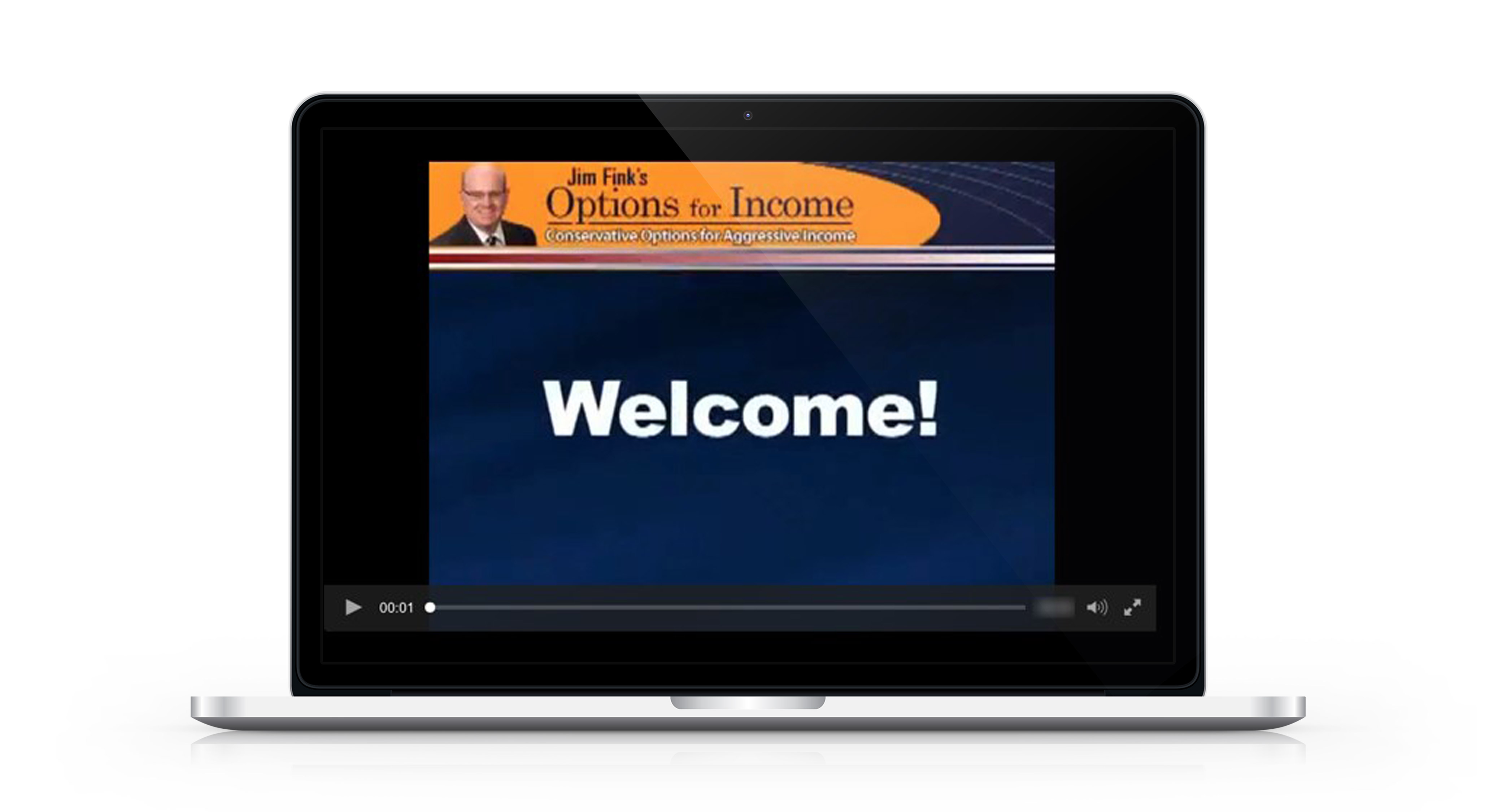 Here's some great news. When you get in...
You get instant access to a short Welcome video. It's just a few minutes long... and then you're smarter.
It shows you exactly how to extract cash payouts every week. You'll get more details on why the trades are so safe, and so profitable…
And you'll know exactly how to get your hands on these payouts, right upfront.
But the most fantastic news?
I guarantee you'll get your first 2-sentence Trade Alert on Thursday.
Because they are delivered every Thursday.
Plus, you get every cash-collecting tool available to all Options for Income members:
Every Weekly Trade
Every Alert Detail
Every Open Trade
Every Closed Trade
Every Answer to Every Question
Every Market Briefing
Every Special Report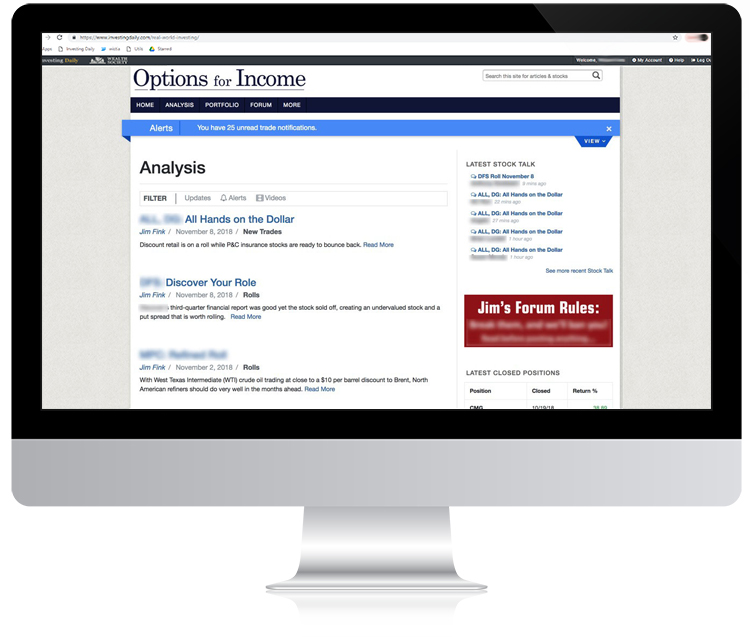 Truth be told, most Options for Income members don't use all of these "extras" because they're just taking 60 seconds to use the 2-sentence instructions provided each week to collect…
But as a member, you have full access to everything. You're never left behind.
And you're potentially collecting $1,800… $3,750… even $5,800 week after week.
And there's no waiting because...
You Collect Your Cash Up Front
I think you'll agree... that's a great feeling.
And, here's something else…
Jim Fink's right there with you in the Options for Income members' area.
And while Jim can't answer questions offering personalized investment advice...
I've never seen any question go unanswered.
Failure is not an option.
So if you're worried about making a mistake… or maybe you're just stuck…
You don't need to worry, because Jim's right there in the trenches with you.
And he's loving every minute of it. He takes pride in helping new members collect their very first instant cash payouts from the "Stopwatch System."
Plus the system's meant to work for you no matter how much — or how little — investing experience you may have...
Jack Blackwell, a retired warehouse manager from Dallas, TX, had never traded options before signing up…
But now?

Eric Taylor enjoys his instant payouts, too. He's a hard-working plumber from Brooklyn, NY, who says…

I think that's pretty incredible.
And take Charlie Anderson, from Gettysburg, PA, who tells everyone…

Members like Jack, Eric, and Charlie can expect even more instant payouts...
Just by taking 60 seconds to read Jim Fink's instructions which are delivered every Thursday.
I think you'll agree that it doesn't get much better than that…
Plus, as a member of Options for Income, you also get...
FREE Email Alerts and
FREE Text Alerts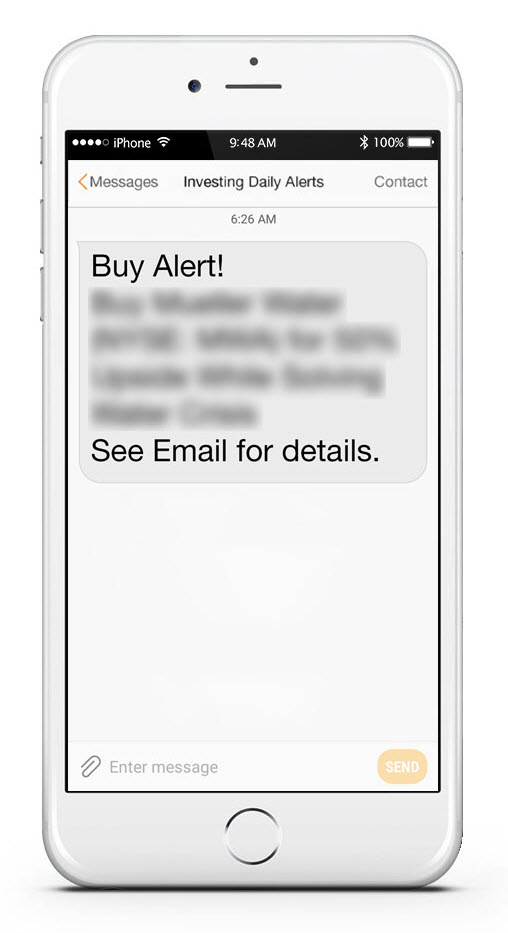 If you have a cell phone that can send and receive text messages…
You can get a text alert delivered every week.
Of course, if you're not into phones and text messages, that's fine.
Because Jim's going to send you an email alert, too.
When you're a member you get all the bells and whistles.
So no matter how you want your alerts…
You can collect every Thursday.
And today's the best time to get started because…
You're Just 60 Seconds Away
From Learning How to Collect
$56,000 in Less Than One Year
While Jim Fink and the "Stopwatch System" isn't perfect…
It's handed members 56 payout opportunities in a row over a 10 month period.
That means if you collected payouts of $1,000 per trade...
You'd be holding $56,000 in a year.
Having said that, no system is always right. It has produced a loser, here or there.
But I'm happy to tell you — it's about as close to a sure thing as I've ever experienced.
Which is why we've got the price for Options for Income set at $3,000 for a full year.
Given the system has shown folks like Richard Wells how to make $30,714...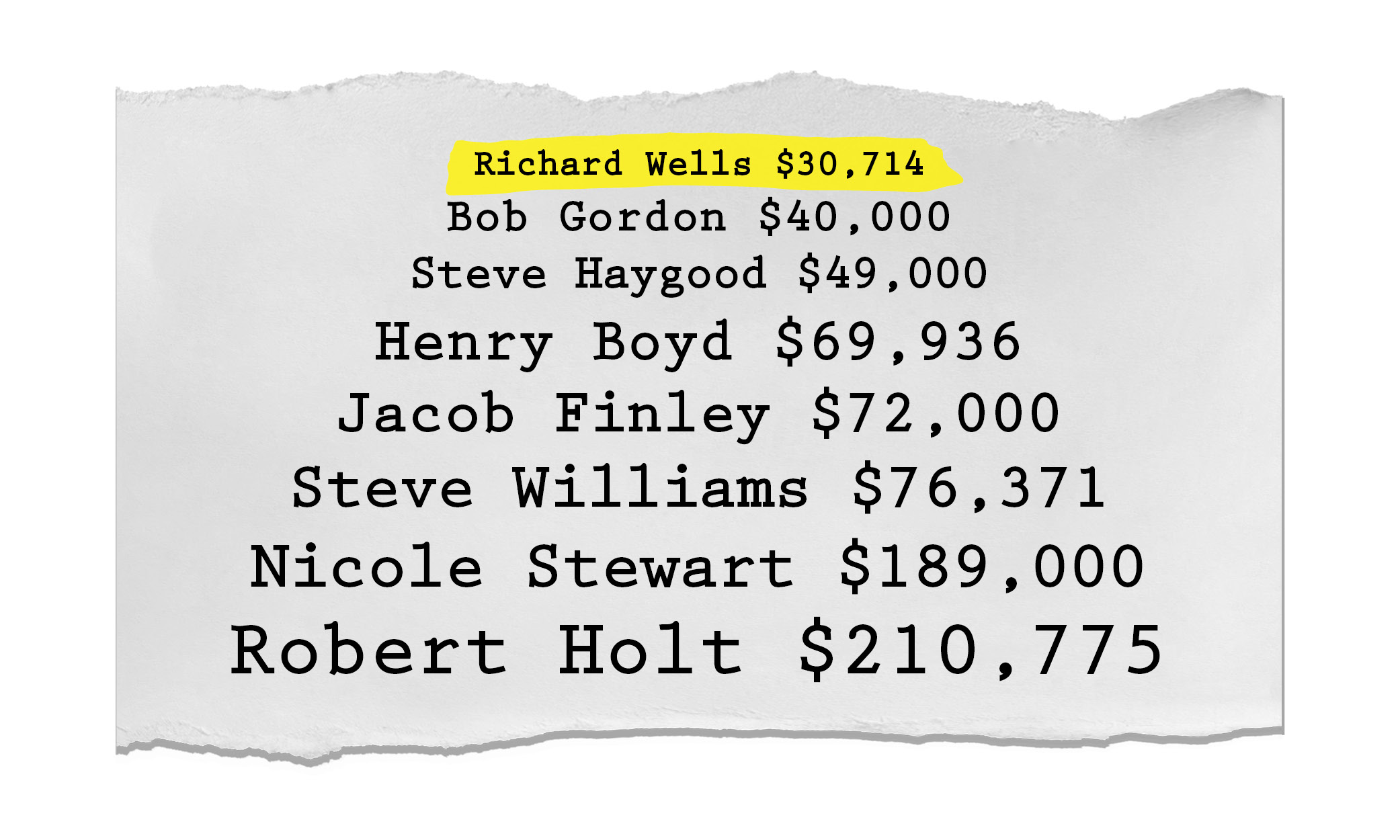 And how Henry Boyd's already banked $69,936…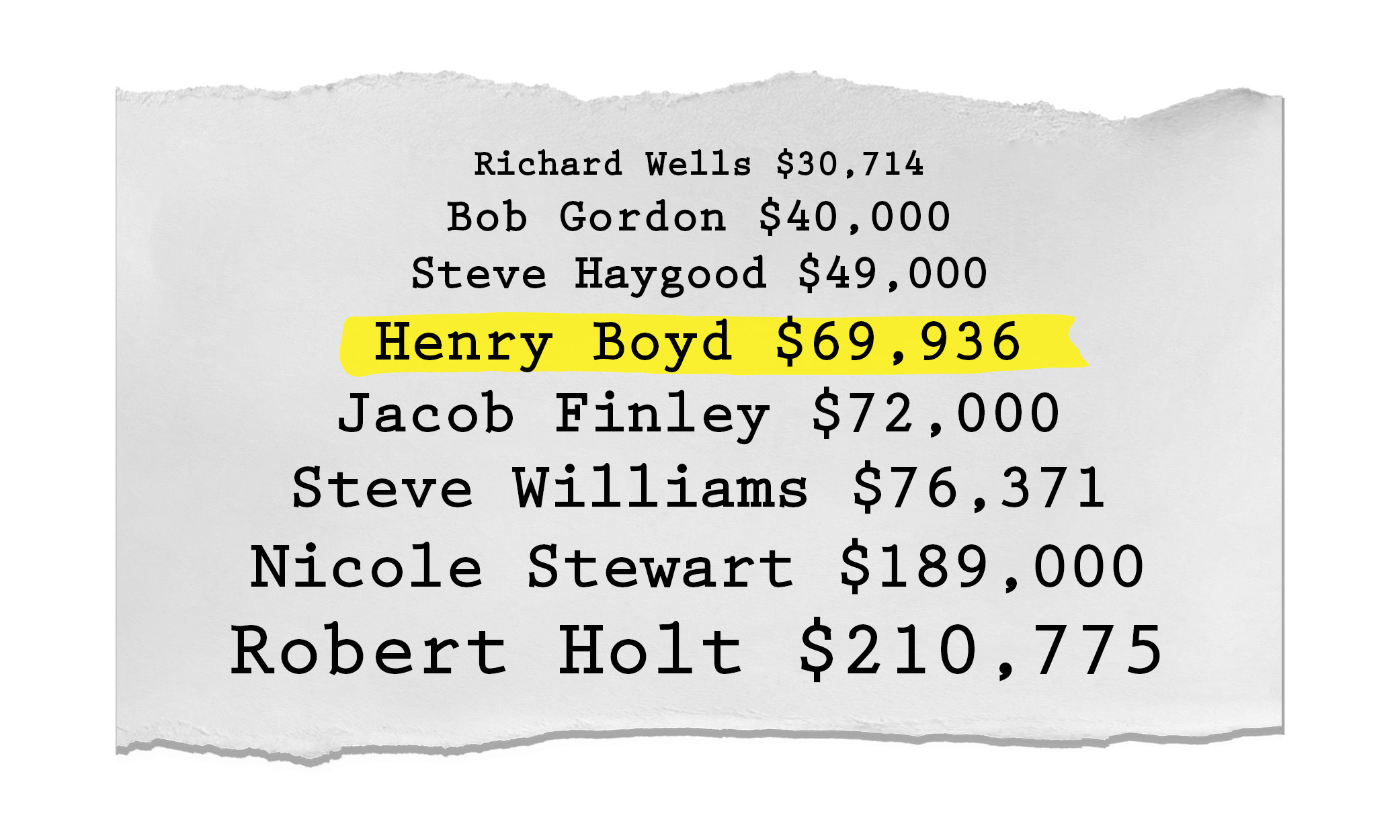 And that Robert Holt's collected $210,775…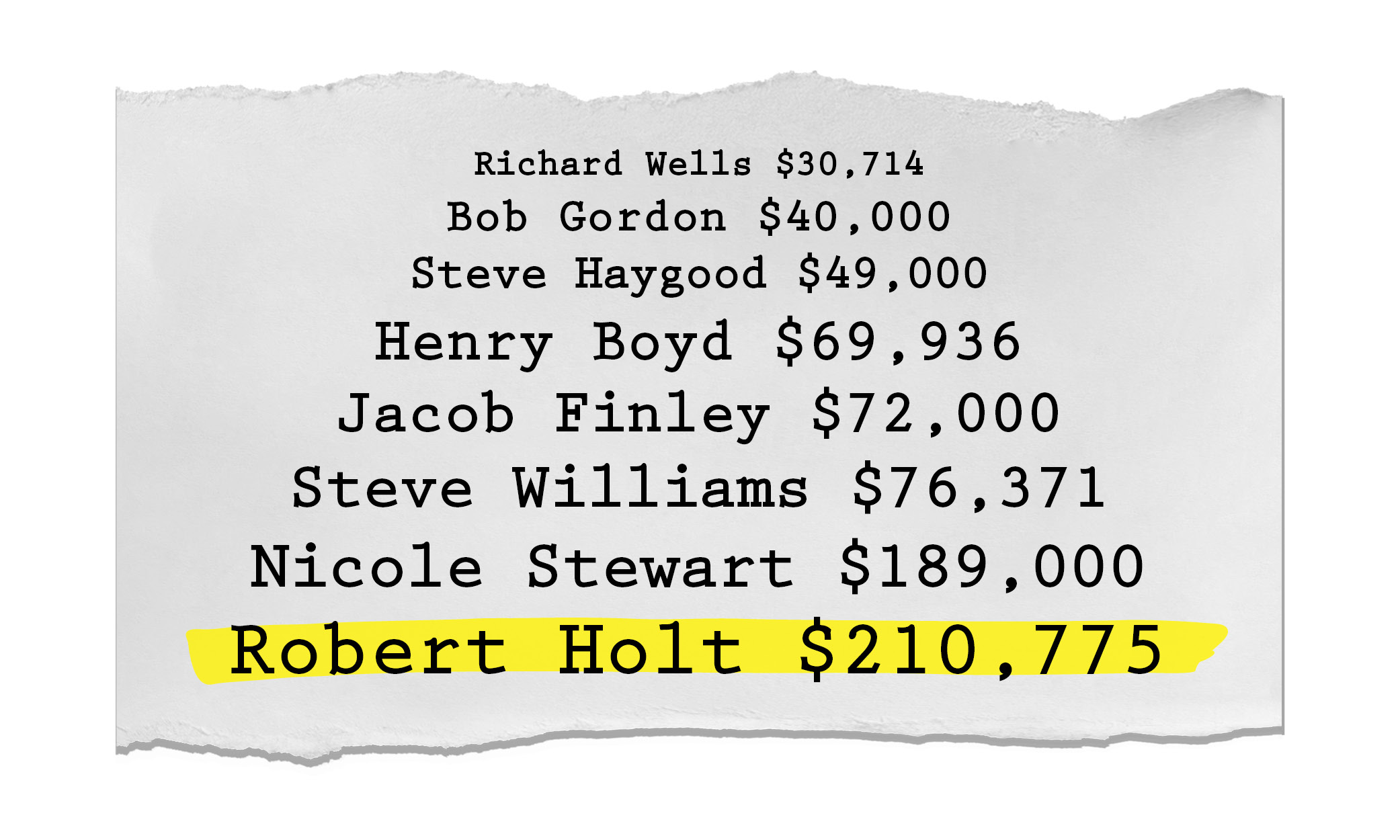 $3,000 is steal.
But, this is about YOU.
And If You Don't Get 52 Opportunities
To Collect Cash in the Next Year,
We'll Hand You $6,000

Because, if for some reason, Jim Fink and the "Stopwatch System" doesn't deliver at least 52 opportunities for you to collect cash, simply call our customer service team…
And they'll give you two years of FREE access to Options for Income.
Which means we're giving you 104 FREE opportunities to make money if we fall short.
That's like taking $6,000 out of our pockets and slipping it into yours.
I'm not too worried about that happening though…
Regular people, like Kevin C. from Florida, write us all the time to say…

Everyone's here to help you collect instant cash, over and over.
And you're protected by our $6,000 guarantee.
But, I'm still not done because….
We've Just Slashed the Price
Earlier, I mentioned that Options for Income normally costs $3,000 per year.
That's not surprising, given how it can pay for itself in just a week or two.
But I'll tell you what I'm going to do to make this offer irresistible.
I've convinced our publisher to give 50 people more than $1,000 off the regular price…
It's the best price we can offer…
And to be honest…
If $1,995 sounds like too much after all of the instant income opportunities I've shown you…
I think it's safe to say that Options for Income isn't right for you.
So follow your gut...
Go ahead and claim one of the 50 spots and collect this Thursday.
Do it immediately, because…
With his discount, these 50 spots will go extremely fast.
So you need to click the "Join Now" button...
(You Can Review Your Order Before it's Final)
Collect your money in 60 seconds, every Thursday, with Options for Income.
But you must click the button now — because once those spots are gone…
They're gone.
And even if more spots do open up someday down the road (which I can't promise)...
I'm virtually certain you won't get in at the price we're offering today.
So take advantage now. Click here to get started.
You'll hit a short order form. It's nothing fancy so you'll be signed up fast.
Or, if you'd prefer to join with a phone call, that's fast and easy, too.
Just give us a call toll-free at 800-543-2051 during normal Eastern Time business hours.
Let them know you want the "Fast Action Discount" for Options for Income.
(You Can Review Your Order Before it's Final)
Let's get started.
To your success,

Scott Briggs
Financial Researcher
Investing Daily
P.S. There are only 50 spots today and they're going to go fast. First Come, First Served.
P.P.S. Don't wait even one more second or you'll be kicking yourself for missing out on weekly trades worth $1,200… $1,750… and even $3,800. You're here for a reason. Listen to your gut...
Or, call toll-free at 800-543-2051 and then say that you want "Fast Action Discount" for Options for Income.
Copyright © 2018 Investing Daily, a division of Capitol Information Group, Inc. In order to ensure that you are utilizing the provided information and products appropriately, please review Investing Daily's' terms and conditions and privacy policy pages.