Inside this briefcase is the
$1.17 trillion bomb primed to blow
Big Pharma's monopoly to bits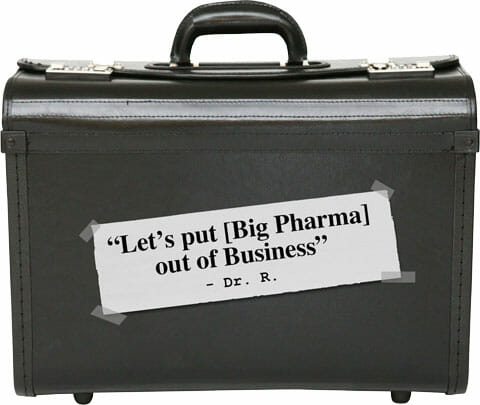 Dear Investor,
If the Coronavirus Crisis proves 1 thing…
It's that Big Pharma has failed us. AGAIN.
Start with already sky-high drug prices…
Then layer on drug shortages…



And the crazy thing is… we STILL go back to Big Pharma time & time again.
Because you, me, & millions of Americans are forced to sit on our hands…
And take whatever the pharmaceutical companies give us…
While they laugh all the way to the bank.
If you need life-saving medicine… whether it's a vaccine, insulin, or breakthrough cancer treatment.
They're your only option.
Until now that is.
Because the medical miracle I'm about to show you is primed to completely transform how you and I get our medicine…
It's cheaper… (95% cheaper in fact)
It's faster… (it can make medicine on-demand)
And best of all, Big Pharma can't butt in
What's more…
Depending on how you act in the next few moments…
The real-life medical miracle inside this briefcase could be your $252,374 payday
From the outside it looks like an ordinary briefcase…
Yet, the inside is the product of 8 years of hard work from the brightest medical minds from Johns Hopkins, The University of Maryland, & MIT…
And to be clear…
It's not some new "magic" pill.
It's not some gizmo to change your genetics either.
Yet, this breakthrough will transform everything about how your medicine is made…
From vaccines, antibiotics, and insulin to brand new treatments for Alzheimer's & cancer…
Because…
As soon as every doctor in America gets a hold of one of these briefcases…
Drug prices could plummet by as much as 95%
Make no mistake: This isn't the work of science fiction.
This is happening NOW.
Just ask leading Dutch physician Dr. Huub Schellekens, who recently said:

Can you picture it?
Lipitor (90 day supply)

$1,482.95

$74.15
Zestril (90 day supply)

$1,258.45

$62.92
Zocor (90 day supply)

$60

$22.18
Prinivil (90 day supply)

$144.80

$7.24
Synthroid (90 day supply)

$131.56

$6.57
Norvasc (90 day supply)

$653.34

$32.66
That's why John Lewin, the division director of critical care and surgery pharmacy at Johns Hopkins Hospital, is saying:

It's also why Dr. Schellekens calls this breakthrough…

The most exciting part is…
This medical miracle has the potential to bring Big Pharma's $1.17 trillion monopoly to its knees…
(And there's nothing they can do about it)
For decades the pharmaceutical companies have used the same legal trick…
Slap a patent on every medicine (creating a monopoly)…
Then raise the price to the moon.
Like when the price of Daraprim shot up from $13.50 to $750 a pill — a 6,000% increase.
Or when Novartis released the most expensive drug ever — Zolgensma — with a price tag of a whopping $2.1 million per treatment.
Incredibly, this kind of blatant price gouging is 100% legal.
But this time, an army of lawyers and crooked politicians won't save them.
For 171 years, the pharmaceutical companies have operated with zero competition…
And instead of updating their ancient factories and manufacturing process…
They spent their time making backroom deals with politicians…
As Dr. Janet Woodcock, Director of the Center for Drug Evaluation and Research proclaimed:

But now it's too late.
A brand-new technology has emerged that can already produce life-saving medicine 1,459X faster…
And up to 95% cheaper than Big Pharma.
What's even more astonishing…
It can do it all on your kitchen table!
And if that wasn't exciting enough…
For investors, this is an exceptionally rare opportunity to hitch onto a brand-new technology, unlike anything we've seen before…
With the potential to save you money, save countless lives…
And most importantly, pocket you a FORTUNE (more on the specific figures below)…
But here's the rub:
Unless you want to be left in the dust… while the well positioned investors charge ahead with 2,524% gains…
Then you must act FAST
Like by July 6 fast.
Because an incredible profit event like this has never happened before…
And will never happen again.
After all, we're talking about a complete industrial shift…
That's about to hit the $1.17 trillion drug market like an atom bomb…
And pour record-shattering profits into one company…
Positioned right at the center of it all.
So what does this all mean for you?
Well, to give you a sense of the kind of profit potential that gets churned out from brand new medical breakthroughs…
Look no further than:
Intuitive Surgical which absolutely exploded after it released its revolutionary robotic surgical technology.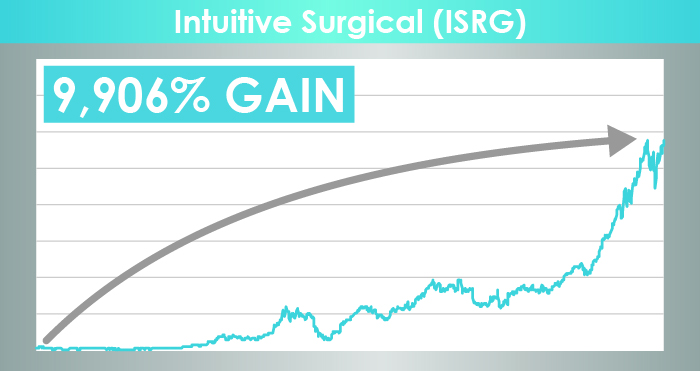 Or take Dexcom.
After this California-based biotech released its breakthrough continuous glucose monitoring device… the stock took off for 3,391% gains.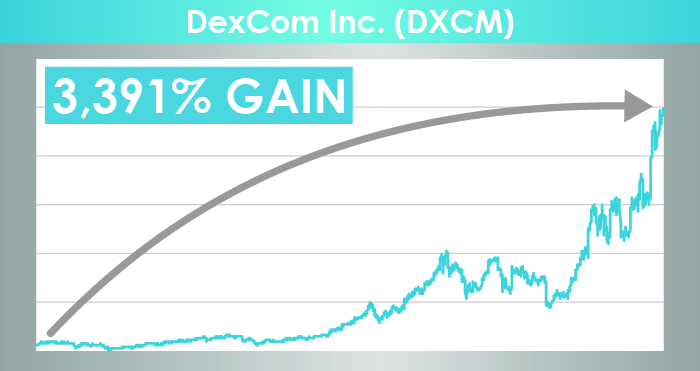 Then there's Repligen — a virtual no-name until it acquired a brand-new technology to manufacture a handful of expensive treatments…
Sending the stock price to the high heaven.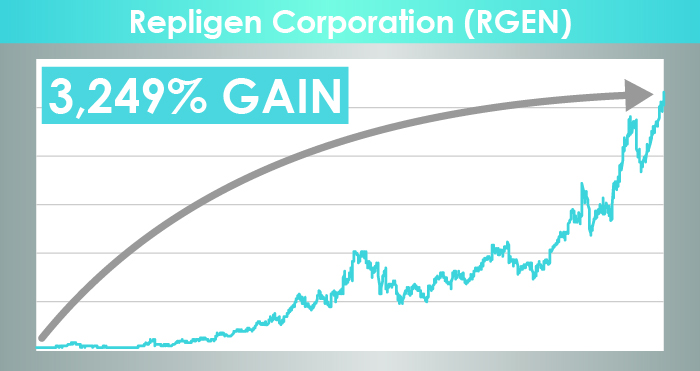 Incredible!
Now, is every biotech investment a grand slam?
You and I both know that no investment is guaranteed — not even T-bills.
These aren't investments to bet the farm.
But there's no need to when a modest stake can turn into a fortune…
Better still, it's fast and easy too.
Take 5 minutes. Make 1 trade.
And you could 26X your money
Here's the long story short:
A brand-new medical breakthrough exploits Big Pharma's one true weakness (which I'll get into in a moment)… rendering the entire $1.17 trillion pharmaceutical industry obsolete.
It's the product of 8 years of tireless research by the world's leading medical minds from Johns Hopkins, The University of Maryland, and MIT…
Plus $15.7 million in grant money from the ultra-secretive arm of the United States Department of Defense.
The revolutionary technology these scientists created could cause drug prices to plummet — it's already proven to produce expensive drugs at 5% of the current cost…
While still generating a profit.
It's incredible.
Scratch that.
It's a Godsend… packed inside a briefcase.
And now, it's primed to set off a once in a generation profit explosion…
With $1.17 trillion on the line, the profit potential here is truly astronomical.
If my research is correct — which I'll show you in a moment so you can see for yourself —
This breakthrough technology opportunity could cram your retirement account with $252,374…
(Talk about bouncing back from the Corona Crash).
It all kicks off July 6.
And if you're still skeptical… good.
It pays to be skeptical.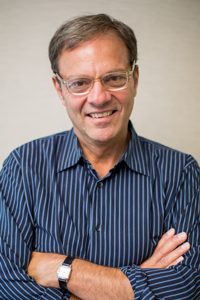 Heck, I made an entire career out of it.
My name is John Persinos.
I'm the Editorial Director at Investing Daily.
I'm not like the financial "gurus" you've heard from in the past…
And you know what? I never liked the term anyway.
All the other financial gurus spit out a bunch of theoretical financial advice…
Sounds like a snooze fest… (not to mention a waste of time)…
I much prefer to get the real scoop on what's happening in the markets… RIGHT NOW…
Preferably, straight from my own well-placed sources.
That's why I spent 30 years as a "boots-on-the-ground" financial journalist.
Maybe you've already seen my work in Inc., Venture, Kiplinger, & The Street.
(If so, thank you for reading!)
It means a lot to me.
Especially considering I put a ton of work into every one of my pieces…
Turning over every. single. stone…
To uncover information most Wall Street brokers ignore…
Fine tuning my instinct for identifying the best investment opportunities in the market…
Not to mention calling in favors from practically every name in my Rolodex…
To bring everyday investors like you the absolute best profit opportunities.
And make no mistake:
I love getting my hands dirty to track down a red-hot stock that's ripe for explosive gains…
(Like the one I have for you today) .
But what I'm getting at is…
It's not easy to get the big scoop.
Over my career, I've pressed everyone — from high-flying CEOs to U.S. Senators — for the juiciest information…
That could give my readers an edge.
And after 30 years of reporting, I'm 100% confident telling you this:
There's certain "need-to-know" information that the elite want to keep hidden from you.
The kind of secrets that can turn the tables…
And can make YOU very, very rich.
That's the exact information I want to share with you today.
Fair warning, though.
What I'm about to show you next might make you want to punch a hole through a wall.
Big Pharma made billions in "blood money" preying on the sick & powerless…
And this is how they did it.
First, let's compare the price of a necessary, life-saving medicine… against literally everything else.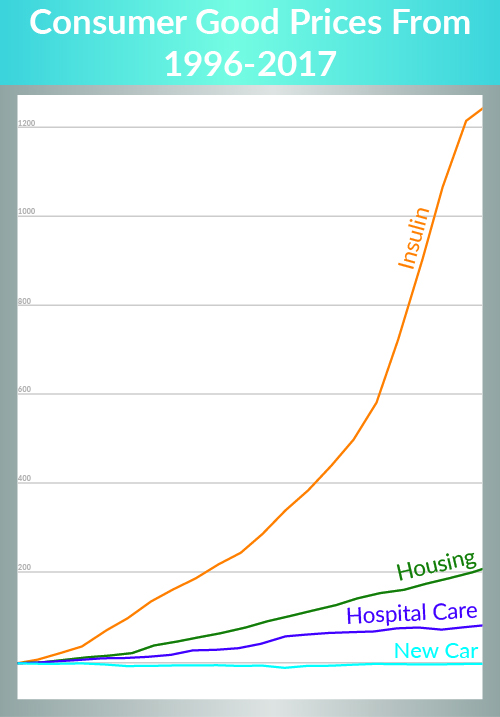 As long as you can push your sense of humanity aside…
Big Pharma built the easiest & most profitable business model in history.
It works like this:
Find a medicine people desperately need that costs pennies to make
Secure the patent rights (in other words: create a legal monopoly)
Arbitrarily raise the price so they can profit while patients may be forced to decide between life-saving medication or putting food on their tables
The result?
The outrageous profits flow in.
In fact, the money is practically guaranteed.
Because when your customers must buy your product…
Or die…
They'll find a way to pay.
Now, the 1,200% price spike of insulin is an extreme case that shows the lengths Big Pharma is willing to go to squeeze every last dime out of you.
And more importantly, it explains WHY the price of your medicines — even so-called "cheap" generics — continue to skyrocket:
Blood pressure drug Captopril jumped 727%
The heart medication Digoxin jumped 717%
The antibiotic Tetracycline soared 7,567%
With $1.17 trillion flowing in every year, Big Pharma looks unstoppable.
And if you're thinking the politicians on Capitol Hill should do something about it…
I'm sorry to say:
Washington won't save you
(Not when there's this much drug money
handed out)
But hey, at least we can agree that BOTH sides of the aisle take Big Pharma's money.
Just take a look: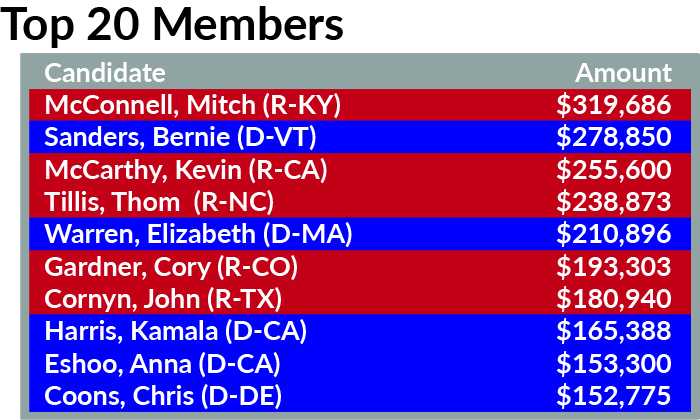 You know the industry is rotten to the core when Bernie Sanders AND Mitch McConnell are neck & neck to see who can take the MOST money.
No amount of hooting and hollering about it will help either.
Because as Dr. Stacie Dusetzina from the Vanderbilt School of Medicine put it: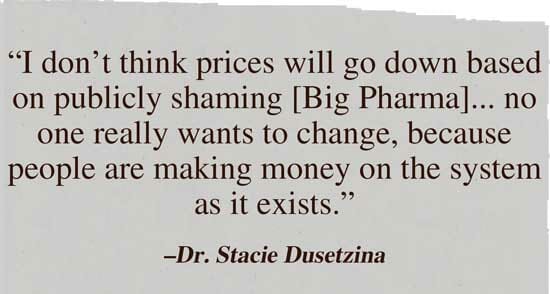 Game over.
Big Pharma wins, right?
Not quite.
Big Pharma messed up big time…
(And handed you a once-in-a-generation profit opportunity)
Allow me to explain…
The way our medicines are made today is a huge complicated mess…
(Which could set you up for a $252,374 payday).
So bear with me for a moment while I get you up to speed.
It starts with raw ingredients that much of the time come from China or India on container ships like this: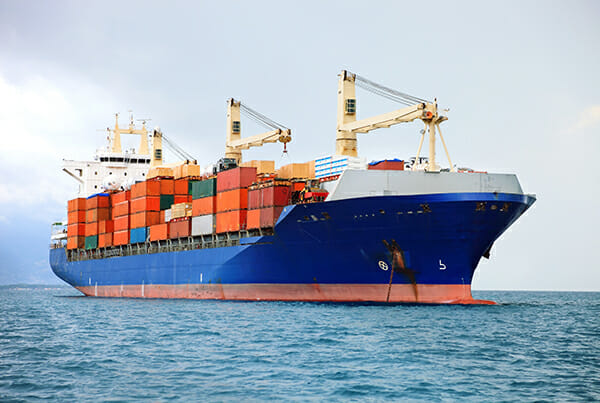 That then have to get on a truck like this: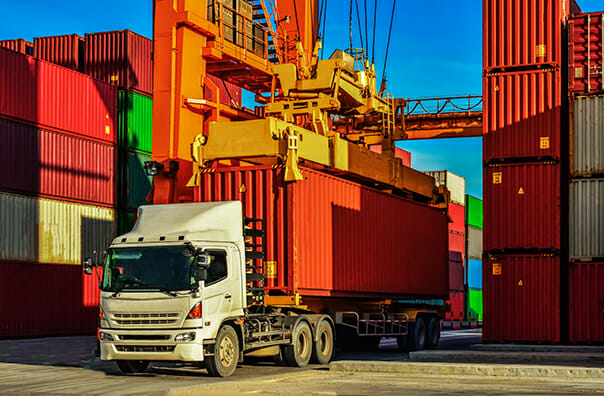 Before ending up at BIG factories like this…

Or this: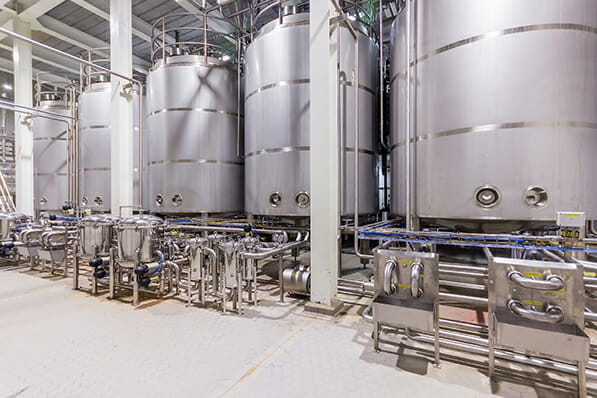 Or this: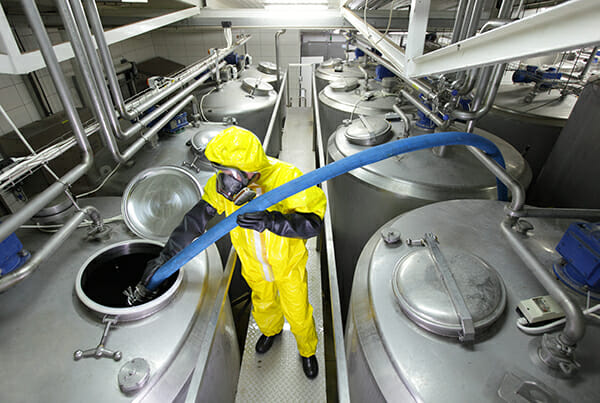 Where the ingredients are transformed into medicines.
But we're not done yet…
Then the product gets back on a truck like this…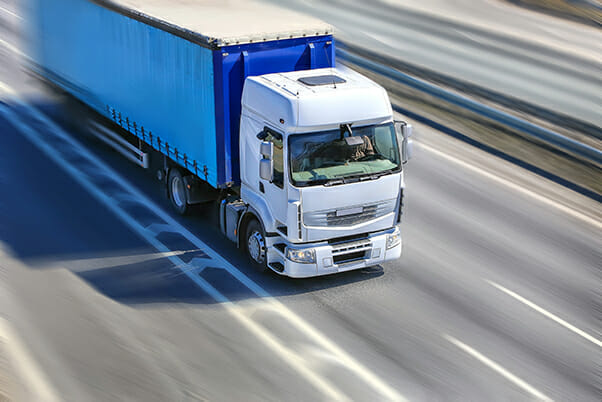 Where it's delivered to yet another factory where it's packaged…

Before finally being sent to your local pharmacy…
So that the pharmaceutical companies can rake in record setting profits from selling tiny pills like this…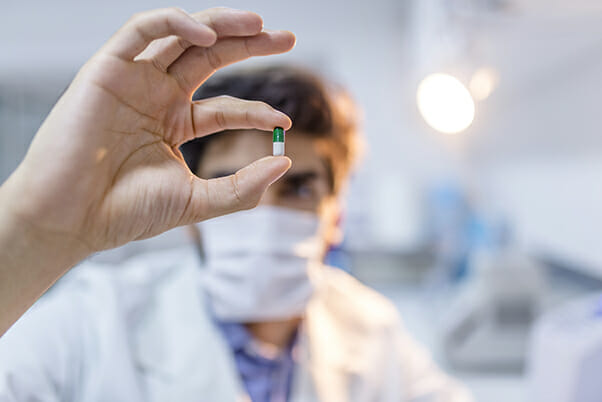 Like I said…
It's a huge complicated mess…
That leads to real world consequences.
As the journal Nature describes it:

Put simply, with one tiny slip up the wheels fall off the whole operation.
And that's on a GOOD day.
Then the Coronavirus happened.
And the fall out has been terrifying…
The New York Times, NBC News, and FOX are all reporting drug shortages:



The crazy part is…
This wasn't even the first time Big Pharma caused drug shortages.
In fact, they're so common Forbes reported:

But sadly, this story gets worse…
When drugs are in short supply…
Big Pharma raises prices by nearly double.
It's true.
Researchers from Harvard Medical School & the University of Pittsburgh proved it in a recent study published in the leading medical journal Annals of Internal Medicine.
The senior researcher, Dr. William Shrank, even went on to say…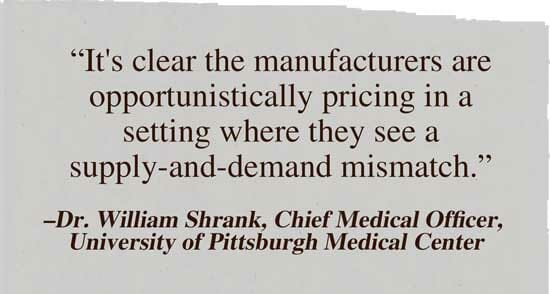 It's shameful…
Yet another way for the drug companies to make even bigger profits.
If this news makes you angry…
Good.
Because it's finally time to settle the score.
Even better…
Sticking it to Big Pharma could pile $252,374 back into your retirement account
Sounds satisfying… but how can I be so sure?
Because the radical new technology inside this briefcase changes everything about how we get life-saving medicine…
In fact, it could allow us to cut out Big Pharma from our lives, forever.
Put some of them out of business even.
As an investor, that gets my blood pumping.
Because when entrepreneurs find an easier, faster way to deliver finished products into your home…
BIG BUCKS virtually always follow.
Especially, when the universally hated "top dog" gets cut out of the chain.
Case in point:
Do you remember the year Netflix started its historic profit run?
I do.
It was all the way back in 1997. What sparked it all?
An outrageous $40 late fee from Blockbuster.
Reed Hastings, the co-founder of Netflix, forgot to return a rented VHS tape of the movie Apollo 13 on time…
And after getting hit with a huge fine…
He left Blockbuster that day embarrassed and royally ticked off.
So he did what any entrepreneur would have done…
He built his own video rental service that cut out Blockbuster all together.
It was a simple idea…
Yet, it radically transformed everything about watching movies at home.
The funny thing is…
The top brass at Blockbuster said Netflix would never work.
In fact, Blockbuster had the opportunity to buy Netflix for $50 million.
But instead, Blockbuster's CEO laughed Netflix out of the room… literally.
Man, were they wrong…
Now Blockbuster is a relic…
While Netflix is alive & well streaming movies right into our living rooms…
Keeping us sane during the lockdown…
And making investors a killing.
In fact, investors who jumped in on Netflix early turned a modest $1,000 stake into $302,000.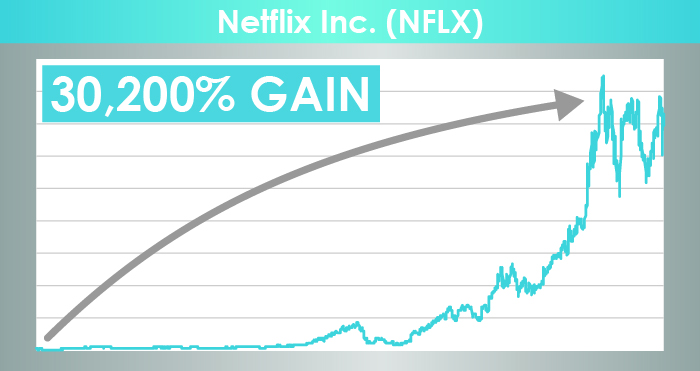 But if you missed out Netflix… no worries.
Because where Netflix brought movies into your living room on-demand…
This briefcase could do the same for medicine…
And make you 26X your money in the process.
But what's even more remarkable is…
This biotech revolution started in… of all places… the front lines of Afghanistan
In the middle of the desert, 6,920 miles from home, Army doctor Colonel Geoffrey Ling was fed up.
His Army hospital at Bagram Airforce Base in Afghanistan was hit with a drug shortage…
Yet again.
Loyal soldiers & civilians weren't getting the life-saving medicines they needed.
That's when, under dire circumstances…
Colonel Ling made an insane proposal that could alter medicine forever…
And set up investors for staggering profits.
His idea was simple:

To the average doctor this was probably pure crazy talk…
But Colonel Ling was no average doctor.
He was also a director at the ultra-secretive branch of the Department of Defense…
A collection of the most brilliant minds ever assembled….
That's dedicated to making the impossible a reality.
It's called the Defense Advanced Research Projects Agency.
That's DARPA for short.
Now if you've never heard of DARPA before…
Well, that's by design.
The military likes to keep DARPA and its projects under lock and key.
After all, when it comes to developing breakthrough military technology, you don't want the whole world knowing about it, right?
But I guarantee you already know about DARPA's biggest winners…
That have radically transformed your day-to-day life for the better.
And made investors boatloads of cash.
Case in point:
DARPA funded iRobot to make a military robot called Packbot.
That's right. The company that makes the "Roomba" vacuum robot started out at DARPA.
And if you picked up shares back then…
You could have pocketed 1,245% gains.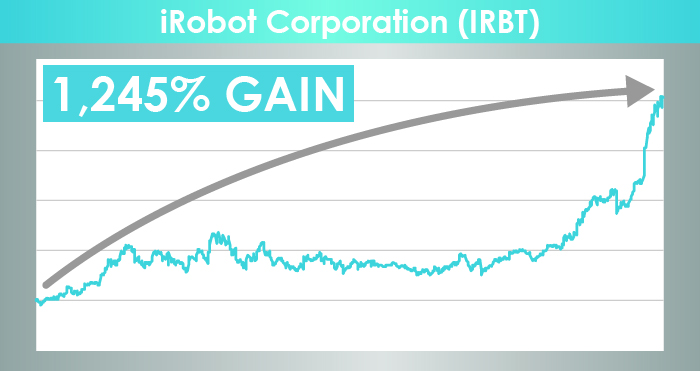 How about this one…
GPS started out at DARPA to compete with the Soviets.
Then when it went commercial, companies like Garmin took off.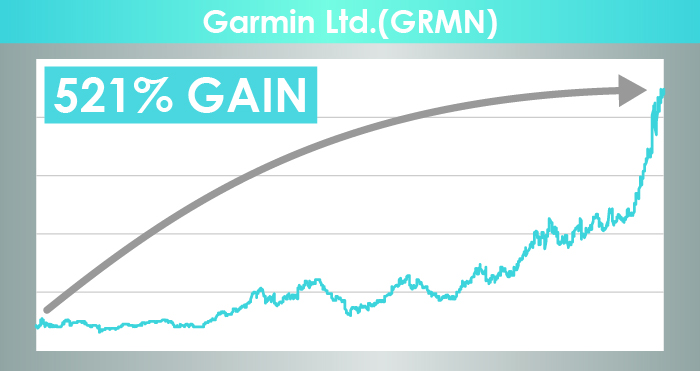 Incredible, 521% gains.
The funny thing is…
You wouldn't even be reading this today if it weren't for DARPA.
You see, DARPA built the foundation of our modern internet.
(The first prototype was called ARPANET back then.)
Which launched the first internet monster stock: Netscape.
On the first day of trading on August 9, 1995, Netscape skyrocketed from $28 to $74.75.
That an insane 167% gain — more than doubling your money — in a matter of hours.
Yet, Netscape wasn't finished. By the end of 1995, Netscape shot up to $174 a share…
Delivering investors an incredible 521% gain.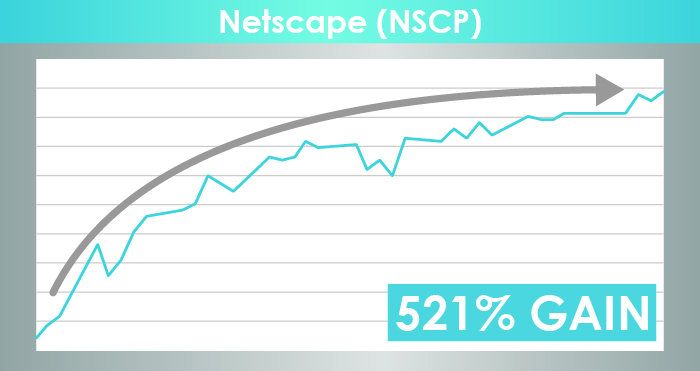 The lesson here is clear:
When the smartest people on earth work together on crazy ideas — with huge profit potential — the result is…
Cash. Lots & lots of cash.
Manufacturing medicine — on demand — will be no different.
(I mean, there's $1.17 trillion up for grabs here).
So who are the geniuses up for the task?
The best and brightest scientists from MIT, the University of Maryland, and Johns Hopkins School of Medicine…
None more brilliant and with more conviction than the man leading the charge.
Now this might surprise you…
But the doctor responsible for the briefcase pharmacy is NOT Colonel Ling.
You see:
Colonel Ling knew his exceptional project needed a doctor with exceptional experience.
So he dug up his Rolodex and called a modern medical genius…
Maybe 1 in a million have heard of him.
But very soon, he'll be a household name.
His breakthrough technology has the potential to bring the greedy drug companies to their knees…
Slash most major drug prices by 95%…
And make investors a fast fortune.
To protect his privacy, I'll call him Dr. R.
And quite frankly…
He's the only man on Earth who can make this "Miracle Briefcase" a reality
After all…
He's dedicated his entire 30-year medical career to developing breakthrough technology that "reduces the skyrocketing cost of healthcare."
For his dedication he's won a dizzying number of patents (too many to mention here)… which include a new technology that can monitor a baby's blood sugar through its skin.
And to top it all off, organizations like the National Science Foundation, Dupont, and the National Institutes of Health couldn't wait to fund his research.
Why would a man who has accomplished so much want to take on this crazy mission?
For Dr. R., bankrupting Big Pharma is personal…
You see: years ago he suffered firsthand from Big Pharma's sick scam.
He watched a colleague face bankruptcy trying to afford the life-saving medication his wife desperately needed to survive.
Big Pharma made a fortune exploiting her cancer.
So when the call came from DARPA to develop brand-new technology that could produce life-saving medicine on the front lines…
And cut out Big Pharma all together…
Dr. R paused to collect his thoughts.
Then he delivered the answer that could mainline a mountain of cash into your brokerage account.
"Let's put them out of business"
Supported by a $15.7 million investment from DARPA…
Dr. R went to work.
After six years of tireless research with his colleagues…
What he came up with was truly revolutionary.
Which brings us to a packed laboratory at the University of Maryland…
The room was buzzing with anticipation…
As the brightest medical minds held their breath…
This was the moment they waited patiently to witness.
He opened the briefcase to reveal his crowning achievement and said…
"You're watching history in the making"
With the press of a button… the strange liquids inside started to flow through a series of tubes.
Soon thereafter, this extraordinary machine dispenses life-saving medicine… with the exact dose to treat a sick patient…
Right then. Right there.
You don't need a doctorate in molecular pharmacology to know this briefcase pharmacy is a once-in-a-generation medical breakthrough…
(And you don't need to know anything about science to know it could make you rich)
It's surprisingly simple how it works:
You add a special mix of ingredients
Then the ingredients are mixed together as they travel through a series of tubes
At the end, the briefcase pharmacy dispenses life-saving medicine
Incredible…
But you might be wondering, "How well does it work?"
Now this is where things get really exciting.
In a recent study published in Nature, Dr. R. and his team put the briefcase pharmacy through its paces.
The test was simple.
The briefcase pharmacy produced an expensive drug called G-CSF that's given to cancer patients…
Then Dr. R. and his team tested to see if the purity of the drug met FDA standards.
If it didn't, the team would have to go back to the drawing board.
Fortunately, the results were extraordinary, exceeding all expectations.
According to the study: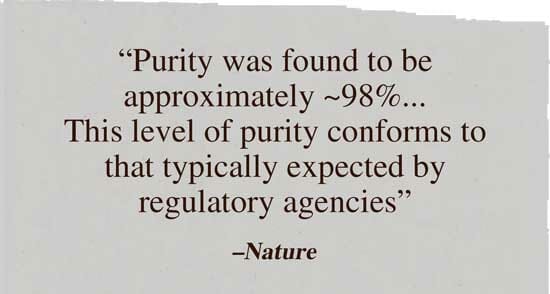 Translation: the briefcase pharmacy is so precise it was able to produce a complex, expensive drug for cancer patients.
But it gets even better…
Because the briefcase pharmacy can produce "custom made" medicines that are specific to YOU.
That's huge.
Because it completely dismantles the giant drug companies' one-size-fits-all model…
Where everyone receives the same exact treatment for the "average" person.
And you might be saying, "I'm not the average person"…
Of course you're not.
That's what makes this breakthrough so HUGE.
Because, with the briefcase pharmacy, new personalized treatments for the world's deadliest diseases could become a reality…
I'm talking about breakthroughs to fight:
Cancer
Alzheimer's
Diabetes
Even viruses like COVID-19.
So it comes at no surprise that top medical schools are already raving about it.
Stanford Medicine declared it:

And the University of California-Davis calls it…

The bottom line is…
It makes life-saving medicine…
Any time. Anywhere. On-demand.
For pennies on the dollar.
Imagine it.
The doctor comes over to YOUR house.
He makes his diagnosis.
But instead of writing a prescription that you have to fill at the pharmacy…
(Hoping it won't cost you an arm and a leg…)
He plops down the briefcase on your coffee table.
Then right there… right before your eyes…
You watch as this incredible machine makes the exact dose of the medicine you need.
And we're not talking about ibuprofen or Benadryl…
We're looking at real, life-saving medicines once only available through giant pharmaceutical companies…
Now custom created on demand.
Then comes the very best part.
After the kind doctor shakes your hand and quickly recaps how — and at what time — you need to take your meds…
He hands you the bill for the services and your face lights up like a Christmas tree.
Stunned – you stand in disbelief.
The meds cost pennies on the dollar from what you were expecting.
Now, that's the kind of medicine I can get behind!
Don't you agree?
Now, picture every doctor in America with this briefcase pharmacy.
Watching your medicine appear — almost like magic — before your eyes will be as normal as pumping gas...
Rock-bottom prices for life-saving medicine will be expected.
Bottomline: This stands to be a once in a generation shift in medicine…
One that could bring brighter, healthier lives to millions of Americans…
For a fraction of the cost.
Never before have I seen one technological breakthrough with the very real potential to rip apart Big Pharma's $1.17 trillion monopoly…
While at the same time…
Setting up investors for a $252,374 payday..
It's rare for me to have such confidence in an opportunity.
And it only makes me more confident when I look at the 1 little-known company that's making it all happen:
Meet the "brains" of the whole operation
There are dozens of components inside the briefcase pharmacy that work together to make life-saving drugs…
It's a technical marvel…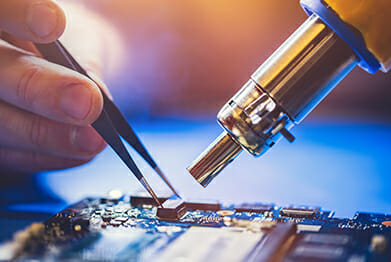 But it would be nothing more than an academic fantasy without the company I'm recommending today.
You see: this revolutionary company makes the control panel for the entire briefcase pharmacy…
It's amazing how it works.
(And the briefcase is USELESS without it.)
It makes sure the ingredients mix together perfectly…
It keeps the briefcase at the perfect temperature…
And just as important, every dose is safe (or safer) than what you'd pick up at your local pharmacy
Without it, the briefcase pharmacy fails to launch…
But with it, the briefcase pharmacy (along with this company's stock price) have the potential for explosive growth.
How high could we see it go?
According to my most recent financial model, the potential gains are extraordinary.
Just as you'd expect!
After all, the briefcase pharmacy is a once-in-a-generation breakthrough… with the very real potential to bring a $1.17 trillion industry to its knees.
But to be clear:
I can't guarantee the briefcase pharmacy will run over the entire $1.17 trillion pharmaceutical industry overnight
The good news is though…
To make early investors a quick outsized payday, it doesn't need to.
In fact, the briefcase pharmacy could produce record-shattering gains by quickly cornering a much smaller portion of the market.
According to my recent financial model…
If the briefcase pharmacy captured only 20% of the market…
It could set off 2,524% gains.
But if you want to get in on this stock, you must act fast…
Because…
President Trump's new Coronavirus policy could put the briefcase pharmacy on the "fast track" to FDA approval
During the Coronavirus outbreak, we've seen how a little bit of presidential pressure can get the FDA to move fast: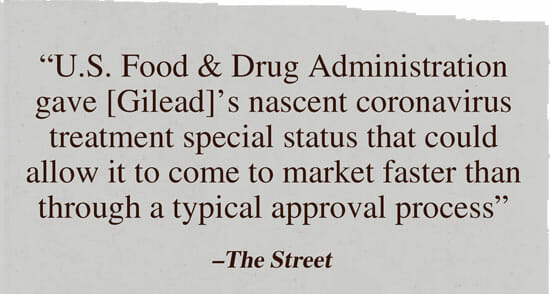 Long story short — the President's influence could speed up the FDA approval timeline.
Just look at this statement from the FDA: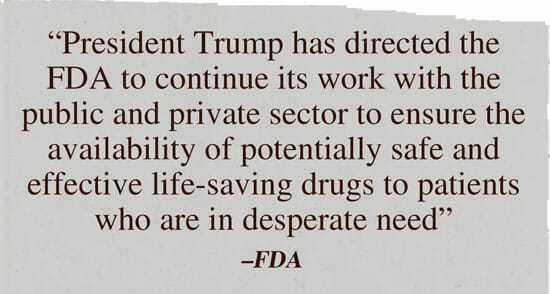 Reread that statement from the FDA one more time.
That clearly fits in the wheelhouse of a briefcase pharmacy that can make life-saving medicine on demand.
That's why I predict the briefcase pharmacy will receive FDA approval.
And why you need to act BEFORE July 6.
We've seen FDA approvals launch huge gains before…
Even in the heart of a financial crisis…
For example:
Take Integra Lifescience. In 2009, during the heart of the financial meltdown, the FDA approved their new surgical material and catapulted Integra's share price 372% higher…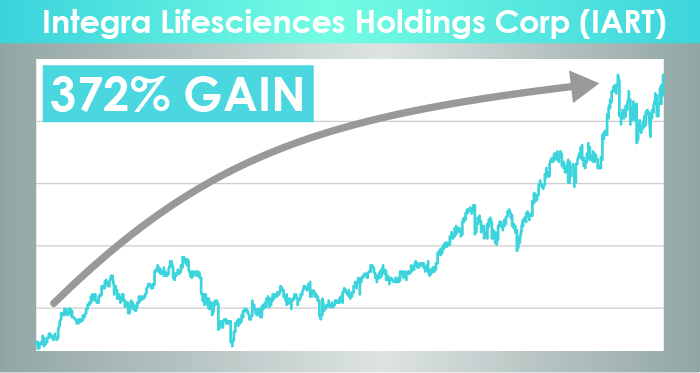 Or how about St. Jude Medical. Back in 2009, while most investors were licking their wounds, the FDA gave premarket approval to St. Jude's new pacemaker, and the stock price soared…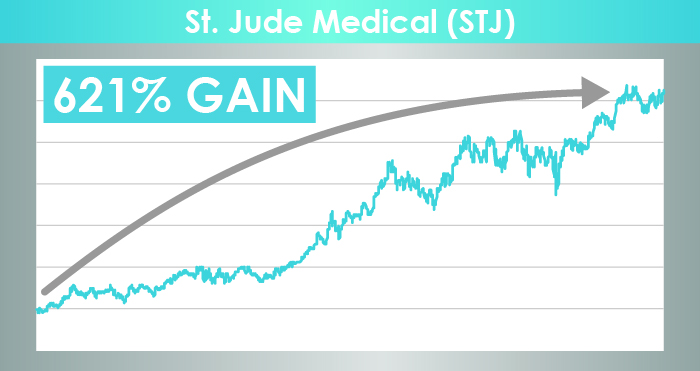 Then there's Staar Vision. After gaining FDA approval for their new implantable contact lens — in the worst month of the Great Recession — Staar Vision went on an absolute tear…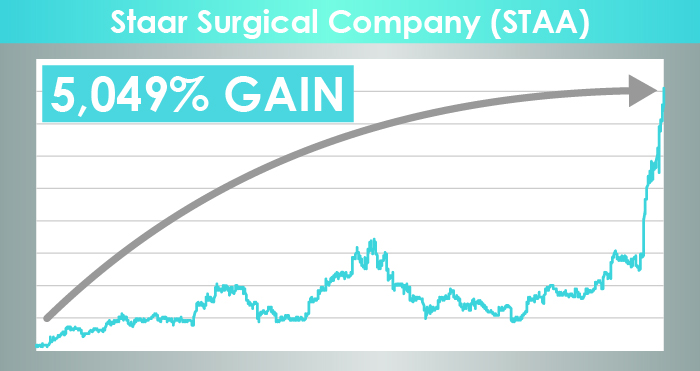 That's a staggering 5,094% gain that started in the middle of the worst recession in recent history…
And it was good enough to turn $10,000 into $509,400.
Now think of the position this briefcase pharmacy is in…
A breakthrough technology that produces life-saving medicines…
Vaccines, insulin, even breakthrough cancer treatments…
Anytime. Anywhere. On demand.
And with one stroke of the pen, the FDA transforms the company at the center of it all into a biotech blockbuster…
Mark my words: this could be the buying opportunity of a lifetime…
And I'm not the only one who thinks so:
No wonder Wall Street insiders are already jumping in with both feet…
See for yourself:
Wellington Management – a leading hedge fund with $1 trillion under management – snapped up 316,490 shares
Woodline Partners – which Bloomberg called 2019's Biggest Hedge fund – gobbled up 596,081 shares
T. Rowe Price – one of the largest asset managers in the world – recently picked up a staggering 2,200,401 shares
The smart money has already punched their ticket for this profit shot.
But there are still billions (and potentially even trillions) on the table.
Of course, that's GREAT news for you.
You've been clued in…
And have the chance to get in on the ground floor BEFORE the general public rushes in.
In a moment, I'll show you how you could pocket up to $252,374.
All it takes is a few clicks and a small stake to get started.
But if you want to get in on the ground floor, you need to move fast.
Because…
The FDA will announce new approvals on July 6
Which means, if my research is correct, we could be mere days away from the FDA introducing the briefcase pharmacy to the world.
And at the heart of it all will be the company that made it all happen…
Lifting off on its way to a 2,524% profit sprint.
Now, I won't put too fine a point on it, but one thing is for sure: the best time to act is
BEFORE July 6.
But you might be wondering: How are you so sure that's the date John? Could it happen at a later date, or maybe not at all?
Well, of course that's possible, and I'd never pretend otherwise. We're both smart enough to know nothing in life is certain. And that goes double for the stock market…
Yet, among the dozens of stocks I'm watching…
None of them has the same potential as this "Miracle Briefcase" stock..
To put it simply: in my many years at Investing Daily, I've never had this level of conviction, not once.
I researched EVERY POSSIBLE CONTINGENCY to give it my highest, firmest recommendation.
This briefcase pharmacy has the potential to literally transform how medicine is made.
Remember:
We're talking about a medical breakthrough that can make major, expensive drugs… on demand… at an incredible discount up to 95% OFF.
It's a true medical miracle.
And best of all the pharmaceutical companies can't stop it.
The minute the FDA approves this "Miracle Briefcase", a better, brighter era of medicine begins…
And you could spend the entire afternoon in wide eyed disbelief, watching your brokerage account surge faster than should seem possible.
Now that we're at the cusp of witnessing a single stock go on a massive run…
Will you be positioned to take a share of the profits?
Will you be one of the rare few who were smart enough to invest into what I believe will forever become known as one of the biggest medical breakthroughs in history?
Will you be one of the winners who move
FAST on this?
Or will you just watch the news on TV and think of "what could have been?"
Look: I've been in the financial research business for a long time. Opportunities like this don't come often.
When they do, the average person does NOTHING.
Yet there's a bold class of people out there who first logically weigh the facts…
Then silence that inner voice that tells them nothing good will ever happen if they take a risk…
And then they make their move.
That's the kind of person I like to work with.
Like Ellen D. from Clinton, Iowa.

Today, is your chance to step up and make a bold move.
To become the kind of person who takes a calculated risk and then reaps the rewards for the rest of your life.
If you're ready for that, you must take action now.
To give you a leg up I put the finishing touches on an exclusive report called:
The "Miracle Briefcase" Stock: How 1 Trade Could Blow Big Pharma to Bits & Hand You $252,374.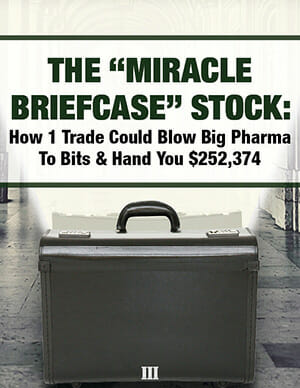 This exclusive step-by-step manual uncovers all the details you need to know to be able to cash in before the FDA announcement.
It should take no more than 5-minutes to read and put you on the path to $252,374 in the weeks and months to come.
All the guidance is spelled out in plain English, with simple, easy-to-follow steps…
So even if you've never invested before…
Even if you've lost money in the past…
Even if you don't know the first thing about any kind of technology…
All my research is laid bare for you in my new, in-depth report.
So if you're serious about exploring this opportunity…
Before it hits the mainstream media…
Let's get down to brass tacks.
Why I'm sending you this special report…
(plus $757 worth in bonuses)
FOR FREE
You see: this "Miracle Briefcase" stock is the latest profit opportunity from the exclusive financial think tank I'm a part of.
It's called Radical Wealth Alliance.
Together we're a team of 5 investing experts (I'll introduce you to the others in a moment).
We've made it our mission to help everyday Americans make as much money from the markets as possible…
By uncovering the best investment opportunities that are ripe for explosive growth.
And right now, with the state of the markets, we're more optimistic than ever.
And that goes double for biotech investing.
Here's why:
Biotech stocks go up even when the rest of the market goes down. During the Great Recession, biotechs were UP, with some outperforming the S&P 500 by as much as 63%! With the market teetering on the edge lately, that's the kind of bet I want to make.
Remember, in response to COVID-19, President Trump has pressed the FDA to be faster and more efficient. That means the potential for bigger gains, quicker. That's great news for all biotechs, but especially for our "Miracle Briefcase" stock.
 This is the era we've all been waiting for. Space-age devices… big data & cloud computing… 3D printing… If you've ever looked at all these advances (and more), and thought they were bound to come together in a big way, you were right! That time is now. In fact, according to a recent paper published at the famed King's College in London, we're now in the "Golden Age of Biotechnology." The world (and your portfolio) will be better for it.
Bottom line:
If you're looking to TROUNCE the market in 2020, you need to be in biotechs.
That's not just wishful thinking…
Barron's said: "Biotech… Stocks Beat the Market in Recessions"
Better yet, just ask investors in Novavax — during the lockdown they're already up 495%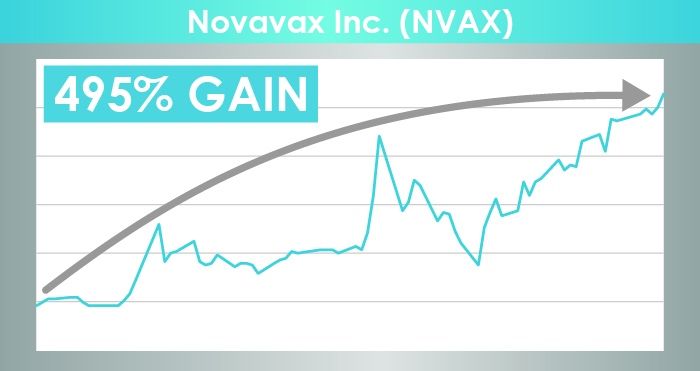 Or early investors in Moderna — they're up 17,000%.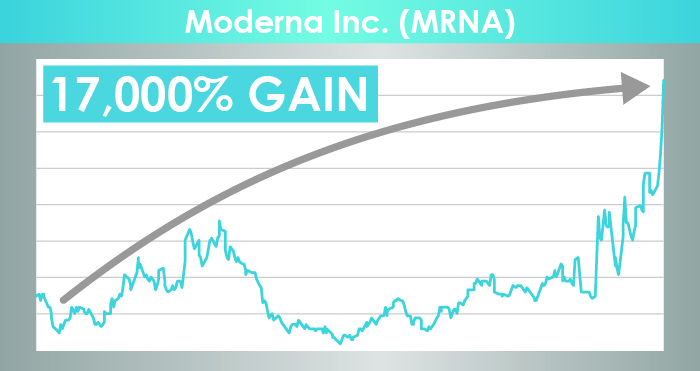 2020 is setting up to be a gold rush.
This is your chance to be one of the guys up to his knees (or eyeballs) in that gold.
That's why with your permission, I'd like to show you how to make it happen with guidance from me and my colleagues at Radical Wealth Alliance.
When you accept this limited offer to join us…
I'm going to show you how firmly I believe biotech is going to surge in 2020…
And…
I'm going to send you a 100% FREE copy of The "Miracle Briefcase" Stock: How 1 Trade Could Blow Big Pharma to Bits & Hand You $252,374.
Because one fact is certain: biotech is one of the most profitable and thrilling ways to invest…
It can also be the fastest moving and most unpredictable.
So if you want to cash in on the coming biotech bonanza…
Including to-­the-minute updates on this "Miracle Briefcase" stock…
…you'll want to be plugged directly into the pulse of the industry.
The Radical Wealth Alliance
is the absolute best way to do that
This is an exceptionally rare opportunity…
Because today, when you join Radical Wealth Alliance…
Not only do you get access to me, John Persinos…
And all my best money making ideas…
But you'll also get  additional different experts in your corner, with more than a century of tried-and-true investing wisdom.
All with the same goal — to make you RICH.
Starting off with…
Stephen Leeb: Author of 8 best-selling books on finance and economics — including New York Times bestseller The Coming Economic Collapse, where he predicted the housing crash of 2008, and Defying the Market, which predicted the dotcom crash of 2000.
Leeb is a recurring guest on Bloomberg TV, CNN, NPR, Fox News, and many more.
He has been called "one of the country's foremost financial experts" and our subscribers lucky enough to act on his advice would agree —
10 of his ultra-safe, crash-proof stock recommendations… including little-known gold mining plays… have more than DOUBLED.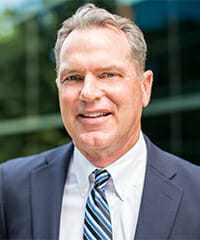 Jim Pearce: A stockbroker since 1983, over the years Pearce has managed client investment portfolios for major banks, brokerage firms, and investment advisors. Jim has a BA in Business Management from The College of William & Mary, and a CFP from the College for Financial Planning.
Pearce is known around the office as our "All Weather All Star" for his uncanny ability to pick winning stocks in up, down, sideways, or upside down markets. He's been doing it like clockwork for thirty-six years, calling enormous winners while they're still on the ground floor. Across his services…
The open positions in his portfolio are cranking out MONSTER triple- and quadruple-digit gains, including:
3,028% on Chevron
1, 376% on Verizon
364% on Apple
305% on iShares S&P 500 Growth ETF
293% on Buffalo Discovery
137% on Discover Financial
182% on iShares Russel 200 ETF
241% on Honeywell
223% on iShares S&P Global Healthcare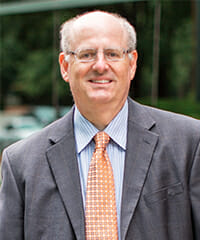 Up next: Jim Fink.
Our resident quick-money trading expert, who's accomplished nothing short of the impossible in his 20 years as a professional investor. He's posted a two-year winning streak, with 356 wins in a row (!)… and more than one hundred of his trades have better than doubled.
Tell me: what's the first thing you'd splurge on if you experienced even half of those 356 winners?
Hold that thought, because we aren't done yet.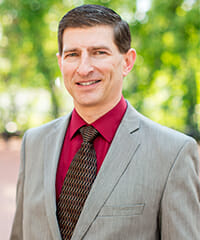 The final member of this investing dream team is Robert Rapier, a true genius at finding "income by any means necessary."
His articles have been featured in The Wall Street Journal, Washington Post, and Forbes. Moments away from obtaining his Ph.D. in chemistry & math — he quit to pursue making a fortune in energy stocks.
Lucky he did. Some of Rapier's picks include:
Eversource: 136%
NextEra: 252%
American Tower: 190%
WEC: 161%
Don't rob yourself of the opportunity to get the juicy details on his next red-hot pick… or any of the sage investing advice you unlock with this entire team by your side.
And the very best way to do that is by joining the Radical Wealth Alliance.
Today, you have the chance to put all of us to work for you.
That's a big deal when you hear what readers from our individual research services say about the results we've shown them…
I'm talking about good folks like Maryann Myers who let us know she went from being broke to having nearly half a million dollars.

Paul W. from Massachusetts said he's not worried about retirement anymore since his once modest trading account has approached six figures…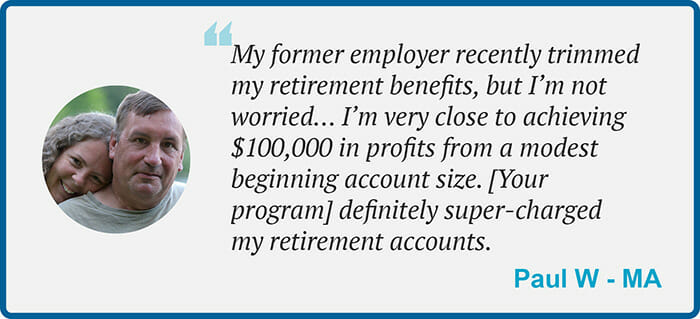 Ben Werner let us know he regularly sees gains of over 300%.

And Neville Young uses his winnings for everything from paying bills to flying his kids home between semesters…

These are exceptional results of course…
But it does prove that people who follow our lead have a chance to make money hand over fist.
That doesn't happen by luck.
Because at Radical Wealth Alliance, we follow a simple rule:
"Find that one, blaring, important signal within the ocean of noise, and you'll make money
every time."
Which means…
You can rely on us to strip away all the noise…
Point out what actually matters…
And identify the investments poised to make MAJOR moves.
To be more specific, inside our Radical Wealth Alliance service…
My colleagues and I will show you the important things we're paying attention to with regards to market and consumer trends, industry opportunities, new technologies, products, regulations, legal decisions, and "outside the box" opportunities.
And we'll boil it down into a single, actionable, easy investment that's set to blast off.
In other words…
While everyone else is circling in panic…
Radical Wealth Alliance will give you a clear VISION of what's ahead
What we offer you today is clarity and truth.
And while most investors are stuck playing darts with their portfolio…
With Radical Wealth Alliance, you will have certainty to navigate the markets.
Today, as a special invitation, you're invited to claim one of the rare & coveted spots in this exclusive insider's club.
In return for giving it a shot…
You'll get instant access to your FREE copy of the special report The "Miracle Briefcase" Stock…
(PLUS as an additional "Thank You," we're going to give you an additional $757 in FREE gifts — detailed below).
This is truly an unprecedented offer.
But there is a small catch…
This is a rare opportunity to access our proprietary market research.
I don't want it leaked.
So I'm limiting access to just 200 people today.
There are traders who make their living tracking volume spikes on the stock market.
If I were to release this briefing and, say, 100,000 new people followed my research and all of them piled into this "Miracle Briefcase" play, its price could spike suddenly.
That means if, for whatever reason, you wait even a day or two to invest after you receive my research briefing, you could pay a serious premium…
Not to mention miss out on a boatload of profits.
I don't want that to happen to you.
I want to give you all the information you need to collect your fair share of the hundreds of billions potentially coming down the pike, should you choose.
Which is why, I'm strictly enforcing this limit.
If you click to the next page and it looks like this…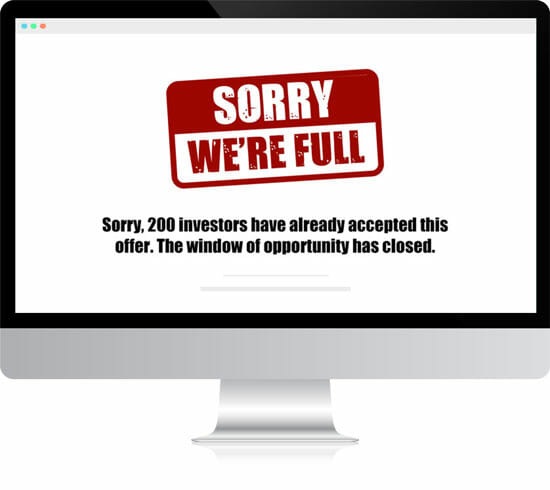 You've missed the boat and we've already sent the briefing to 200 people.
So if you're serious about getting your hands on the details of this opportunity, it's important you act now.
By the end of today, this letter may land in the inboxes of over 300,000 people.
That's a lot of potential competition for a seat at the table.
So please, do not delay!
If you step forward right now…
here's what happens next
Immediately upon accepting my offer, you'll be granted instant access to The "Miracle Briefcase" Stock: How 1 Trade Could Blow Big Pharma to Bits & Hand You $252,374
I suggest you tear into it right away.
You don't want to be a single minute late to the party.
The special report is yours FREE with your 1-year subscription to Radical Wealth Alliance.
Believe me, no team will work harder on your behalf.
No stone will be left unturned.
So you can rest assured you have everything you need to pocket big winners in the months and years to come.
Here's everything included in your full year membership:
Up-to-the-Minute Flash Action Alerts:  When it's time to make a money move, I won't let you miss out. I'll send you a text message to tell you that you need to check your email for a detailed action alert from me. If you don't want to sign up for text messaging alerts, no problem! You can log into your email unprompted for the same information. It will be short and to the point, with step-by-step trade instructions you can use immediately if you choose to take action.
12 Full Issues of Radical Wealth Alliance: Every month, you'll receive 1 brand new issue of Radical Wealth Alliance… including my team's full written commentary plus the out-of-the-box stock recommendations to cash in. Rest assured, your membership will give you absolutely everything you need to rise above the noise, get the truth on what's going on behind closed doors, and capitalize on these hidden opportunities ALL YEAR LONG.
Simple and Clear Investing Guidance: You'll also get simple and clear guidance about what to invest in and how… at what exact moment… and for what price. If there are recommendations we've made in the past and now it's time to sell and potentially lock in some big profits… you'll be told exactly what to sell… when to sell it… and for how much.
Plus, you get private access to the members-only Radical Wealth Alliance website portal: Your personal "captain's chair" for capturing the markets biggest, fastest opportunities after key decisions are made in Washington, Wall Street, or wherever our ears & eyes pick up their latest behind-the-scenes information.
(No charge when you click — you can review your order on the next page)
Plus:
Today only, you can get full, unrestricted access to Radical Wealth Alliance at a deep discount
Like I said, our mission is to help everyday Americans make as much money from the markets as possible.
Sure, we could sell this exclusive research to the hotshots on Wall Street.
Yet, making gazillionaires 0.000001% richer feels trivial…
Especially when the same moves could put a nice nest egg away for hard working Americans like you.
Like Tim Graybill, who subscribes to one of our other advisories, and says he's up $63,000.

Or former truck driver, Mike K., who built his retirement account following our work…

Or Jack Collins from Everett, Washington, who told us he was able to grow a seven-figure portfolio...

And so that you don't miss your chance to pocket HUGE profit from this "Miracle Briefcase" stock…
And even more big winners in the months and years to come...
We decided to offer a full year membership to Radical Wealth Alliance at a HUGE discount.
Which means if you want in, you must act now.
Because these 200 mega-discounted spots will certainly fill up fast.
Yet, this special offer gets even better…
On top of saving big bucks...
You also get 2 FREE bonus gifts! Starting with…
Radical Wealth BONUS #1:
Your Ultimate Guide to Radical Profits:
The Top 5 Under-the-Radar Plays Primed to Explode in the Coming Recovery
($199 Value — Yours FREE)
Powerhouse Profits: How to Collect Steady, Predictable Profits in 2020: This is Robert Rapier's most exciting pick yet... A little-known profit powerhouse that paid out investors up to $2,150 — even during the Corona Crash. No question this hidden gem is a must own for dependable cash flow in 2020 and beyond.
The #1 Pick to Make Massive Profits From Gold's Bull Market: Here, Dr. Stephen Leeb gives you his surprising "new gold" pick to ride the price of gold to record highs.
Your 1 Move for a Triple Surge of Streaming Bucks: Jim Pearce uncovers the hidden winners that get you a personal cut of ALL the outrageous profits from the video streaming-wars.
"Thursday Trades": The Best Investment Strategy on the Planet: Jim Fink gives you the blueprint that helped him grow his personal portfolio from $50,000 to $5.3 million.
The Biotech "Rocket Stock" That's Poised to Blast Off: This special pick reveals the biotech with a brand-new therapy that could literally give people their sight back. It's a $10.4 billion market... and this tiny company has ZERO Competition.
All 5 under-the-radar plays are yours today absolutely free.
Radical Wealth BONUS #2:
The Top 3 Stock Picks Set to Soar in the Post-COVID Biotech Boom
($279 Value — Yours FREE)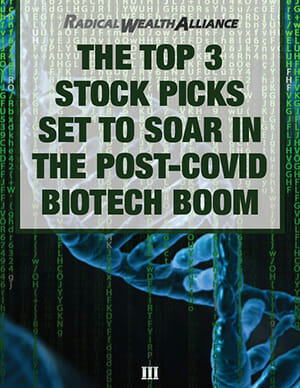 The Coronavirus already stirred up incredible biotech gains — including 1,028% from Novavax and an astonishing 17,000% from Moderna. But the boom is only beginning. Below, we spotlight three promising small cap plays with pioneering products and outsized potential:
The Ohio based biotech with a new breakthrough that can stomp out a pandemic and get people back to work fast! It's not a vaccine or even a breakthrough treatment. Yet experts are saying it could be worth $23.1 billion — and this tiny company is going after the lion's share.
The leader in cutting edge "liquid gold" treatments for infectious diseases that are growing fast in response to COVID-19. This company is already cornering the market with treatments for Hepatitis B, Tetanus, even Rabies — with more on the way. Better yet, it's right in the "Goldilocks zone" — big enough for stable cash flow and primed for explosive growth.
This Massachusetts-based biotech that specializes in lab-made cannabis therapies. Sounds like science fiction, and yet, with a brand-new treatment for cystic fibrosis in stage III trials — this tiny company is an FDA signature away from going after a potential $13.9 billion fortune.
And just to make sure you hit the ground running...
I put together one last special FAST ACTION bonus for you…
Fast Action Bonus

:
The $20 Trillion Bank Heist: How to Pocket $224,315 When Apple Robs the Big Banks Blind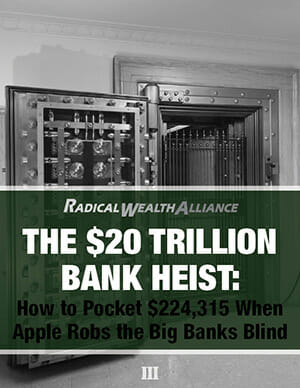 Apple already conquered consumer electronics...
Now this tech giant is getting ready to hunt the biggest game of them all: The Big Banks.
With $20.4 trillion in the vaults, the profit potential here is enormous...
So if your retirement nest egg got chopped in half in 2008…
And if you agree with Barron's when they said, "The Coronavirus Bailout Puts Banks First, Workers Last"...
And if you can't think of a more satisfying revenge than to watch bankers go broke while you get rich...
Then your timing couldn't be more perfect.
Ground floor investors could see a $224,315 payday.
Incredibly, this is the payoff of a plan that's six years in the making.
Starting in 2014, Apple has put the pieces in place to open its own bank.
It started with Apple Pay.
Apple Pay Cash came out in 2017.
Then Apple Card was launched in 2019
Yet the timing wasn't quite right for a full-scale invasion into banking.
That is... until now.
In an instant, Coronavirus transformed everything…
And gave Apple a blaring signal to charge into banking.
Now — with one announcement — a surge of cash could pour out of the banks…
Straight into this surprising financial tech company that makes this legal bank heist possible (and it's not Apple).
In this FREE report I give you all the details to get in on this new financial tech stock before it skyrockets.
All in all, your insane bundle of bonus gifts stacks up to $757 in valuable FREE reports and analysis.
Yours "on the house" when you join Radical Wealth Alliance today.
How much is this kind of advice worth?
Like I said, the discount is MASSIVE.
If you're one of the 200 people to lock-in these savings today...
You'll get everything I just showed you:
A free copy of the special report The "Miracle Briefcase" Stock...
TWO additional free bonus reports…
Plus the Fast Action Bonus.
That's all on top of a full year of guidance inside Radical Wealth Alliance…
And it'll cost you less than getting a latte at Starbucks each day
It's an incredible deal...
(You can review your order on the next page)
As you may know, investment research doesn't come cheap.
The average money manager has no problem charging you for $10,000 per year.
And we believe the profit-making value of Radical Wealth Alliance is worth at least $10,000.
Looking at everything you get for free today...
And considering the $252,374 you could pocket in the weeks and months ahead after you discover this "Miracle Briefcase" stock…
Plus the profits from the two FREE bonuses and the fast action bonus…
I'm sure you'd agree that even a $10,000 price tag is a steal.
Yet, at that kind of price, we would exclude the everyday Americans we want to help.
So what would you say if I told you the price you'll pay is just $5,000?
Or even better, if I could knock it way down to $4,000?
A no-brainer, right?
Then hold on...
If you're one of the 200 people to say "yes" to joining us today – you can do it for only
$6.83 per day.
That's right. When you act now and secure one of the limited spots…
You'll pay only $6.83 per day for everything I've shown you today.
(You can review your order on the next page)
But there's still more:
You're fully covered by our 365-Day, 1,000% Profit Guarantee
Let's be frank.
I'd love to give you a traditional money-back guarantee.
But I won't insult your intelligence.
You and I both know any investing research service that offers all your money back on a historic offer like this is going to be out of business by next week.
Because all the real customers... the ones who will truly benefit from this service over the coming months and years... would simply get crowded out by Peeping Toms and looky­loos.
That wouldn't be fair, don't you agree?
So here's how this 365-day, 1,000% Profit Guarantee works.
For the next 365 days you can explore every nook and cranny of your valuable new Radical Wealth Alliance membership.
You can invest in the carefully-researched stock picks — which took us months to uncover — and watch a potential fortune stack up before your eyes...
And if for some reason you don't have the chance at 1,000% profits...
Just let us know.
And we'll work with you for another year completely free.
No questions asked. No hoops to jump through.
And you'll still get to keep EVERYTHING you got today as part of your new members package.
(Including a whopping $757 in free bonus gifts…)
Does that sound like a square deal to you?
Then click the blue button below.
You'll be immediately taken to a secure order form to complete your information and lock-in your member's rate.
This form is 100% safe and will take less than two minutes to complete.
As soon as you finish, you'll be taken to your member's portal where you can begin diving into the the "Miracle Briefcase" pick you've seen today, and if you choose to do so, make your investment within minutes.
Here's a recap of everything you're getting...
The "Miracle Briefcase" Stock: How 1 Trade Could Blow Big Pharma to Bits & Hand You $252,374
Radical Wealth BONUS #1: Your Ultimate Guide to Radical Profits: The Top 5 Under-the-Radar Plays Primed to Explode in the Coming Recovery
Radical Wealth BONUS #2: The Top 3 Stock Picks Set to Soar in the Post-COVID Biotech Boom
Fast Action BONUS: The $20 Trillion Bank Heist: How to Pocket $224,315 When Apple Robs the Big Banks Blind
Full Year Membership to Radical Wealth Alliance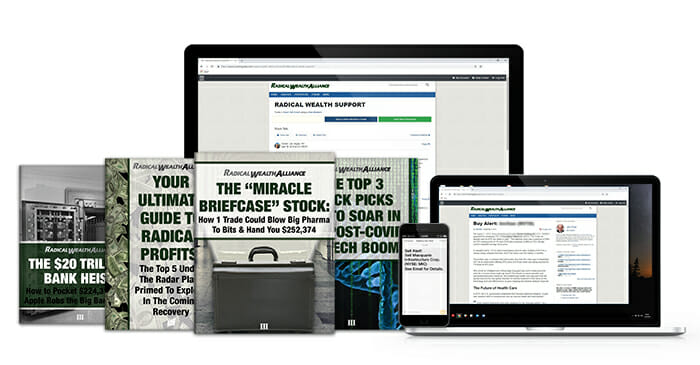 (You can review your order on the next page)
Now it's time to decide whether you let this historic opportunity pass you by
Thank you for allowing me to tell you this incredible story today.
I trust you'll agree it was worth your time.
Especially since what I showed you is a once-in-a-lifetime opportunity to invest in a breakthrough technology that could wipe Big Pharma off the face of the earth…
And set you up for a 2,524% windfall.
Now that you have all the facts…
The next move is on you.
To get started now... and lock in your shot at a $252,374 fortune…
All you have to do is click the button below now.
(You can review your order on the next page)
Remember this is an exclusive offer that's only available right here, right now.
One that gives you the opportunity to follow the work of the Radical Wealth Alliance's brain trust for the next 365 days.
And one that is backed by our exclusive 1,000% Profit Guarantee…
With that kind of promise backing up our research, you have to ask yourself…
Why not try it?
Click the button below now to get started.
Only 200 spots are available to new subscribers.
When the spots fill up, I'll be forced to shut down the page.
And the door slams shut on this $252,374 profit opportunity.
No exceptions.
So please don't wait. Click the button below to get started now.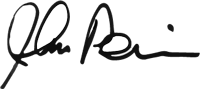 John Persinos
Editorial Director
Radical Wealth Alliance
P.S. When every doctor gets their hands on this briefcase drug prices plummet 95%, Big Pharma's sick scam gets blown to bits and the single company at the center of it all could skyrocket 2,524%. This true medical miracle — developed by the brightest minds from MIT, The University of Maryland, and Johns Hopkins — is a quantum leap in how you could get life-saving medicine. If you want to maximize your profit potential on this opportunity — and potentially turn $10,000 into $252,374 like I'm predicting today —then I advise you click here now.
P.P.S. This stock has the very real potential to climb higher & faster than anything I've ever seen in my 30 year career. And in order to lock in maximum profit potential – you must act now.
P.P.P.S. This opportunity is only open to 200 new members today.
Which means, if you want to grab $757 worth of free bonuses and this steep discount, plus our ironclad 365-day, 1,000% guarantee, you must click here now.
Copyright © 2020 Investing Daily, a division of Capitol Information Group, Inc. In order to ensure that you are utilizing the provided information and products appropriately, please review Investing Daily's' terms and conditions and privacy policy pages.