NOTICE! Over $1.75 billion in cash is scheduled for delivery this year to income-seeking Americans collecting…
USA "Heritage Checks"
More checks for $1,278… $3,225… and even $8,760
will be sent to ordinary Americans in days…
Action is required on December 05, 2023
Dear Reader,
I'm not a gambling man…
But I bet you'd like to cash an extra $8,760 check like this one…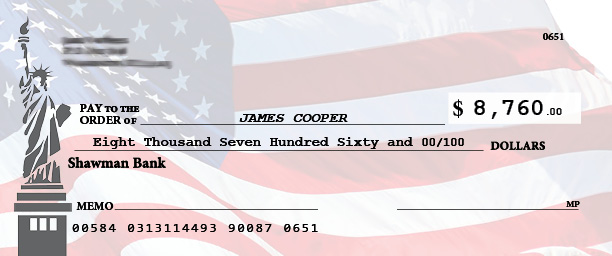 That was James Cooper's check... but it could have been yours.
Because there's a little-known payment program sending easy cash to Americans every month all over the United States.
Like Betsy Snyder, from Orlando, Florida, who collected her check for $4,366.86 like this: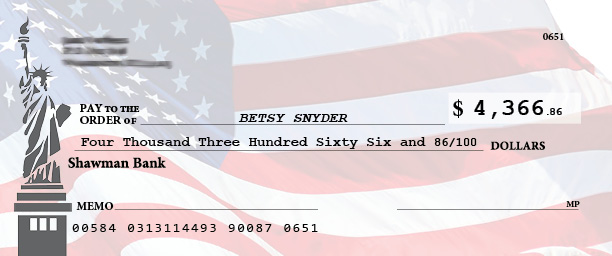 And that's not the only one, either. All told, Betsy's collecting a whopping $14,497.44 in "Heritage Checks" so far. 
And take Bob Kelly, a 47-year-old from Las Vegas, Nevada. He's set to grab his own stack of checks totaling $26,630.40 this year... and then again next year!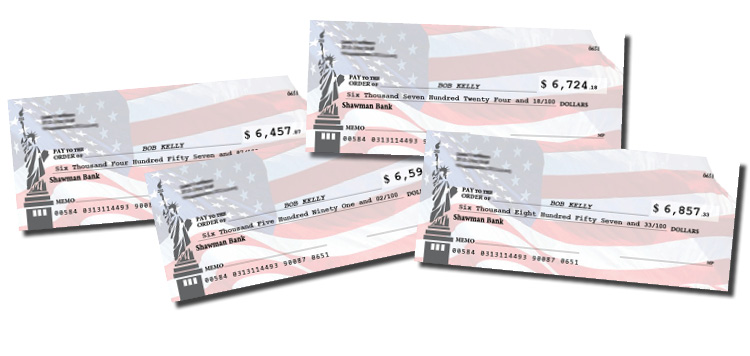 That's easily enough for a lavish trip to Hawaii, Australia, or Italy, with plenty of "fun money" left over for fancy dinners, beautiful hotels, and nice souvenirs.  
James, Betsy, and Bob are enjoying large checks. And while the amounts they've collected are above average…
I think we can agree that collecting anywhere near what they've received could change your financial future…
That's why it's shocking so few Americans know about "Heritage Checks" —
It's a real shame.
Because they're missing out on payments like the $8,374.56 that Mike Thompson collected, the $5,799.12 John Lalor collected, and the $5,764.08 James Lawson just collected.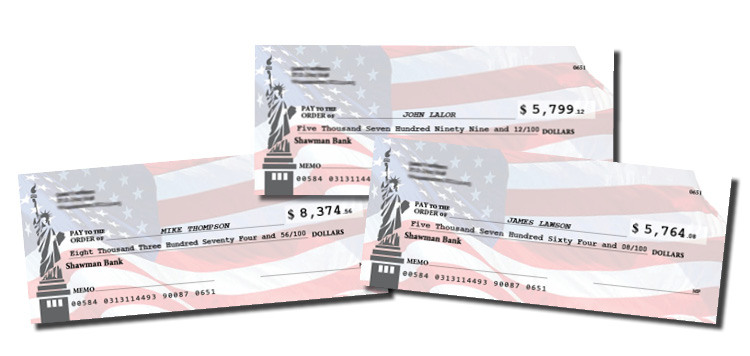 So how is it that such a lucrative program remains hidden from 99% of the population?
Simple.
It's buried deep inside a law signed by President Dwight D. Eisenhower back in 1960. And we'll get to that.
Right now, I want to be crystal-clear about getting started...
You Set Up Fast, Then Can Collect Your
"Heritage Checks" for 25 Years or

More
You can easily get into the program with a simple 3-minute phone call. Or you can use your computer or smartphone. It's that easy.
Over $1.75 billion in checks is flowing out of this program every single year.
And all of these "Heritage Checks" are backed by the full force of the U.S. government, which I'll show you very soon.
Remember, I'm talking about getting regular checks totaling $6,156… $11,884… and even $16,771 for as long as you stay a member of this program.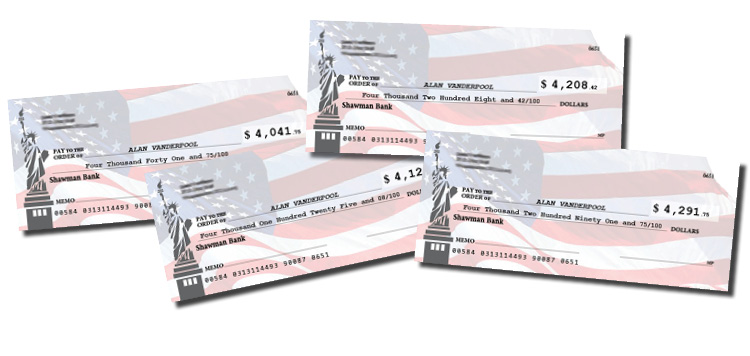 How much you're able to collect will depend on how much you've got available to invest, of course…
But with at least $1.75 billion is available for distribution right now...
It's no wonder savvy Americans are jumping for joy about this growing fountain of cash.
Hedge fund manager David Einhorn says this is an "open-ended growth opportunity" because the checks can get bigger and bigger every year
Respected financial researcher Dr. Tom Konrad says this is "reshaping the market" (and it's helping retirees get rich with little effort)
Zacks says these checks "offer stable cash flows to investors" which is exactly what matters in retirement for handling surprise bills (without breaking a sweat)
Peter Kaiser, a 52-year-old from Austin, Texas, would back me up on the power of USA "Heritage Checks.
Just take a good look at his $6,088.20 check right here…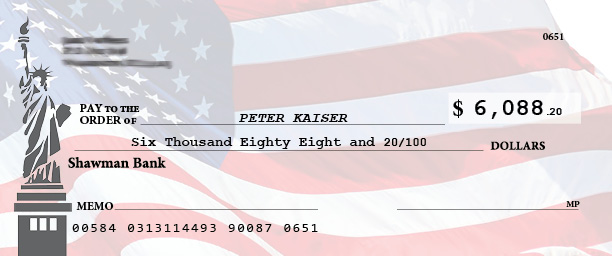 Peter's collecting bigger and bigger checks every year. The proof is in the pudding...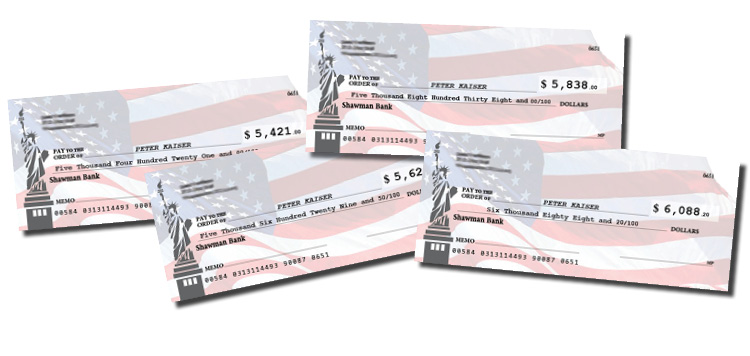 To be perfectly clear…
While "Heritage Checks" are backed by the full authority of the U.S. government, meaning you can feel confident the money will be sent...
These payouts aren't actually coming from the government.
It's way better!
This cash is in addition to Social Security, Medicare, and every other money program that's already adding to your retirement.
The real question is: Will you act now and set yourself up to collect it?
Nothing's stopping you. There are no age restrictions or anything like that. So you can collect money while you're working and keep collecting money during your retirement.
12 Times More Money Than Social Security
Take a look at this calendar and set your eyes on when the U.S. Post Office could be delivering new "Heritage Checks" to your mailbox...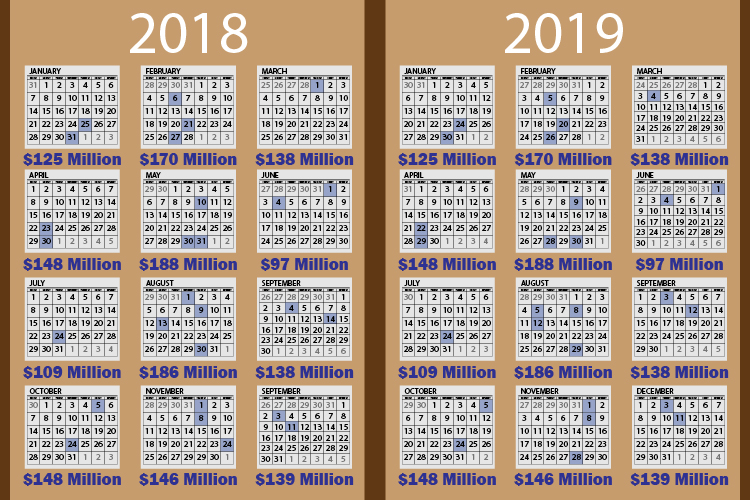 The best part? Depending on what you do with the information I show you today, you could be collecting two, three and even four massive "Heritage Checks" every month.
The calendar doesn't lie. Facts are facts.
And there's really no upper limit on how much you can collect. You get set up and you start collecting. Let me show you how much I'm talking about…
Pat Gibbs, a 56-year-old from Portland, Maine... is now set up to grab at least $29,799.84 this year.
Roger Coopersmith, a 73-year-old from Orlando, Florida... he'll bank $62,045.76 this year and probably over $70,000 next year.
Then there's Alan Watson, a 49-year-old from Lincoln, Nebraska. He's cashing a massive total of $225,326.64 in USA "Heritage Checks" this year...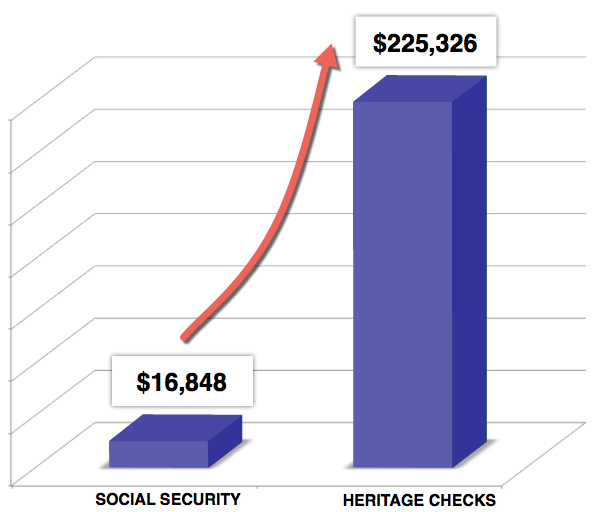 Again, not every investor will be able to collect checks of this size — it all depends on how much you're able to set aside for this program.
But the bottom line is that citizens in every city and state are eligible to collect "Heritage Checks."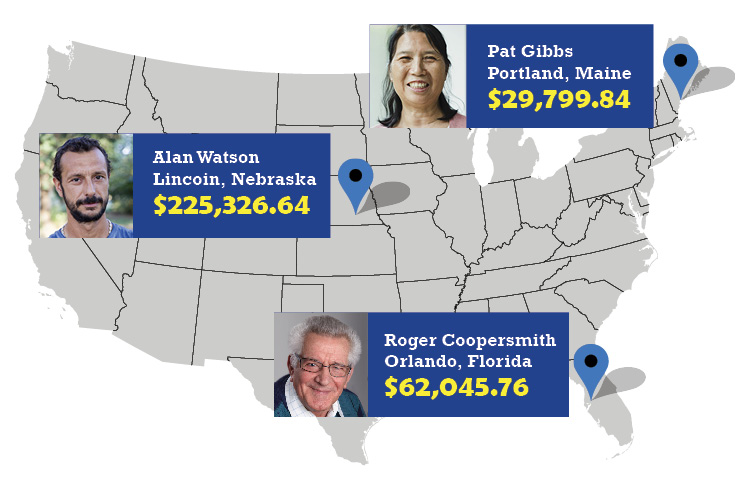 These checks keep flying in month after month…
And $148 million is scheduled to be sent out starting in the coming days.
But, in order to get your share, you must put your name on the list immediately.
Maybe I'm jumping too far ahead...
Before I show you how to do that let me introduce myself.
Find More Money Faster
My name is Dr. Stephen Leeb.
For over 30 years, I've been uncovering true financial secrets. These profit opportunities have magnetized the media and attracted attention at the highest levels.
In fact, CNN, FoxNews, NPR, and Bloomberg regularly phone me. It's why I'm called "one of the country's foremost financial experts."  
Their words, not mine.

You can see me showing up again and again, talking about money flowing to ordinary salt-of-the-earth Americans. It's what gets me jumping out of bed with both feet.
I'm also an award-winning author with 8 books under my belt. The nitty-gritty focus of every book is always about collecting growing streams of money.
Every single book and interview is about explaining big opportunities for citizens of the United States of America. Checks for Americans, and hidden money.
For people just like you and me.
And I've never seen anything like "Heritage Checks" for ordinary Americans. You've got the potential to collect checks 25-30 times per year.  
By now you're probably wondering...
Where Does The Money Come From?
You can thank President Dwight D. Eisenhower.
On Wednesday, September 14, 1960, he signed the law that created this backdoor.
Eisenhower gave his stamp of approval for good reason...
It enables Americans from all walks of life to financially benefit from America's best income-generating natural resources.
"Heritage Checks" come from companies that steadily pull money out of the U.S.'s energy infrastructure.
And when he signed the law nearly 60 years ago, strict requirements were put in place to safeguard the regular flow of tax-free cash... in good times and bad.
While that might sound straightforward, it's not easy for companies to become certified by the U.S. government to send out these checks.
There's a whole host of hurdles a company must clear to earn Uncle Sam's stamp of approval… they all lead to the company paying out 90% of its profits.
Even though there are 3,671 publicly traded companies, only 7 of them are certified to send out "Heritage Checks."
This program is so hard to get into, in fact, even megacorps like Chevron and ExxonMobil don't qualify!
So when I say the companies that make up this program are certified… what I mean is they are the best of the best.
That's why I call them "Heritage Checks" – because these companies carry America's legacy of hope, prosperity, and spirit of innovation. The checks are proof it's working.
And I promise to show you how to get in into the program...
For now, just realize that the money can be deposited directly in your account, or you can even collect real paper checks like Tim Clark 's, which totaled $6,156...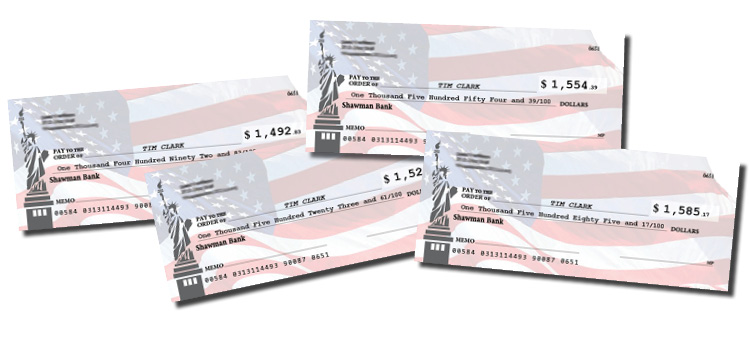 Or the $9,711 in total that Peter Coopersmith collected…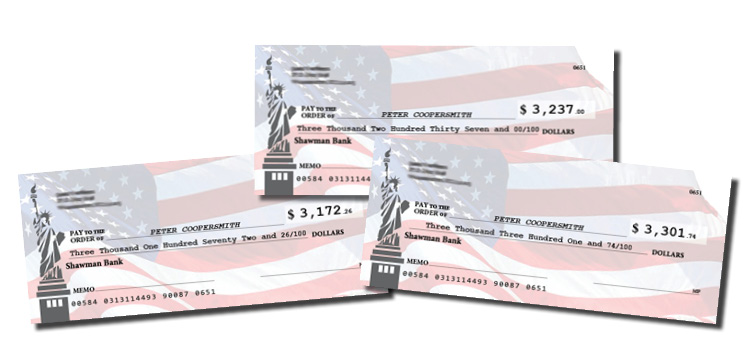 Plus, take a look at how Jimmy Testa grabbed a stack of checks totaling $47,536…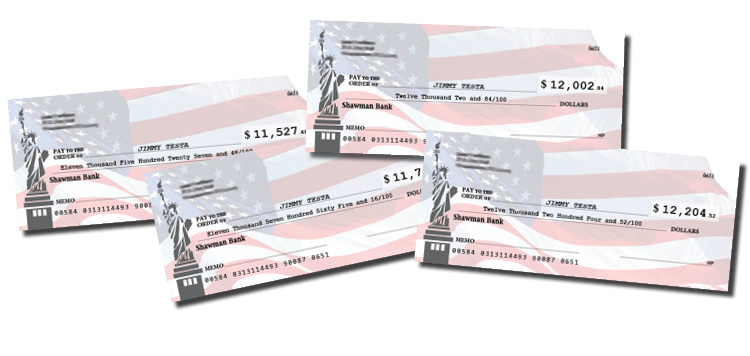 I'm excited about these checks and how you could be collecting them every month, too.
I'll show you how to claim your very first one in just a moment.
But first, I'm sure you must be thinking if this is so great, you'd think it would be all over the TV, radio and in your mailbox.
So, here's where the story gets really interesting.  
The Mysterious Reason You've Never Heard
About "Heritage Checks"

Until Now
The energy technology behind "Heritage Checks" has far surpassed anything Eisenhower could have ever imagined almost 60 years ago.
I'm talking about:
Harnessing "secret" chemical reactions
Exploiting high-tech energy transportation
Monitoring deep seismic events in the U.S.
Eisenhower probably never dreamed anything like that was possible.
Because back then, it wasn't...
But American technology and know-how kept pushing forward.
By 2012, all of these things were possible, plus more…  
And all of these innovations led to the birth of a new breed of companies that are now sending out $1.75 billion in checks.
Furthermore, because of their unique makeup...
...the energy sources behind every
"Heritage Check" will never go away!
There will NEVER be a shortage.
EVER.
While it's true that President Eisenhower couldn't have dreamed you could hold a supercomputer in your hands… he was well aware of our heritage…
As innovators. As leaders. And as the land of freedom and prosperity.
So while he couldn't have imagined what these innovative energy companies are now doing, he still set the stage for huge checks being mailed to Americans.
Like Jack Clark's $9,635 pile of checks...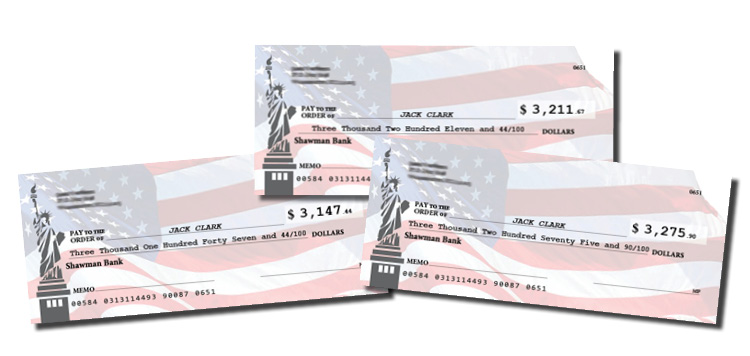 And Richard Samson, who happily grabbed checks adding up to $5,379...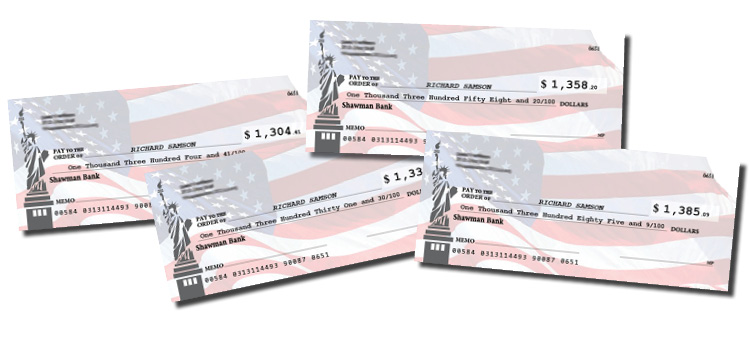 That's a healthy amount of money.
But it's possible you could collect even more than that when you act fast.
The Astonishing Size of USA "Heritage Checks"
While there's no guarantee you'll collect $16,667 in checks like Alan Vanderpool…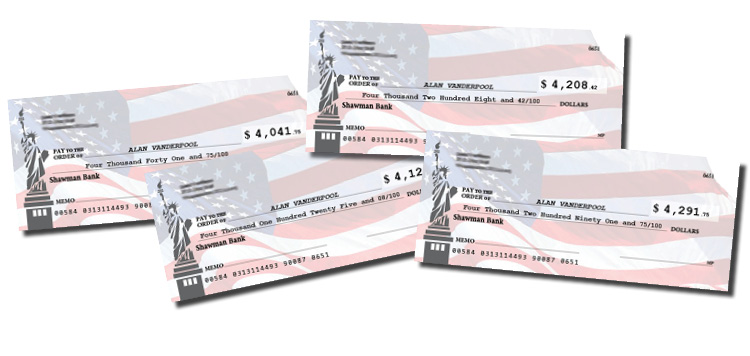 The government won't stop you from pulling down even more.
In fact…  
There are no legal restrictions on how much you can collect.
Now just imagine opening up an envelope like Jeff J. Jones did and seeing a $73,698 USA "Heritage Check" like this...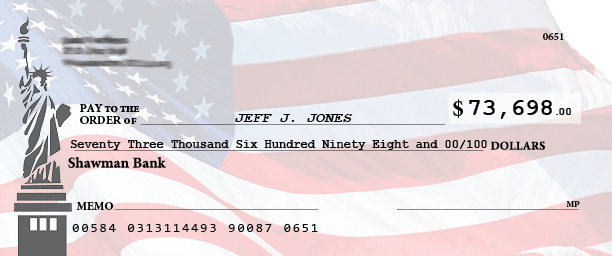 Look, I'll be the first to admit that Jeff's example is out of the ordinary.
But no matter the size, collecting "Heritage Checks" is far better than depending on Social Security alone.
Get into the program and enjoy luxury with more money in your hands...   
Charge ahead into retirement with confidence that the money will continue to be paid out.
It gets better.
For Less Than $25,
You're Invited to
Start Collecting
I think you'll agree that's not much.
It's about the cost of a nice lunch at your favorite little hideaway restaurant.
That much money isn't going to let you rake in huge checks… at least not at first.
Yet it reminds me of Benjamin Franklin's gift of just $4,400 to Philadelphia and Boston.
That modest sum turned into $6.5 million over time.
You can easily have the last laugh by turning your checks into a bigger and bigger pile of cash. And nothing comes close to "Heritage Checks" for steady and safe growth…
I'm sure that Mike Williams agrees. The proof is plain sight, with his checks growing from $55,995… to $65,572… up to $68,000 and now up to $70,914.39. Take a look: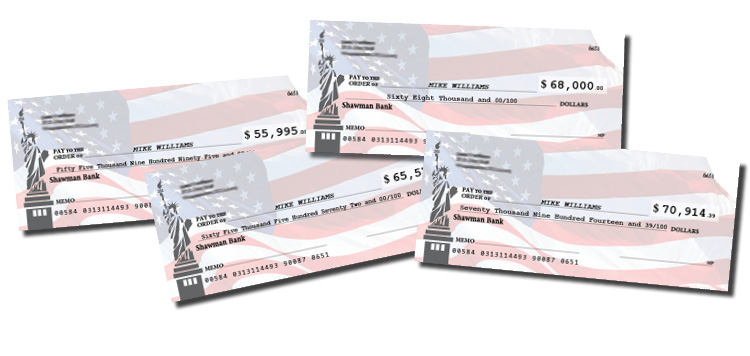 That's a total of $260,480.66 in "Heritage Checks" with more coming.
To be honest, Mike's story is extraordinary.
So, just imagine you're collecting 10% of his money... you're still holding $26,000 in extra checks... that's almost enough to buy a new Ford F-150 or a gently used Cadillac.
And it's happening all over America right now.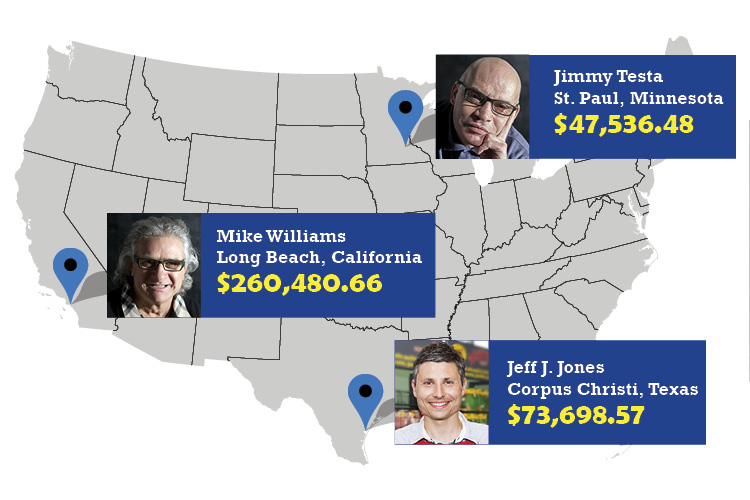 It's only a matter of getting into the program and locking in the checks that can be yours.
It's amazing how fast you can get started.
Got 3 Minutes to Start
Collecting up to $16,735?
Take a look at Paul Walker's $16,735 "Heritage Check" to grasp the importance of adding even one of these to your bottom-line...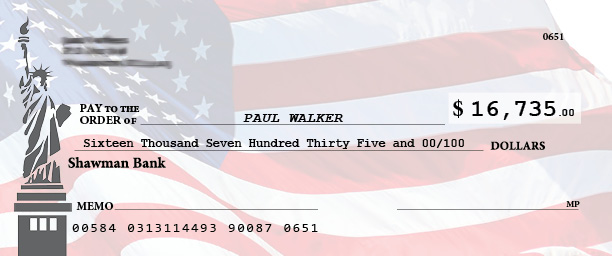 It would be reckless for me to say this money is guaranteed. There's always risk with any investment. Yet, you could make even more than that with this program.
So the real risk is not getting set up at all... because it can be easily done at the kitchen table, or even while sitting on the couch. Just use your phone and a normal brokerage account.
Just a quick 3-minute phone call is all it takes.  
I'll tell you exactly what to say when you call...
It's all spelled out in my new special report… USA Heritage Checks: How to Collect Your Cash From This Secret $1.75 Billion Program.
After you're set up, your checks could begin showing up in a matter of days.
That's why I'm willing to bet that Betty Harris didn't mind taking 3 minutes out of her schedule when her first "Heritage Check" arrived for $5,617.50: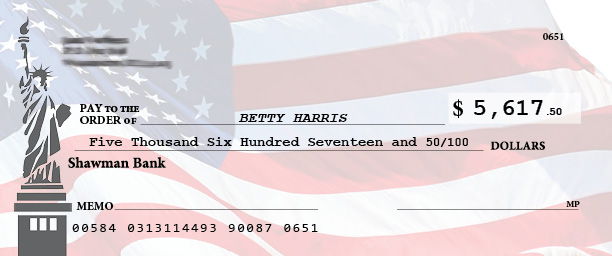 Go ahead and use that kind of money to take an RV trip on Route 66.
Or how about a relaxing trip to the Grand Canyon? Maybe you'll see Old Faithful and all of Yellowstone Park along the way.
USA "Heritage Checks" Will
Never Scalp Your Social Security
Best of all, "Heritage Checks" have no impact on your ability to collect Social Security.
Plus, you can collect your checks in addition to any pension money, bank interest, and annuity cash you've already got coming in...
This is truly extra cash that you're collecting.
How to Sample Your Own
"Heritage Checks" Today
Let's get down to brass tacks.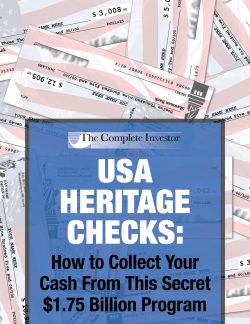 If you're skeptical, I can't blame you.
That's why it's important to know that you can "test drive" this program.
I've just put the final touches on a special report called, USA Heritage Checks: How to Collect Your Cash From This Secret $1.75 Billion Program, which shows you how.
And I've got 250 copies ready to give away today for FREE.
I'm giving you the exact path to collecting your fair share of "Heritage Checks" worth over $1.75 billion right now.
You'll get the "X" on the "map" with all the instructions:
What to do first to lock in the biggest checks possible
What to do next to guarantee the safety of your checks
What to do to get your first check to arrive even faster
And once you have your copy of my special report...
You'll see how you could collect your first check in a matter of minutes.
I'd like to send you a copy free of charge. All you have to do is agree to try out my investment research service called The Complete Investor...  
Each month, I deliver ideas and strategies for have a wealthy retirement, including more opportunities like the "Heritage Checks" program I just showed you!
You'll discover investments that delivered gains like… 33.7%... 85.4%... 95.6%... and even 160.8%...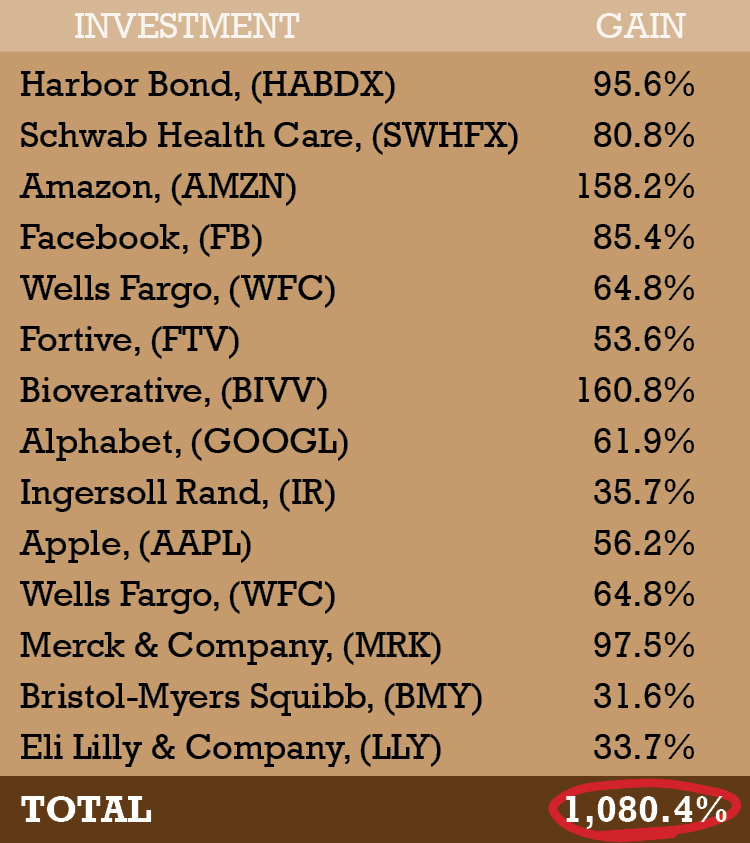 If you put $1,000 each of these trades… you'd be sitting on $24,804.30.  
Gains like that have made my readers very happy.
So much so, that they've taken time out of their busy lives to send me notes.
Like this one from Peter...
And this one from Kevin...
And this one from Amelie…
This is the real thing...
Your Checks Are Waiting
And So Are All Your

Prizes

!
Now's the best time to grab The Complete Investor because it's 100% risk-free to you.  
When you give it a try for 90 days, you'll enjoy full access to all of this…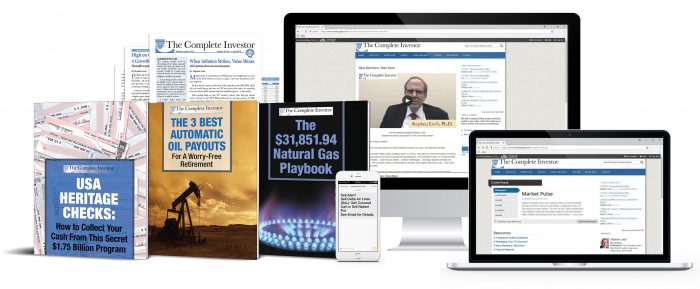 12 monthly issues of The Complete Investor featuring our economic outlook and timely recommendations... It's complete with ultra-specific buy, sell, and hold recommendations. (Imagine holding a golden "money map" in your hands.)
Access to our 5 model portfolios: Growth, Income, Fund Folio, Core ETFs, and Small Caps. No more guessing, or wondering, or pondering. Retire securely.
FREE weekly updates sent every Monday to keep you on top of the markets. So effective you can easily skip all the "talking heads" and cut to the chase.
FREE flash alerts to help you cash out of a winner, or so I can tell you about a new profit opportunity that can't wait for my next issue… I'll send you a flash alert with specific instructions so you can take instant action.
FREE access to our private website with a searchable archive of past issues, special reports, and complete details on all our model portfolios. It's better than getting a Ph.D. in "Making Money"... in a matter of minutes.
And it's all in addition to your "Heritage Checks" flying in.
Imagine getting checks of $1,218… to $5,234 and even… $14,287 and higher...
Plus when youaccept a risk-free trial to The Complete Investor right now...
I'm handing you two more jaw-dropping bonuses…
BONUS DOWNLOAD #1:
The 3 Best "Automatic Oil Payouts"
for a Worry-Free Retirement
(Worth $199 But Yours FREE)
You'll get my three favorite "energy plays" that will hand you 3 more iron-clad ways to collect checks of $1,287… $5,552… and even up to $70,914.39.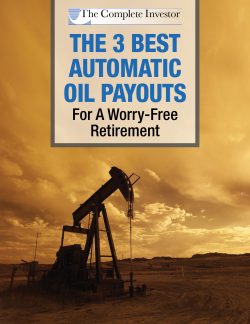 * Discover how one company has the ability to save America from China using a revolutionary infinite power source! (This blistering hot company is so booked with its contractually-obligated energy business that it'll pumping out cash for the next 849 days...)
* How another company can help pad your retirement account with fat dividend payments of up to $14,827… with its teeth sunk into the African energy grid and its claws deep into Middle Eastern oil wells.
* Plus, how another company is tapping one of Trump's "Ten-Year Deals" to extract its own whopping share of a $350 million jackpot of oil cash gushing in Saudi Arabia! (And the cash has been growing at 12% for 10 years… nothing's stopping this company.)
I believe that some people are going to suddenly get rich with these three picks.
Because they are all poised to explode upward.  
So get loaded up to enjoy massive gains… and collect your own juicy dividends.
But there's more. Let me also send you...
BONUS DOWNLOAD #2:
The $31,851.94 Natural Gas Playbook
(Worth $199 But Yours FREE)
There's even more energy money coming your way when you discover…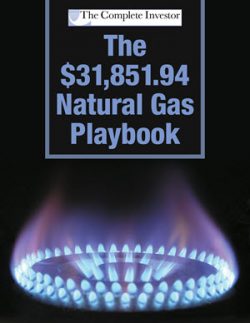 * How one company locks up super high-profit contracts, delivering huge cash gains for those who move fast… just recently, $2,500 invested could have delivered $3,891.94 in extra cash. That totals $6,394 and provided gains of 55.7%
* Yet another company sports a 5.9% yield with analysts predicting 41% growth in 3 years… Checks of $6,384 to $19,685 gushing out of this company in as little as 3 months... (I predict an even bigger jackpot for those who pounce on this today.)
* And a third company with pipelines serving nearly all of the largest U.S. shale formations, paying a 5% yield. Plus, that dividend is expected to grow by 10% for many years…
And now, I'm forecasting checks of $1,250… to $2,500… all adding up to $8,275 ...pouring out like crazy.
Putting it all together, my Natural Gas Playbook delivers the opportunity to collect $31,851.94 more.
This is perfect for the active investor who's willing to accept a little more risk in exchange for a massive return.  
How Much Do My Secrets Cost?
In a matter of minutes you'll see how to get set up to collect checks like this: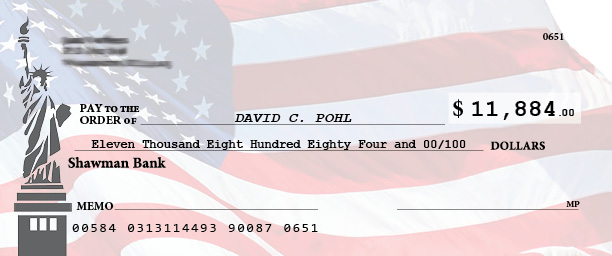 That's a "Heritage Check" for $11,884 that feels great to hold... and deposit.
Your first check might be a little bit less or it could be a lot bigger, depending on your initial account size...
But by now you're probably wondering...  
How much does it cost to get complete access to this life-changing burst of wealth?
I'll be honest. It's not cheap.
Some of my research retails for $5,000.
But I'm not going to ask you to pay anywhere near that today…
70% Off Right Now!
Because I want to make sure all 250 copies of my special report are claimed...
I'm not even going to you ask you for the regular $129 this normally goes for…
I've just slashed the price for the folks who took the time to listen to this presentation today, so you can claim nearly 70% OFF when you join The Complete Investor right now!
And all the risk is on my shoulders, not yours.
Safely Enjoy Every Single
'Check Secret' I'm Legally
Able to Hand to You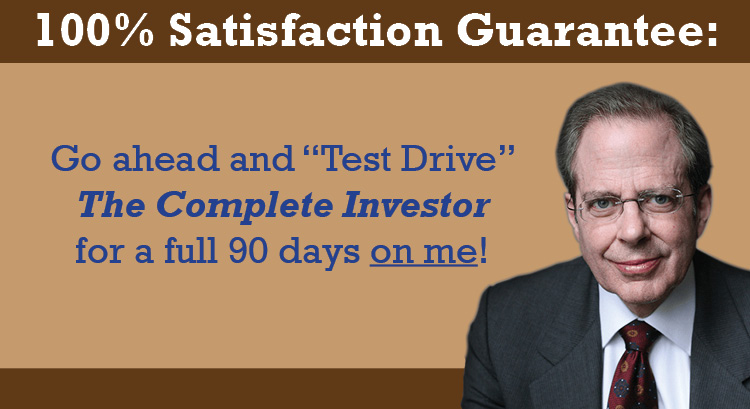 This guarantee is your safety net and allows you to "kick the tires" for three months.
If you find yourself unhappy for any reason at all, just let my Customer Service team know and we'll cheerfully refund every penny you paid.
I want you to be 100% sure that this is right for you without any stress or worry.
Plus, you have plenty of time to check out everything, and even potentially collect a few checks…
Any of which should easily cover your cost to join right now.
I Strongly Recommend Getting
Off the Fence Right Now
To collect your "Heritage Checks"…
You need to join The Complete Investor now.
You've seen the checks. There's plenty of proof you could make a fortune.
And you've seen all the FREE reports I'm handing you when you get inside now.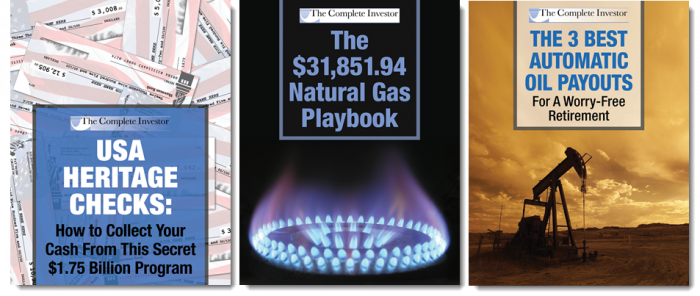 It's crunch time…
To get you off the fence, I'm slashing the price by nearly 70% for the first 250 who act now.
You are so close. Time to act. Don't step away.
This is your golden goose...
Claim your spot.  
They're going fast...
It's simple. Click the button right now.
No questions and no pressure from me.
This is your choice but I believe you'll do the right thing.
I hope to see you collecting your own "Heritage Checks" along with the others.
Sincerely,

Stephen Leeb
Chief Investment Strategist
The Complete Investor
P.S. Go ahead and try The Complete Investor right now because all the risk is on me. Bottom line? Click this link and claim your checks. (70% off right now!)
Copyright © 2018 Investing Daily, a division of Capitol Information Group, Inc. In order to ensure that you are utilizing the provided information and products appropriately, please review Investing Daily's' terms and conditions and privacy policy pages.